It is no secret that Letitia Wright dazzled on the red carpet with radiant skin free of impurities. A feat that has to thank the magical skincare tool that is winning the hearts of all of Hollywood.
In addition, he wore a black Alexander McQueen suit with a glass-inlaid harness-like design as a tribute to the style of the late Chadwick Boseman. And, with simple smoky makeup with shiny lips, she made her face stand out significantly.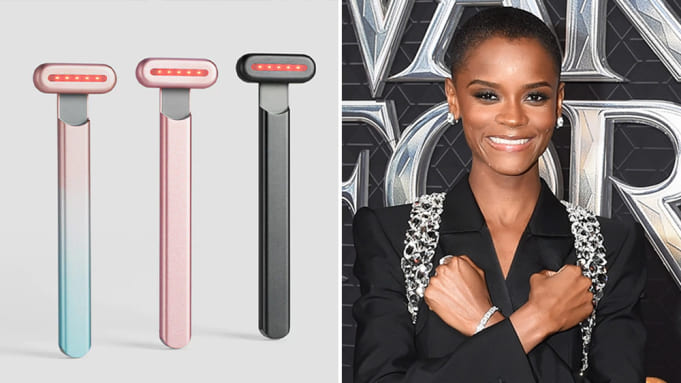 A catwalk face that catches the public's attention
"Skin preparation is one of the most important steps in my process," Wright's makeup artist told PEOPLE magazine. So, before applying Lancôme's Absolue moisturizer, Sheika Daley used a pocket-sized red light therapy tool to prepare the actress's skin.
The makeup artist then applied a small amount of Renew Complex Serum to promote the tool's movements along Wright's face and neck. And focusing primarily on the area under the eyes causes the appearance of the bags to decrease and puffiness to be reduced.
The professional makeup artist was delighted to see that immediately afterward; she could see a noticeable difference in the bags that Wright had in his eyes. According to Daley, the wand left a "fresh glow in time for the red carpet."
Other celebrities have enjoyed the instant effect of the Solawave Wand
Just as you have already focused on this facial care tool, many other actresses have also done so. That is why professional makeup artists use it for a quick recovery of the face of countless celebrities before a red carpet.
Among the celebrities who enjoy this tool are: Reese Witherspoon, Nicole Kidman, Mandy Moore, and Megan Fox. Therefore, it is not surprising that they are always seen with a youthful face, without imperfections, which time does not take its toll. The secret of her eternal youth is in the hands of concerned makeup artists, who do a fantastic job.
And for her part, recently, the famous actress of Euphoria Sydney Sweeney revealed that she is also a fan of using it in her usual skincare routine. What more can we ask for from a fantastic tool that works wonders for your face?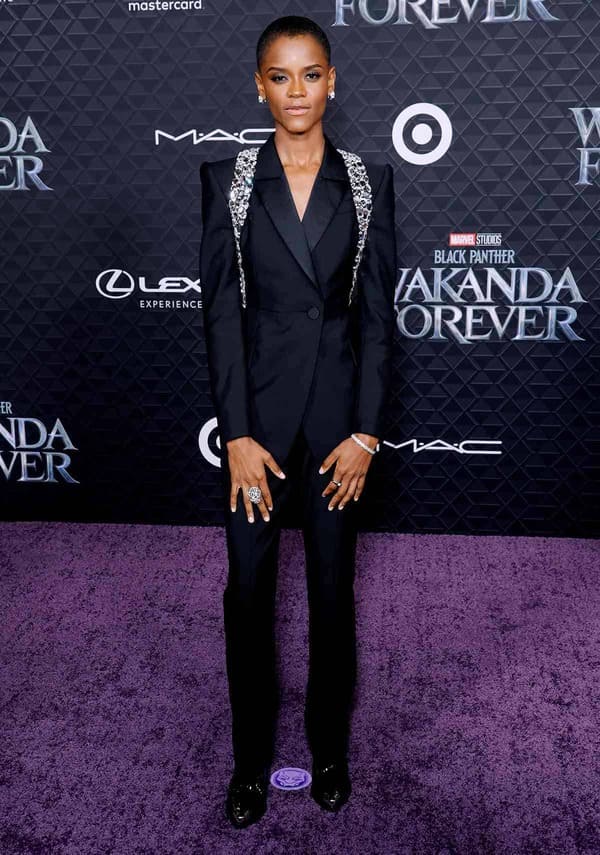 What makes this tool so attractive to Letitia Wright?
It's impossible to imagine how active a celebrity's life is. Many have fallen victim to too little sleep due to a tight schedule. In addition, the pressure of having radiant skin has made them find these magical tools that save their lives again and again. For this fantastic wand, several integrated dermatological technologies make it very powerful:
Primarily, we find that the wavelength of red light is 660 nanometers. We are making it penetrate deep into the skin, reducing the appearance of expression lines and damage caused by the sun.
In the same way, it has microcurrents that stimulate muscles and help prevent and decrease the signs of aging. In addition, it provides a therapeutic heat that promotes the absorption of products and reduces wrinkles. With this magic skincare wand, you'll instantly have a more voluminous and rejuvenated face. We already see why it is the favorite of many celebrities.
And if that needed to be more, its price does not compare to all the advantages it gives you with easy use. For $149, you can have Letitia Wright-like skin on the red carpet and improve your facial routine just like many other celebrities we love. Having a skin of millions of dollars has never been easier.