To show off a beautiful silhouette you should wear pants that shape your body, such as Zara jean alternatives. We at Look At The Square (LATSQ) know that there are no closets without pants, that's why we always show you jackets and coats that you can combine with cute jeans.
If you are a fan of jeans, you know that there are different brands and designs, and that it is almost impossible not to resist one, especially if they are on sale. The best gift you can give yourself to start 2023 is one of these jeans, available in the United States, and in catalogs on other websites such as Amazon and Target.
Dress in fashion with the High Rise Slim Jeans
The high cut is back and we prove it with the High Rise Slim Jeans. This cute jean has a washed effect that is very trendy this season. Added to this, if you love pockets, jeans is for you, since it has 4 pockets, two in the front and two in the back. The price is the least of it, originally it has a cost of $59.90, but with a 49% discount it remains at $29.99. Other details of the cowboy are.
The closure is frontal with a single button and zipper.
Has details of blunts
It is made of 100% cotton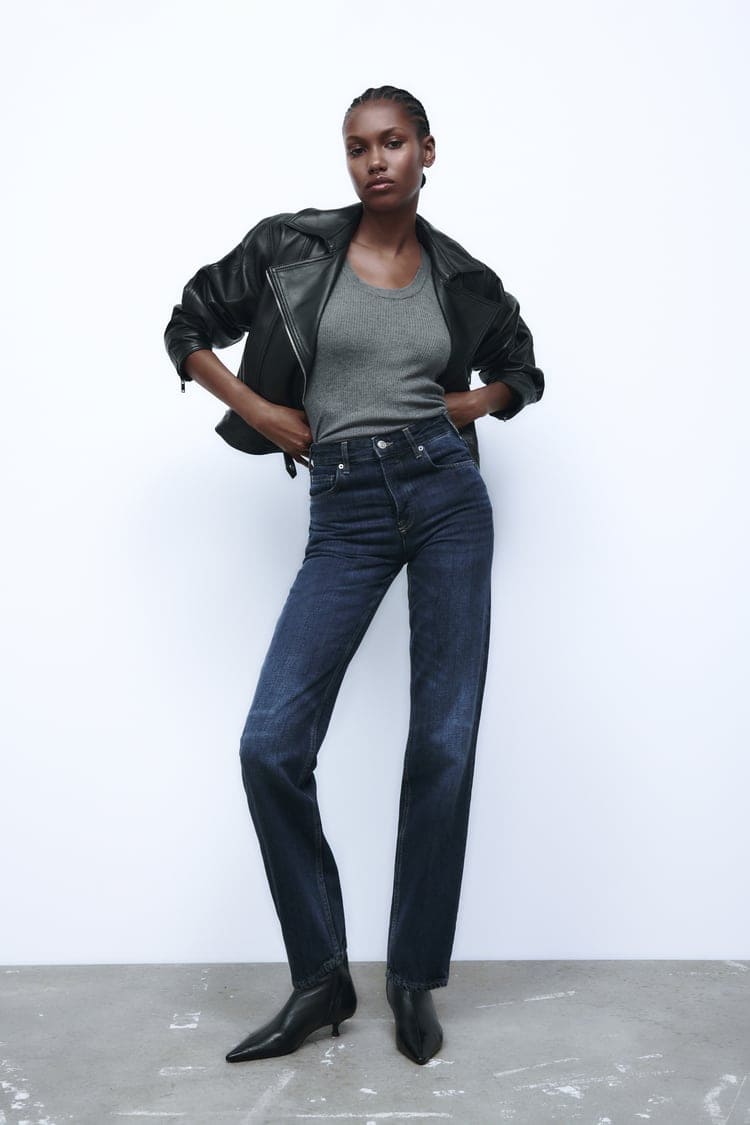 The classic Zara Super Elastic Jeans
Next on the list is the Super Elastic Jeans, it is a classic model, but made of elastic fabric, which allows it to adapt very well to the shape of your body. The cut is high waisted, and it has two back and front pockets. The cowboy boot is straight, almost similar to skinny jeans. As for the cost, before the 44% discount its value was $35.90, but now it is $19.99. Know more specifications of the jean.
Zip closure with a metallic button
Available in two colors, blue and gray
Made of cotton, polyester and elastane.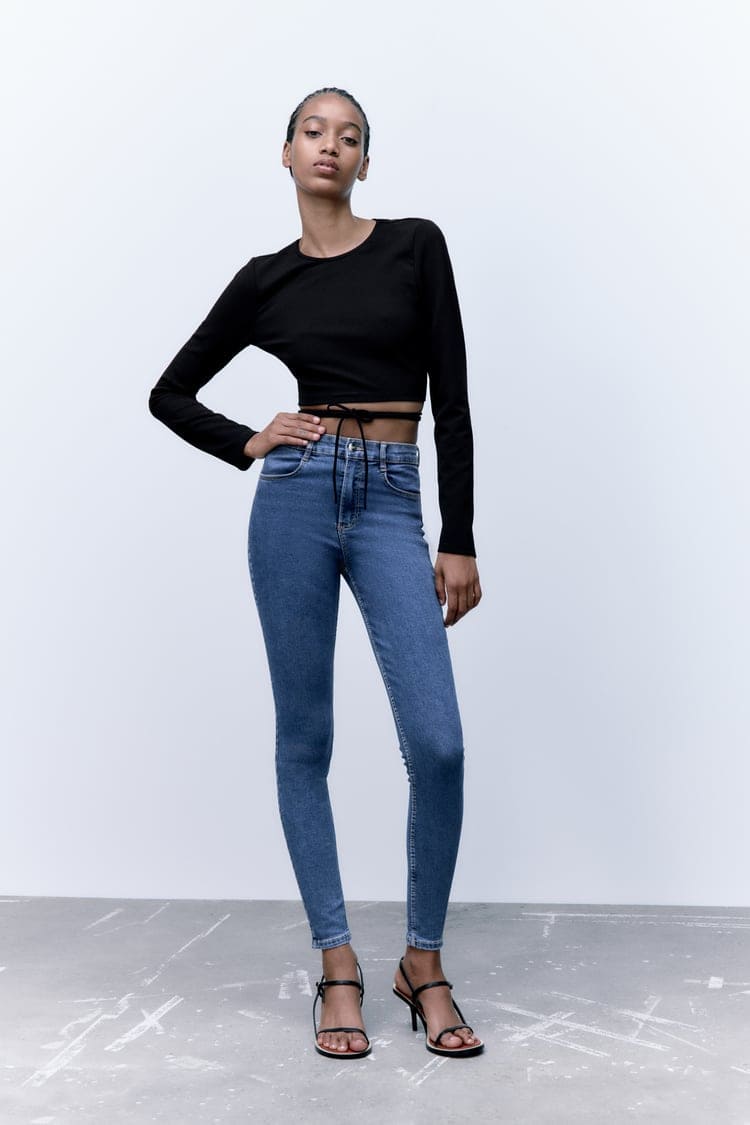 Zara Relaxed Fit Ripped Stretch Jeans
It is the turn of the Relaxed Fit Ripped Stretch Jeans, it is a 4-pocket piece with a low cut. With these pants you will project an effect of more voluminous hips, especially if your hips are narrower than your shoulders. What you should consider is that your legs will look narrower. The price of the jean is $49.90, and with the 27% discount you will only pay $35.99. Other details are
Available in washed blue, dark blue and black
Made of cotton and elastane.
Loose boot
Front closure with metal button and zipper.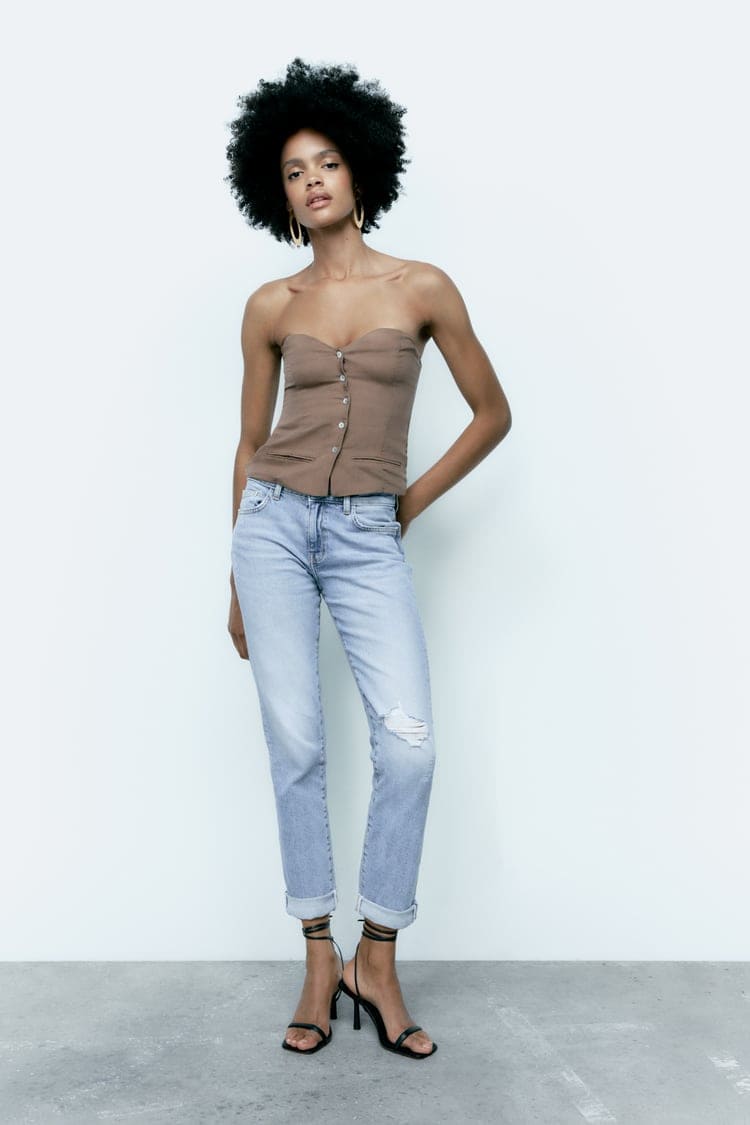 Enhance your figure with the Mid Waist Skinny Jeans
The last option that would look perfect with a blazer is the Mid Waist Skinny Jeans. It is a medium high waisted jean that has 4 pockets. It is skinny jeans with a washed effect, but you should know that at least 20% of its clothing is made from recycled cotton. The price of the garment was $49.90, although with the 39% discount it is $29.99. Other features are.
Made of cotton and elastane
Zip and button closure
Available in all sizes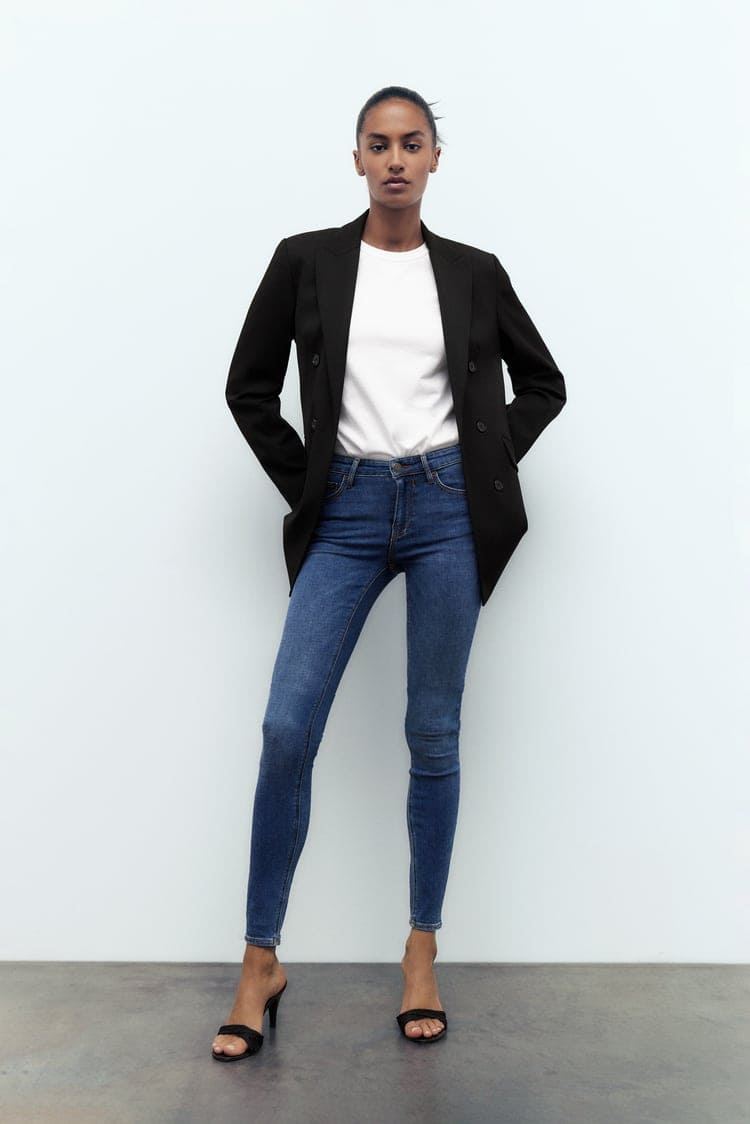 Care and maintenance
Wash jeans inside out.
If you wash them in the washing machine, make sure that the cycle is low so as not to damage the piece.
Do not tumble dry, air dry instead
Wash the pieces separately and not with other clothes.