We at Look At The Square (LATSQ) inveterate fashion lovers, know how horrible it is to buy a new pair of shoes and have the risk of wetting them in the rain, but Zara thought of a solution. Because in addition to being modern, elegant, and highly durable, they are able to withstand adverse climates.
And since the catalog of this American store is so wide, they look and match incredibly with their coats, dresses, and jackets.  So, it adds to the reasons why you should have them for this winter. The streets of the United States will be your catwalks as you wanted.
Zara Flat Boots Tretorn
The first of the options that you can find in the online catalog of Zara, is the Flat Boots Tretorn model. These are large, flat ankle boots, with water resistance to keep your feet dry and warm. They are black and stand out for their high-quality composition. In particular, for the upper part of the shoe uses rubber and neoprene, with a reinforced tip.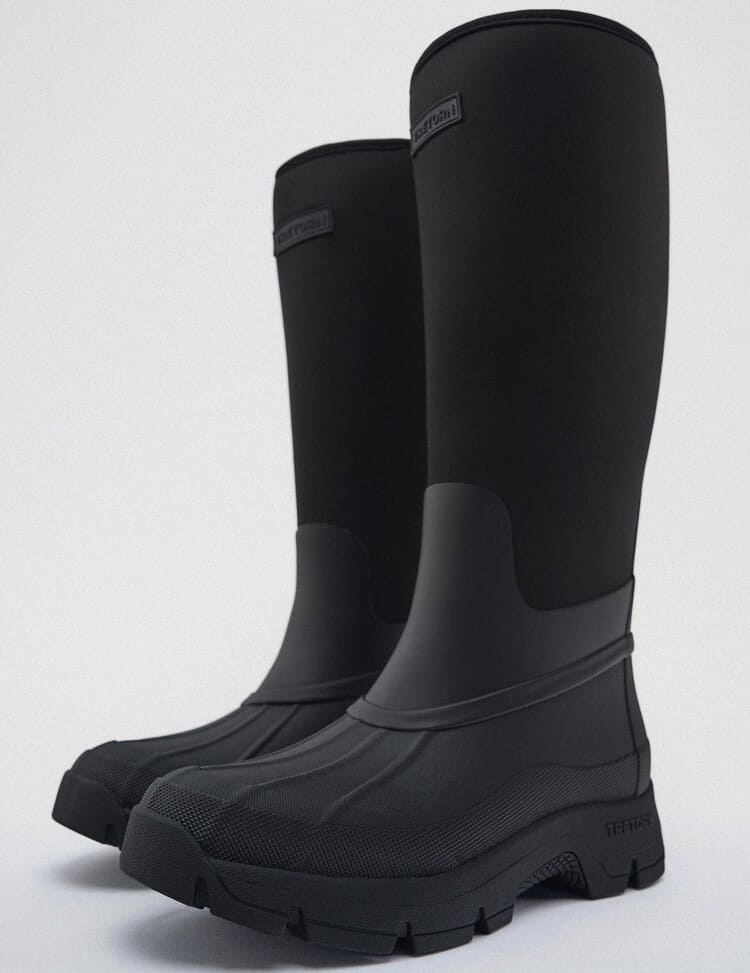 Zara's Flat Boots Tretorn footwear also has texture details on the instep, sole with studs, and back tongue for ease of use. It has availability in multiple sizes and elaboration with ecological materials. It uses polyester, vulcanized rubber, and polyurethane fiber. You can buy these rain booties for a price of $199.00.
Zara Flat Rubberized Boots Tretorn
On the other hand, you also have available to choose from the Flat Rubberized Boots Tretorn model within the Zara catalog. They are flat ankle boots available in black and white, with a structure and design similar to the previous model. In particular, because these also have water resistance, are comfortable to wear, and keep your feet warm at all times.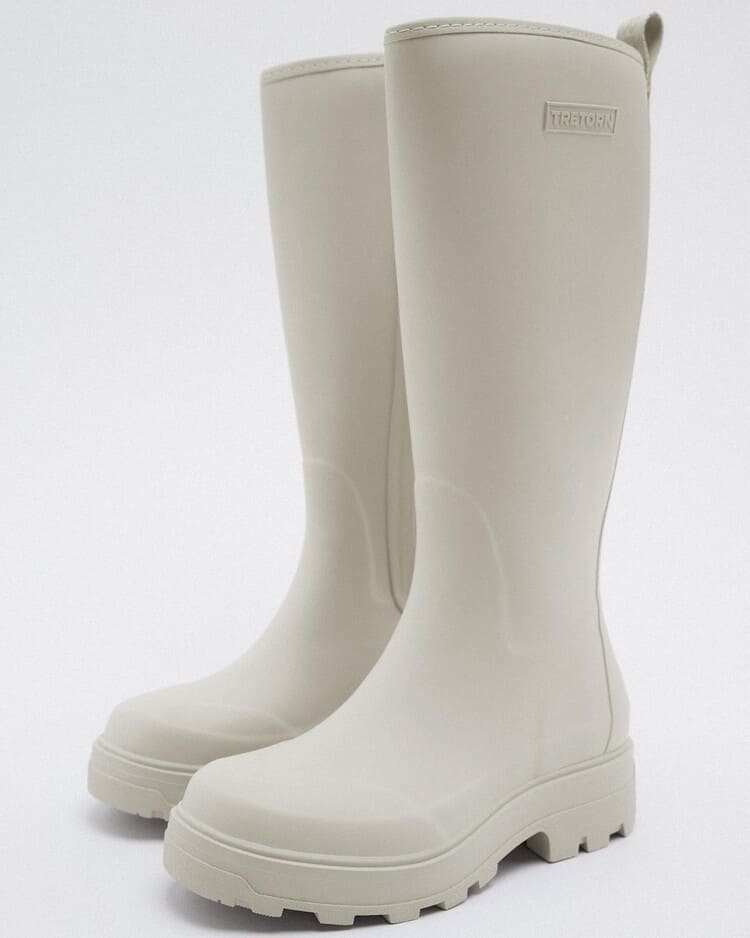 However, Zara's Flat Rubberized Boots Tretorn model features zipper closure and rounded toecap. In addition, its elaboration only uses polyester and vulcanized rubber as materials. They are easy-care ankle boots and have an extended life cycle. And best of all, they have a fairly cheap price of only $189.00.
Zara Flat Ankle Boots Tretorn
If you are looking for a more minimalist and less flashy footwear, you can choose the Flat Ankle Boots Tretorn model  from the Zara collection. They are also flat ankle boots with water resistance, but, with a more compact structure than previous models. These are white in color and can easily combine with multiple styles, for different types of output.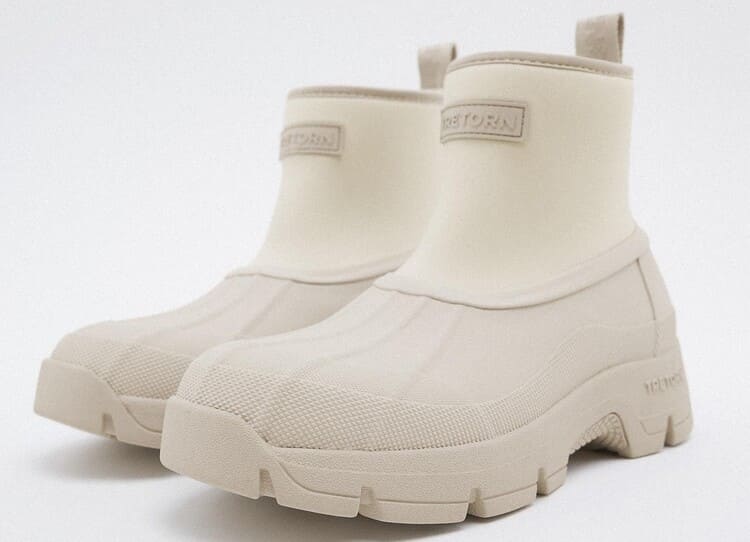 Despite being a smaller shoe, Zara's Flat Ankle Boots Tretorn model has a similar composition to the others in the collection. That is, they use rubber and neoprene on top, have a reinforced rubber toe cap and soles with studs that do not detract from stability. From the website of the popular brand, these booties cost $189.00.
Zara Flat Rubberized Ankle Boots Tretorn
Finally, let's go with other flat booties of water resistance for the winter months. In this case, it is the Flat Rubberized Ankle Boots Tretorn model from Zara. They have a more elegant design than other rain shoes, thanks to the khaki green color they have. In addition, its style mixes rubber with a rough effect and a neoprene upper.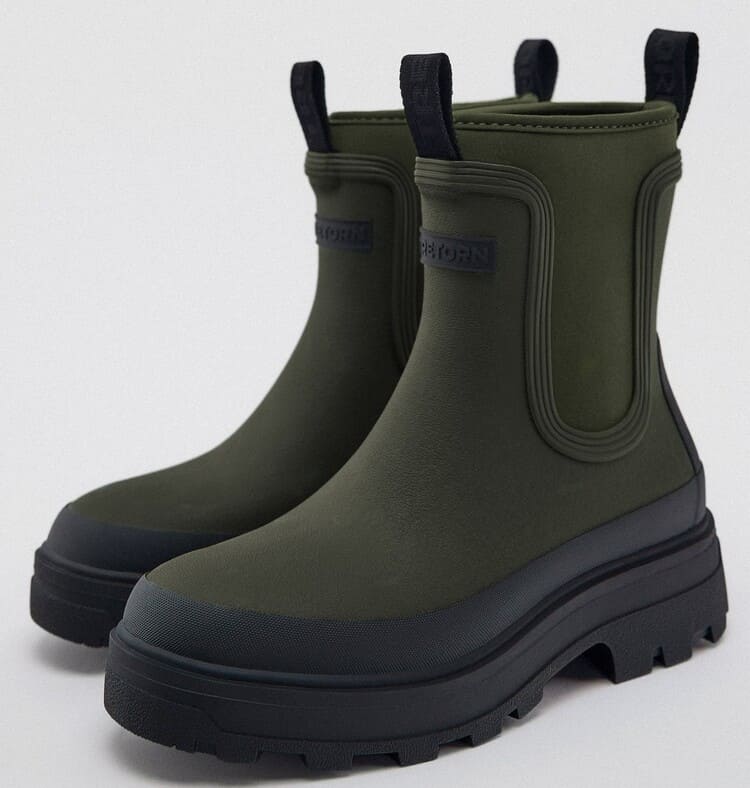 The Flat Rubberized Ankle Boots Tretorn model is comfortable to use and does not generate fatigue when walking. In particular, it has front and rear tabs for easy adjustment. To make your legs stand out, they have soles with studs. Best of all, they still maintain excellent traction and stability, on dry and wet surfaces. You can access the Zara website and find this model of ankle boots worth $169.00.