The fever of the World Cup that returns after four long years of waiting, has made Adidas take out some models of incredible boots that will leave all inveterate football lovers stunned. In Look At The Square (LATSQ) we do not care if you want to use them to play or just to walk, they are undoubtedly a juicy option that reaches the catalogs of the American sports store to surprise you.
And just as you find the soccer boots you love, you also find jumpsuits, joggers, hoodies, sweaters, and accessories to make you sportier than ever. That is why until today it has remained in tough competition with Nike because both stores are examples of sportswear.
Adidas Predator Edge+
They are sports boots to play soccer that are available in sizes for boys and girls. It is a fairly colorful model since it is white with blue, yellow, and orange. Adidas Predator Edge+ sneakers not only offer comfort but also help the little ones in the house have more control and energy.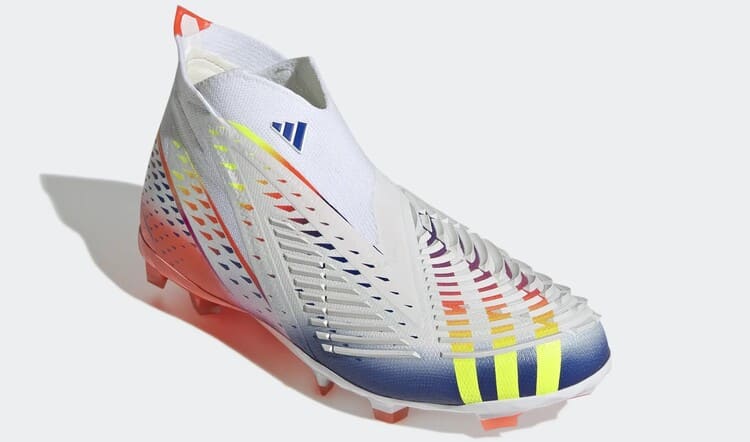 They are firm ground ankle boots with a normal cut design and without laces, which fits without problems to the texture of the feet. This is thanks to the Predator Edge+ boots having a faceted adjustment collar. On the other hand, they are made of textile lining complemented with discreet ribbed sections and Zone Skin rubber control zones for a better feeling.
It should also be mentioned that they have a TPU outsole for a firm floor that offers traction and stability. Thanks to all these details, it is the perfect sports shoe for your children to start their sports careers. With these boots, they will be able to reach their hidden potential in no time. They are priced at $150 and funded payment options.
Copa Sense 1
Let's go now with a shoe to play football of unisex design, in this case, it is the model Copa Sense 1 of Adidas. Unlike previous sneakers, these are adult boots with a wide availability of sizes. As for their design, they are black with details in yellow, green, blue, and many additional shades that give it brightness.

Adidas Sense 1 Cup sneakers are normal cut and lace closures, to provide a fresh and personalized fit. In addition, they use an instep that combines synthetic material with leather. The midsole is made of EVA material with cushioning and excellent softness. They have a rubber sole for artificial grass and Touchpods to absorb shocks.
In short, this is a perfect shoe to play football on artificial turf and achieve the maximum possible performance. They give you agility and freedom with the range of motion so that you step on every corner of the field and find yourself in constant contact with the ball. You can buy these shoes for $130 through different payment methods.
Adidas Predator Edge 3
Finally, we continue with another footwear for men and women from the Adidas online catalog. In this case, we refer to the Predator Edge 3 model, which is available in large and small sizes. On the other hand, the design of these sports boots is white with details in multiple colorful tones, to stand out from the field.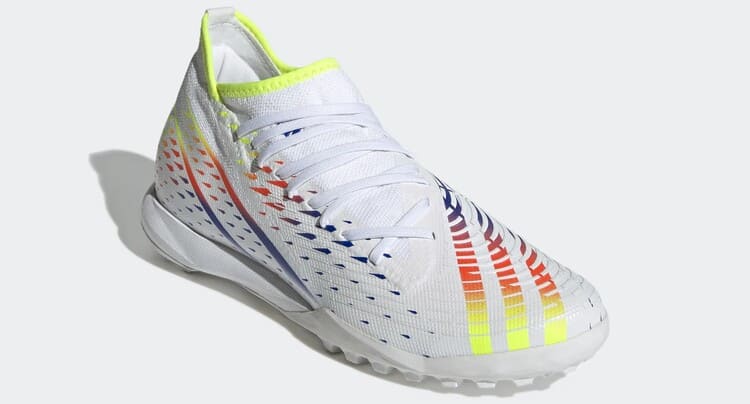 Like the previous model, the Adidas Predator Edge 3 shoe is a normal cut with lace closure. These have a top designed with Control Zone texture, complemented by a 2-piece half-cane neck. They use an EVA midsole and a rubber sole. All this composition uses recycled and ecological materials.
If you want to play football as comfortably and efficiently as possible, these Adidas sports boots are among the best options on the market. And best of all, you can buy them for an economical price of only $90.