Having good slippers for the home is essential to be comfortable and move without getting your feet dirty. At present, there are many brands that offer clogs with such qualities. Among them, Crocs has multiple quality options to choose from, from casual models to limited edition shoes.
In its latest collection, Crocs surprises us with a collaboration with Lisa Frank to design unique style clogs. They are shoes that provide comforts like Adidas or Nike footwear. In addition, they have free shipping in the United States. Learn all the details of this model here at Look At The Square (LATSQ).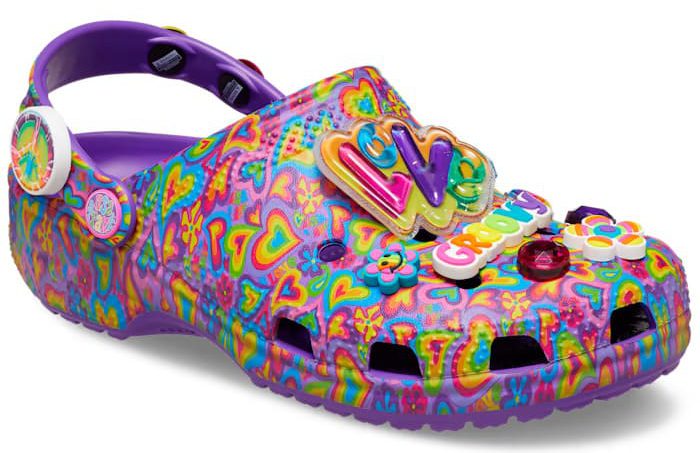 Crocs Classic Lisa Frank Clog
These are clogs with the classic style of Crocs, but, with a different design within the wide catalog of the renowned brand. They are available in multiple sizes, for both women and men.
They have mixed colors in different patterns, with a neon purple base. In this way, they stand out with ease anywhere.
Due to the way they are composed, this limited-edition footwear from Crocs has great versatility. That is, it will serve you to wear inside and outside the house, with different types of clothing.
In any case, they provide unique comfort to your feet, while keeping them cool. Other qualities possessed by crocs, with the following.
Crocs Jibbitz Collection
The first thing to note about these limited-edition Crocs clogs is that they are covered in Jibbitz charms. They have several models on the top and a protective band on the back.
This gives them a unique tone, within the coloration of the footwear. In addition, they can be removed to replace with other models of your preference.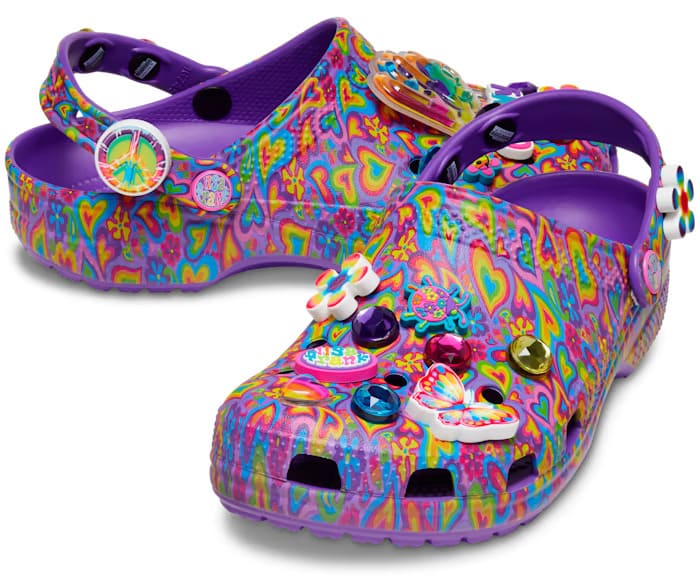 Waterproof footwear
This Crocs model designed by Lisa Frank can float on the water, thanks to its light weight they have. Thanks to this, they are ideal clogs to use while bathing or going out in the rain. This way, you can keep your feet protected from any dirt or bacteria on the surface. Best of all, you won't even know you're using it.
It should also be mentioned that this Crocs model is easy to clean and has the ability to dry in a short time.
Fresh feet
Because of the way they are designed, these clogs will keep your feet fresh at all times. They have multiple integrated ventilation ports, for effective breathability. In this way, you will feel more energetic when walking with this shoe on.
Total Security
By having pivoting straps on the heel, this Crocs model fits the size of your feet. Therefore, at no time will you be in danger of them letting go while walking with them. With this safety setting, you'll have a full range of motion, in any direction you want.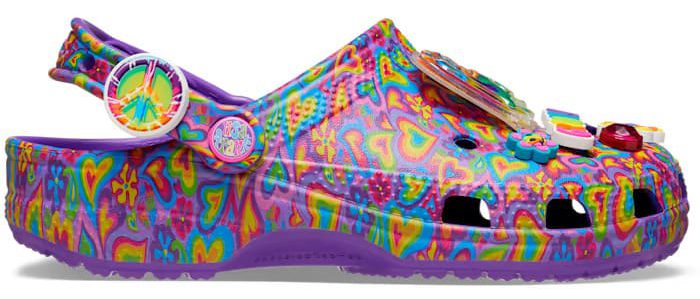 Lightweight clogs
The composition of these limited-edition clogs is their best feature. Not only for the comfort they offer, but they also lightweight and are completely flexible. As a result, these shoes have a life cycle of many years, without suffering degradation in their overall composition.
Crocs Price and shipping
Despite being a limited-edition model, the Classic Lisa Frank Clog clogs maintain an economical price. You can buy them from the official website of Crocs, for only $59.99 or $ 15.00 in 4 interest-free payments, through Afterpay. As for shipping, being a product with a price higher than $ 49.99, it will be free.