One of the best features that makes Crocs an excellent store is that any clog model you see has a version for children and adults. On this occasion, its two most famous pairs with Pokemon motifs have once again been in the public eye. And it's not surprising, since they are models full of color, with unique designs and motifs that attract attention at first glance.
Although you can find designs very similar to classic Crocs on Amazon or Skechers, they will never be as original, creative and iconic as these. At Look At The Square (LATSQ) we are clear that the Crocs franchise has given hundreds of stores a strong fight… We are talking about comfort, color, versatility and style. Becoming a web and physical catalog very difficult to overcome.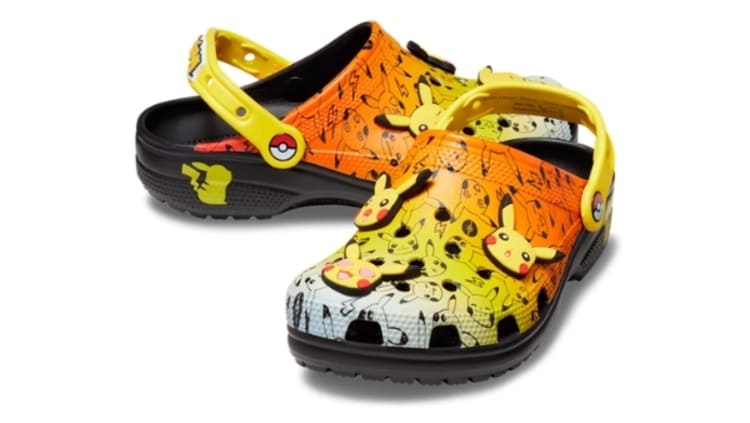 Crocs Classic Pokemon Clog
Pikachu is one of the main protagonists of Pokemon, in its 20 years of duration. Crocs know very well the importance of the small electric rodent and that is why the protagonist of the Classic Pokemon Clog model does.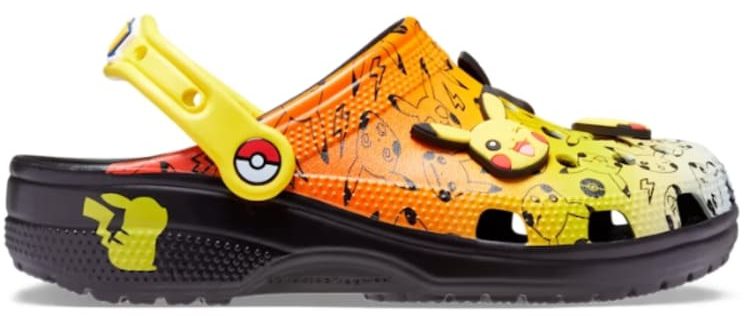 Unmissable Features Kids Will Love
It comes complemented with 6 charms of Pikachu Jibbitz in different styles, to customize the clogs.
Back strap also features a custom design with Pikachu.
The strap rivet has a Poke Ball design.
The Classic Pokemon Clog model is light and soft, with a pleasant texture.
It is lightweight and has the ability to float on water.
Easy to clean and dry in a matter of minutes.
They have integrated ventilation ports on the sides.
The pivoting straps in the heel area allow for greater safety.
They have a flexible and resistant composition, adaptable to different environments.
In general, this model of classic Crocs with Pokemon style is of high quality. They will serve to keep your feet comfortable and cool for many years. And best of all, you can use them both inside and outside the home, combining them in the way you want.
To buy these clogs, you just have to enter the official website of Crocs. They are available for $59.99 or 4 interest-free payments of $15.00 with Afterpay. In addition, they have free shipping.
Crocs Classic Pokemon II Clog
Within the Crocs online catalog, you will also find clogs with other Pokemon designs. In particular, you will love the Classic Pokemon II Clog model if you prefer other characters besides Pikachu. This footwear for men and women is not only comfortable, but also cool and stable.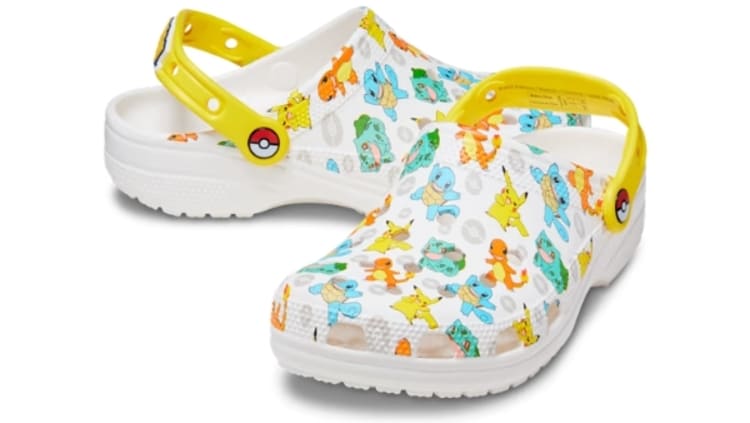 Do not miss its fantastic details
The back strap is equipped with the Pokémon Jibbitz Charm logo.
Its design has Poke Ball prints along with other popular Pokemon species.
They have a light composition that improves the sensation in the feet when you walk.
They have a waterproof structure that allows perspiration on the feet.
They are safe and fit your build, thanks to the back straps they have.
Classic Pokemon II Clog model can be customized with Jibbitz charms.
If you are looking for lightweight and flexible clogs to be inside or outside the home, this is the perfect model. Both for its structure and for its design, which will allow you to attract the eyes of your friends. Especially if everyone is a fan of the popular animated series.
It is also important to note that these clogs are quite inexpensive. You can buy them for as little as $59.99 or $15.00 in 4 monthly installments with Afterpay.