Furniture, sofas, and armchairs are essential accessories for all those families of multiple members so that everyone feels comfortable. Costco wants you to sit in front of the TV and enjoy your favorite series best. And we at Look At The Square (LATSQ) want you to come home and rest appropriately.
But we are in a season in the United States where what predominates most are the parties. And for those occasions, this arable armchair that Costco has for you will be the best option of all. Plus, if you've already purchased your favorite holiday accessories on Amazon and Walmart, invite the whole family to a fantastic evening.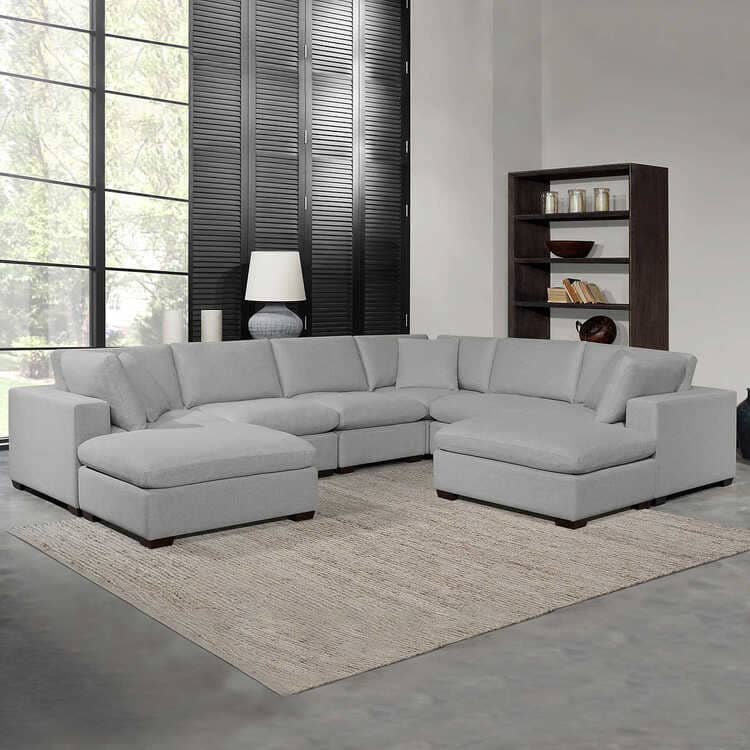 Costco Thomasville Lowell 8-piece Fabric Modular Sectional
Within the catalog of Costco furniture, this is one of the most requested by the public. The Thomasville Lowell 8-piece Fabric Modular Sectional is ideal for large families, as it offers plenty of space. However, it is also a decorative accessory with a casual and minimalist style, perfect to fit into homes naturally.
This sectional sofa from Costco is available in gray and white; in both cases, the construction, fabric, and style are the same. The best thing about this piece of furniture is that it can be arranged in different ways so that the living room in the house always has a different style. This way, you can surprise visitors and improve the visibility of other accessories. The Thomasville Lowell 8-piece Fabric Modular Sectional model comprises the following parts.
3 armless chairs
3 corner chairs
2 ottomans
Each section is of high quality and comfortable to sit on due to its soft texture. The rest of its features will be told below.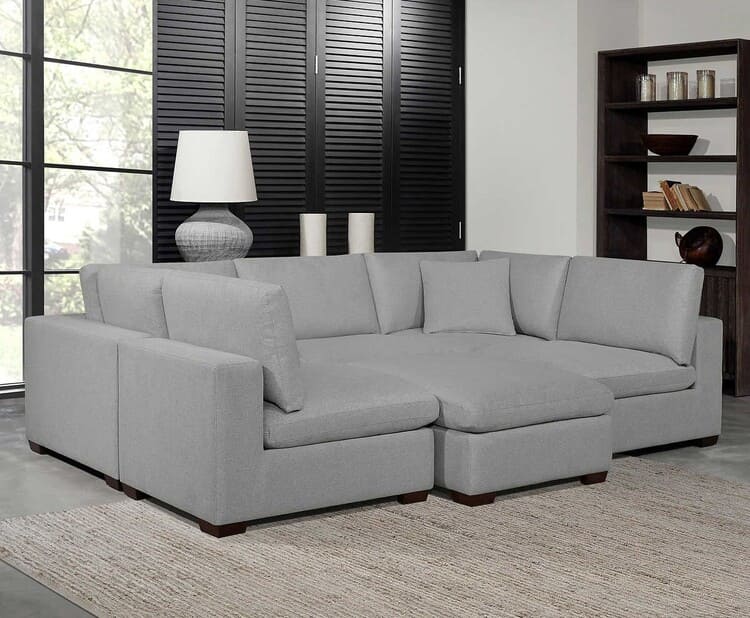 Modern composition
The overall structure and design of the Thomasville Lowell 8-piece Fabric Modular Sectional are of unique and spectacular quality. It starts with the fact that it has an upholstery that uses the polyester fabric of excellent comfort. This is complemented by a sinuous spring suspension and solid wood legs for strength and stability.
This versatile Costco cabinet includes decorative pillows and a loose, reversible back cushion. These are made with pocket coils and sinuous springs, thus optimizing the comfort, they can offer you. It has clean and detailed lines that give it a distinguished and elegant design to stand out within any home space.
Measurement
A piece of furniture designed for large families; it has larger dimensions than other models in the Costco catalog. Therefore, it is necessary to know them in detail before buying them. Not only to see if it fits inside the home but also to get an idea of where to place it and how you will do it. Its dimensions are as follows.
Width: 118 inches.
Length: 152 inches.
Height: 37 inches.
Weight: 507.76 lbs.
Seat depth: 25 inches.
Seat height: 20.5 inches.
Arm width: 8.5 inch.
Arm height: 26.5 inches.
Back height: 26.5 inches.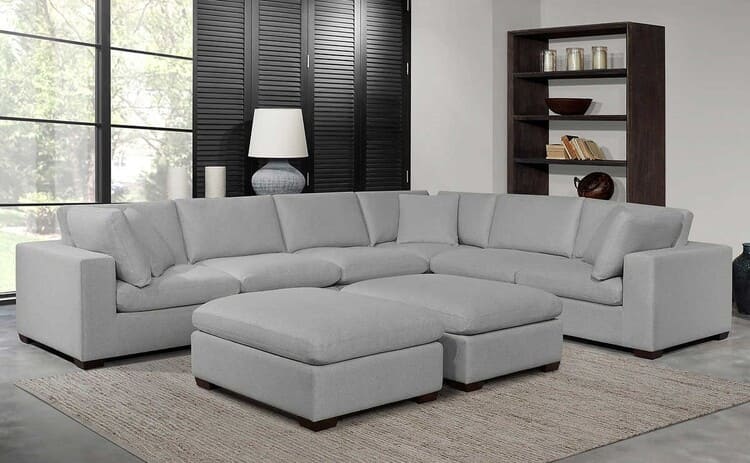 Maintenance
This model of decorative variable furniture is durable and resistant under the right conditions. Therefore, you have to provide the proper care so that it can be part of your home for many years. The first thing to remember is that you should be away from direct sunlight and excessive heat sources inside the house.
Use a fabric or upholstery cleaner to clean up spills or stains that may suffer over time. Avoid using household cleaners, as they can negatively affect the fabrics and fibers of the furniture. At least once a year it is recommended to clean it with the services of a professional company, for efficient maintenance.
Costco Price
Costco buildable furniture has a cost of $2,999.99, which includes delivery, installation, and removal of packaging. However, shipping to Alaska, Hawaii, or Puerto Rico is expensive.