The proper development of the little ones is a priority that every parent should have, and at Look At The Square (LATSQ) we remind you that their feet are their best tools to grow. If they run, jump, or explore the world, they must have appropriate footwear. And since not all the time little one are in the mood to use closed boots, Skechers has the solution with these colorful sandals.
Their toes will be comfortable outdoors, and if you take them for a walk, they will be able to feel the gravel on their feet and the wind that invites them to run. To suit different types of footwear, do not forget to see these fantastic models from the Skechers catalog.
Supreme River Blast
They are children's sandals for your children to walk in and out of the home, in a comfortable and fresh way. The Supreme River Blast model from Skechers has a classic black style, with availability in sizes for children from 4 to 8 years old and from 8 to 10 years old. They consist of a fabric upper and smooth synthetic fabric, with stitching details.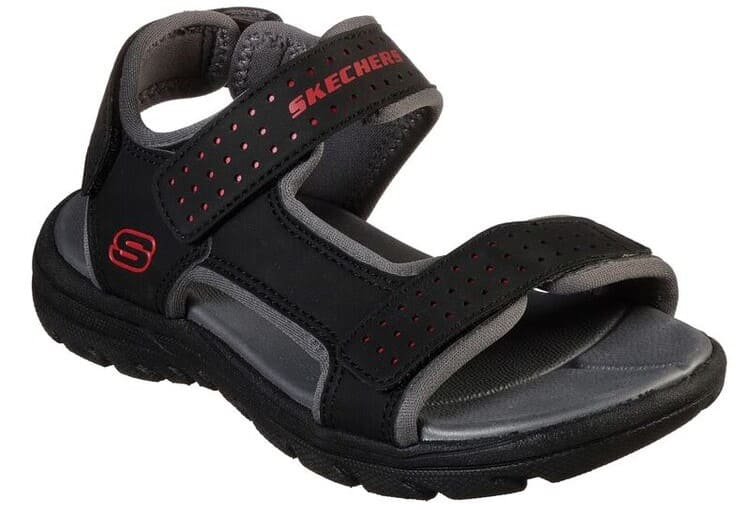 In addition, Skechers Supreme River Blast shoes feature soft fabric edging and adjustable straps on the toecap, instep, and heel. In this way, they provide comfort and safety to the smallest of the house when they are walking or running. These flex-soled sandals used to cost $34.00 and are now priced at $23.99.
Skechers Mega-Splash 2.0 Cuboshore
Another option available in the Skechers catalog for the smallest of the house is the Mega-Splash 2.0 Cuboshore model. These are sandals with a design similar to the previous model. However, these are more colorful, by combining the color black with lime. On the other hand, they have an availability of sizes for children from 4 to 10 years old.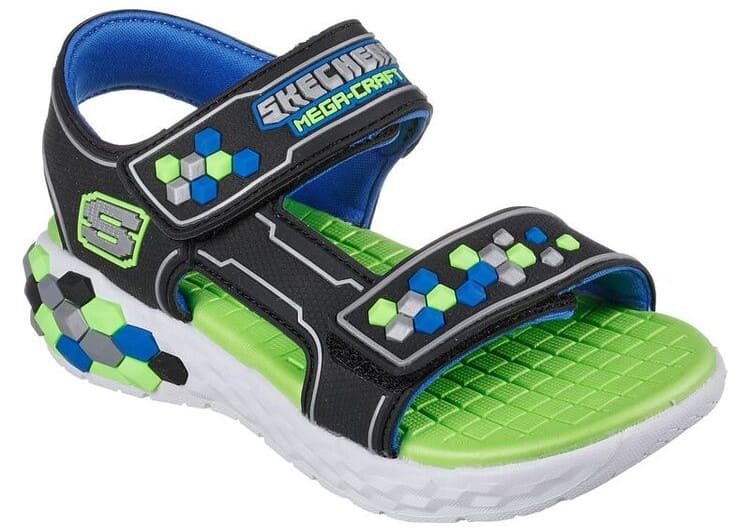 As for its composition, the Mega-Splash 2.0 Cuboshore sandals from Skechers use synthetic fabric with hook and loop straps. They have a padded insole, cushioning midsole, and flexible traction soles. Thanks to this, they can be machine washed. You can buy this children's shoe from Skechers for a price of $38.00 or $9.50 in 4 monthly installments.
Hogan Aqua Spurt
Among the most striking sandals of the new Skechers collection, we must highlight the Hogan Aqua Spurt model. They are of a different design from the previous models since they do not use safety straps. Its structure is black with white details. Although, they can also be purchased with patterns in blue or red, as you prefer.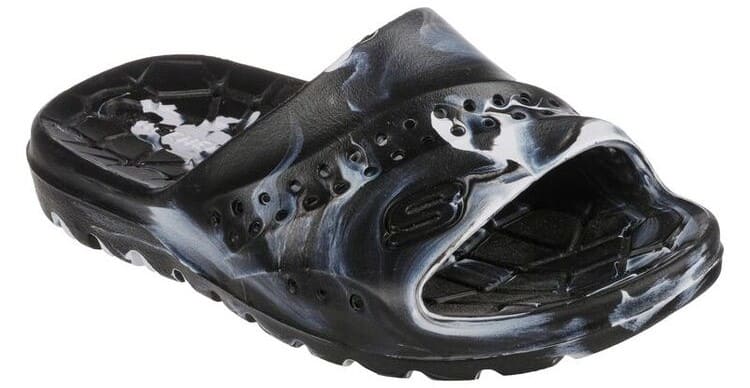 Hogan Aqua Spurt sandals from Skechers are available in sizes for toddlers and large children. The upper part is sculpted plastic foam, complemented by a contoured padded insole. In addition, the midsole of the shoe absorbs impacts when walking, offering an excellent return of energy.
From the Skechers website, you can get these sandals for children for a price of $20.00. If you have Afterpay services, you can pay them in 4 interest-free installments of $5.00.
Skechers S Lights: Thermo Splash Heat-Flo
Finally, in the collection of Skechers children's sandals, we have the S Lights model: Thermo Splash Heat-Flo. It is a shoe that has lighting in the midsole part so that your children have fun and you can locate them easily. They are black with red and are available in sizes for toddlers from 4 to 8 years old.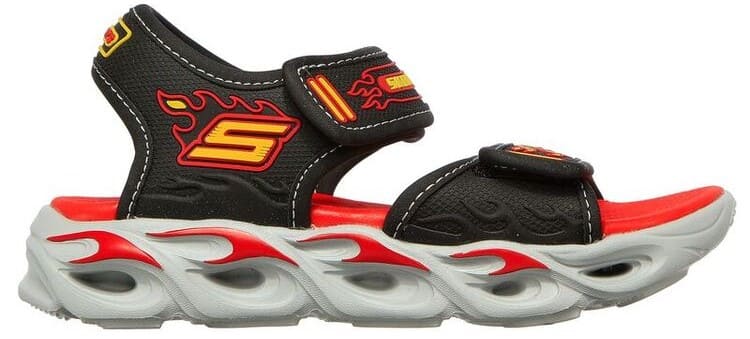 It is important to note that S Lights: Thermo Splash Heat-Flo sandals from Skechers are made with synthetic fabric. In addition, they have a hook and loop closure and a padded midsole. They used to be priced at $42.00, but now they are on sale. Thanks to this, you can now buy them for only $28.99 or 4 monthly installments of $7.25.