In the last few weeks, it has been noticeable that the cold winter weather is getting colder in most states in the United States. However, no one can resist going outside and enjoying Christmas. You will notice how in the last few weeks from Look At The Square (LATSQ) we are publishing articles related to warm clothing. On this occasion, we are compelled to comment on some great deals that Macy's has put on sale in the shoe department.
These are stiletto heeled boots that go with jeans and skirts. Some of the models proposed by our fashion experts reach above the knees. They are available in different materials and colors. Undoubtedly, they are items that compete directly with Zara to be the king of sales in the coming holidays.
Lyonna Over-The-Knee Slouch Boots
They are loose boots for women, with a modern style in luggage smooth. However, they can also be purchased in other shades from Macy's online catalog.  The Lyonna Over-The-Knee Slouch Boots model is available in small and large sizes, with a comfortable and easy-to-use design. Especially, because they combine with everything.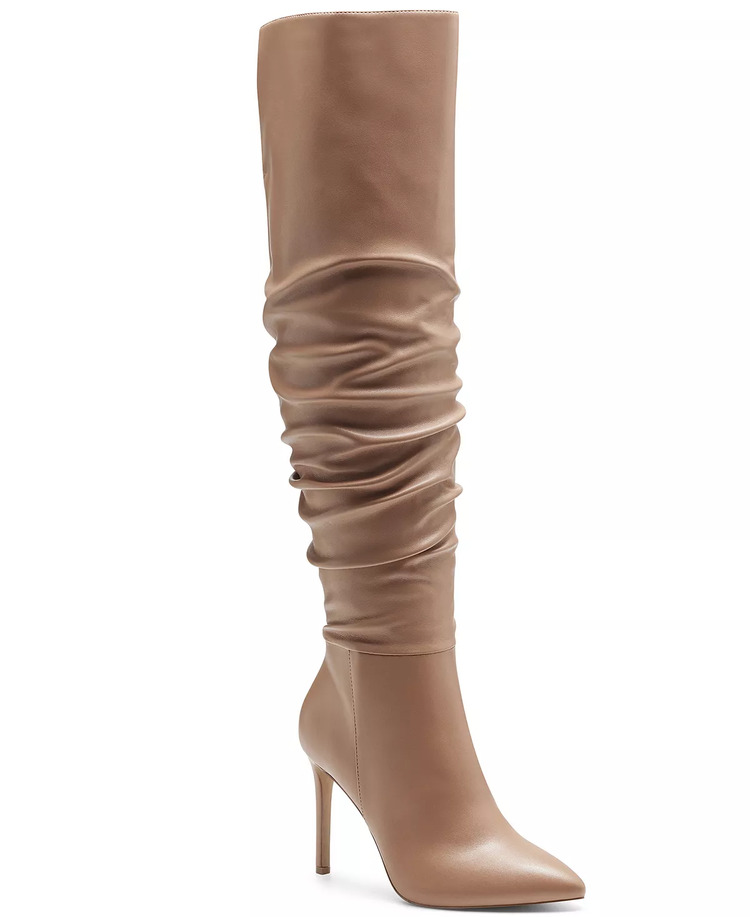 Lyonna Over-The-Knee Slouch Boots employs faux leather that keeps feet cool by allowing efficient perspiration. They have a partial side zipper closure, arch support, and padded insole. In addition, they use a light and flexible sole, complemented by memory foam.
This Macy's shoe is available at a discounted price. It used to cost $169.50, and now it's worth $101.70.  In addition, you can buy them in 4 monthly installments of $25.42.
Macy's Lerona Pointed-Toe Dress Booties
We continue now with a shoe for women with a more elegant and minimalist design, it is the Lerona Pointed-Toe Dress Booties model from Macy's. These ankle boots are gray but are also available in other warm and cool tones. They have stilettos with casual puckers, complemented by pointed toes for a unique design.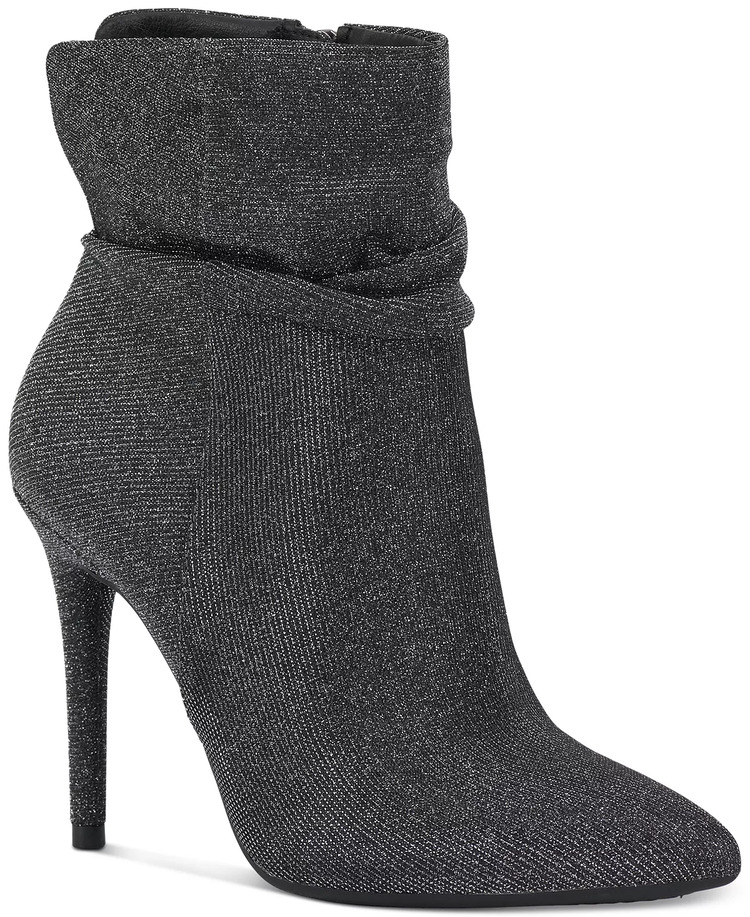 Lerona Pointed-Toe Dress Booties is a shoe with an added height of 4 inches, and an inner zipper closure at the ankle. In addition, they offer comfort when walking through the flexible molded rubber sole, they possess.
For a limited time, it is a shoe available with an offer price. It used to be worth $99.00 and now it costs $59.40. Through Klarna, you have payment options in monthly installments.
Trude Over-The-Knee Boots
Another option available in the Macy's catalog is the Trude Over-The-Knee Boots model. This is a gray-brown footwear, with options in other shades that adapt to your style or preferences. Because of the style it has, they are ankle boots that you can combine with different garments, without many problems. In addition, they will serve you for all kinds of occasions.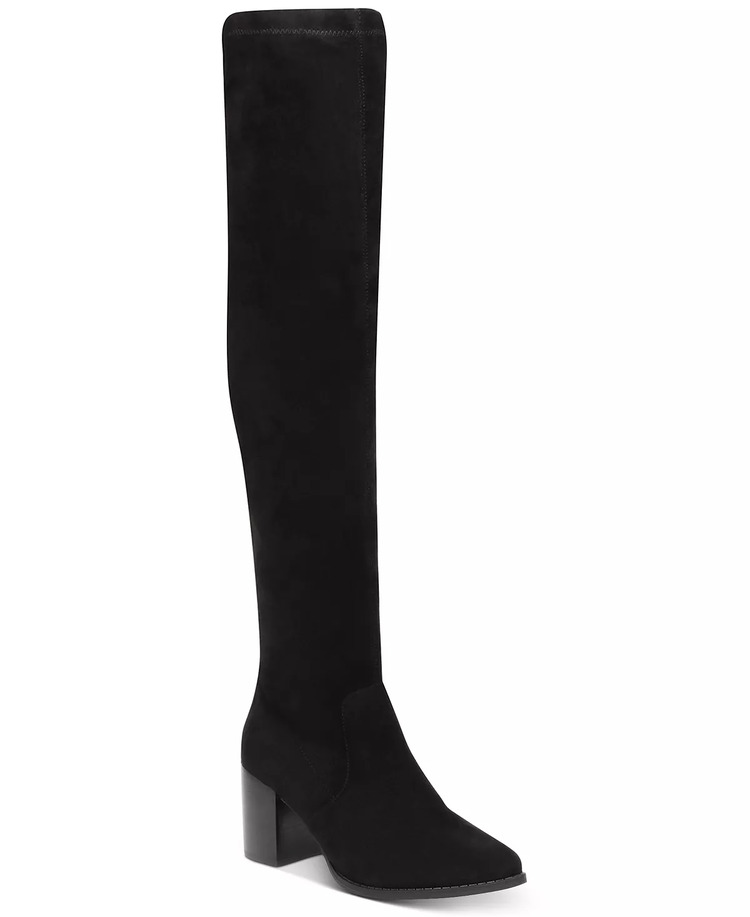 Trude Over-The-Knee Boots has added height in the heel and its structure is above the knees. Apart from this, they have almond tip and side zipper closure. So, it is a shoe that you can wear without feeling any discomfort.
The original price of this shoe is $109.00. However, with the promo code 'FRIEND', you can buy them for a reduced price of $76.30.
Macy's Adonnys Memory-Foam Dress Boots
If you want to look elegant with shoes that cover your legs, the Adonnys Memory-Foam Dress Boots model  is for you. These are dress boots for women in black or brown leather. They are comfortable to wear, keep your feet cool and feature memory foam. Therefore, you will have no problems when walking with them.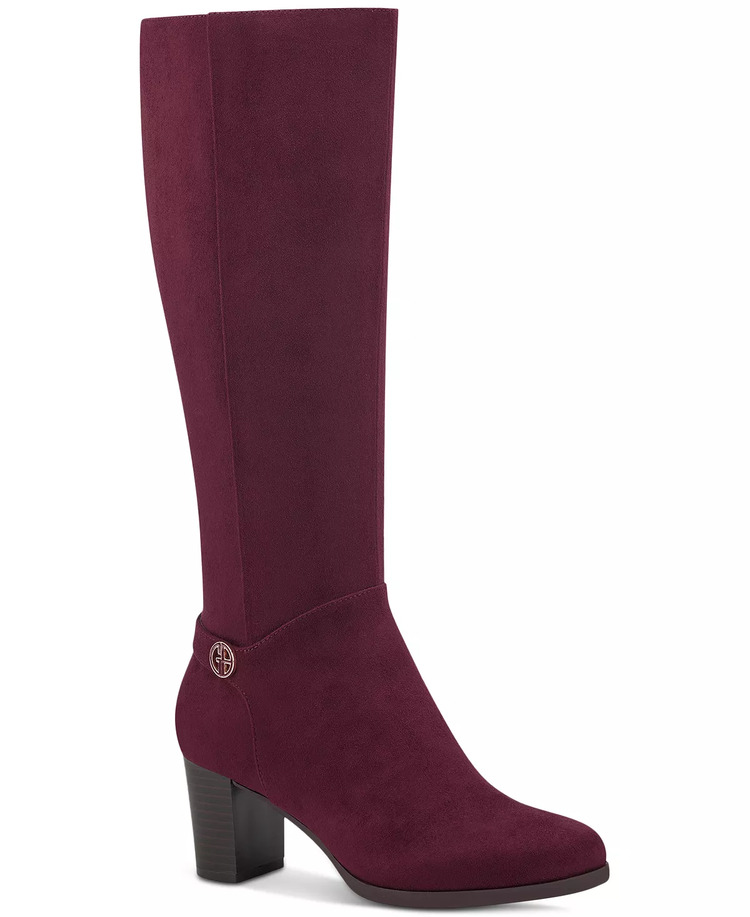 Adonnys Memory-Foam Dress Boots is a shoe that stands out for the traction and stability it offers. Its structure allows it to adapt to different types of surfaces. As for its price, they have a cost of $179.50. However, with the promo code 'FRIEND', you can buy them for only $125.65 or $31.41 in 4 monthly installments.
How to combine high-heeled boots?
High-heeled boots are a great way to add some style and flair to your winter closet. But with so many different ways to wear them, it can be hard to know how to pair them in a way that looks stylish and practical.
The best outfit choice for pairing tall boots is with skinny jeans, skirts or leggings.
Recommendations when buying high-heeled boots
The heel is one of the most important aspects of a boot, especially a high-heeled boot. The heel should be high enough to make you feel confident and stylish, but not so high that it's uncomfortable or impractical. It's also important to check the construction material. A stiletto heel may look great, but if you're going to wear your boots all day, you may want something a little more comfortable.
Why is the material important in heeled boots?
If you live in a cold climate, it's best to go for boots made from a warm material like leather or suede. If you live in a humid climate, choose a waterproof material such as rubber or PVC. And if you're looking for a dressier boot, materials like patent leather or sequins can add some flair.
What is the best style of boots for women?
There are many different styles of high-heeled boots, from booties to thigh-high boots. From Look At The Square we suggest you choose a style that enhances your figure and makes you feel confident.