Just as the Swedish store IKEA knows how to renovate your living room, your kitchen, and your garden, it also has fantastic designs and accessories for your bathroom. It doesn't matter if you're moving or want to do the year-end renovations, the bathroom is a prime part of your home that we at Look At The Square (LATSQ) know you can't overlook.
Especially when IKEA brings you juicy accessories such as mirrors with shelves, or mirrors with doors to save space and enjoy your bathroom much more. Privacy goes hand in hand with comfort, and if you want to spend hours looking in the mirror you better have the best designs to do so.
IKEA Godmorgon Mirror cabinet
It is a cabinet with a glass mirror with 2 doors, to efficiently store your personal objects. The IKEA Godmorgon Mirror cabinet model combines naturally in bathrooms of any style, for its minimalist design. It is a product that can adopt different viewing angles and has the following dimensions.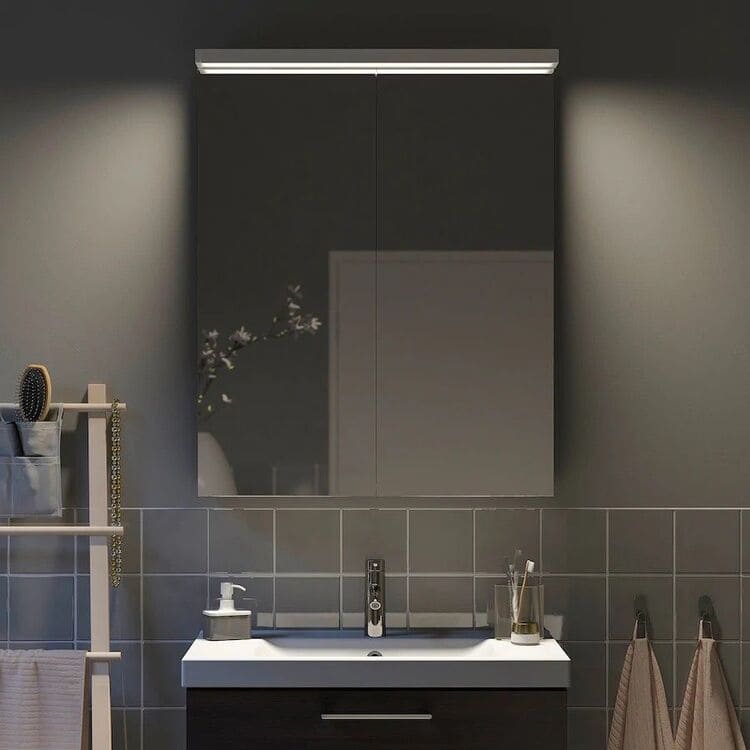 Width: 31 1/2 inches.
Depth: 5 1/2 inches.
Height: 37 3/4 inches.
It is necessary to mention that Godmorgon Mirror cabinet has doors that close automatically, due to its composition. In addition, the shelves are adjustable, withstand enough weight on top, and have heat resistance. You can buy this IKEA product from the online catalog, for a price of $299.00, and comes with a 10-year warranty.
Enhet Mirror cabinet
Another option available within the IKEA catalog is the Enhet Mirror cabinet model. This is a closet with a white mirror and a single door, which you can install over the bathroom sink. Like the previous model, it is a product that combines naturally with different styles. In addition, it has the following measures.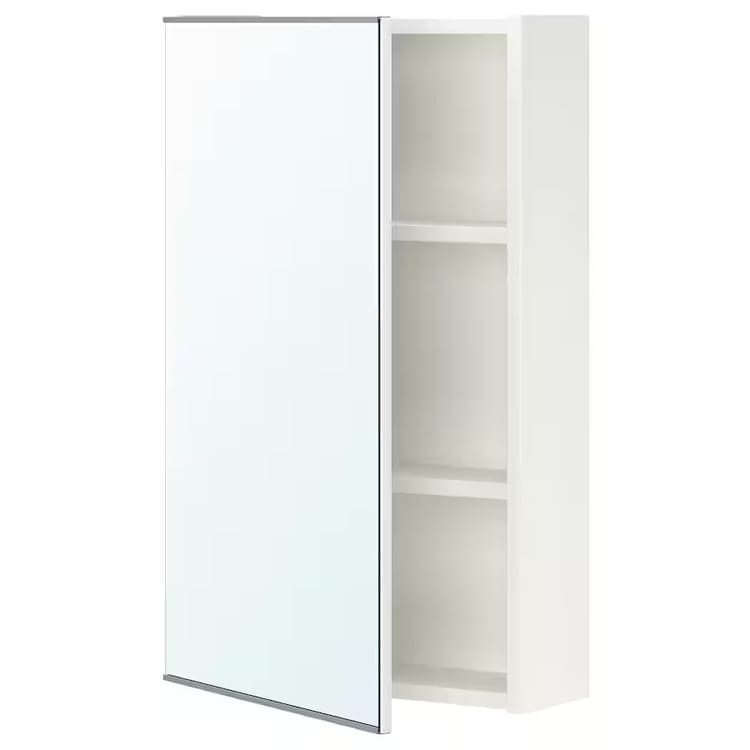 Width: 18 inches.
Depth: 6 3/4 inches.
Height: 30 inches.
Maximum load: 9 lbs.
Enter Mirror cabinet is made with particleboard, sheet, and the edge of the plastic, steel, and glass. Inside, it has 2 shelves of compact size to store your personal items. On the other hand, it only requires cleaning with a clean cloth to stay in good condition. It is a product whose price is $74.00.
IKEA Enhet Mirror cabinet
We continue with a model of the same name as the previous wardrobe, but this is designed with 2 doors. Enhet Mirror cabinets white cabinets and compact size, which easily adapt to different decorative styles. It is minimalist in design and has a quality composition. Its dimensions are as follows.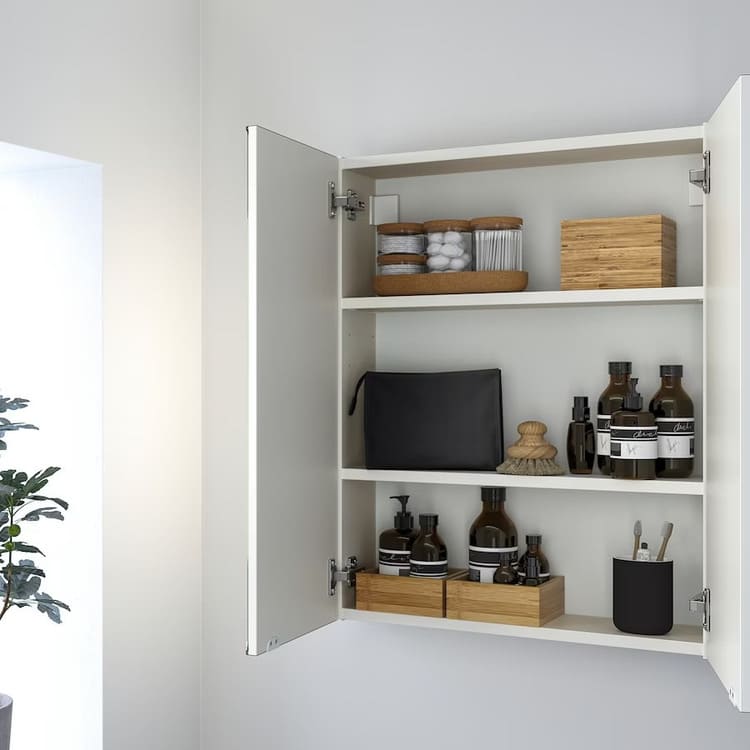 Width: 24 inches.
Depth: 6 3/4 inches.
Height: 30 inches.
Max load: 13 lbs.
Importantly, IKEA's Enhet Mirror cabinet model has 10-year limited warranty coverage. Both its composition and maintenance are the same as the previous product. On the other hand, it should be mentioned that it is an affordable product. From the IKEA online catalog, you can buy it for only $98.00.
Lindbyn Mirror with shelf
We finish with the Lindbyn Mirror with shelf model from the IKEA catalog, a product with a minimalist design and more economical than the previous ones. This is a mirror with a black shelf that can be installed inside the bathroom, bedroom, or any other space of the house. As for its dimensions, these have been the following.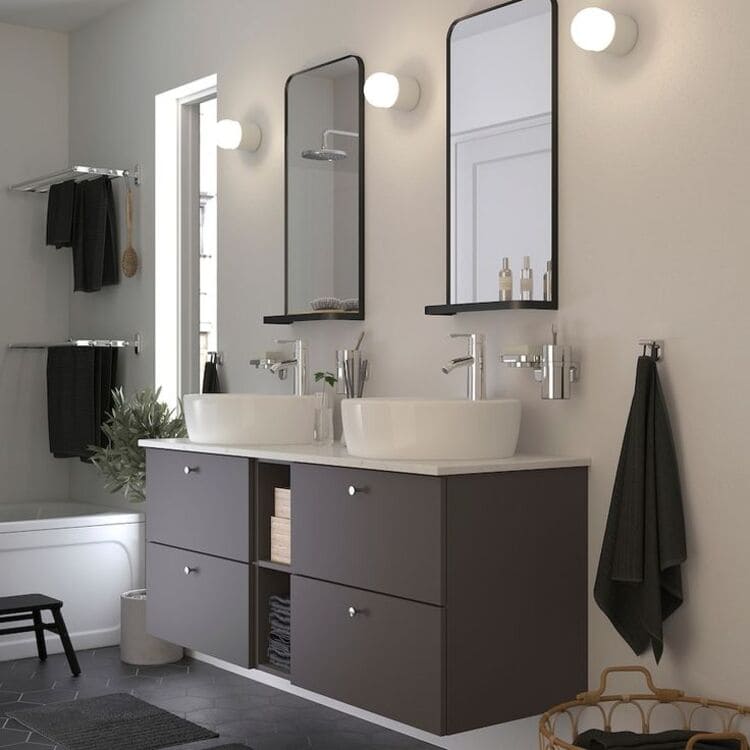 Width: 15 3/4 inches.
Height: 31 1/2 inches.
Depth: 4 7/8 inches.
Maximum load: 7 pounds.
The Lindbyn Mirror with shelf model from IKEA has a composition of glass and aluminum, so its maintenance is quite simple. You only need a damp cloth and a dry cloth. On the other hand, this decorative product has an economical price of only $59.99.  Within the website, you will have several payment and shipping methods available to choose from.