Have you been thinking about how to make your guests feel more comfortable in your home? IKEA has thought about this first and has always been ahead of your needs. It will soon be Thanksgiving in the United States, so the family will gather to share a delicious freshly baked turkey. And we at Look At The Square (LATSQ) want to ensure your comfort and yours.
Saving space is possible to make your living room look more modern, and at the same time, more comfortable. An extendable sofa, it's the best way to surprise your guests by giving them a space where they can properly relax. And, if you have the delicious aromas of Zara Home candles, you can sleep peacefully on your new furniture.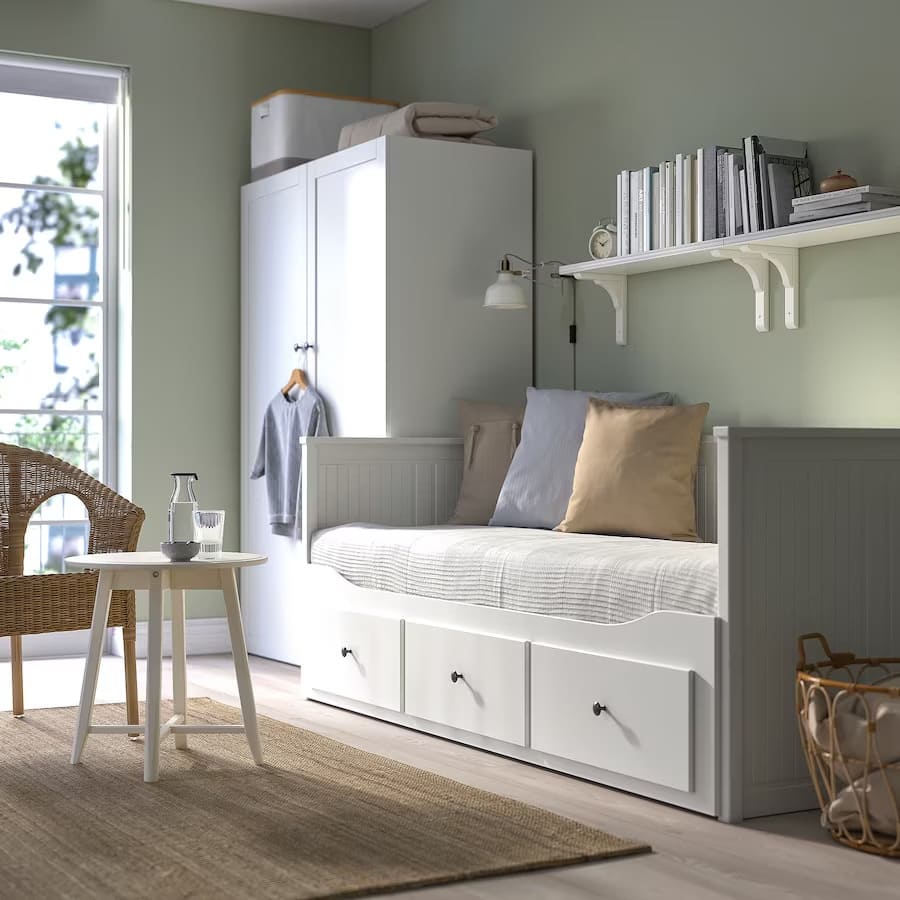 IKEA HEMNES Daybed Frame with 3 Drawers
This HEMNES Daybed Frame with 3 Drawers is designed to become a comfortable double bed. You only have to remove the base and unfold the mattress, and there you have it! Forget about long nights on the sofa; now you can receive your guests without worrying that they won't sleep peacefully.
IKEA Daybed frame with three drawers is only twice the size, but it's still functional and you can raise and lower it without any inconvenience. So even if you have converted it into a bed, you will still have enough space in a small room. The great advantage is that it allows you to save space while not using it, nor will it become a nuisance. Once you have folded the base, you will only have a comfortable sofa where you can sit and relax or watch TV.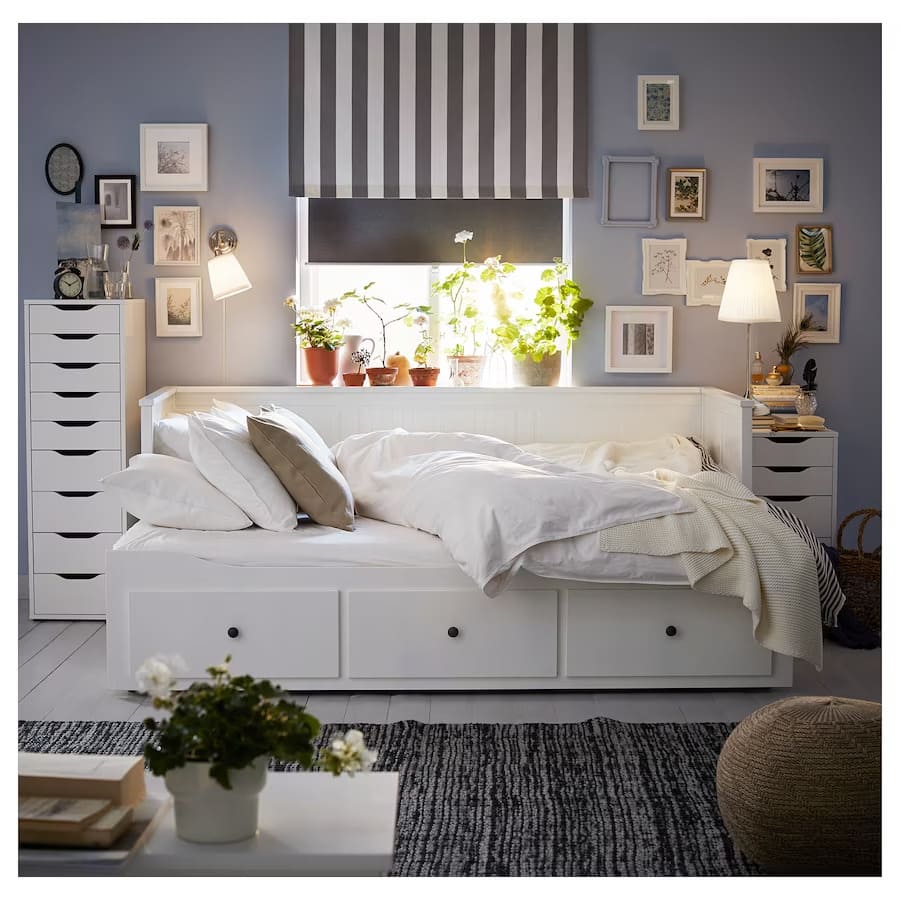 Very attractive and functional
The white color of the couch fits in with all types of decor, regardless of its style and the other decorations in the room. In addition, its minimalist and sophisticated look is combined with cushions of different fabrics, and even with a sheet will still look like a product taken from Pinterest. On the other hand, in the lower part of the divan, you can store whatever you want in three spacious drawers. Thanks to their capacity, you can hide blankets, pillows, and everything you need for a comfortable night. This way, you will have everything in one place, orderly and at your fingertips.
Easily deployed
The Daybed frame with 3 drawers was made of melamine, which is a lightweight material and very easy to carry. You only have to move the base, which is not a significant effort. Once fully extended, you can disassemble it, and the rails at the bottom keep everything in place, so there is no risk of falling or bumping.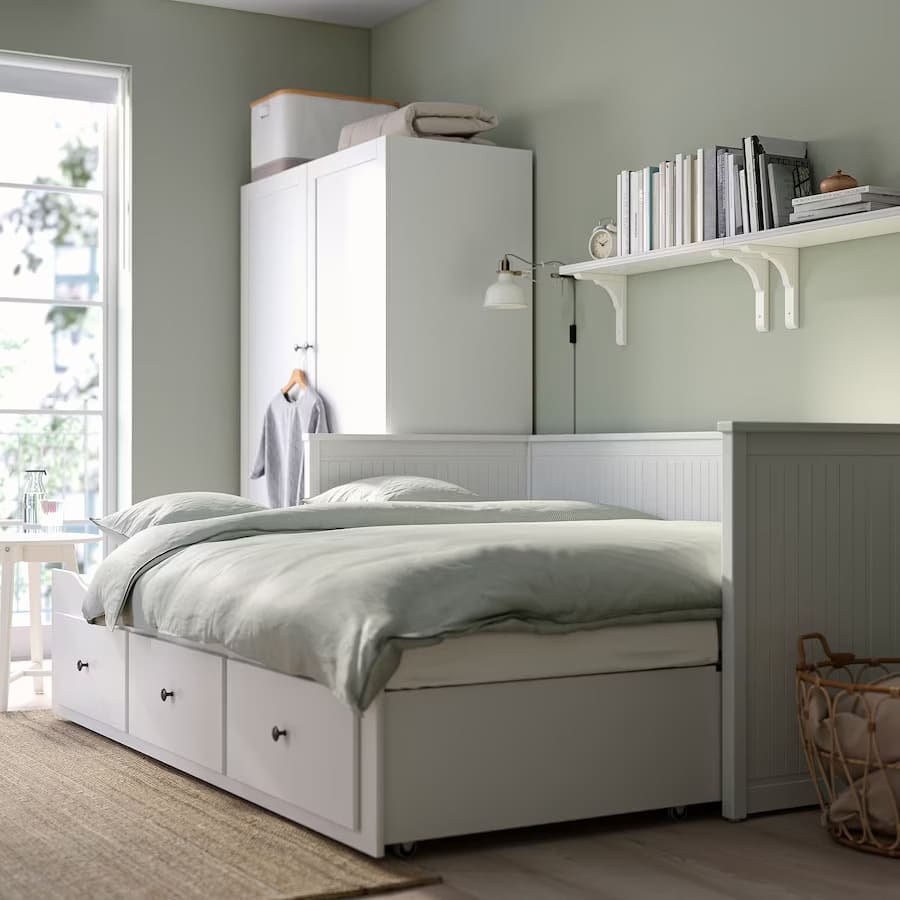 Compact but very resistant
Made from small compressed particles; this ensures that the structure of the furniture is excellent. At the same time, it gives this sofa other exciting features. Both melanin and acrylic paint are easy to clean. Wipe with a damp cloth and apply a common disinfectant. Besides, the coating's quality it's great, and you won't notice scratches or dents; it will always maintain its perfect appearance. You can enjoy the convenience of two pieces of furniture in one for $399. Plus, if you're part of the IKEA family, you get a 5% discount.