If in Look At The Square (LATSQ) we thought we had seen everything with the strangest designs and out of the conventional with Crocs, we were wrong. Exposing a design literally out of this world, the classic all-terrain crocs x ron English clog are designed for those who love the strange and are out of the ordinary.
While maintaining the classic style of clogs that remains one of the most popular in the United States for its comfort, it enjoys a completely striking print, which never worries about the … It will never, go unnoticed. Neither on Amazon nor Skechers, Crocs has it in its catalog so you can buy it with just one click.
Crocs Classic All-Terrain Crocs x Ron English Clog
As time goes by, classic Crocs clogs have evolved in different ways. The most recent version is the futuristic model known as the Classic All-Terrain Crocs x Ron English Clog. These are limited edition sandals and unique styles, perfect to capture the attention of all the people you meet on your way.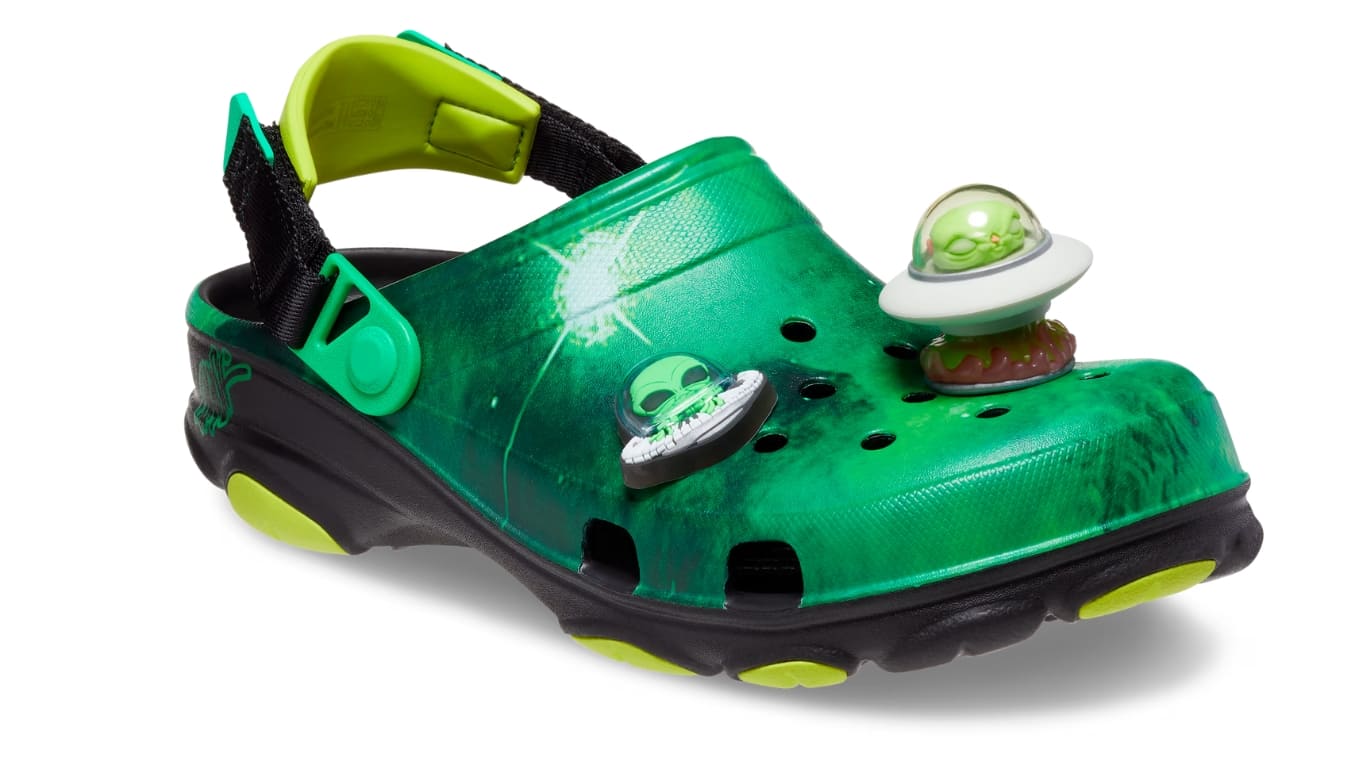 Due to its composition and design, you can use the Classic All-Terrain Crocs x Ron English Clog wherever you want. Its style offers different options to combine them, in order to achieve a unique appearance. And best of all, they keep your feet cool and comfortable so you don't feel pain at any time when you're walking anywhere.
Optimized traction and support
Among the main features of these Crocs sandals, we must mention the soles with resistant cleats with improved tread. These allow for achieving optimized traction so that the clogs adapt to different types of surfaces. Therefore, you will not have any problem walking in a comfortable and balanced way.
In addition, the structure of the soles offers great support on the feet to reduce the impact on the ground when walking. Instead, you'll receive a nice energy return so you don't tire quickly. As a result, they are ideal sandals to wear for long periods of time.
Comfort on top
The soles of the sandals are not the only quality they possess since the upper part is also of high quality. Especially, because it is designed with fully molded Croslite foam that massages the feet. They have a fairly soft texture that does not generate discomfort, even when you wear the sandals for extended periods of time.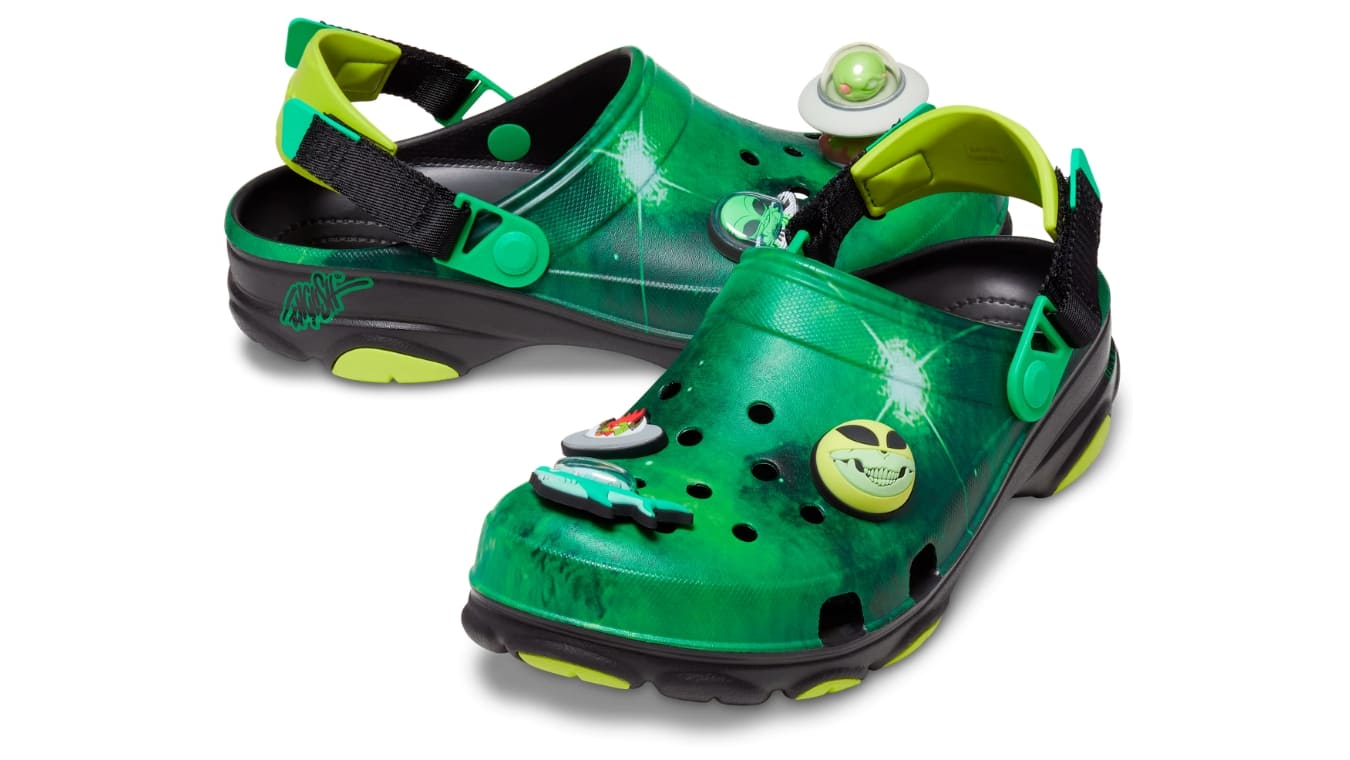 Key details
They have integrated ventilation ports, so that the feet can perspire at all times. In addition, it allows them to get rid of water easily.
Due to their composition and design, they are easy to clean sandals with soap and water. In addition, it uses materials that allow it to dry in a matter of minutes.
It has straps in the heel area with an adjustable turbo structure. In this way, you can get a tight fit that does not bother when you walk.
The structure of the clogs is quite flexible and lightweight, to walk more freely anywhere.
Like other models in the Crocs catalog, these sandals can be customized with Jibbitz charms.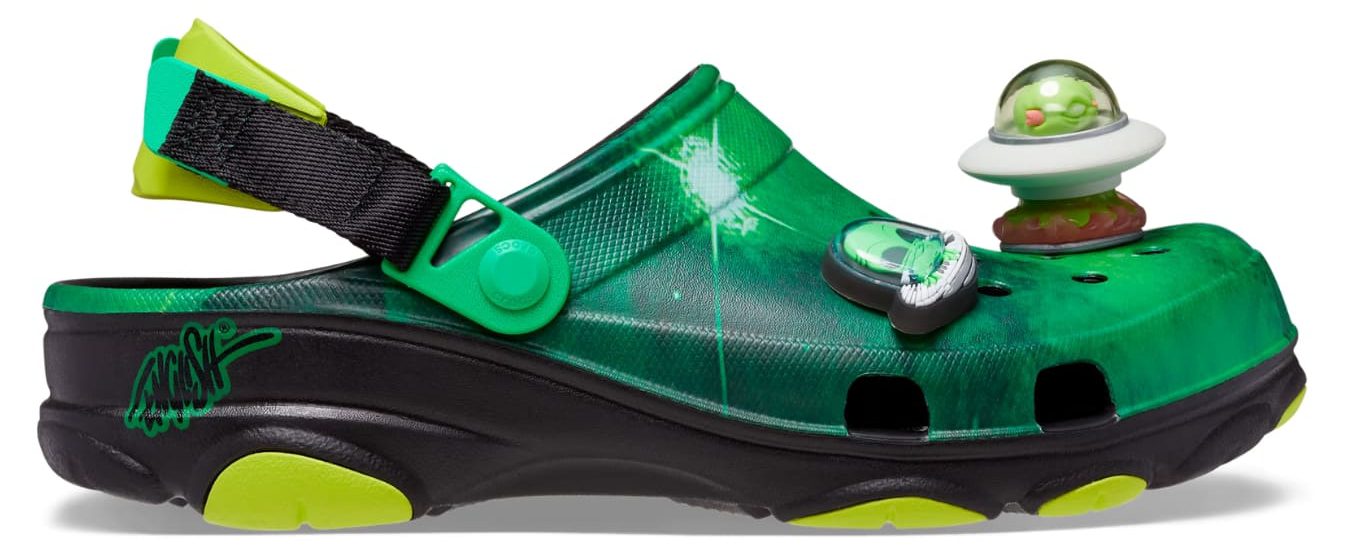 Crocs Classic All-Terrain Crocs x Ron English Clog
If you are interested in buying the Classic All-Terrain Crocs x Ron English Clog model from Crocs, these are available from the official website. The sandals have an economical price of $64.99 and have free shipping to different regions of the United States. In addition, they are protected by a warranty coverage that extends for 90 days.