Not everything in life is about appearances, and many times it is necessary to give the feet a well-deserved rest, especially for men who walk miles away weekly to meet their goals.  Skechers is just like its products, a versatile brand that is for you no matter the occasion. Therefore, it also offers comfortable models of sandals and flip-flops ideal for being at home.
Therefore, the store, which is so famous in America, has a completely wide catalog of boots for children, men, and women. But also, you can find high-heeled shoes, work boots, and home sandals like the ones we show you today here at Look At The Square (LATSQ).
Go Walk Massage Fit Sandal
It is a modern style shoe for men, which is available in black and light gray. Its availability of sizes ranges from 7 to 14, to choose from the Skechers website. The Go Walk Massage Fit Sandal model stands out for its fresh and innovative design. The upper part is made of soft synthetic material and a 3-point thong style.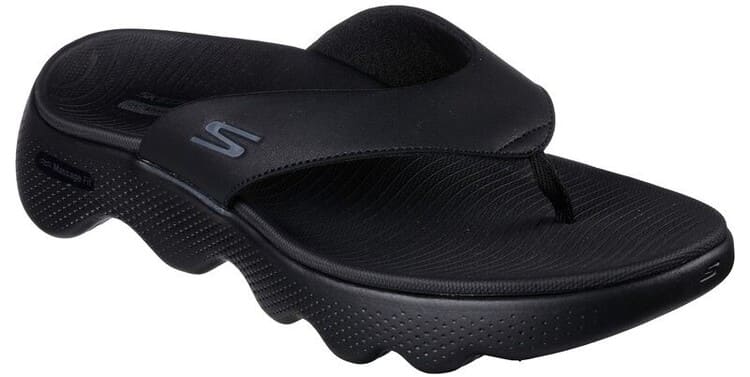 It is important to mention that the Go Walk Massage Fit Sandal model from Skechers has a padded midsole. This has an ultra-light and responsive composition to improve the sensation when walking. On the other hand, it has a contoured insole that uses Massage Fit comfort technology. So, you can feel that your feet are massaged.
Another key detail of its composition is the durable double-density traction sole for greater safety and stability. Regarding its price, this model of flip-flops for the home has a cost of $78.00 or $19.50 in 4 monthly installments with Afterpay.
Skechers Go Walk Massage Fit Kneaded Relief
Another model to use inside the house that Skechers has to offer, is the Go Walk Massage Fit Kneaded Relief. These are sandals for men in black with white or white with black, depending on your preference. They are medium width and you can get them in sizes from 7 to 14. These offer comfort while keeping your feet cool.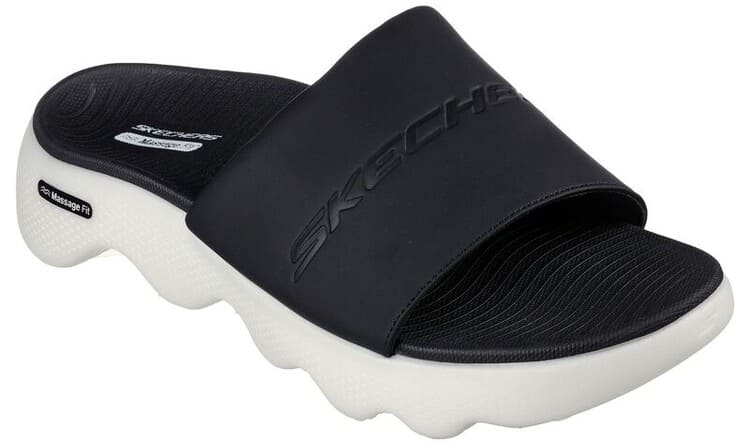 Go Walk Massage Fit Kneaded Relief by Skechers has a synthetic top of the material, with the Skechers logo engraved. They use a Massage Fit wave midsole and a padded Hyper Burst midsole of resistant foam. This massage the feet when walking in a light and receptive way, in order to give you a greater return of energy.
Like the previous model, they are contoured insole and durable traction soles. As for its price, you can buy them for $80.00 or $20.00 in 4 installments without interest.
Arch Fit Motley SD Verlander
If you are looking for classic style sandals, Skechers also offers you this option within its catalog with the Arch Fit Motley SD Verlander model. These can be purchased in brown or black, in sizes from 10 to 12. They are fisherman-style and have a closed tip, while the upper part uses leather with synthetic material.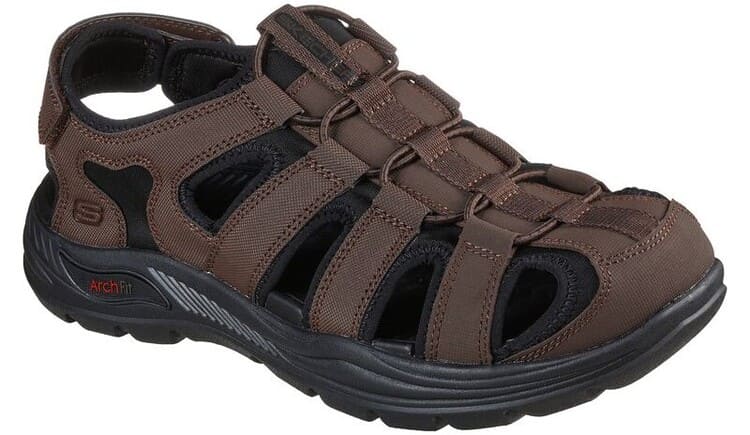 The Arch Fit Motley SD Verlander flip-flops from Skechers stand out for their Arch Fit padded insole and bow adjustment. However, it should also be mentioned that they have a hook strap closure and loop with an elastic cord in the front. The price of this footwear for men is $85.00.
Skechers Arch Fit Motley Revelo
We finish the list with a classic style shoe from the Skechers collection, it is the Arch Fit Motley Revelo model. They are for men, brown, and available in sizes from 7.5 to 13.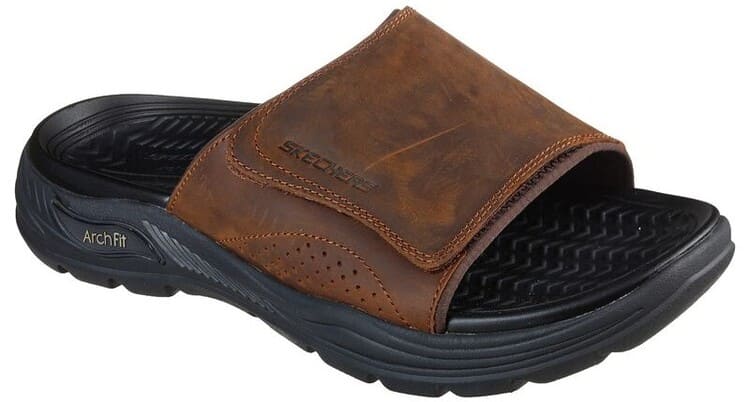 The Arch Fit Motley Revelo model by Skechers has a similar composition to other sandals on the list. They use contoured insole, traction sole, and Velcro closure. They have a current value of $75.00, with payment options financed in installments.