When you want to ride comfortably during the summer in the United States, it is best to have shoes that make you feel that way. The closest thing there is to that is sneakers, but with some styles, they don't have a good combination. Do you want to find freshness and style in sneakers?
To get what you want you just have to try the new model designed by Steven Harrington for the Crocs brand that today in Look At The Square (LATSQ) we bring to you. You will have the freshness you want so much and you will also be able to wear them in various casual styles. Don't let your feet continue to suffer from the heat anymore and do them this little favor.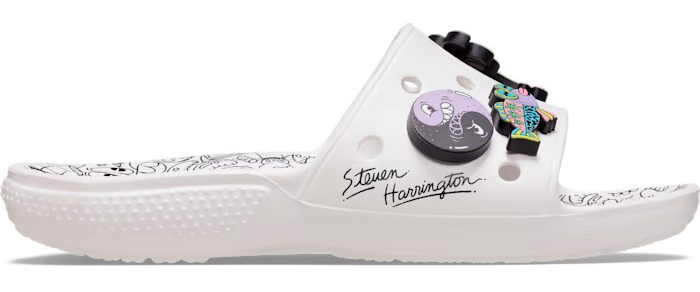 Steven Harrington Crocs Classic Slide
If you are looking for shoes outside the normal style that everyone uses, then the Steven Harrington Crocs Classic Slide fits perfectly to what you want. If you are a lover of pop and cheerful style, its design helps you look that way and will convey a cheerful and optimistic mood.
Although the white style of the Crocs is still present, it is not completely basic but has many colors that leave Steven's stamp. He has a Jibbitz amulet that has the Crocs logo on it. To give you comfort every time you use them, their insoles are made of Croslite foam.
They are classified as Iconic Crocs Comfort, which means that they pass all the tests of lightness, comfort, and flexibility. So, you find footwear of the highest quality. You can easily clean them only using water, since thanks to their material the water can flow and dry quickly. It has several Jibbitz charms which you can customize to your liking. The price of these is $34.99.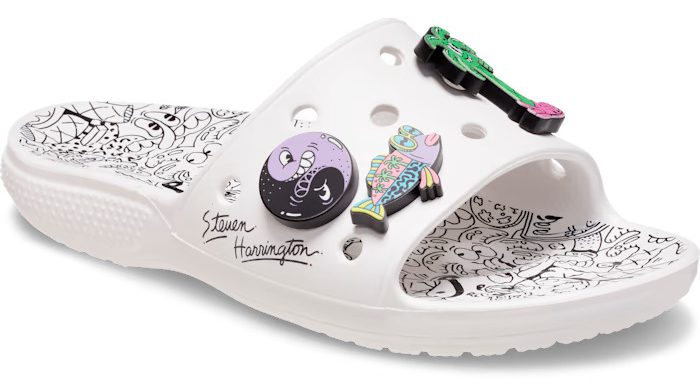 Steven Harrington's news on Crocs
On the Crocs website, you can find all the models of sneakers he has designed. Like the model we just saw, these also convey joy and are perfect for outgoing people who like to dress in a flashy and slightly extravagant way.
The variety and options of use that you can give to this type of shoe are incredible. Just by putting on some socks, you can go out to the store or go to the supermarket. And when you get home, you just stay the same and they look good no matter where you are. Of course, it only combines on informal and everyday occasions, and you would like to take them to an office.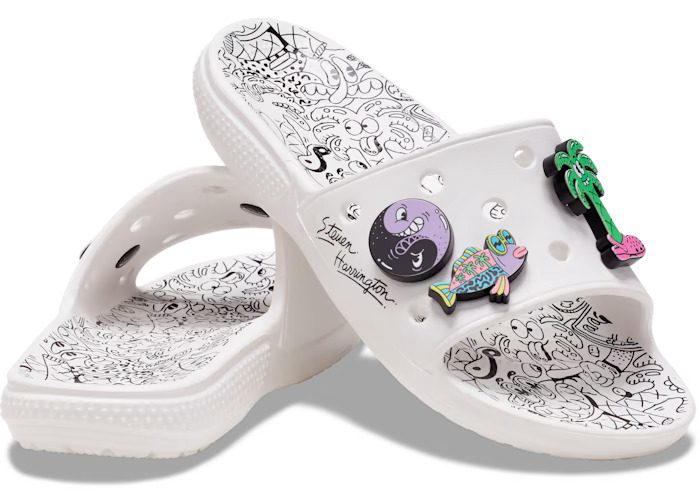 Shipping
At Crocs you are offered several methods for you to receive your purchase through a shipment. To suit your urgency and budget, they have these:
Express Next Day: When your purchase is confirmed, shipping is made within 1 business day and it takes 1 business day to arrive. It costs $29.99, but this shipping method is not available on Saturdays.
Express 2-Day: when making the confirmation of the purchase, the shipment is made one day later and it takes two days to get the order. It is not available on Saturdays and is priced at $25.99.
In these two shipments, when the purchase is greater than $49.99, $10.00 is deducted from shipping.
Standard Ground: shipping is done between 1 and 3 days after purchase and takes between 2 and 5 to arrive. You also can't select it on Saturdays. Its price is $9.99, but on purchases over $49.99, it is priced at $5.99.
Economy: this takes between 1 and 3 days to be sent and arrives between 3 and 6 days. The good thing is its cheap price of $7.99 and for purchases over $49.99, shipping is totally free.