Sportswear is one of the few garments that never go out of style, designs can vary and modernize, but ergonomics and comfort never change. Especially when we talk about reliable stores like Adidas and Nike, which stay true to their classic designs.
At Look At The Square (LATSQ) we believe that comfort means efficiency, it gives you the ability to be completely free to be the movements you want. And for gym lovers, having mobility is the key to correct exercise, so these garments are unmissable.
Adidas Adicolor Trefoil Hoodie
It is a white hoodie and sports style, which is available in additional shades. The Adicolor Trefoil Hoodie garment uses French terry fabric for better softness and comfort when putting it on. In addition to this, it is a normal cut piece with a hood that you can adjust through the cord it has.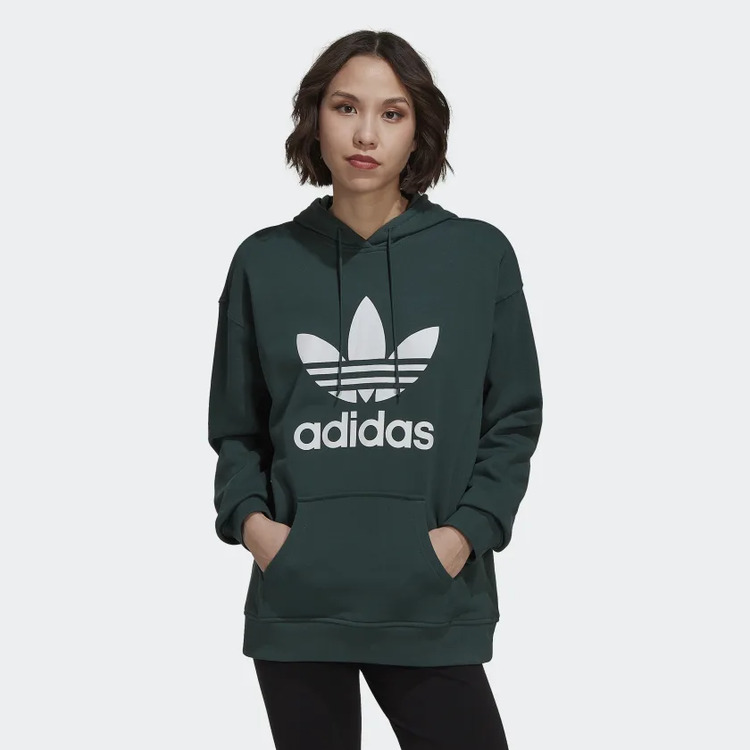 The Adidas Adicolor Trefoil Hoodie model has a kangaroo pocket on the front, where you can cover your hands or store personal items. For the design it has, this is a piece that you can use every day, with different styles of clothing. And best of all, you can wash it with a cold cycle machine.
Within the official website of Adidas, you have the option to buy this sweater for a price of $65.  Within the platform, there are payment options financed in installments.
Floral 3-Stripe Hoodie
We continue with the Floral 3-Stripe Hoodie model from the Adidas sweater collection. It is a sporty model for women in pink, which is also available in beige and black. In addition, you have the option to buy it in size XS up to SG. This garment uses a soft and spacious fabric, with a ribbed hem that fits at the waist.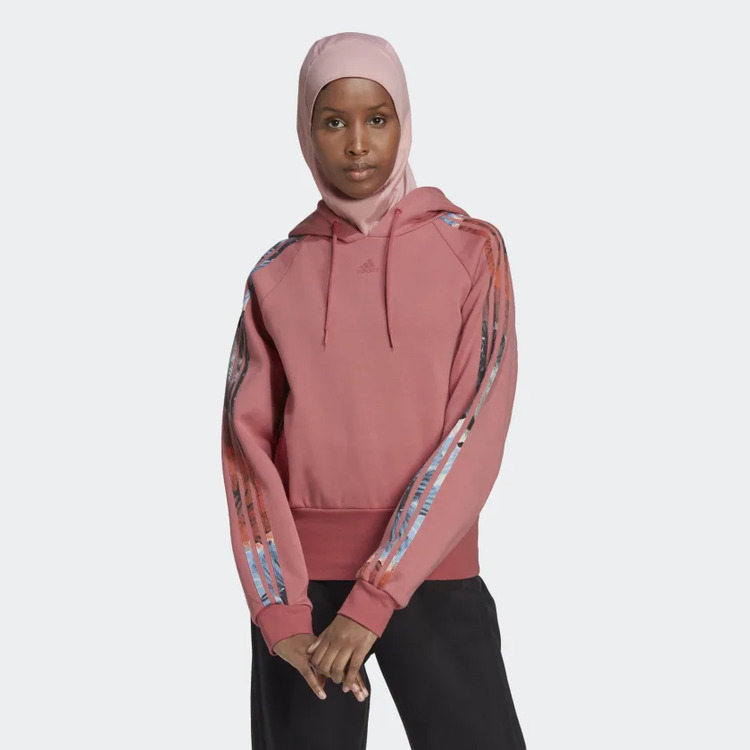 Floral 3-Stripe Hoodie is a garment that is made with recycled cotton and polyester, reducing its environmental impact in production. The hood can also be adjusted with a drawstring, just like the previous sweatshirt. In addition, it is a garment with bomber length.
Currently, this is a product that is available at a discount price in the Adidas catalog. Its original cost is $ 65, but now you can buy it for $49.
Adidas Loungewear Essentials Logo Fleece Hoodie
Among the classic style sweaters that Adidas has available in its catalog, is the Loungewear Essentials Logo Fleece Hoodie model. This is marbled gray, with availability in other shades such as black, white, pink, and red wine color. Like the other garments on the list, you can buy it in both small and large sizes.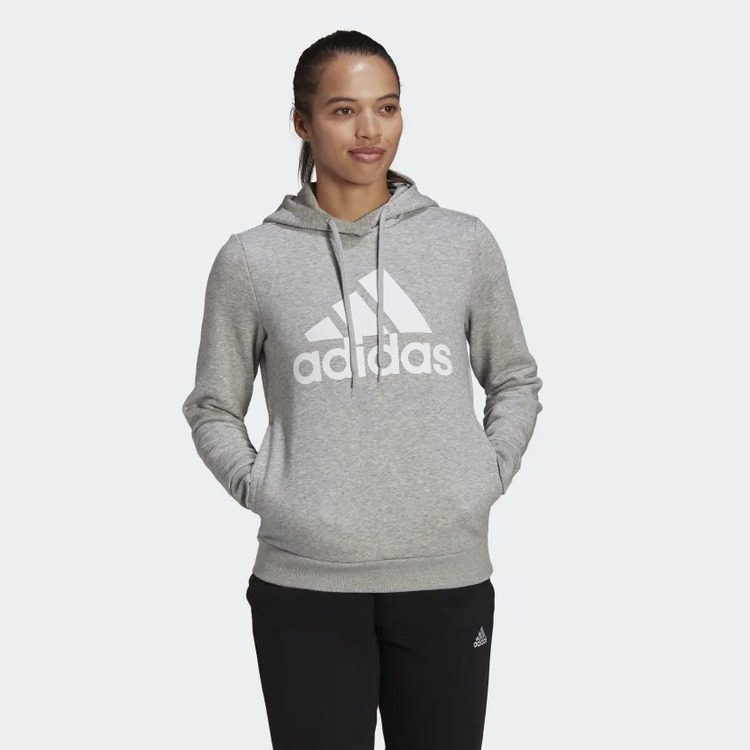 The Adidas Loungewear Essentials Logo Fleece Hoodie model is a normal cut and has an adjustable hood. Its elaboration uses ecological materials such as cotton, recycled polyester and viscose fleece. Thanks to this, it is a soft-touch garment that is comfortable to wear at all times. It keeps your body warm without suffocating.
Regarding its price, it is also a piece available on offer. It used to cost $55 and now it's worth $44. You can choose to buy it in monthly installments via Affirm, Afterpay, and Klarna.
All Szn Fleece Boyfriend Hoodie
We finish with the All Szn Fleece Boyfriend Hoodie model, one of the most popular sweaters in the Nike catalog. It is a beige garment that is also has availability in 9 different colors, both warm and cold. It has a loose-cut structure, with a production of cotton and recycled polyester.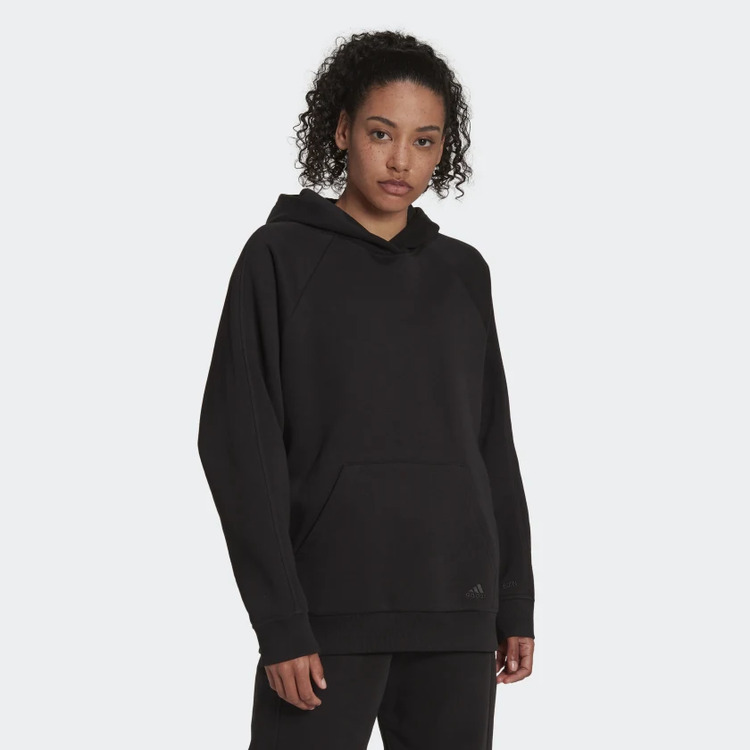 All Szn Fleece Boyfriend Hoodie is a piece that you can use at all times, combining it with ease. In addition, you can buy it at a discount. Its price is $65, but, now it is $52.