While for some people it is uncomfortable to be the center of attention at a party, Zara has some fantastic dress models for those who love to be in the crosshairs. Full of color, and brightness, and with designs that favor the curves of any type of body, special to make you look wherever you go. And at Look At The Square (LATSQ) we know that the last months of the year are full of celebrations.
So, when you open your wardrobe and realize you need something new, come running to this guide where you'll find fantastic designs. And, if you combine them with the accessories you find in Macy's or Urban Outfitters, you will have an outfit that will turn heads wherever you want.
Zara Sequin Slip Dress
It is a long dress with a neckline and thin straps, which you can place through the zipper closure hidden in the side seam. The Sequin Slip Dress model is black and is available in sizes from XS to L. So, it is an excellent garment to look elegant at parties or meetings with friends, highlighting your figure.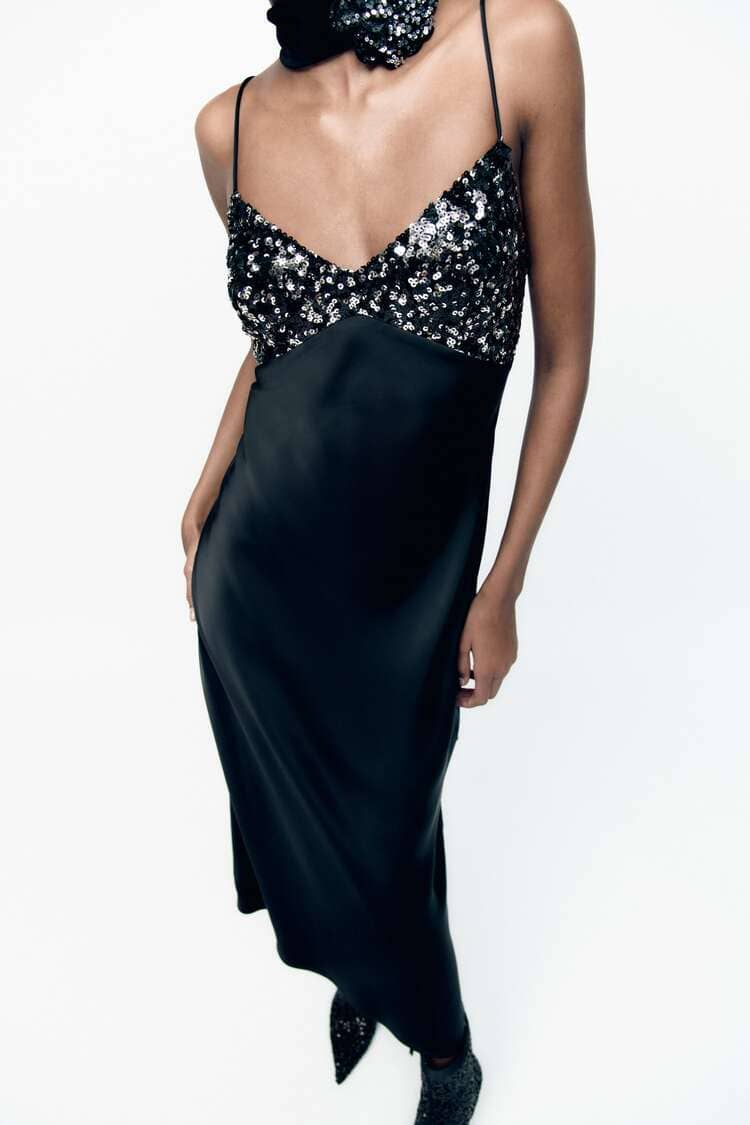 The Sequin Slip Dress garment from the Zara collection is made of polyester and elastane. Thanks to this, it is a piece that will be part of your closet for several years, as long as you wash it by hand. And best of all, you can combine this elegant dress with different accessories or shoes, in a very simple way.
Regarding its price, this Zara garment has an economic cost, since you can buy it for only $69.90.
Beaded Collar Mini Dress
We continue now with the Beaded Collar Mini Dress model from the Zara dress catalog. Unlike the previous garment, this one has a cut above the knee and is long-sleeved. In addition to this, it has a high neck of rhinestones, black color and a rear opening with button closure. Size availability ranges from XS to OS.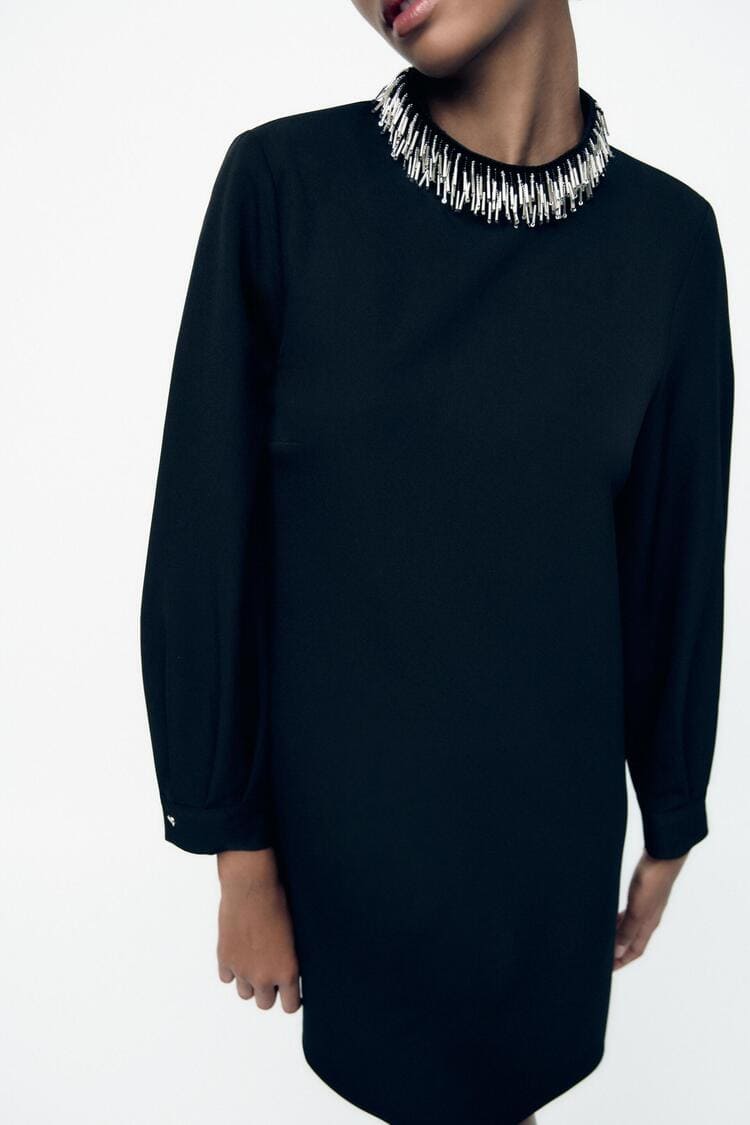 The best thing about the Beaded Collar Mini Dress is that it has a high-quality elaboration since it uses polyester and elastane. This allows you to stay in good condition for a long time with proper care. As a result, you will be able to wear this short dress for parties or social outings, so that your legs stand out and attract attention.
Like the dress mentioned first on the list, this one has an affordable cost. In fact, it's the same price of $69.90.
Zara Belted Shirtdress
If you want to look more elegant and subtle during the holidays, Zara offers you the Belted Shirtdress model. It is a midi dress with a lapel neck, with a refined green style, complemented by a neckline and long sleeves. Apart from that, this long dress reaches the height of the ankles. The double gold buckle belt and folds at the waist fits your physical complexion.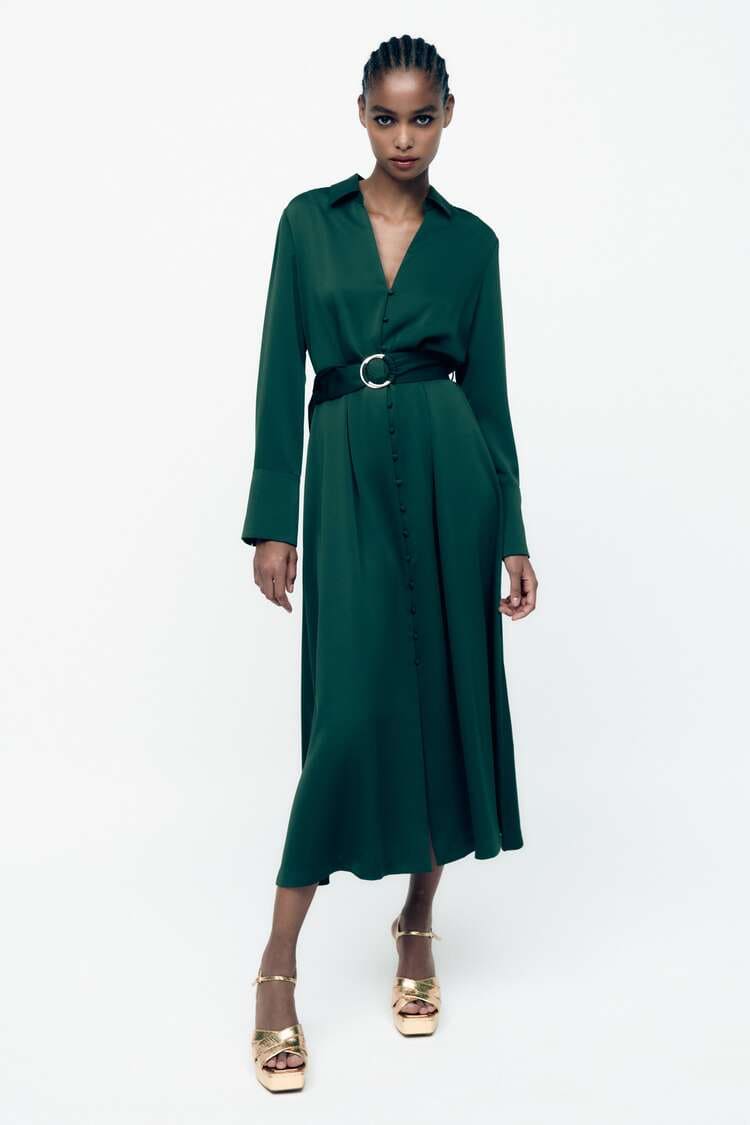 The availability of Belted Shirtdress sizes ranges from XS to SG, with a polyester elaboration. In short, this is a dress that will serve you for the holidays and many more, thanks to the style it has. You can buy this garment for a cost of $79.90.
Asymmetrical Sequin Mini Dress
Finally, we bring you the most daring model of the Zara collection. This is the Asymmetrical Sequin Mini Dress model, which is black with silver details. This dress is quite short, with long collar, shoulder pad and asymmetrical long sleeves. It has a button on the neck and hidden zipper in side stitching.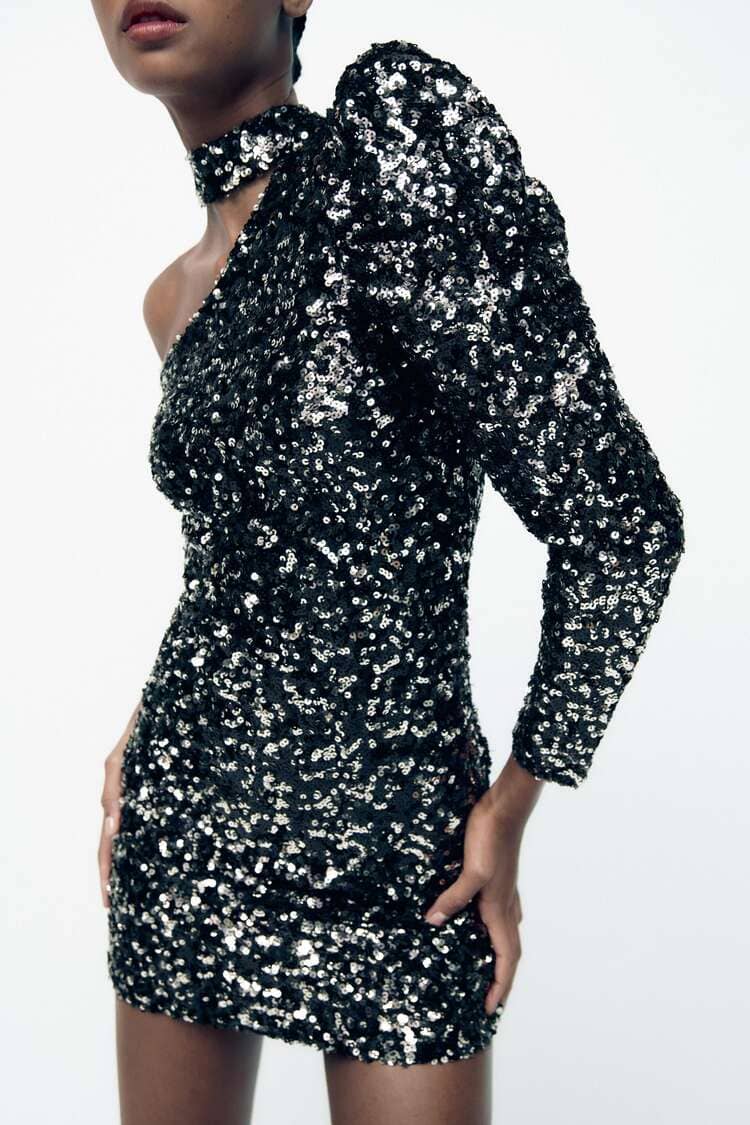 From the Zara website, you can buy the Asymmetrical Sequin Mini Dress model in sizes from XS to XXL. This is a polyester and elastane dress that can be washed easily, without the need to use a machine. Its current value is $69.90.