The years go by and it is inevitable not to start seeing the signs of aging, not only on the face but also on the rest of the body. The hands are one of the main parts that are affected and begin to lose volume and elasticity, which is why you should take care of them during your skin care routine. To help you in a process like this, Trader Joe's has a fantastic collection that will make your hands soft, youthful, and voluminous for many years to come.
There are parts where the climate is drier or colder in the United States, and that's why brands like Sephora or Ulta Beauty battle to see which becomes your favorite option. But this time, due to the price, versatility and benefits that these creams have… at Look At The Square (LATSQ) beauty experts have leaned more towards this fantastic option.
Trader Joe's Ultra Moisturizing Hand Cream Trio
With this set of moisturizing hand creams, you can make sure you have them with a smooth texture at all times. You may feel thick at first, but none of them are greasy or sticky. Ultra Moisturizing Hand Cream Trio is made with natural ingredients, which do not damage or harm the appearance of your hands.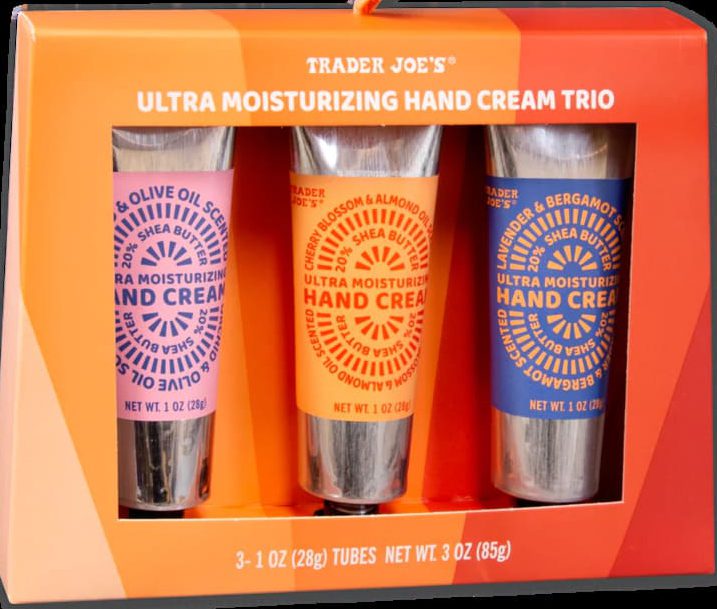 These employ shea butter, coconut oil and safflower seed oil. In addition to this, they have different natural aromas that leave a pleasant smell on your hands. Best of all, Ultra Moisturizing Hand Cream Trio requires only minimal application. Its effects are almost instantaneous and are maintained throughout the day.
Proper application
Undoubtedly, one of the main advantages of this skin care product is that they are all easy to apply. Just follow the instructions below.
First of all, you have to wash your hands with warm water and dry it with a dry towel.
Once you do, apply any of the moisturizers on your hands and massage gently.
Make sure you don't use too much cream, as this can cause negative effects on the skin. A small amount is enough.
Once you have applied it, let your hands dry for a short period of time. So, the cream can quickly affect the skin.
This process can be done 1 or 2 times a day, in the morning when you wake up or in the evenings before going to sleep. In any case, the instructions remain the same.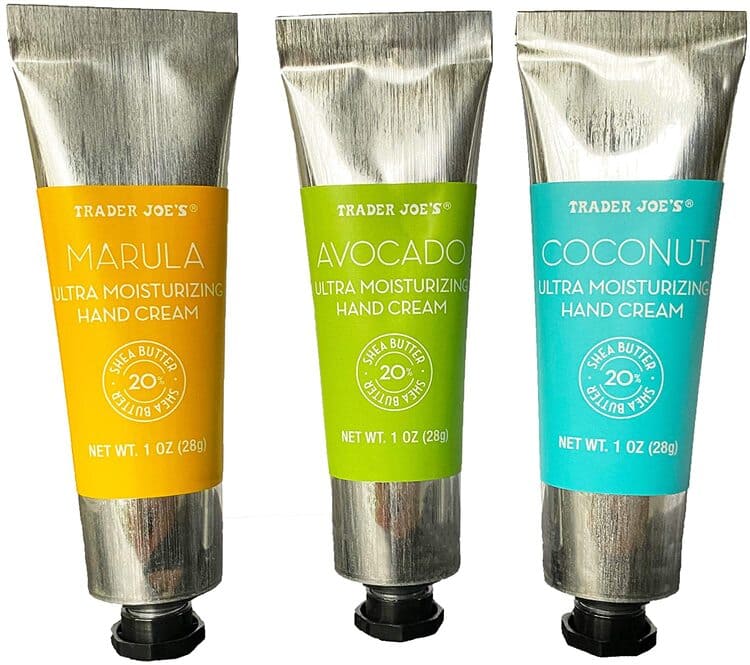 Benefits you can find in this Trader Joe's product
These products serve different skin types. Its effects are the same in normal, combination, and oily skin.
It allows for eliminating dry areas on your hands, reducing the crocodile skin on your body.
It helps improve water retention in the body, so you stay hydrated for longer periods of time.
The skin on the hands regains elasticity, while wrinkles that appear with old age are reduced.
You will suffer from fewer spots and uneven tones that harm the appearance of your hands.
They function as a layer of protection against external aggressions such as wind, cold and sun.
Protect the skin of your hands from bacteria and toxins that are in the environment and can affect you.
How much does the Ultra Moisturizing Hand Cream Trio cost at Trader Joe's?
It is important to note that Ultra Moisturizing Hand Cream Trio is available on the official website and stores of Trader Joe's. This product currently has an economical price of $7.99 each. That is, the complete package with the 3 creams comes out at $23.97. In addition, Trader Joe's offers you different payment methods available to choose from.