Decorating your home with Christmas accessories is an excellent way to give life and color to your home and make it feel better. So you can be prepared for when you have visits from your loved ones during the holidays. Stores like Walmart and Amazon have good holiday products, as does Urban Outfitters in their online catalog.
The latter will surprise you with their wide variety of colors and sizes that will make your Christmas in the United States fantastic. Thanks to this, it is an excellent option to consider preparing your residence at Christmas. We will tell you about them at Look At The Square (LATSQ).
Urban Outfitters Urban Renewal Kantha Holiday Stocking
The first option that we bring you from the Urban Outfitters catalog is the Urban Renewal Kantha Holiday Stocking model. It is a perfect accessory for the interior decoration of your home, thanks to its colorful Christmas style. This sock uses recycled cotton fabrics, complemented by kitsch patterns and picturesque stitching.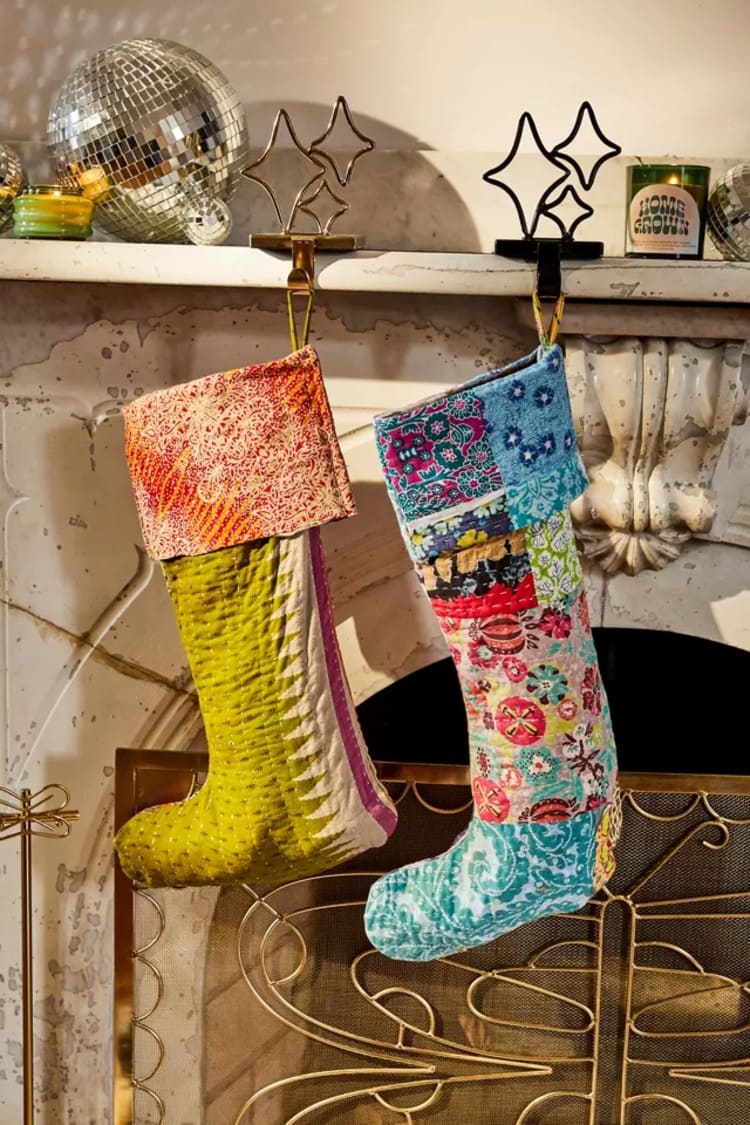 The Urban Renewal Kantha Holiday Stocking product serves to decorate any site of the dwelling. Both the bedroom, the kitchen or the living room, since it does not take up much space. It has 21" long x 12" wide dimensions and can be hung on a wall to stand out easily. And best of all, the product is for machine washing.
If you want to acquire this splendid decorative item, you only have to pay $24.00 or 4 installments without interest of $6.00. For the latter, you need Afterpay or Klarna.
Urban Outfitters Yui Brooklyn Pine Tree Shaped Candle
We continue now with a decorative product with a different style, the Yui Brooklyn Pine Tree Shaped Candle model. Not only does it serve to decorate your home, but it will also help you keep it warm and bright. This wax candle with a pine silhouette does not give off any aroma since it does not contain perfumes in its composition.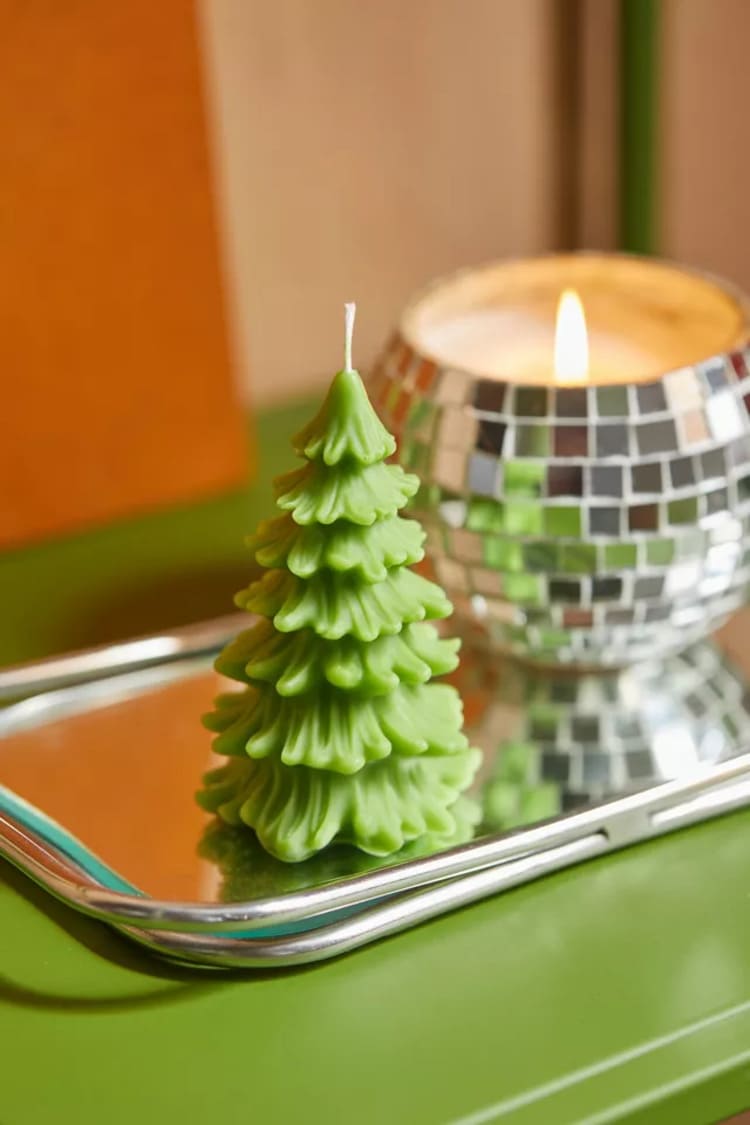 It is made with natural soy wax, beeswax, and a lead-free cotton wick. It is trimmed the wick, with compact measures of 2.5 x 4.5 and 3.2 ounces. Therefore, you can complement other Christmas decorations or decorate any part of the home. Yui Brooklyn Pine Tree Shaped Candle is priced at $24.00 and can be purchased monthly without interest of $6.00.
Urban Outfitters Santa Camper Light
We continue with another accessory to illuminate the interior of your home during the Christmas season. In this case, the Santa Camper Light model has a unique style for home decoration. It has a caravan design with Santa Claus handling it, with a Christmas tree hanging on top for lighting.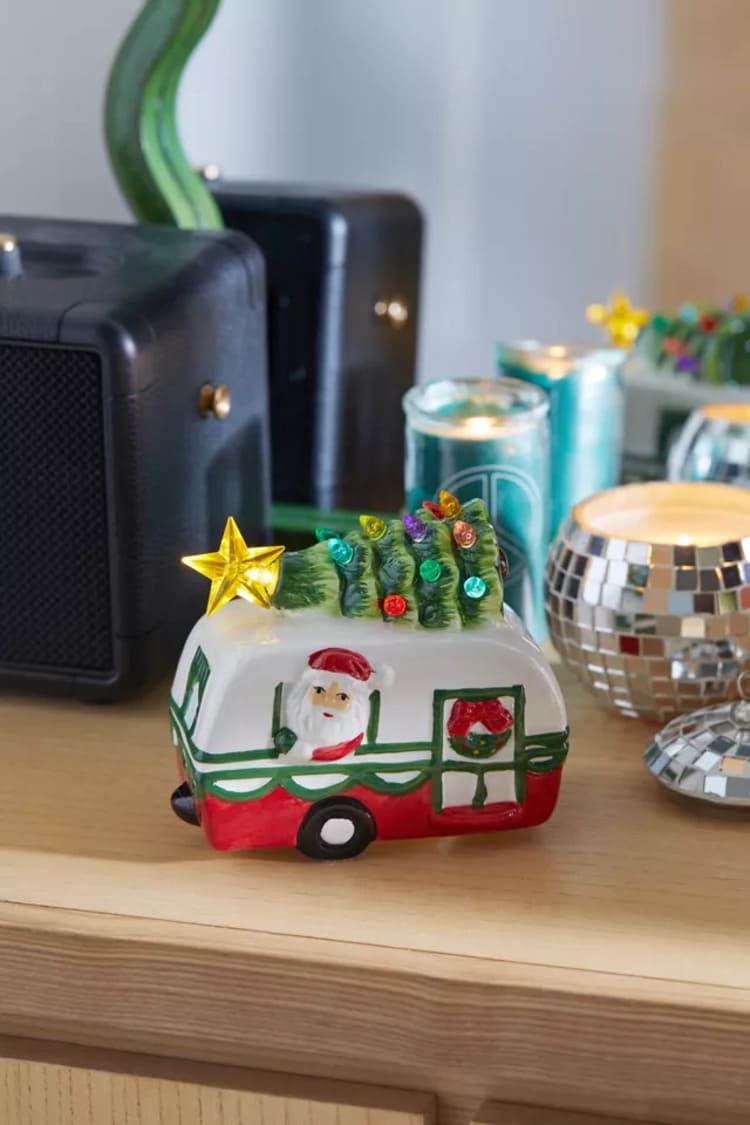 This product uses ceramic as a manufacturing material and is hand painted. Therefore, their colors may vary slightly from those shown in the exhibition photo. Its measurements are 5″ long x 3″ wide x 4.75″ high.  For lighting, you need 2 AA batteries that are not included. After spending 4 hours on it, the light of the Santa Camper Light model turns off automatically. You can buy this product for as little as $29.00 or 4 interest-free installments of $7.25.
Urban Outfitters Gentle Thrills UO Exclusive Ornament Set
Finally, let's go with the product Gentle Thrills UO Exclusive Ornament Set. It is one of the most complete and popular Christmas accessories in the Urban Outfitters online catalog. The rope strip is made up of 3 dogs in different colors, which tend to vary. Its measures are as follows.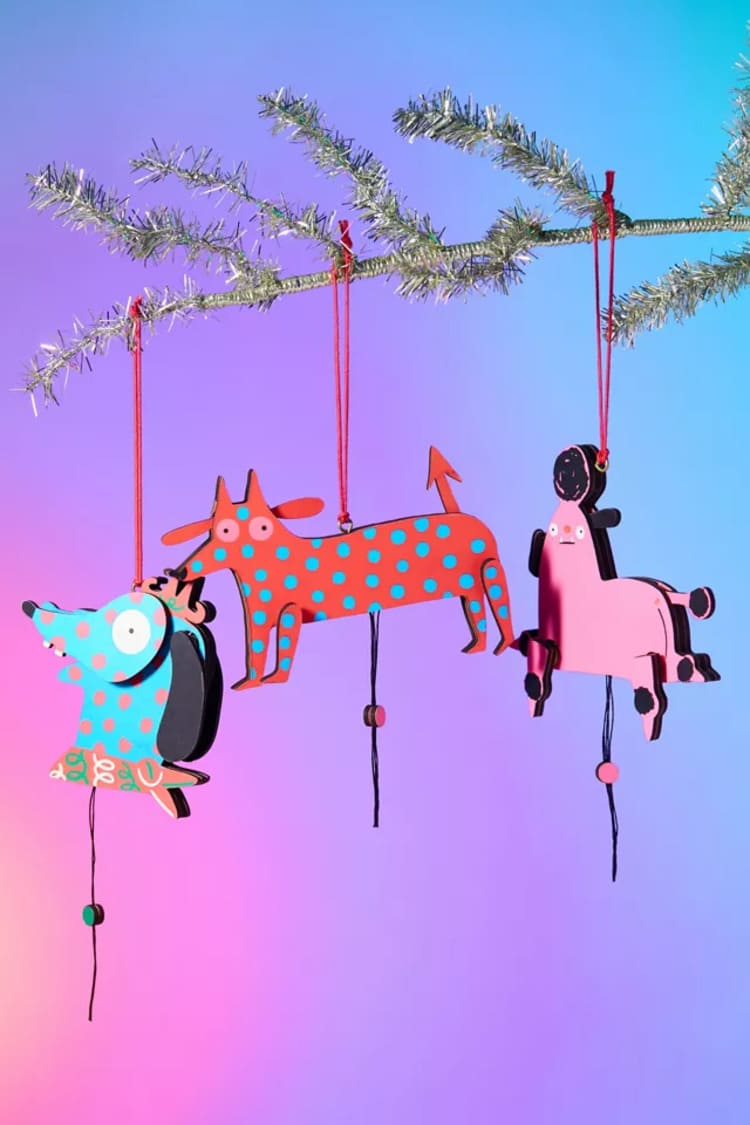 Bad dog dimensions: 3.25″ x 6″.
Poodle dimensions: 4.5″ x 3.5″.
Cowboy Dog Dimensions: 3.75″ x 2″.
On the Urban Outfitters website, the Gentle Thrills UO Exclusive Ornament Set is available for $30.00. You also have the funded payment option.