Christmas is just a few weeks away, and to prepare your home for the holidays, you need decorations that fit the theme and your tastes. Zara Home offers several attractive lamp options that match your living room, kitchen, dining room, or any other space in your home while representing the holiday spirit.
Look At The Square (LATSQ) has always been your reliable source of information, so you can learn all about the new trending products before 2022 is over. Therefore, we leave you with this article where you can know the options of lamps, candle holders, and candlesticks available at Zara Home.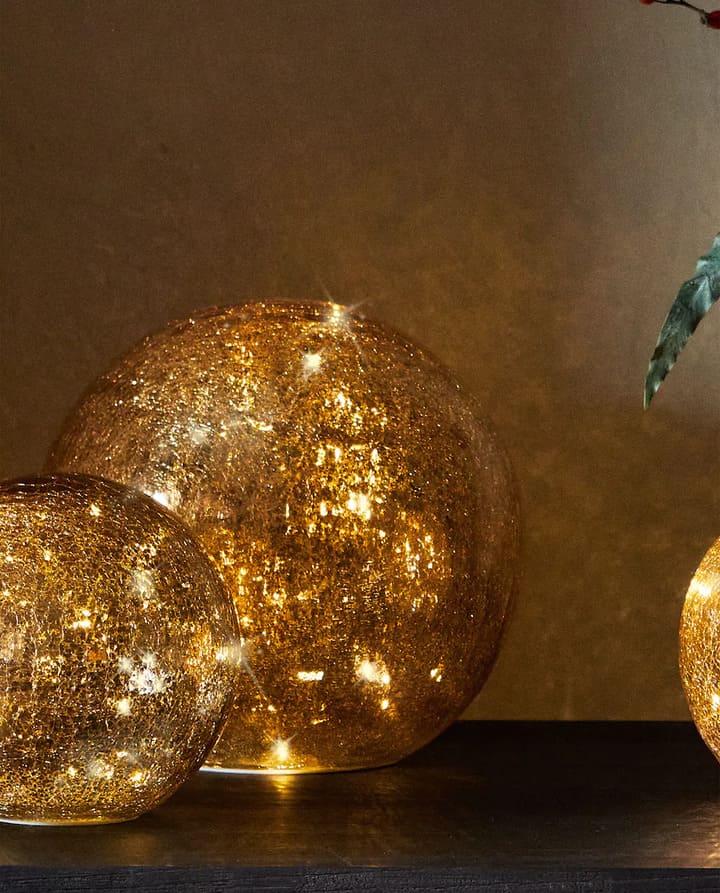 Golden tree candle
There can't be a more festive and Christmasy object than a tree, and with this candle, you can have one on your table during the celebration of a good night.

The golden tree candle is an imported product brought directly from Vietnam.

It has a height of 8.9″ and a width of 5.5″, and its total weight is 818g.

Its finish is in gold color with silver-toned glitter splashes.

Its total price is 30$, which must be paid by adding the shipping cost, estimated at 5$, and if you want to order more than 

50$

, the shipping is completely free.

Golden tree candle
Christmas ornament lamp
The spherical Christmas ornament lamp

 is the ideal complement to your 

festive decorations

. It can be placed on the table, bookcase, or any space you want to illuminate with its 

golden glow

.

Unlike the previous option, this one works with 

rechargeable batteries

 which generate beautiful artificial light.

It comes in 3 different sizes, one 5.5 "x5.9", one 7.5 "x7.9", and one 11 "x11.6". It comes in 2 different colors, one model is silver, and the other one is gold.

The cost is 

$36

 for the most petite, $50 for the medium, and $90 for the largest. When you purchase all 3 sizes together, you can request free shipping.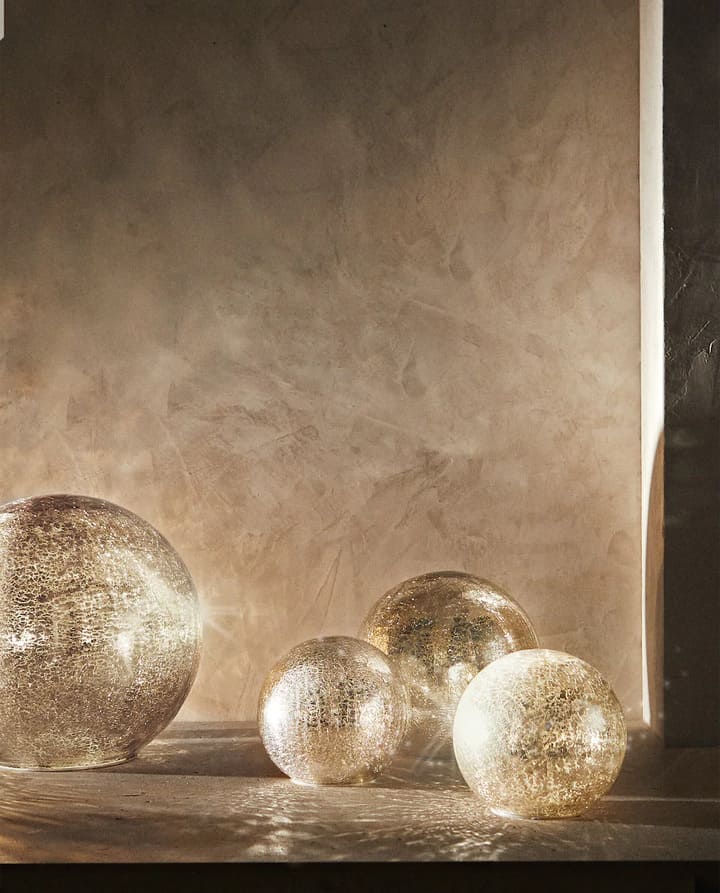 Christmas ornament lamp
This model is very similar to the previous one since it is a decorative spherical ball that can illuminate with the batteries' help. The difference in this one is that it has a translucent design with a wrinkled finish.

It comes in two sizes, one 5.3 "x5.7" and the other 7.5 "x7.9", but unfortunately, the latter is not currently available.

Its cost is estimated at 

$40

; if the 7.5″ is available, it will cost $60. The price does not include shipping, and it is $6.00 for anywhere in the country unless you order more than $50.00, which provides free shipping.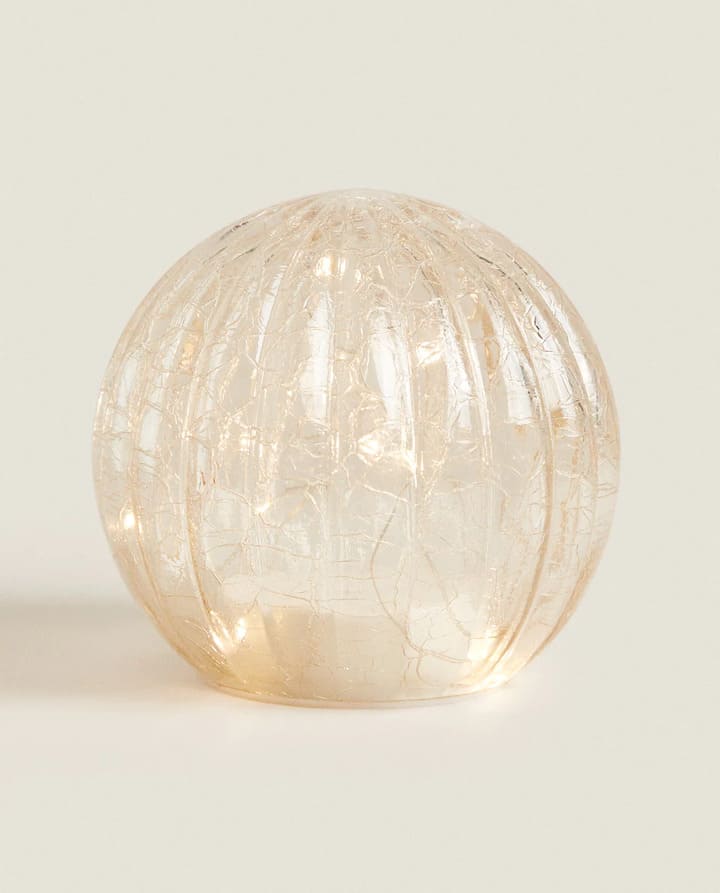 Shop the look
The Christmas fir tree lamp is the last option we have for the moment on the Christmas decorations found at Zara Home.

With it, you will have a perfect Christmas tree of light that can be placed as a centerpiece during dinner on December 24 or 31.

This comes in two models, one is a decorative tree with light and glitter in white color that can be found in two sizes, one of 15.80cmx7.60cm high with a cost of 

$13

 and the other of 24.50cmx10.80cm with a price of 

$16

.

The other is a fine gold or silver color, with an inner light to illuminate with the help of batteries that is only available in the size of 28cmx16cm and has a cost of 

40$

.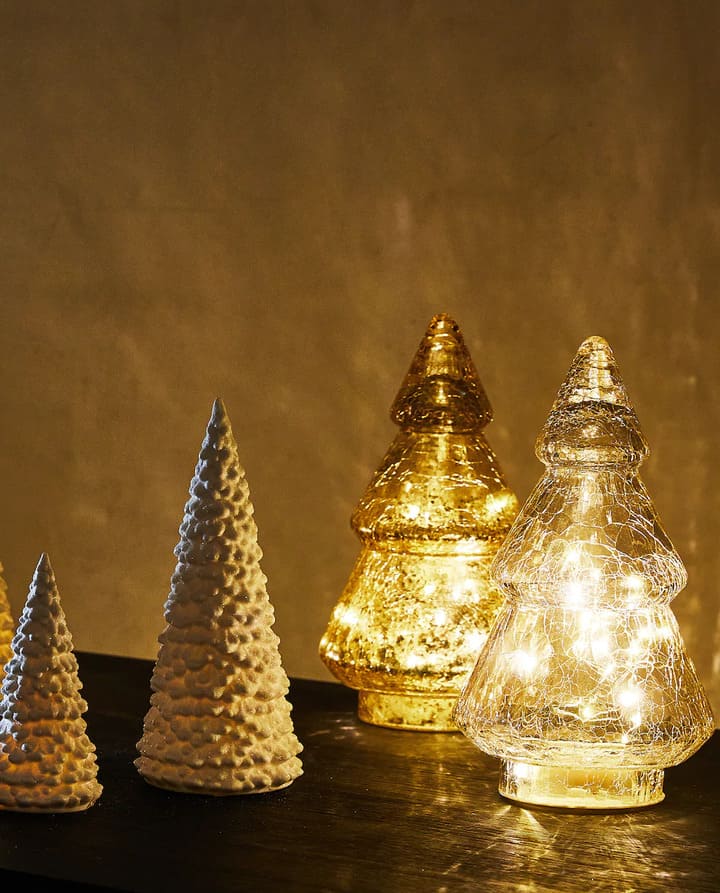 Recommendations for use and cleaning
Although these ornaments are best for December, you can use them in any season without any problem. Just remember to keep them in an area away from humidity and always clean them with dry tissues.