Zara maintains the fashion of classic black and white colors for the cold seasons. However, the fashion experts at Look At The Square (LATSQ) have found four models to make your closet a total turnaround. Especially since they are exquisite, go with all body types, and their colors are beautiful.
In the United States, the snow will fall, dyeing all the streets white. This creates a perfect canvas for your dresses to stand out. And whether you choose them in black or white, the combination with the background will be perfect. And with the different accessories, you find at Macy's or within the Zara catalog; you will complete a catwalk outfit.
Zara Jacquard Shirtdress
To start, the Jacquard Shirtdress stands out for its V-shaped shape with long sleeves. It has a cute and elegant design that makes it wrinkle at the waist to give an hourglass shape. In addition, the buttons on the front give it a carefree, but at the same time, very classic look.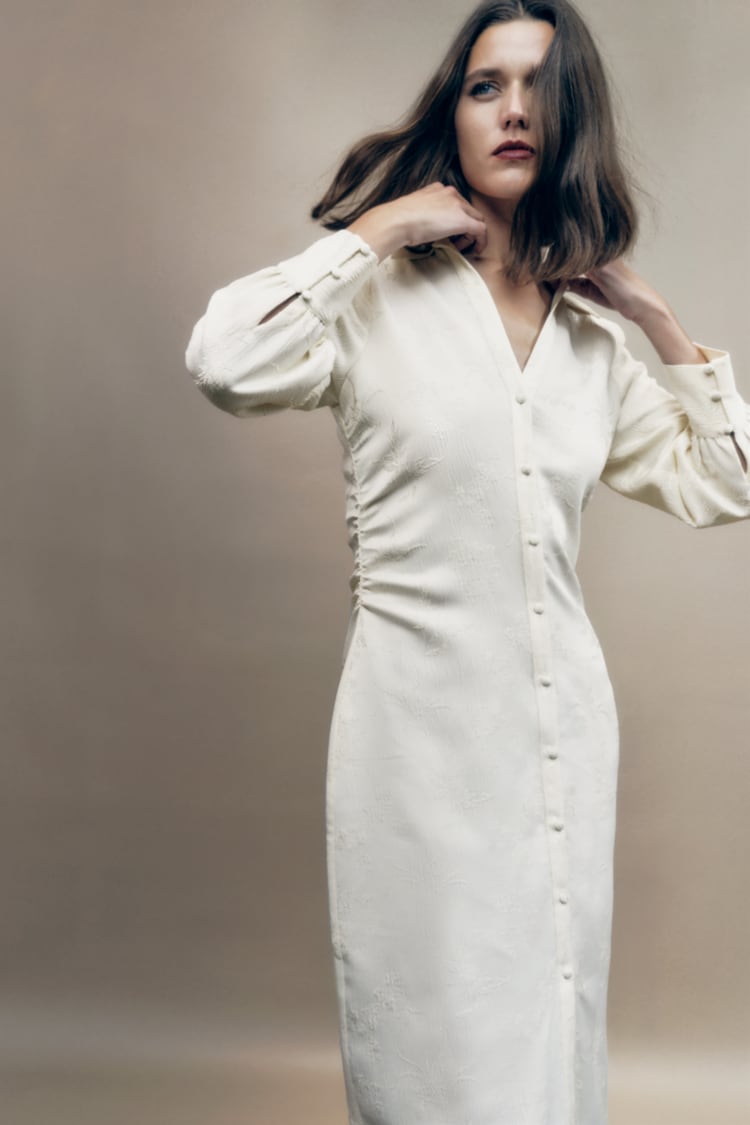 This dress is suitable for all types of bodies since it becomes a different model for each occasion. Regarding material, Zara strives to ensure that everything is under health, environmental and social standards. This means that this dress is Planet-friendly.
Zara manufactured this dress based on 50% polyester, 48% viscose, and 2% elastane. It is easy to wash it in a washing machine, using cold water and the gentle washing cycle. We recommend not using bleach or drying in the dryer. Finally, you can buy this dress for only $79.90.
Draped Velvet Dress
Next, we have this Draped Velvet Dress that, for only $ 69.90, can make you look like you are taken from a catwalk or magazine. It molds to the body perfectly, and thanks to its materials, it can stretch so as not to make you feel too tight or uncomfortable.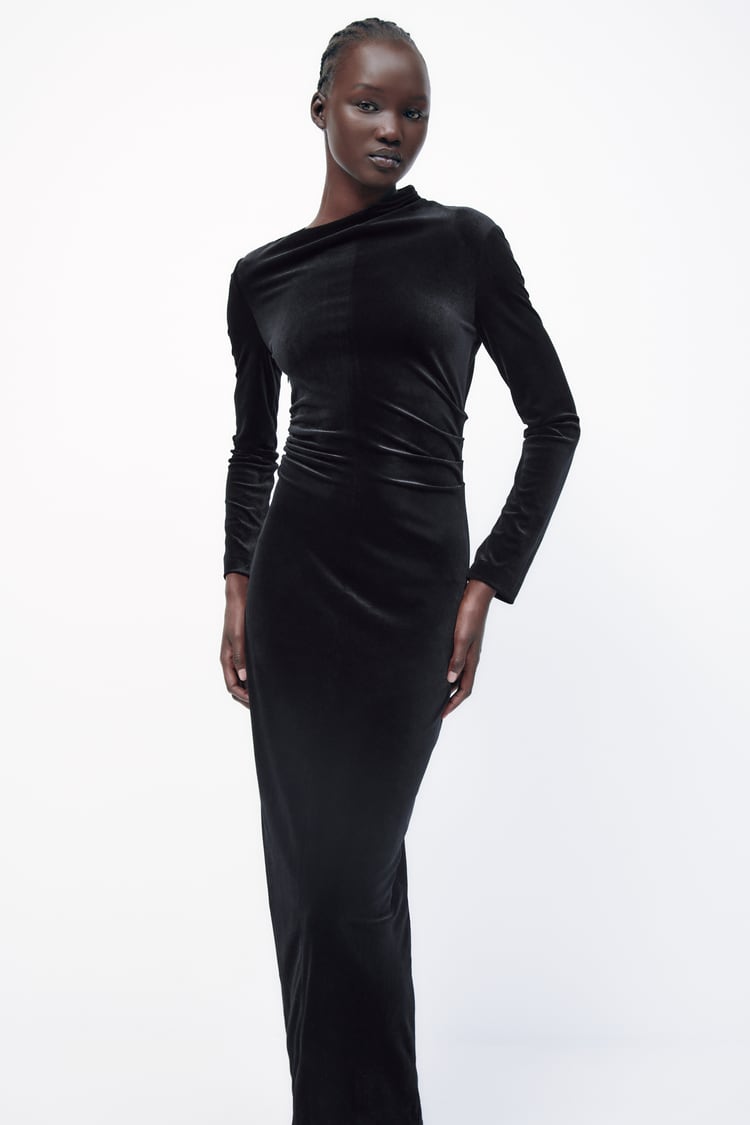 A beautiful feature of this dress is its rear opening in the hem, facilitating movement. Since being such a long dress, it needs to have looseness so that your legs and feet can move freely. Zara thinks about everyone's comfort and satisfaction, so you can find this dress in sizes: XS, S, M, L, XL, and XXL.
It is made with %92 polyester and % eight elastane. So, it is a resistant garment as long as you keep it in the proper condition. You should not wash by hand or machine but implement a dry cleaning of tetrachloroethylene. In the same way, do not use bleach or dry in the dryer.
Zara Belted Shirtdress
Next, we have this mini neck dress with a lapel and neckline in peak with long sleeves. What stands out most about this Belted ShirtDress model is its elastic puckered waist and belt in tune with gold buckle. And, as if that were not enough, the buttons are gilding with a very nice embossing engraving to add lovely elegance and class.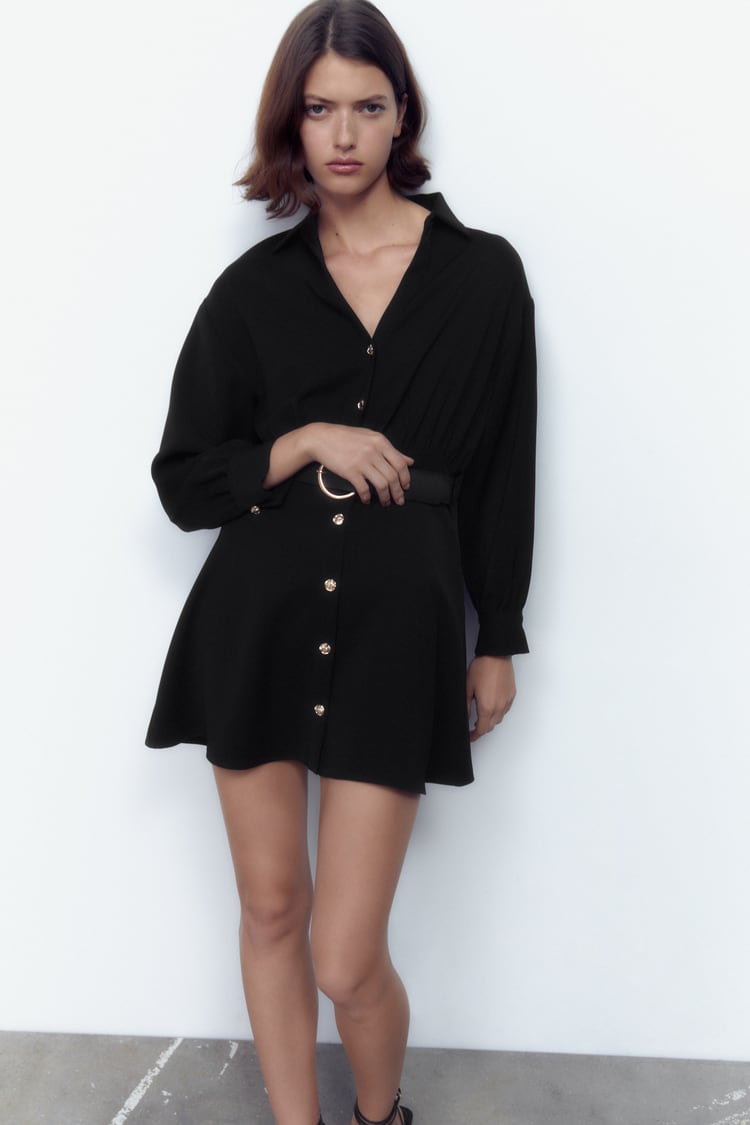 Like the previous models, it is manufactured under social, environmental, and health norms and standards. And so, you can keep it safe at home; we recommend washing it at low temperatures with delicate spin cycles. This also reduces the energy consumption used in each washing process.
Therefore, Zara recommends that it be machine washed with a maximum temperature of 30°C/86°C with a delicate cycle. Could you not use bleach or dry it in a dryer? And for more optimal results, you can dry wash with tetrachloroethylene. Enjoy this fantastic garment for only $49.90.