New Year is just around the corner, and they say you start the year the same way you ended the last. And for that, make sure that you are full of glamour, style, and comfort. Zara, being one of the most striking fashion stores in the United States, wastes no time. Especially with these dress models that stand out for their black color, elegant design, and way of framing the figure at all the right angles.
In addition, everything we show you at Look At The Square (LATSQ) maintains a relationship of quality and price, which makes any option you choose the best of all. Now you have to match those boots from Macy's and all the cute accessories and jewelry from Urban Outfitters.
Zara Draped Wool Blend Dress Limited Edition
It is an elegant long dress that will allow you to dazzle during the holidays and attract everyone's eyes. The Draped Wool Blend Dress Limited Edition is comfortable, cool, and easy to put on. You can combine it with all kinds of accessories, underwear, and the footwear you prefer. In addition, it has the following characteristics.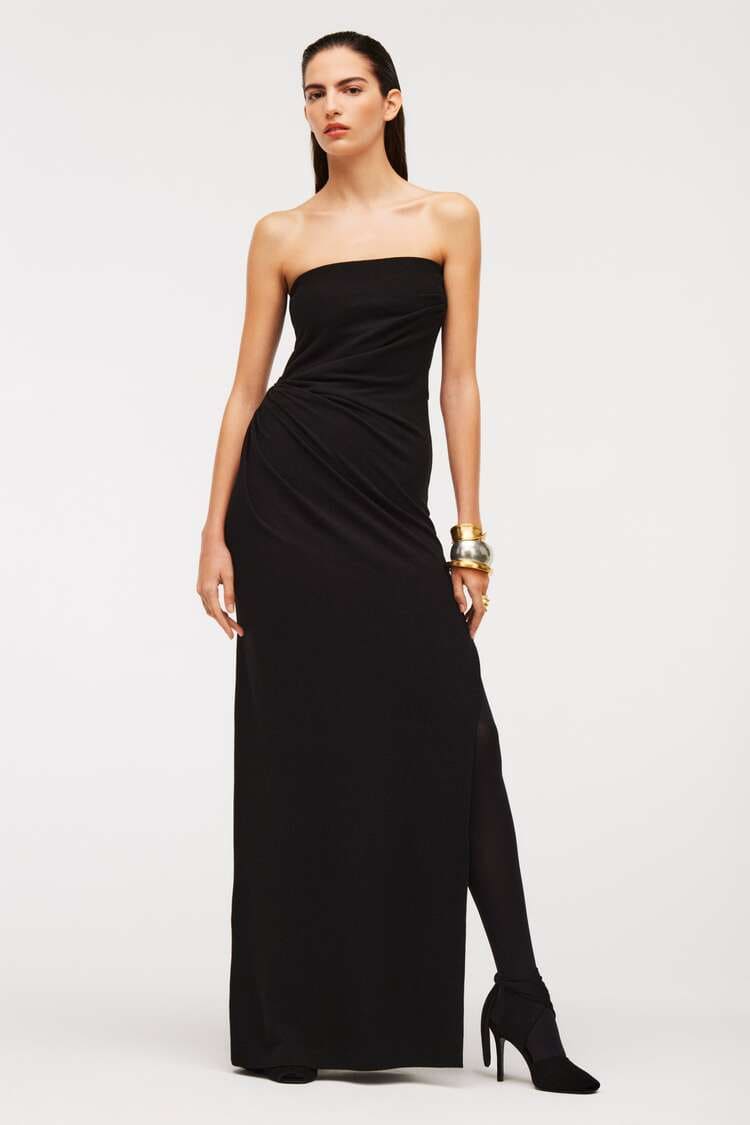 It is available in small and large sizes.
It has no straps and a straight neckline.
It has side folds to highlight your figure.
They have a slit in the hem.
Materials and Care to keep it for a long time
It is important to note that this Zara garment has an ecological elaboration. They comply with environmental, social, health and safety standards. Thanks to this, they do not pollute the environment and are of excellent quality, with great durability. The composition of the dress is as follows.
Viscose.
Work.
Polyamide.
To keep it in good condition, you will have to know the basic care it requires for its maintenance. Next, we will tell you about each of them.
It does not have to be machine washed.
It does not require bleach or bleach.
You should not dry it in a dryer.
It needs a dry cleaning of tetrachloroethylene.
It must be ironed at a temperature of 110ºC / 230ºF.
Zara Draped Wool Blend Dress Limited Edition Incredible Price
You can get the Draped Wool Blend Dress Limited Edition from Zara on the official website. There it is available for an economic price of $169.00 you can pay by different payment methods. There are also multiple shipping options or to pick it up in a physical store.
Zara Faux Leather Midi Dress
Within the catalog of Zara dresses, you may also be interested in the Faux Leather Midi Dress model. It is just as elegant as the previous model, although, with a less long style and with a different elaboration. It also provides a feeling of comfort and keeps your body fresh at all times.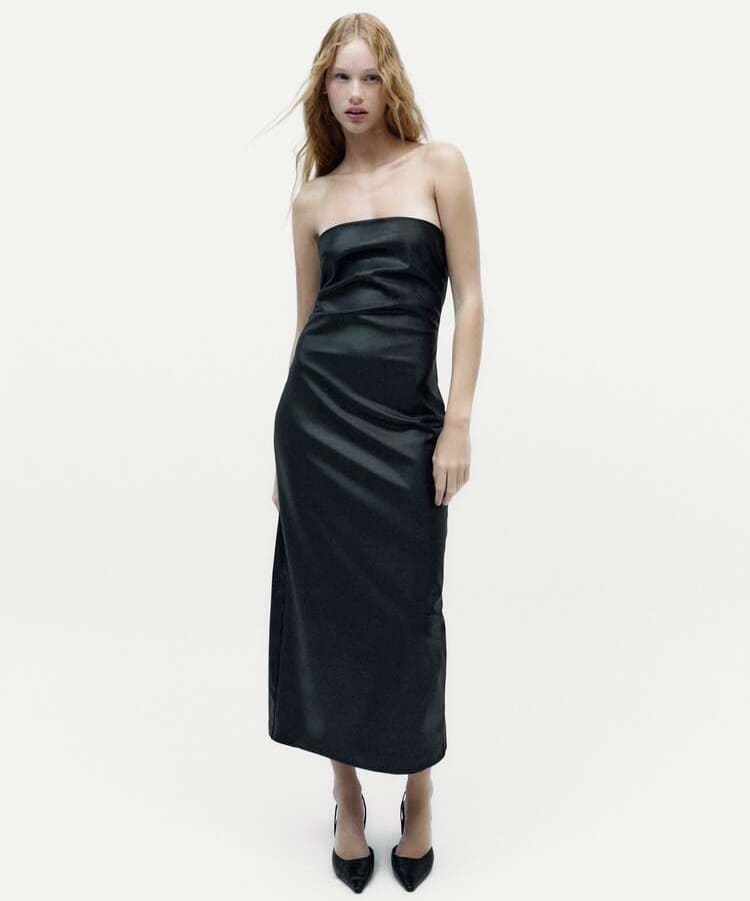 Best qualities
Strapless design.
It adapts to the texture of your physique.
Leave your ankles free to wear all kinds of shoes.
Combine naturally with the accessories you want.
Unmissable composition and maintenance
It is a dress that uses ecological materials and has an elaboration that meets multiple standards. Zara always seeks to reduce pollution in the environment with its products.
Don't miss its best features
Basic fabric: Polyester.
Coating: Polyurethane.
Coating: Polyester.
As for its cleaning, this dress can be machine washed with a delicate cycle. Do not use bleach, a dryer or iron.
Zara Faux Leather Midi Dress Incredible Price
You have the option to buy this dress from Zara from the official website. The Faux Leather Midi Dress model has an economical price of only $59.90, in any of the sizes. Like the dress mentioned above, this one has several payment methods.