It is never enough cleaning, either for health or to feel good in our own home, but it is always necessary to have suitable products like those that Best Buy has. Not to accumulate accessories, but to optimize and reduce the time we invest in cleaning the home.
And, for many years, vacuum cleaners are no longer the same. Now a dark stain is no longer a problem for your carpet, and accessories, headboards, and cleaning cloths ensure that every corner is neat. Especially when you have a Dyson vacuum cleaner that takes cleanliness to another level.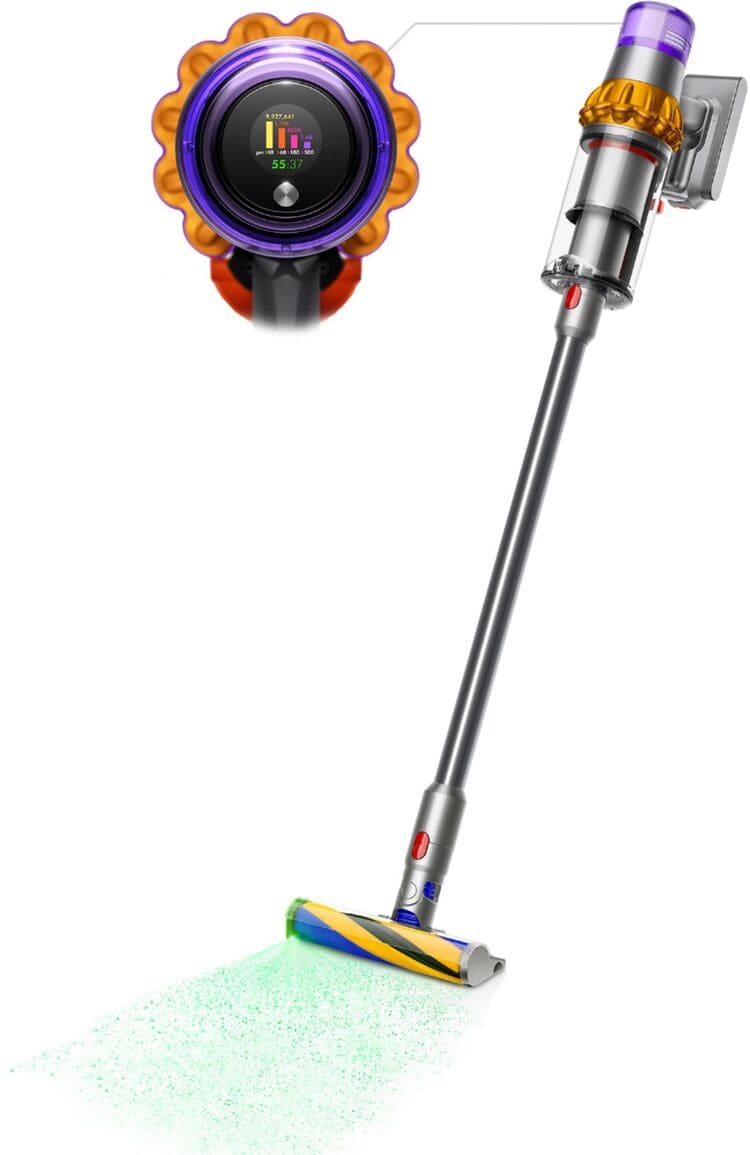 Best Buy Dyson V15 Detect
It is a cordless vacuum cleaner of minimalist design and compact size, belonging to the Dyson brand. This cleaning device is silver with yellow details. On the other hand, it works with high performance and power, in an efficient way, thanks to the built-in laser it has to detect all dust particles in the environment.
Because of the way it is constituted, the Dyson V15 Detect model from Best Buy is one of the most efficient cleaning products. It is easy to use and has different ways to absorb dust from your home. You can even use it manually or automatically, as you prefer. In addition, it has a screen that informs you about all aspects of its operation.
In general, the Dyson V15 Detect product offers you multiple possibilities regarding the cleaning of your home. And best of all, you don't have to spend a lot of time mastering all its features. So that you know it better, below we will name its main characteristics.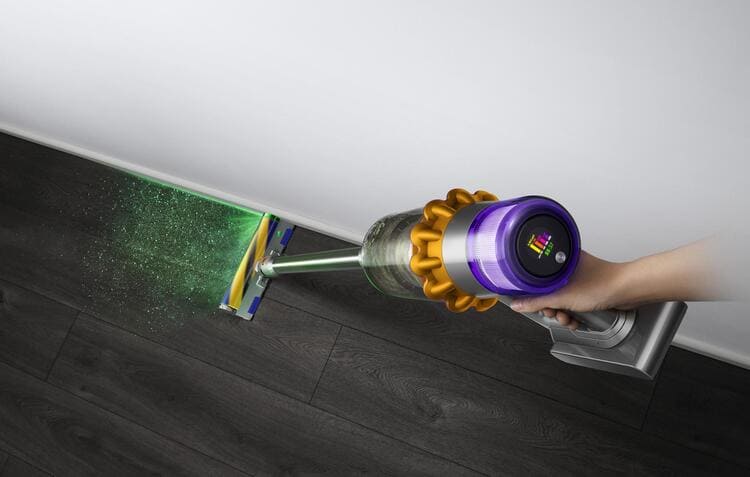 Smart cleaning
When equipped with a laser, the Dyson V15 Detect cordless vacuum can reveal all the dust in your home. It has the ability to detect even in the remotest corners of a room. In addition, they use DLS technology to determine the level of dirt and the type of surface where it will work, to adapt to the environment.
To make sure you do a smart cleaning, the vacuum cleaner has an LCD screen. In it, all the particles of dust and dirt that it absorbs are calculated and classified. In addition, it shows you the power mode it is working with and the countdown of the runtime.
Cleaning head
One of the best qualities that this vacuum cleaner model has, is that it comes with 2 cleaning heads included. These automatically adapt to suction and power, to work in the best possible way. Such complementary accessories are as follows.
High Torque: It serves to clean in depth, for its 56 polycarbonate teeth that adapt to different floors.
Laser Slim Fluffy: Works with a precise angle laser, complemented with antistatic carbon fiber filaments and soft fabric. It is perfect for hard surfaces.
Versatility
Importantly, this cleaning product from Best Buy also adapts to other spaces outside the home. As a result of its versatility, you can use it to clean cars, upholstery or stairs. Just make sure you read the user manual, to know which of the plugin tools will serve you best.
Battery
As we mentioned before, this model of smart vacuum cleaner works wirelessly. It has an integrated battery that allows you to clean for periods of 60 minutes. On the other hand, the charging time required by the vacuum cleaner is 270 minutes.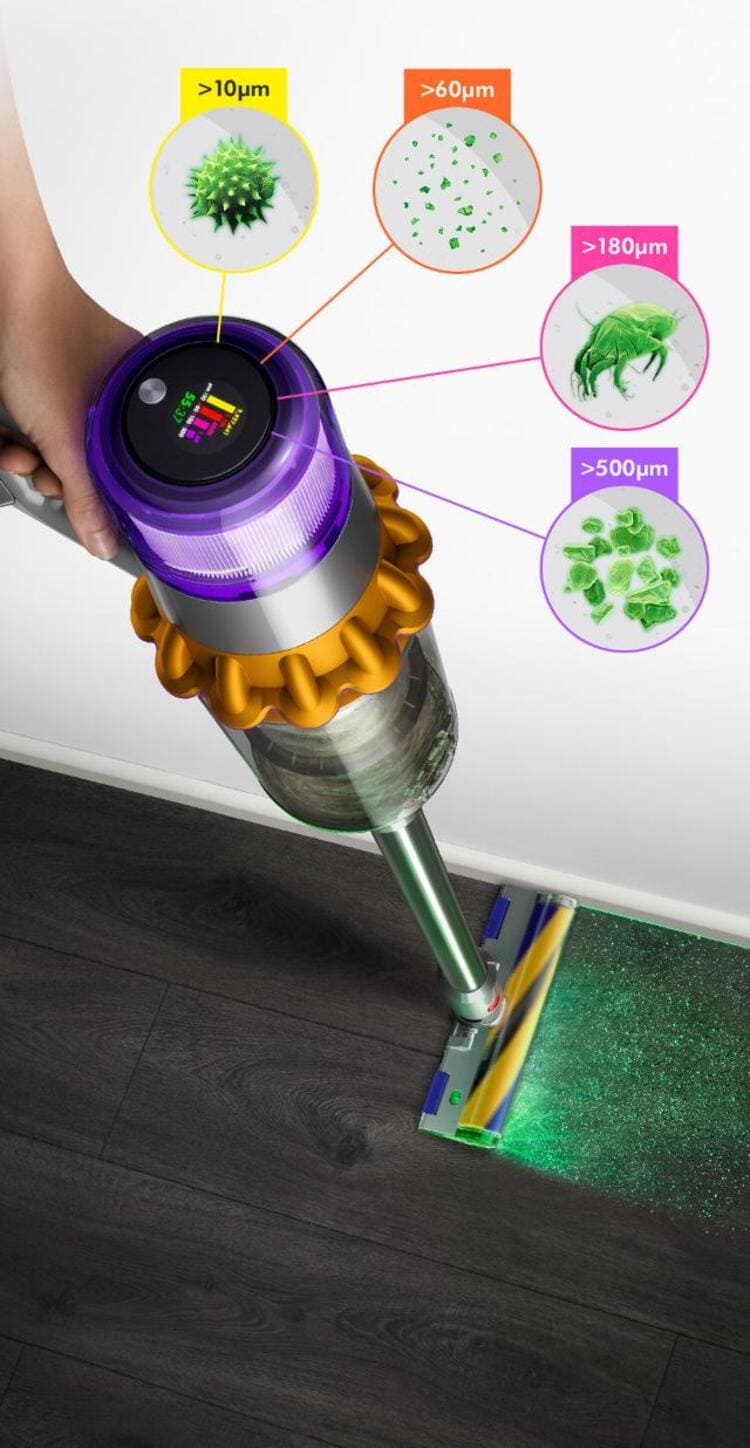 Measurement
This cleaning device stands out for its ergonomic design. Its exact measurements have been the following:
Height: 49.6 inches.
Length: 10.47 inches.
Width: 9.84 inches.
Best Buy Dyson V15 Detect Price
You can buy the Dyson cordless vacuum cleaner for a special price on the Best Buy website, thanks to Black Friday discounts. It has an original cost of $749.99, but you can buy it for only $649.99.