Your room can be a magical place if you want to, and with the help of Urban Outfitters, it will be much easier to make it happen. One of the most magical seasons in the United States is approaching, and if you want to dream and ask for your wishes, you must do it the best way.  We already put on Christmas hats at Look At The Square (LATSQ), but you can decorate your room with fantastic moon designs.
Whether you want to tune into your more spiritual side or observe beautiful and unique designs, UO has what it takes. Combining them with accessories and lights from Amazon and Walmart will have a room full of magic, color, and originality.
Urban Outfitters Kira Celestial Wall Banner
The first product to highlight in the Urban Outfitters catalog is the Kira Celestial Wall Banner, available in several colors. You can buy this wall banner in a black, silver, or gold tone, according to your tastes. They are carved from metal and can be placed on any wall in your room as a banner with moons and stars.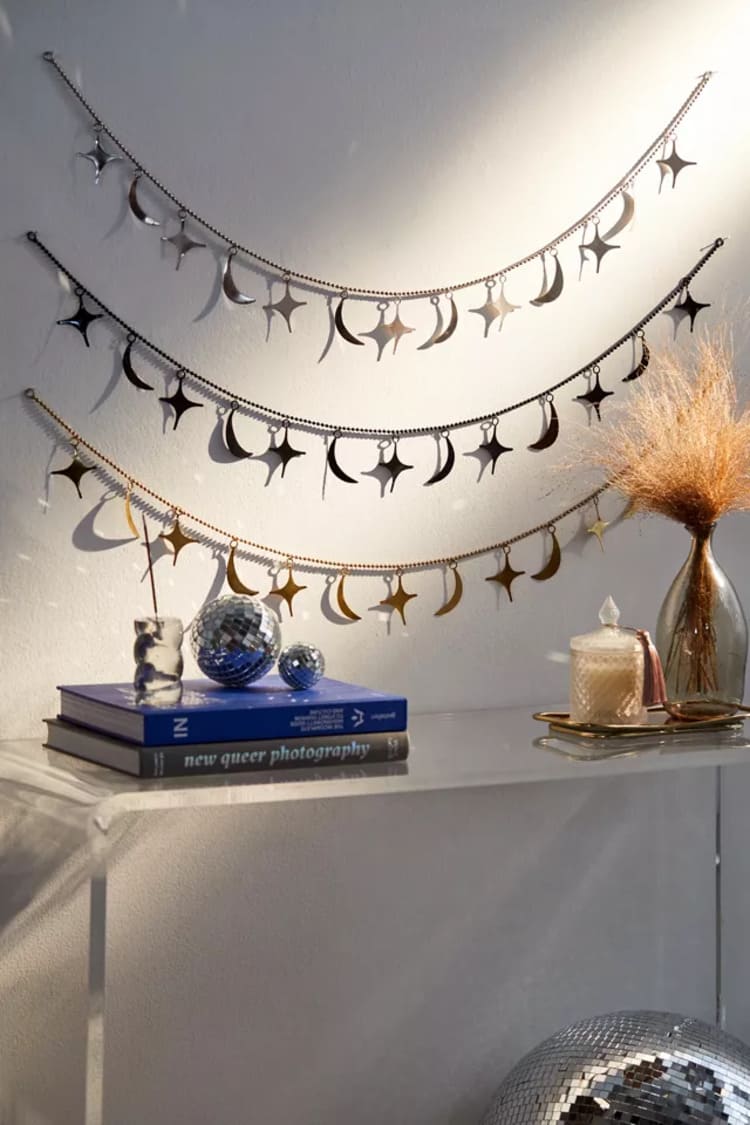 Kira Celestial Wall Banner is a lightweight product measuring 40″ long x 3″ wide so that it won't take up much space. Using a damp cloth to clean it can keep it in good condition for many years. This star accessory used to cost $24.00; however, now you get it at a reduced price of $18.00.
Urban Outfitters Moon Phase Wreath
We continue now with the Moon Phase Wreath accessory from Urban Outfitters, which also serves to decorate your bedroom wall. It is available in black, silver, and gold, just like the previous product. It has a handmade design with iron and represents all the lunar phases to provide divine inspiration.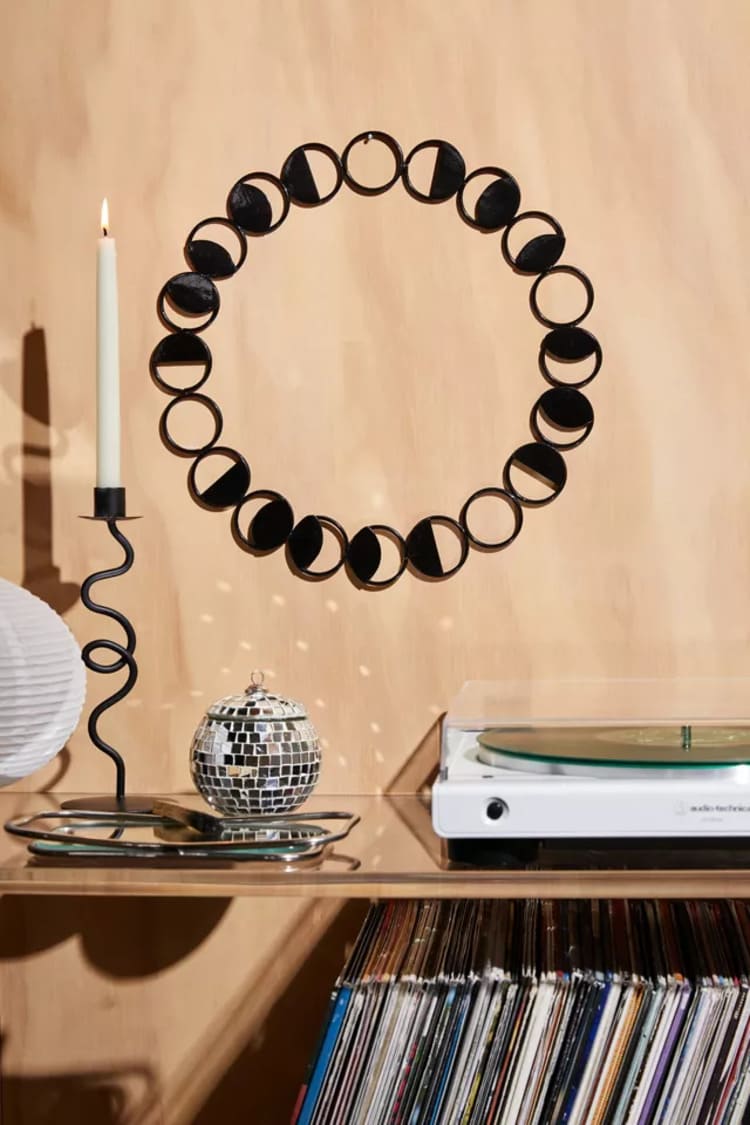 Moon Phase Wreath is a compact and lightweight accessory you can combine with others inside your room. It can be integrated without problems with the products in the collection or ornaments you already have in the bedroom. It was priced at $24.00, but with the Urban Outfitters discount, you can buy it for $18.00.
Urban Outfitters Tia Moon Phase Wall Hanging
Urban Outfitters brings you the Tia Moon Phase Wall Hanging model if you want a moon phase pendant with a different style. It is golden in color, with more extensive measures than the other products on the list. Its dimensions are 27″ long x 5″ wide x 27″ high. Despite this, it integrates naturally into walls of any color or style.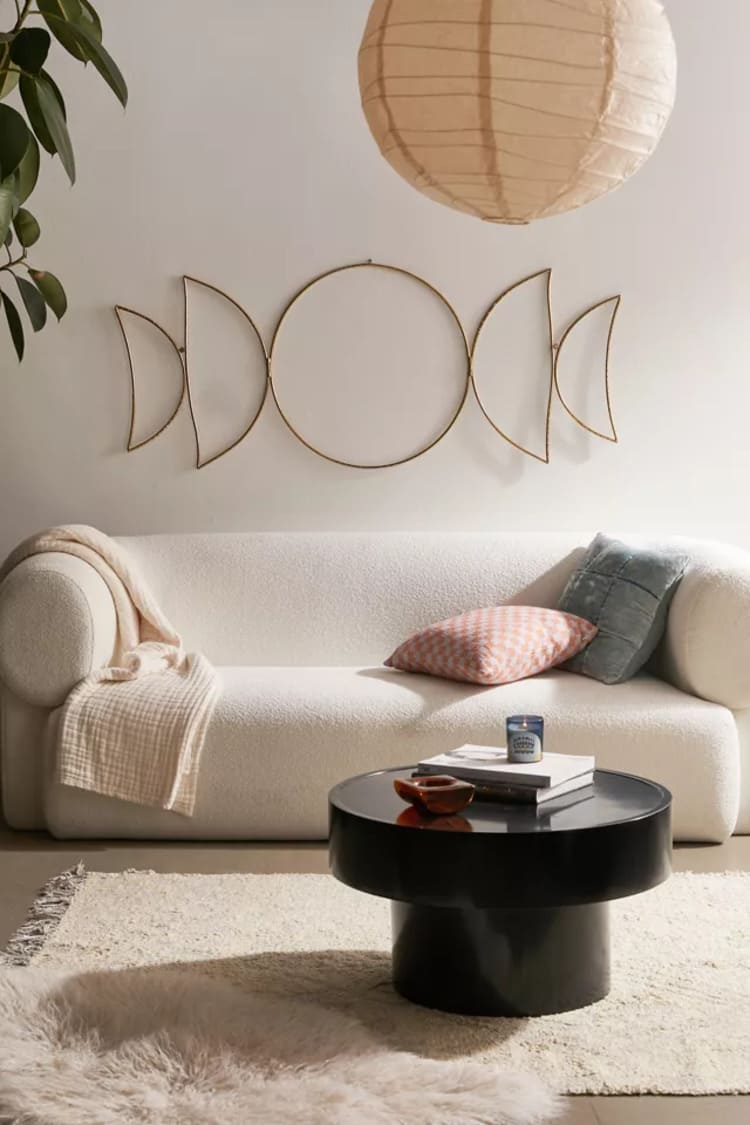 Tia Moon Phase Wall Hanging is a product that is made of high-quality iron. It is ideal for cleaning with a damp cloth and preventing it from gradually degrading. It is also an accessory with an offer price since it costs $149.00 and is now worth $119.00. With Afterpay or Klarna, you can buy it in monthly installments.
It is necessary to mention that this star accessory for the room is not available for international shipments. Although, you will have several delivery options if you live in the United States.
UO Raina Celestial Stained Glass Wall Hanging
Finally, Urban Outfitters has to offer you the Raina Celestial Stained Glass Wall Hanging. This stained-glass pendant has a unique opalescent moon-shaped style surrounded by twinkling stars. Combine the color black with warmer tones that give it a special appearance, perfect for standing out inside your room.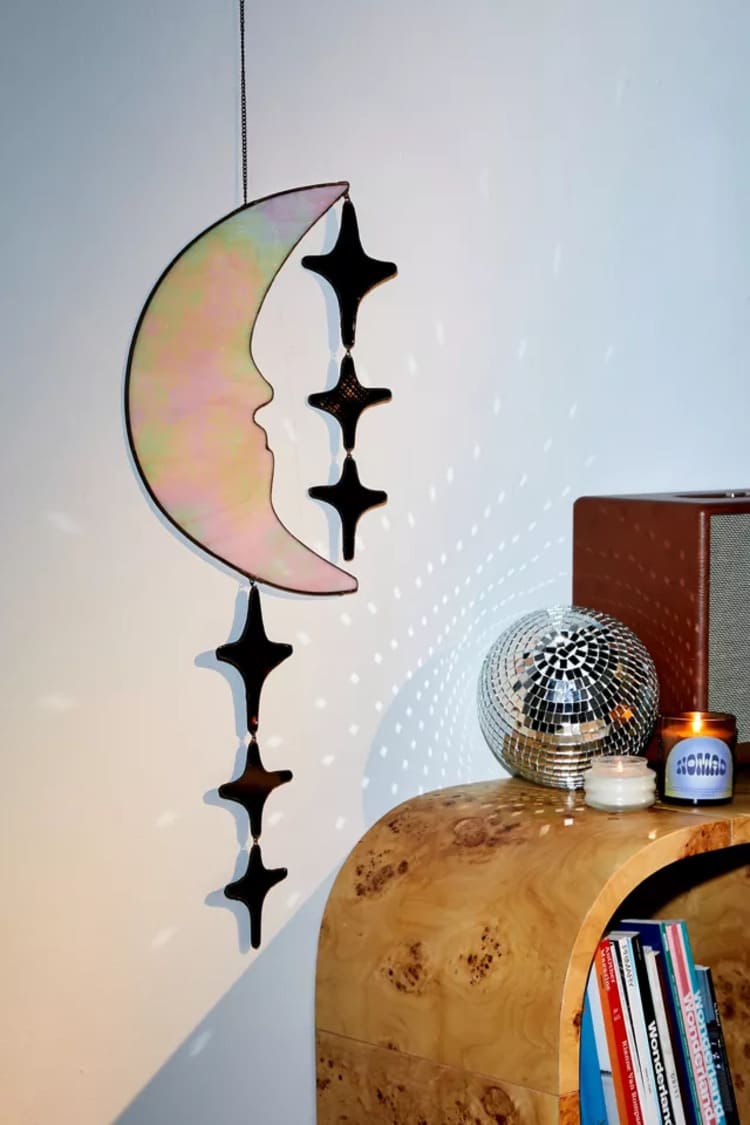 Because each wall pendant has a unique stained-glass variation, its appearance may vary from that of sample photos. However, it maintains the same quality and resistance. Raina Celestial-Stained Glass Wall Hanging is a spectacular accessory that will form part of the decoration of your room for many years without losing its style. Unlike the other products on the list, this one is not discounted. Similarly, it has an economical price of $99.00 or 4 installments of $24.75.