At Look At The Square (LATSQ), we believe that one of the things that drive the magic of Christmas is the lights. That brightness makes everything stand out and look like new, and above all that makes your Christmas tree look taken from a fairy tale. But old lights are not enough, because as every year represents a new opportunity, you must also renew your old accessories.
With IKEA annually you have in your catalog endless new opportunities that offer a new view for your spaces. With unique motifs, which shout Christmas and New Year everywhere and compete with the prices you find on Amazon or Walmart. The famous IKEA store seeks to put itself as your best option.
IKEA Björkspirea LED Decorative Light
The first of the options that IKEA has to offer you this Christmas season is the Björkspirea LED decorative light model. It is a set of 2 packages of lights in the shape of a diamond and brass color. These can be placed in any space of the home, to illuminate it in a pleasant way and thus improve the interior environment. These measure the following.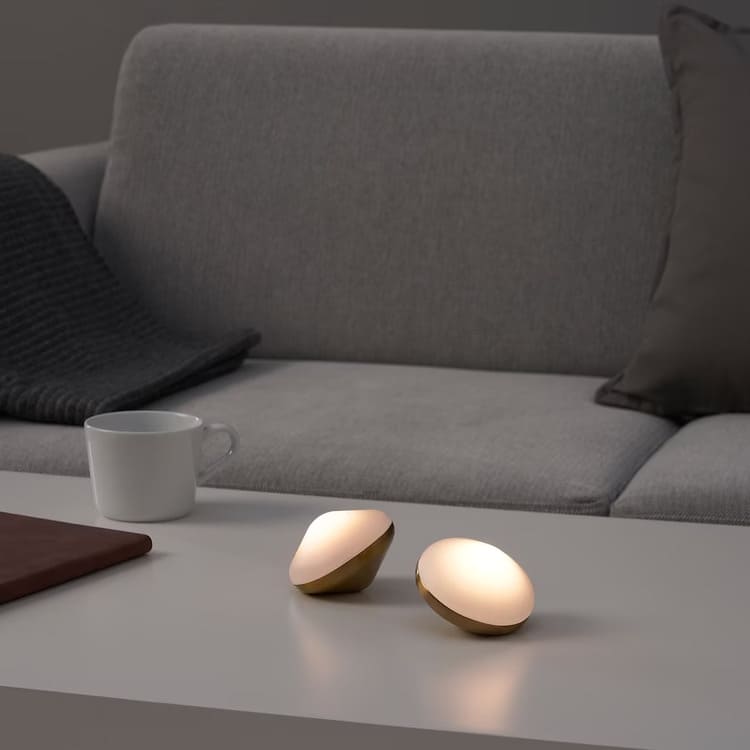 Height: 2 inches.
Diameter: 3 inches.
The Björkspirea LED decorative light model from IKEA has a built-in timer so that the lights turn off automatically. In addition, they can be powered by rechargeable batteries, which are sold separately. Its current price is $12.99.
Sträla Lamp shade
Another product to illuminate your home this Christmas available in the IKEA catalog is the Sträla Lamp shade model. It is a star-shaped screen, with a white lace design. It has medium size with a diameter of 28 inches, so it can be installed easily. This product gives off a rather cozy light for the interior.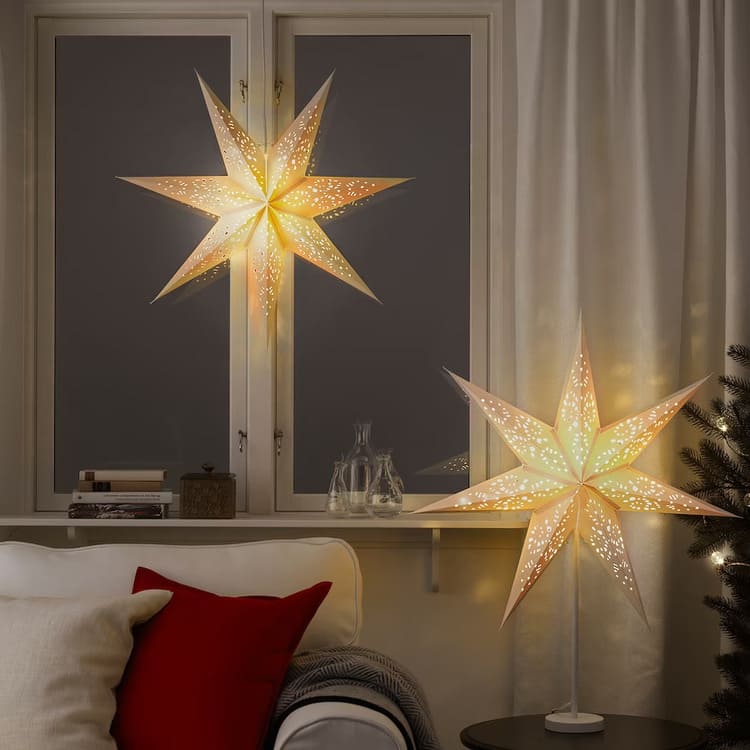 The Sträla Lamp shade product is made of polycarbonate plastic, solid cardboard, and stainless steel. To stay in good aesthetic condition, you just have to clean it with a dry cloth when it accumulates dirt. You can buy this Christmas light for a cost of $7.99.
IKEA Sträla LED String Light
One of the most creative options to decorate your home this Christmas is the Sträla LED string light model from IKEA. This LED chain with 40 lights is gold in color and can be installed on a table or solid surface inside. They work with batteries and give off a pleasant light, which does not generate visual fatigue. Its dimensions are as follows.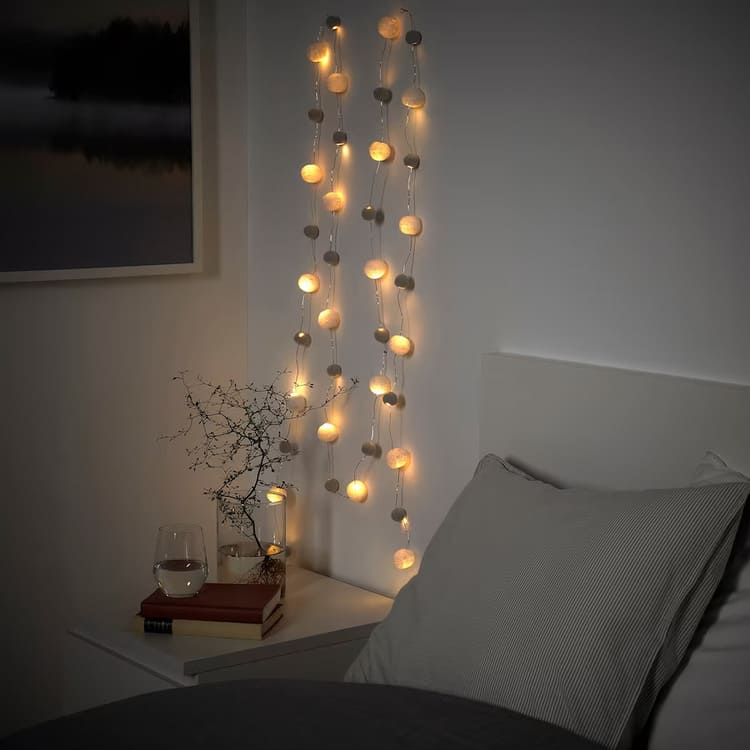 Cable length between lights: 4 inches.
Length at 1st light: 1.8 inches.
Total length: 14.9 inches.
In addition, the IKEA Sträla LED string light model has a service life of 20,000 hours. Its composition employs, ABS plastic, polyamide, synthetic rubber, polyester and polycarbonate plastic. This product has a value of $12.99.
Sträla LED 5-arm Candelabra
You can also get within the IKEA catalog this small 5-arm LED chandelier. The Sträla LED 5-arm candelabra model has a red design to decorate your residence during the Christmas season. In addition, it can be turned on and off automatically, thanks to the integrated timer. It measures the following.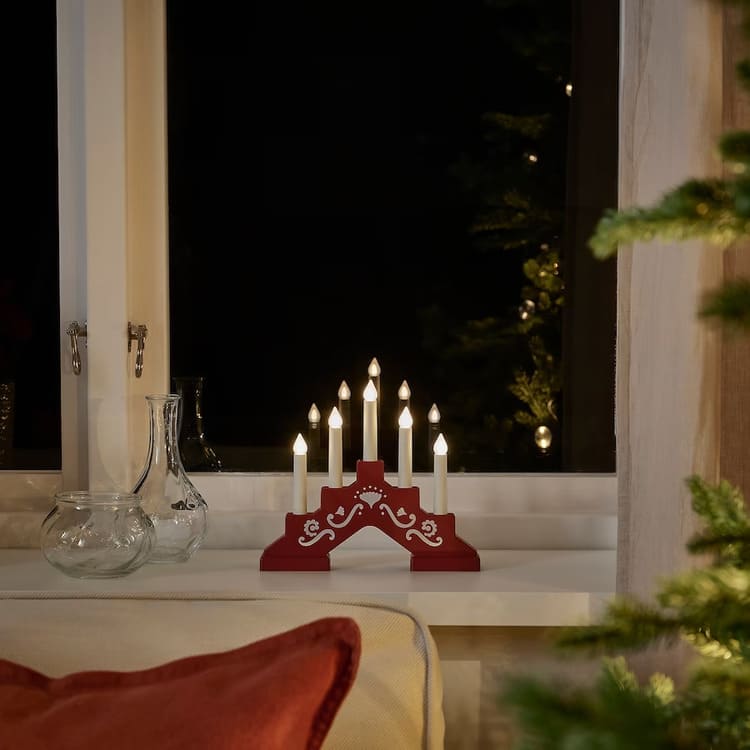 Depth: 1 inch.
Height: 7 inches.
Width: 9 inches.
On the other hand, Sträla LED 5-arm candelabra can operate for a long time, thanks to its 20000-hour operating cycle. Its elaboration uses polypropylene and ABS plastic. The cost of this product is $13.99.
IKEA Akterport LED String Light
To finish the catalog of IKEA Christmas lights, we bring you the Akterport LED string light model. It is a chain with 40 LED lights and white pompoms in its structure. This decorative product has a length of 16.5 inches.
IKEA's Akterport LED string light product is battery operated and its lights are energy-efficient. They can be installed easily and have a service life of 25000 hours. You can buy this model of lights for $14.99.