For a couple of years, watches are used much more than just to tell the time… Especially after the arrival of smartwatches from Apple or Samsung that completely revolutionized what was a conventional watch. However, models such as the Amazfit – T-Rex Pro Smartwatch Polycarbonate from Best Buy, maintains impeccable features.
In Look At The Square (LATSQ) we have put it under the spotlight because it is a combination of the modern with what we were always used to in the most classic designs. The huge difference is that this is designed to last for years and be with you during your trips to the desert, the forest, the ocean, and more. You can have it whenever you want in your home no matter where you are in the United States with a single click.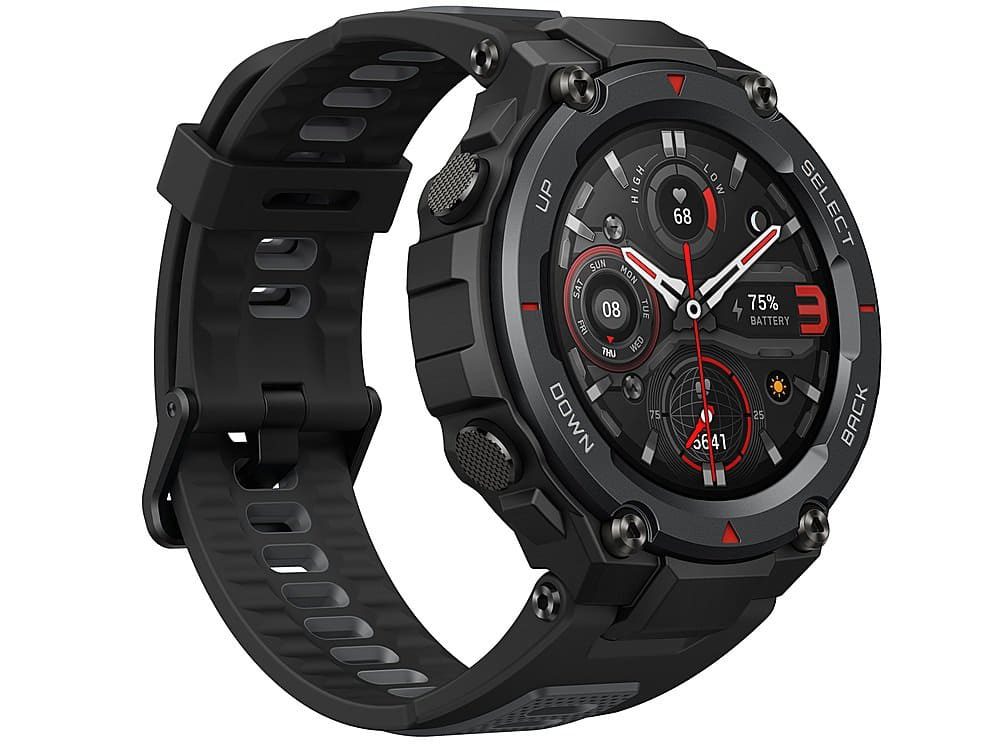 Best Buy Amazfit – T-Rex Pro Smartwatch Polycarbonate
To begin with, this watch that Best Buy is offering stands out mainly for its dynamic design that attracts a lot of attention. The Amazfit – T-Rex Pro Smartwatch Polycarbonate has a highly resistant and solid shape at all angles. Are you afraid that he will suffer a blow? You won't have to think about it anymore while you're outdoors, playing sports, or enjoying your favorite extreme activity.
It should be noted that after having passed 15 military-grade tests, Best Buy ensures that it is a watch that will be with you through anything or place. It doesn't matter if you are even in a humid place, or with extreme temperatures that would damage the circuits of any other watch. You can witness the resilience and how challenging this model is.
Materials of the best quality
The Amazfit – T-Rex Pro Polycarbonate Smartwatch, is manufactured with a 1.3-inch HD AMOLED color screen that always stays on. In addition, the outer shell, having been subjected to a metal spraying process, enjoys a light and soft texture. With only 60 grams it will not weigh on your wrist or harm your skin no matter how long you wear it.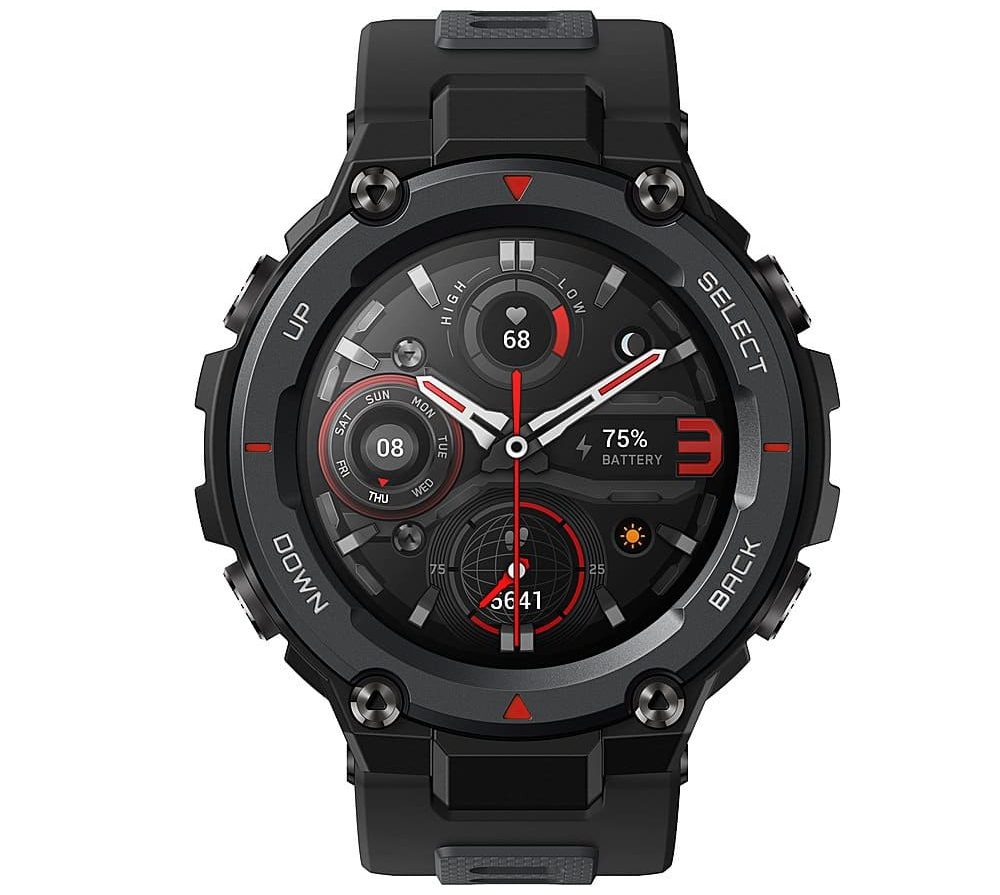 Although it appears to be an analog watch, it is actually also a smartwatch that can change its screen design. It is compatible with Android and iOS, with more than 100 sports modes.  These can be used to monitor critical data such as:
Training heart rate.
Distance run.
Speed of movement.
Calories burned in real time.
Water and sweat resistant
One of the biggest problems with many watch designs is that they promise to be waterproof when in fact they are not. But this does not happen with the Amazfit – T-Rex Pro Smartwatch Polycarbonate. Since, with a degree of 10 ATM, this model is resistant to water up to a depth of 100 meters and can accompany you while surfing, exploring in the ocean or swimming.
And in the same way, it allows you to forget about battery charging for days. With the battery fully charged, it can withstand up to 18 days of regular activity and up to 10 days of heavy use. On the other hand, if you want to use the GPS in a continuous way you can enjoy it up to 40 hours.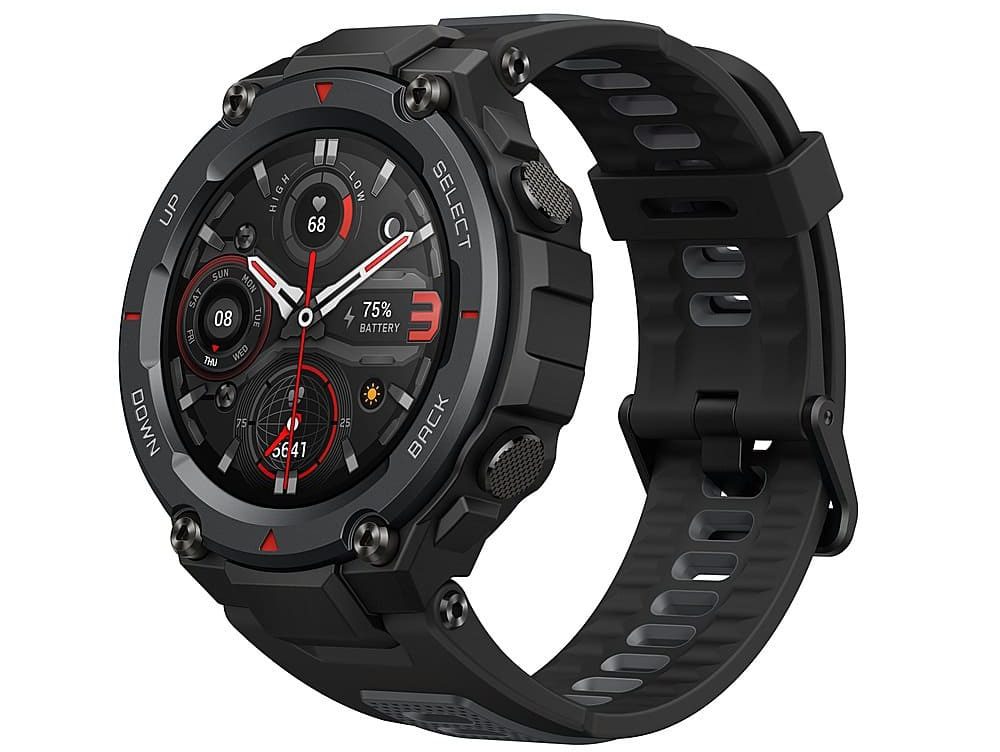 Best qualities
Screen size: 33 mm.
Touch screen:
Operating system compatibility: Android, Apple iOS.
Operating system: Amazfit operating system.
App compatible:
Global positioning: GPS, GLONASS, Galileo, others.
Usage time: 432 hours.
Metrics measured: Blood oxygen, Heart rate, Distance traveled, and Calories burned.
Water-resistant: Yes.
Maximum depth of water resistance: 328 feet.
Band material: Silicone.
Best Buy Amazfit – T-Rex Pro Smartwatch Policarbonato Price
Even though this watch has amazing features, it has an excellent price that is also discounted. Within everyone's reach, you can get it for only $143.99, when before it was priced at $179.99.