At Look At The Square (LATSQ) we have detailed time and time again the best air fryer options from Amazon and Target, but, as well as they are excellent, they can be very expensive. Today, we focus on an ALDI option that happens to be a favorite option for those who are a little short on budget currently but do not want to stop eating healthily.
The Ambiano 8-Quart Digital Air Fryer model comes in two colors to suit any style and has nothing to envy to the others. That is why the German store has been so successful in the United States, because it triumphs for economic prices, but always maintains the quality of what it offers.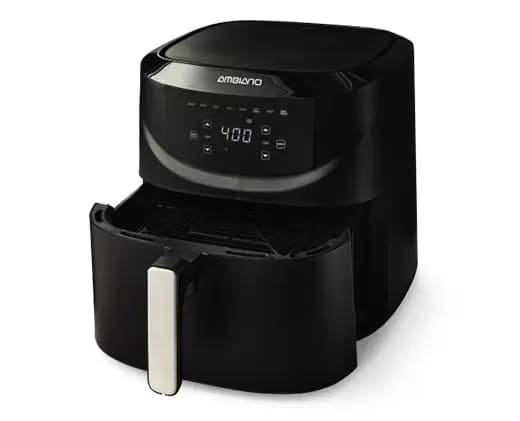 ALDI Ambiano 8-Quart Digital Air Fryer
To start eating healthier and not waste so much time in the kitchen, the Ambiano 8-Quart Digital Air Fryer product is ideal for your home. This model of air fryer is compact in size and has a modern style, in any of its colors. In addition, due to its dimensions, you will not have problems finding a space within your kitchen.
Best of all, ALDI's Ambiano 8-Quart Digital Air Fryer can be easily learned. It has a wide range of high-powered functions, so you can prepare your favorite foods. So you can start saving on oil and change bad eating habits, improving your health in the short and long term.
Integrated digital touchscreen
If you have no experience operating an air fryer, this is the perfect model for you. Especially because it has a digital touch screen with automatic shutdown and audible tone that facilitates the use of all its functions. In this way, you can start preparing your favorite foods the way you want, without much difficulty.
In addition, all the integrated functions of the air fryer can be enabled from its digital display. By having an interactive interface, you can always see the mode that is activated. So you do not make mistakes when cooking. Without a doubt, it is an excellent advantage that allows you to obtain the best possible results.
Adjustable temperature range
In order to adapt to the different types of food that can be prepared in it, the air fryer has different temperature ranges. These are adjustable to users' preferences and can reach up to 400°F. Thanks to this, you can ensure that your food is prepared as quickly as possible, with the recommended cooking.
Like the rest of the functions for preparing food, the temperature range is adjusted from the digital display. You just have to press the integrated buttons that the air fryer has in its housing. They are easy to use and do not pose any problem.
Appropriate use
Connect the air fryer to a nearby outlet inside your kitchen.
Use the handle you have to enter the food you want to prepare.
Select the cooking function from the product's digital touch screen.
Choose the temperature range in which you want to cook.
When you're done, you can wash their parts in a dishwasher.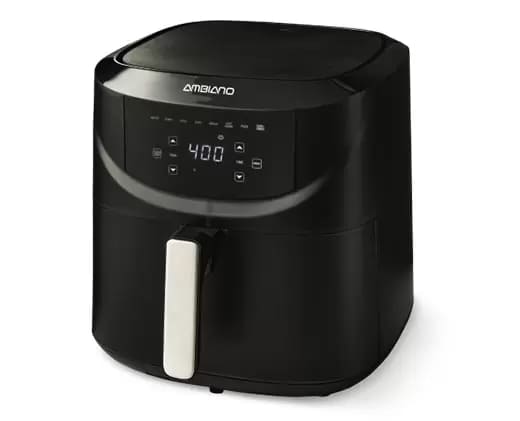 ALDI Ambiano 8-Quart Digital Air Fryer price
In the Weekly Specials section of the official ALDI website, the Ambiano 8-Quart Digital Air Fryer model is available. This appliance has an economical price of only $79.99. You can pay for it in different ways and complement it with other recommended products.