Every detail of the home matters, and those IKEA shelves and Urban Outfitters furniture need lighting that environment the place to get the best and most beautiful out of their designs. Completely out of the ordinary, Zara Home presents 2 options of extremely elegant and stylish lamps that will make your living room shine.
The experts of Look At The Square (LATSQ) will find them as a hidden gem in the immense web catalog of the Spanish store. And you can order them quickly, and have them in the United States without any problem. Especially for you to start with some excellent renovations in your home this 2023.
Zara Home Lamp With Black Ceramic Base
It is a modern style lamp to decorate any space of your home and improve its lighting. For the design it has, the Lamp With Black Ceramic Base model from Zara Home attracts attention to the naked eye, standing out anywhere you put it. In addition to this, it is a compact size product that has the following measures: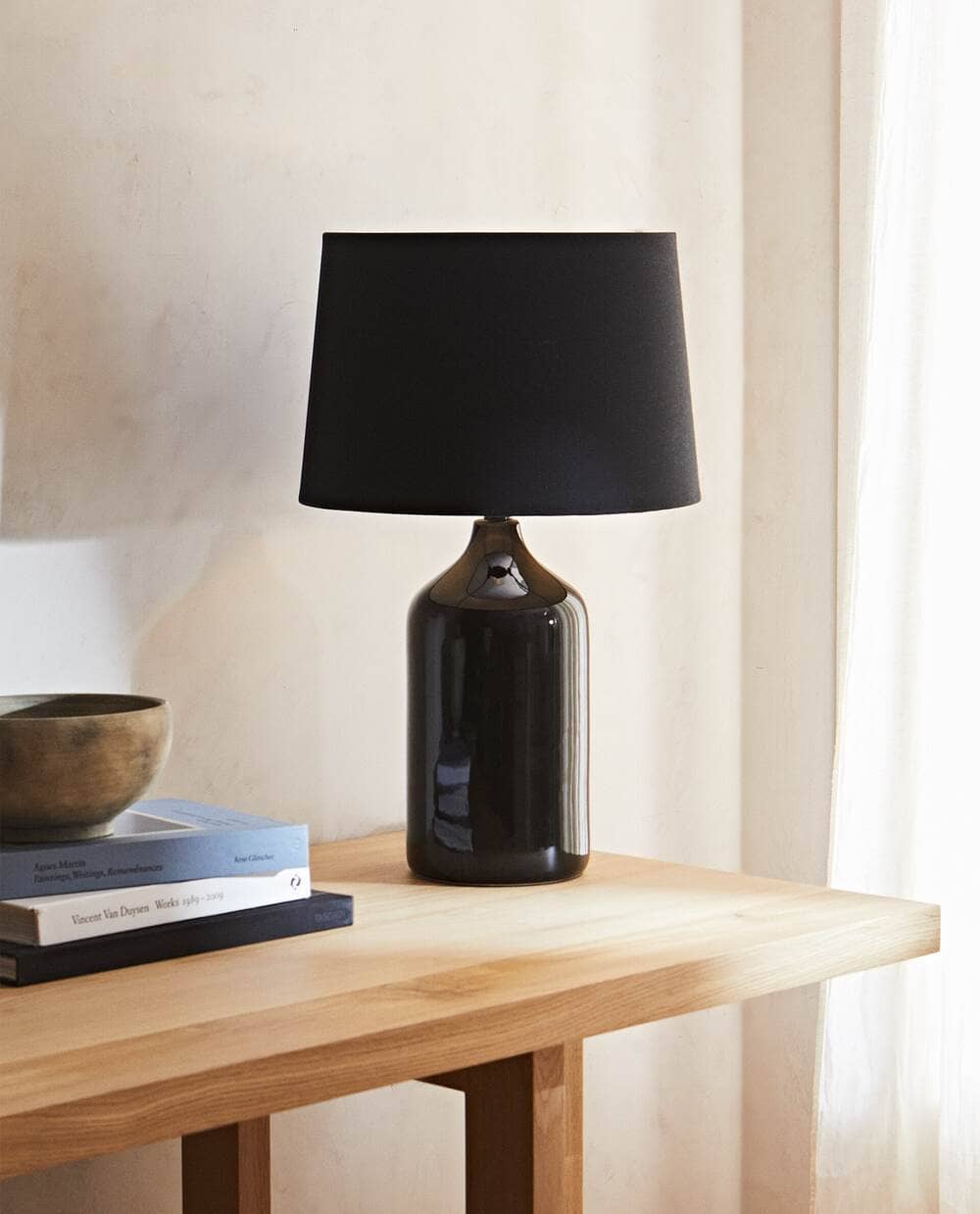 Height: 24 inches.
Width: 15 inches.
Depth: 15 inches.
Weight: 2.57 kg.
On the other hand, it should also be noted that the Lamp With Black Ceramic Base model from Zara Home is made with high-quality materials. It uses ceramic in the base, cotton and polystyrene in the shade, and polyvinyl chloride with copper and cotton in the cable. In this way, it is an accessory for the home with a long-life cycle and great resistance.
If you want to buy this product from Zara Home, you can do so from the page, where it is available at a discount. Its original price is $179, but now you can buy it for only $119.
Zara Home Large Ceiling Lamp
We continue now with a different model than the previous one since this product is a lamp to decorate the ceiling. This is the Large Ceiling Lamp model from Zara Home, an accessory with a transparent glass screen and black chain. It is easy to install and works with multiple types of bulbs. In addition, it has the following dimensions: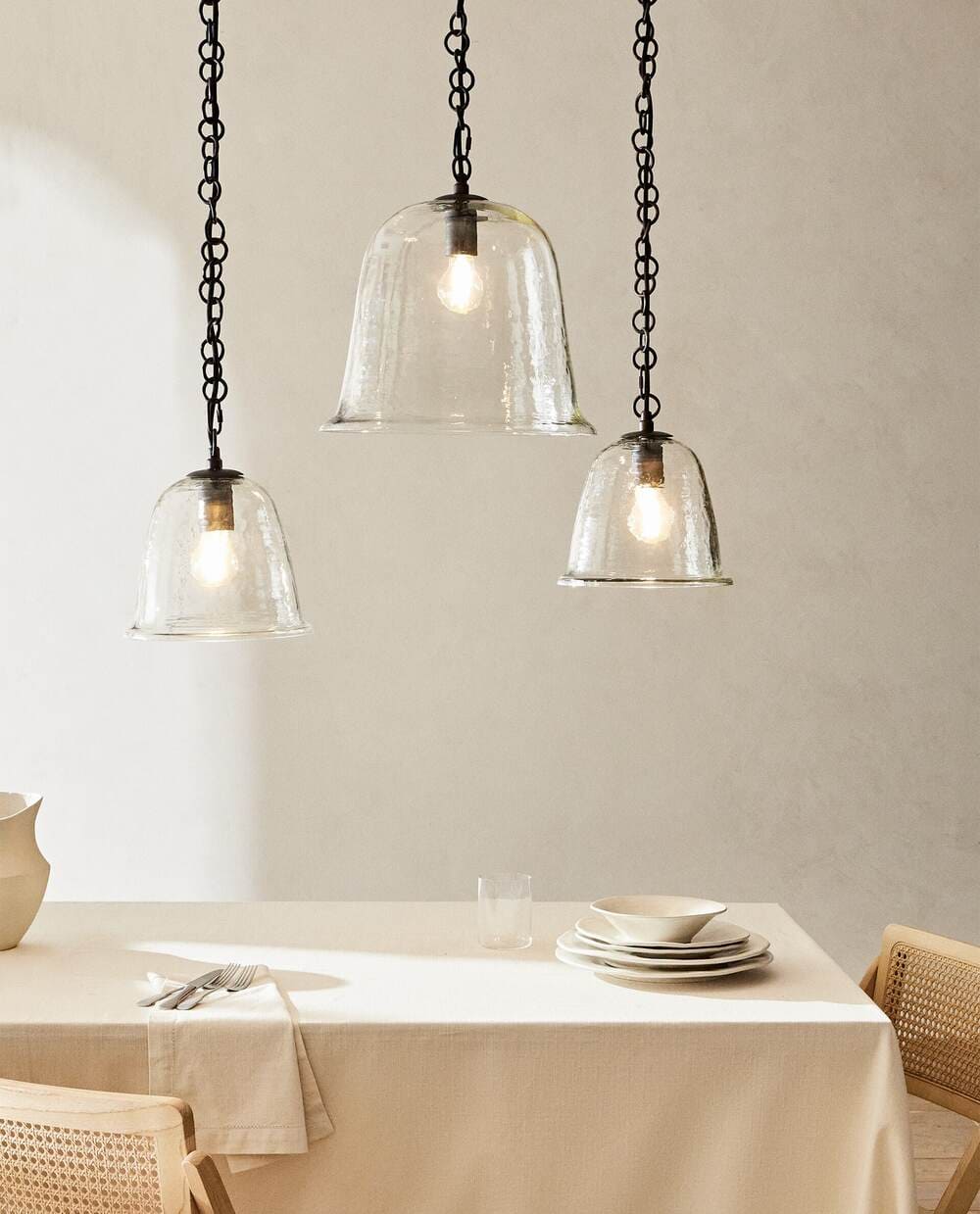 Height: 14.2 inches.
Width: 14.4 inches.
Depth: 14.4 inches.
Weight: 4.38 kg.
As for its composition, Large Ceiling Lamp is also a good quality and durable product. It uses glass, stainless steel and aluminum in the base, supplemented with polyvinyl chloride in the cable. On the other hand, the length of the cable it has is 175 cm, which cannot be adjusted. Plus, it doesn't come with a bulb included either. Regarding its price, this Zara Home product is also available at a discount. Its real value is $269, but now you can buy it on the website for a reduced price of $199.
Maintenance tips
Make sure you don't spend a lot of time collecting dust and dirt inside your home. This impairs its performance and compromises its structure.
You can clean it once a week or as often as you see fit. Make it with a mixture of half water and half ammonia, in a container with a spray.
Once you start cleaning the lamps, you have to make sure you do not wet the bulbs and electrical areas. Otherwise, you will be able to damage them.
When you're done with the sprayer, let the lamp dry naturally. Do not turn it on until it is completely dry.
In the case of the ceiling lamp, you can make use of plastic so as not to wet the floor.