More than keeping your kitchen in order, Zara Home storage products give it an elegant style that also favors the state of your food. From Look At The Square (LATSQ) we remind you that good storage prevents pests, dirt, and unnecessary clutter.
And when you're in the kitchen, practicing and improving your skills, you keep everything close and located so you don't waste time searching for ingredients. If your kitchen has been lacking in organization products, your trusted home store has everything you need.
Woven Basket with Handles
With this product, you can decorate your kitchen and store food or utensils at the same time. Woven Basket with Handles has a homemade design that can fit well within any type of home. The side handles it has will help you load the basket anywhere with ease. This kitchen accessory has the following measures.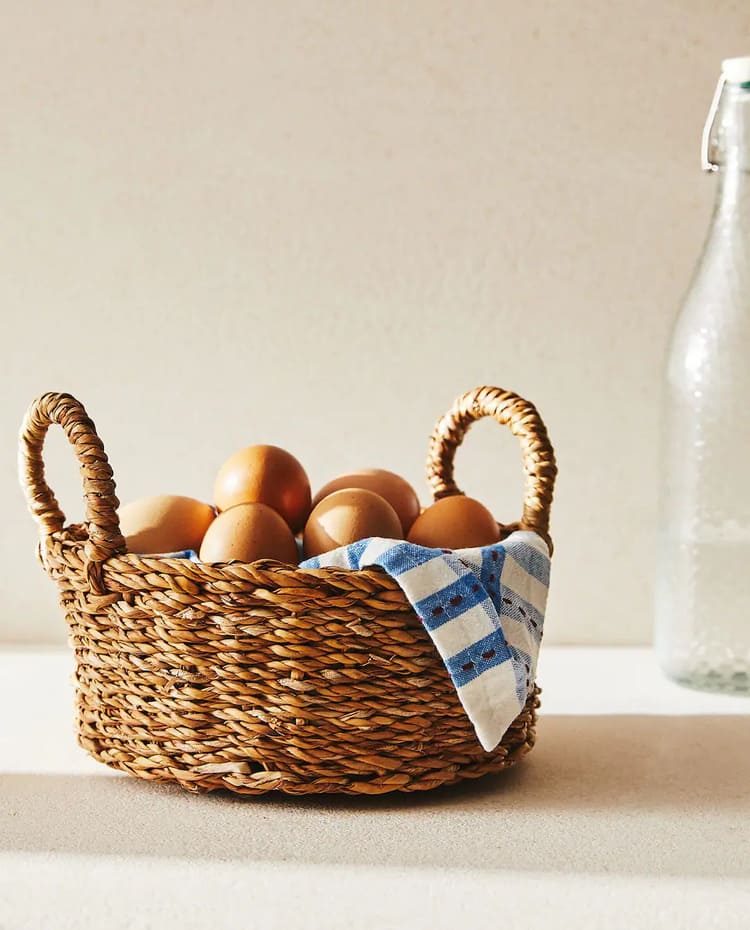 Height: 3.5 inches.
Width: 7.9 inches.
Depth: 7.9 inches.
Weight: 192 grams.
Woven Basket with Handles has a composition of seagrass that does not cause damage to the environment. Therefore, it is the perfect accessory to complement any kitchen. And best of all, you can buy it for an economical price of only $14.90.  Zara Home offers several options for shipping and returns.
Zara Home Wood and Metal Storage Furniture with Wheels
If you want a larger accessory to organize your kitchen utensils, Zara Home has available the Wood and Metal Storage Furniture with Wheels model. It is a product that has several storage options, with a design similar to the basket mentioned above. However, this one is much larger, with the following dimensions.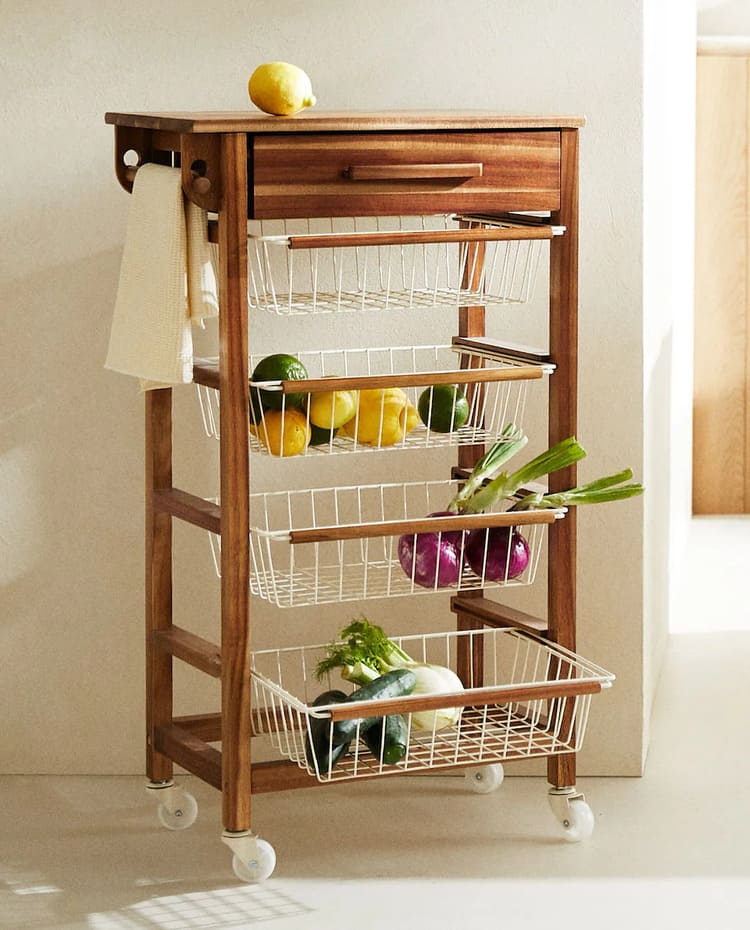 Height: 34.6 inches.
Width: 19.7 inches.
Depth: 13.2 inches.
Wood and Metal Storage Furniture with Wheels is composed of an acacia wood drawer at the top. Underneath it has several metal mesh baskets with wooden handles. It has a maximum weight of 20 kg for the top shelf and 3 kg for the metal baskets. The product does not come assembled and costs $269.
Storage Box
We continue now with the Storage Box model from Zara Home, a compact product for storing kitchen utensils. It has a rural design that complements naturally with the rest of the products on the list. However, it is necessary to mention that this accessory is available in 2 different sizes.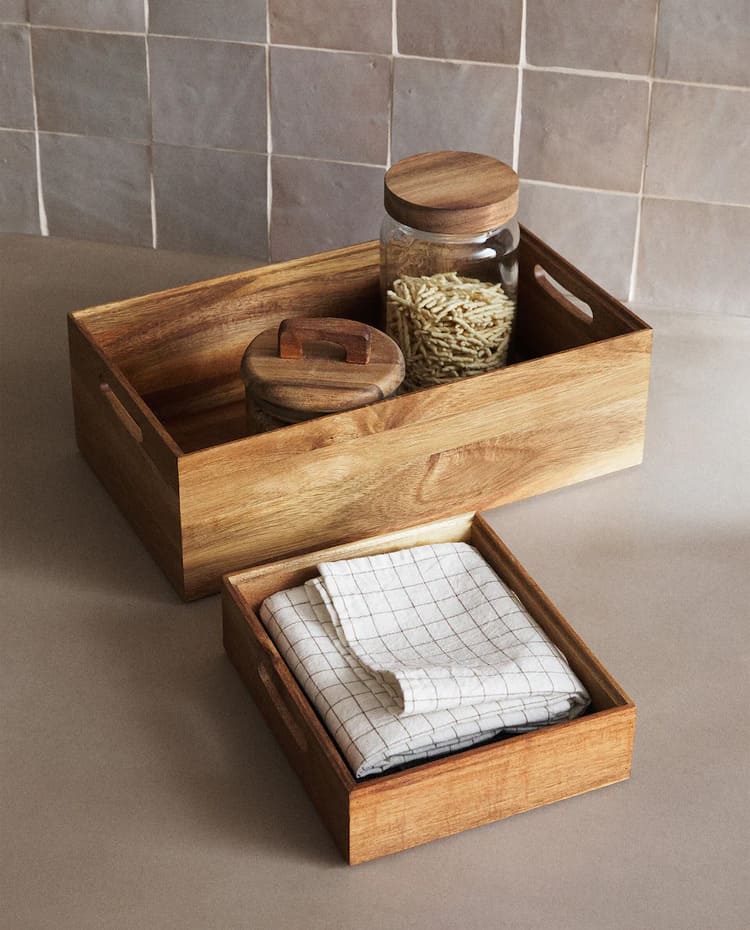 Medium: 2.4 x 7.1 x 7.9 inches, weighing 237 grams.
Large: 4.7 x 7.9 x 13.8 inches, weighing 288 grams.
On the other hand, the Storage Box accessory from Zara Home is made of acacia wood. That is, it is a product of excellent resistance that adapts to all types of environments. It only requires basic cleaning care to maintain a good appearance. Depending on the size, its price can be $25.90  or $29.90.
Zara Home Square Woven Basket with Handles
Finally, Zara Home has the Square Woven Basket with Handles model available to you. It is a basket with handles of square shape and compact size, to function as an ornament piece or accessory to organize. This product will not take up much space inside your kitchen, so you can use it without problems. Its measures are as follows.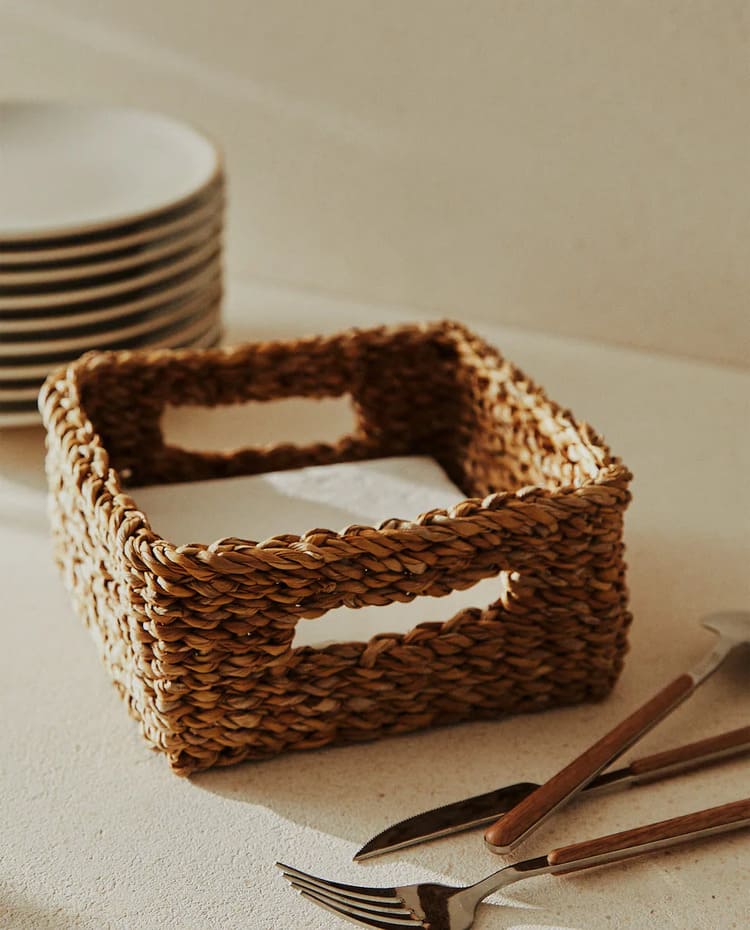 Height: 3.1 inches.
Width: 8.5 inches.
Depth: 8.5 inches.
Weight: 132 grams.
Square Woven Basket with Handles is made with seagrass, thus giving it a pleasant texture. In addition, it is an economical kitchen accessory, since it only costs $14.90.