Trader Joe's returns to the fray with products that together are capable of creating a delicious, cozy, and comfortable environment for this Christmas. Speaking of the most trending fashion in the United States in recent years, where scented candles have returned to prominence as they are ideal for calming the nerves, relaxing the mind, and promoting intimacy.
And not only have they thought about how to enhance your Christmas by lighting your home, but they also plan to protect your skin. At Look At The Square (LATSQ) we've come up with creams and exfoliators that rival the best products on Amazon and Sephora, so no matter what you're doing, the American store will be one of your most trusted options.
Trader Joe's Grapefruit Scented Candle
If you are a fan of citrus aromas and grapefruit, Trader Joe's has the Grapefruit Scented Candle model to decorate your home. It is a product made with high-quality materials, without using unnecessary or toxic ingredients in its composition.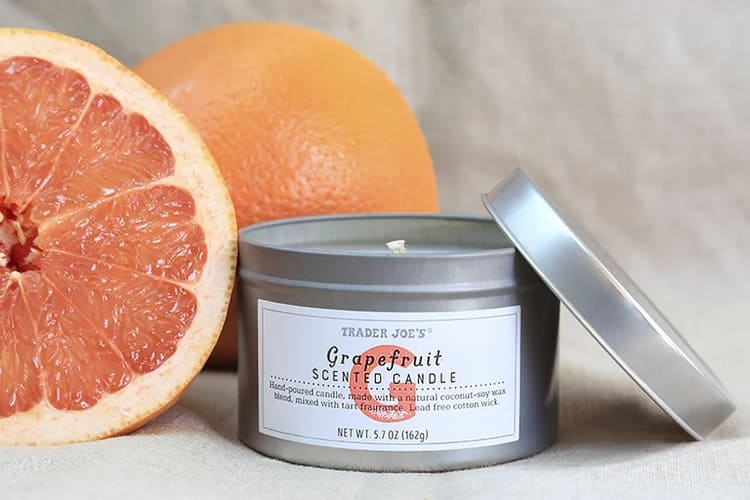 What else do you need to know about this product?
It has a combustion period of around 55 hours.
It does not contain parabens that can pollute the air you breathe.
The neutral mixture of coconut wax and soy reduces distortions in its aroma.
Has a splendid wick of lead-free cotton, which burns in a clean and constant way.
In short, Grapefruit Scented Candle is an excellent product to give to one of your loved ones. It can also serve to give a different and pleasant aroma in your home. It adapts to any type of space and its fragrance helps you relax while you do your work. This product is 5.7 ounces and has an affordable price of only $3.99.
Trader Joe's Honeycrisp Apple-Scented Candle
Within the catalog of aromatic candles of Trader Joe's, there are all kinds of fragrances that you can choose from. The Honeycrisp Apple Scented Candle model is a natural scent that will remind you of the autumn season and nature. It gives a fresh and pleasant smell to your home, so you relax and feel more comfortable.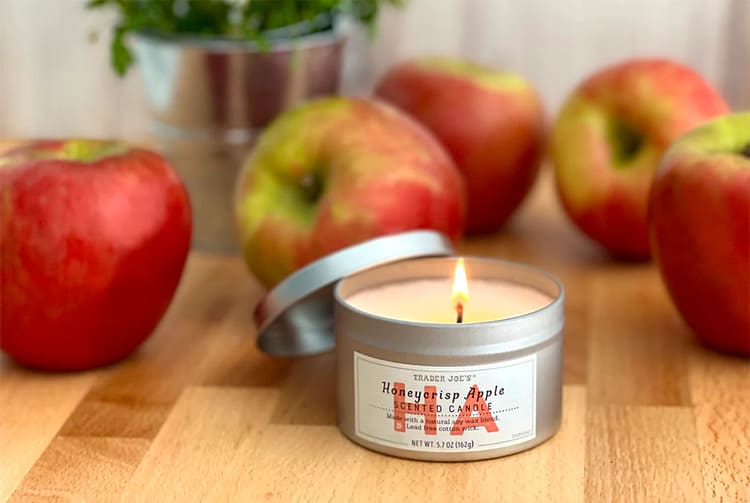 Other fantastic and unmissable qualities
It has a pure, fresh and sweet aroma to set your home.
Perfumed without using parabens in its composition.
Has an approximate combustion period of 20 hours.
Its wick burns in a constant way and without polluting the air.
Like the previous product, Trader Joe's Honeycrisp Apple Scented Candle is made in an environmentally friendly way. The combustion of this scented candle has no toxicity to your body or the environment. In addition, it comes in a nice 5.7-ounce container. From the official website, you can buy it for only $3.99.
Trader Joe's Cedar Balsam Candle
Finally, we must talk about the Cedar Balsam Candle model that is available in the online catalog of Trader Joe's. This product stands out for having an earthy and woody aroma to give a natural touch to your home. Not only does it help you relax, but it also has natural combustion.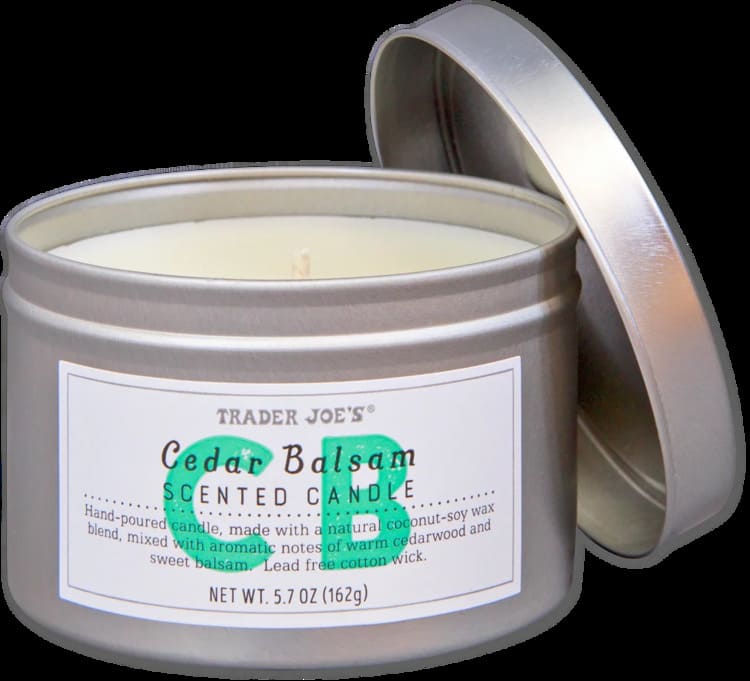 Eye-catching features
It is a mixture of natural soy wax.
It has cotton wicks that do not contain lead.
Features compact-sized tin packaging that includes a lid.
You can turn them on and off whenever you want, without reducing their relaxing effects.
The Cedar Balsam Candle model can be purchased from Trader Joe's website for an economical price of $3.99.