We know! It's annoying to have to wash an endless row of plates and glasses after a delicious dinner. For this reason, dishwashers are one of the most popular appliances in the United States, and stores like Amazon, Target, or Walmart have very tempting options. However, it is the turn of Best Buy, you can not only find air fryers and cleaning robots, now the magnifying glass is on the intelligent and professional dishwasher that they have to offer you.
At Look At The Square (LATSQ) we discuss these alternatives so that your hands no longer dry out due to the use of soap and dish detergents.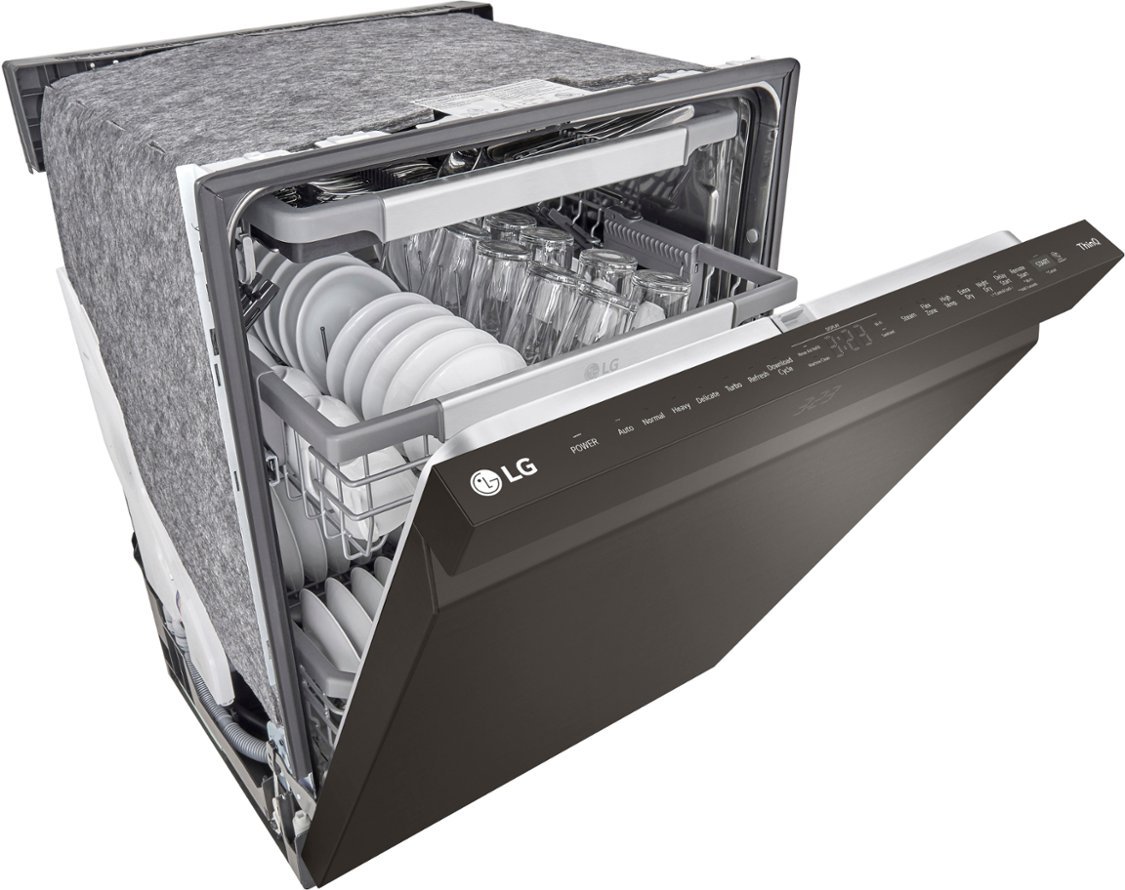 LG Dishwasher with 3rd Rack from Best Buy
Dishes, glasses, pots and everything you want to wash can be placed in the Best Buy Dishwasher with 3rd Rack. It is a device with water pressure technology, which will leave your kitchen utensils free of food remains and grease.
Added to the above, the remains of food are easily detached by the steam that degrades them, and in turn serves to disinfect the utensils. Plus, you can lean on the connection you can form with Alexa.
On the other hand, the order includes the dishwasher, the cutlery basket, the installation kit and the instruction manual. To learn more about this appliance, learn about its most important features
Clean like a pro
Why as a professional? Well, this dishwasher has spectacular performance. What it does is that through QuadWash Pro technology, the water jets are high pressure. In addition to this, the jets impact the utensils from different angles, while this happens, micro bubbles are formed that remove food residues.
ThinQ Care Technology
Receive a notification on your mobile phone about the status of your appliances, including the dishwasher. With the ThinQ Care application you can check if there is a fault and what is the diagnosis. Also, know if maintenance is necessary.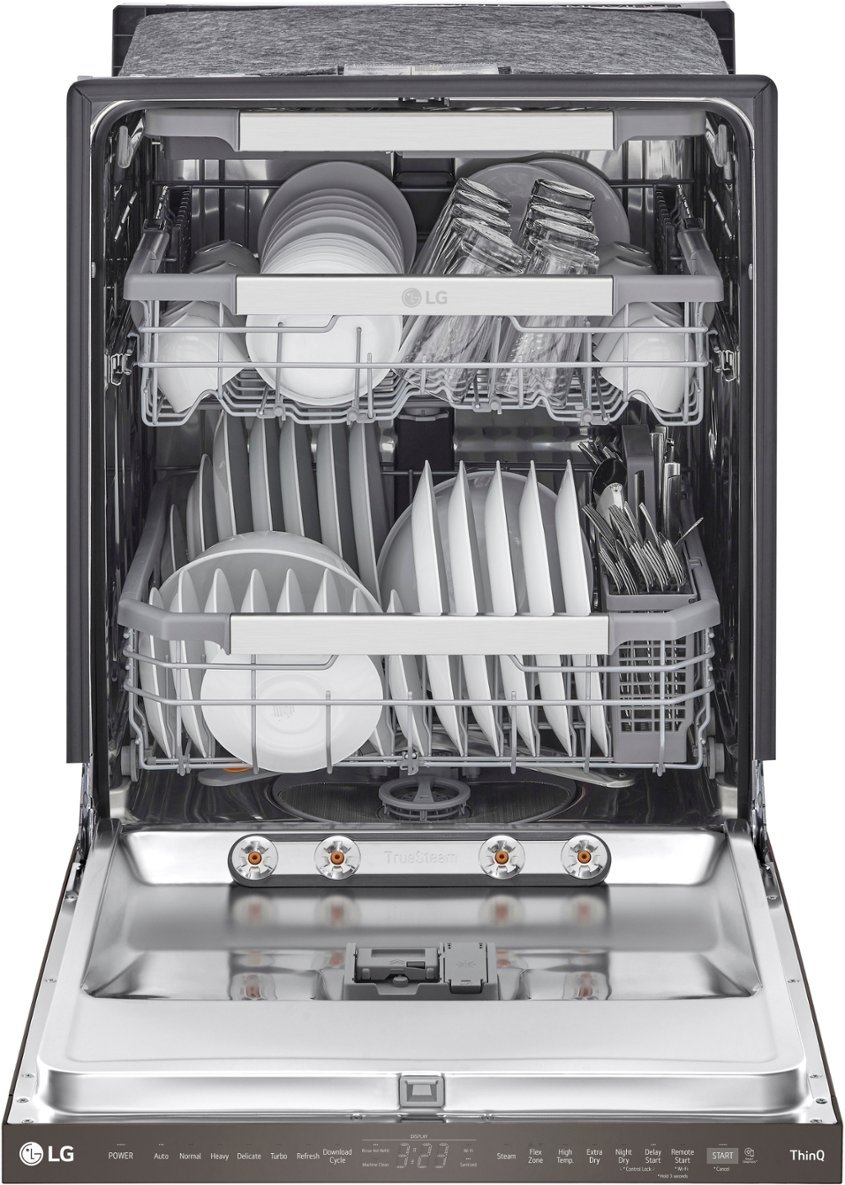 Steam technology
It's all about steam, and it performs almost the same functions as QuadWash technology, that is, removing food residues and water stains. Another utility that steam has is that it helps prevent the proliferation of microorganisms by 99%.
LG AutoCycle
As it is an intelligent device, it has the property of identifying the level of dirt that the utensils have. Subsequently, configure what the washing cycle will be like. In this way, the dishes and glasses will always be clean.
Technical specifications
Dimensions: 33 x 23 x 24"
Weight: 97 pounds
Number of racks: 3
Adjustment capacity: 14
Commands with application: yes
Tub finish: stainless steel
Number of cycles: 10
Sensor washing: yes
Water consumption per cycle:9 gallons
Control panel: yes
Type of dishwasher: built-in
Best Buy LG Dishwasher with 3rd Rack Price
At Best Buy, sales reign throughout the year, and this time you're going to save $500.00. In other words, the dishwasher has a regular price of $1,499.99, but with the discount it is $999.99.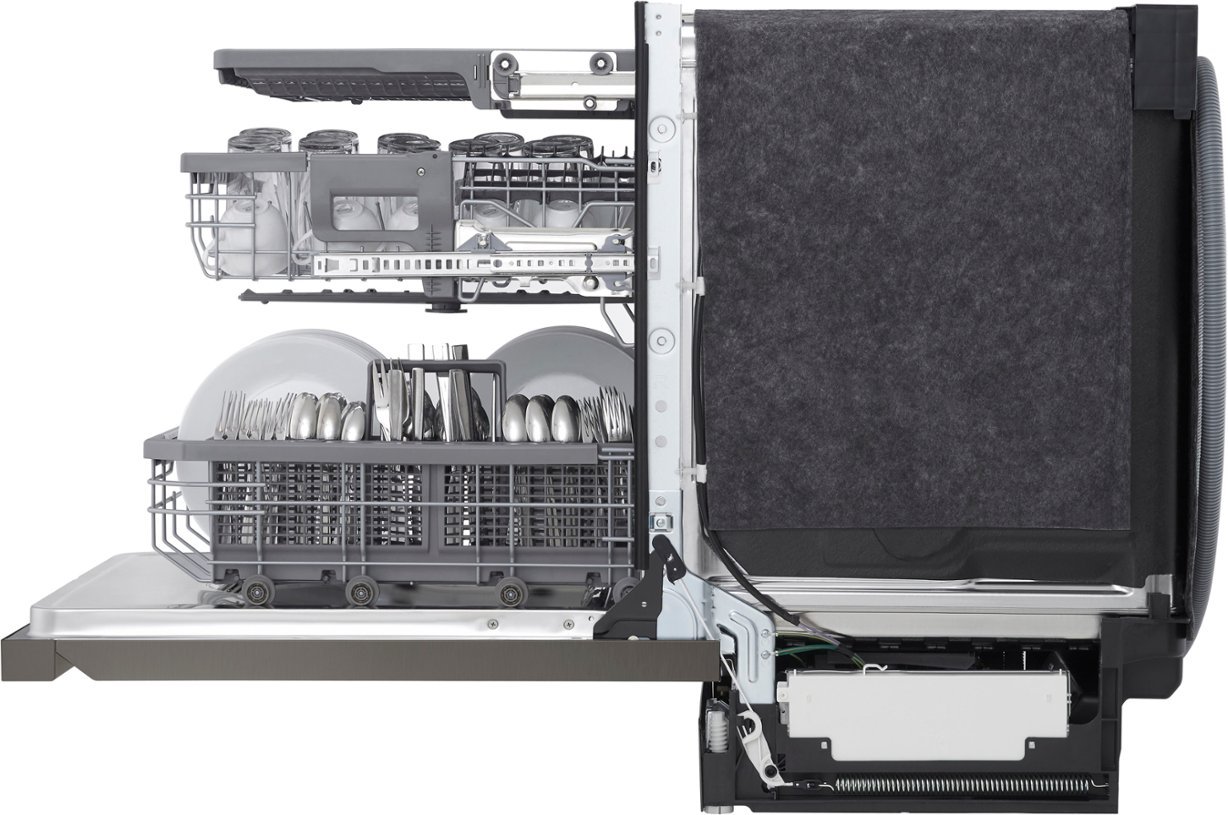 It should be noted that, at Best Buy, they have a financing and payment policy by installments, for this particular product, you have the possibility of canceling the entire order in 18 months. In this way, the monthly installments would be $55.56. Besides, you can request advice and other benefits, if you decide to pay for the membership.