It could be said that one of the current trends in society is healthy habits, in all senses of the word. In order to establish a healthy lifestyle in your daily life, the first step has to be taken from inside the kitchen. For its part, Best Buy wants to help its customers achieve this and, for this reason, offers this airfryer with which you can cook all kinds of dishes in a healthier way.
Ninja Foodi 5-in-1 Indoor Grill by Best Buy
One of the items in Best Buy's extensive catalog that will make it easier for you to change your cooking habits is this Ninja Foodi 5-in-5 Indoor Grill, which comes with multiple accessories so you can cook whatever you want at any given moment.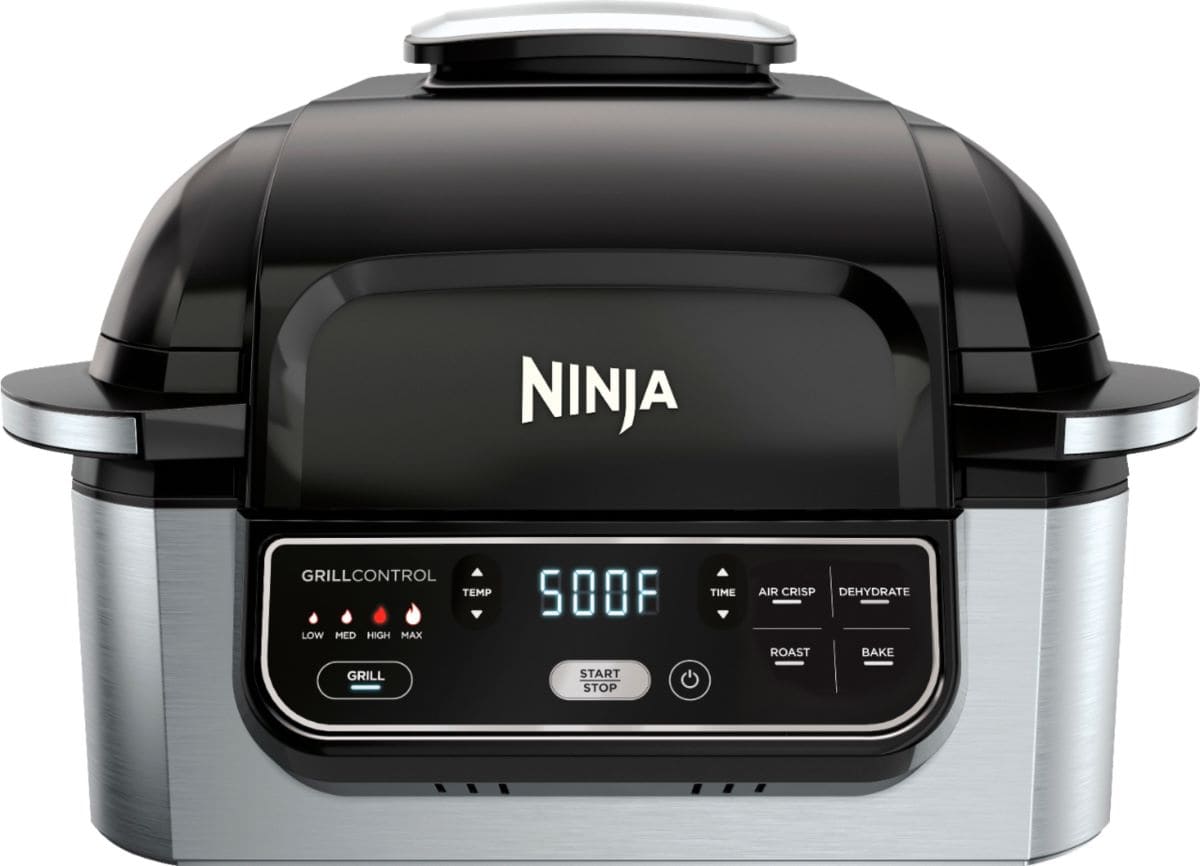 This item serves to brown, sizzle and fry potatoes without the need for oil. It is equipped with cyclonic grilling technology, thanks to which the hot air, up to 500ºF, provides a scorching surround.
And the high-density grill, also 500ºF, allows you to create grill marks and flavors with virtually no smoke.
Likewise, this product is very easy to use, thanks to its intuitive digital display, through which you can choose the function and cooking time, as well as the temperature.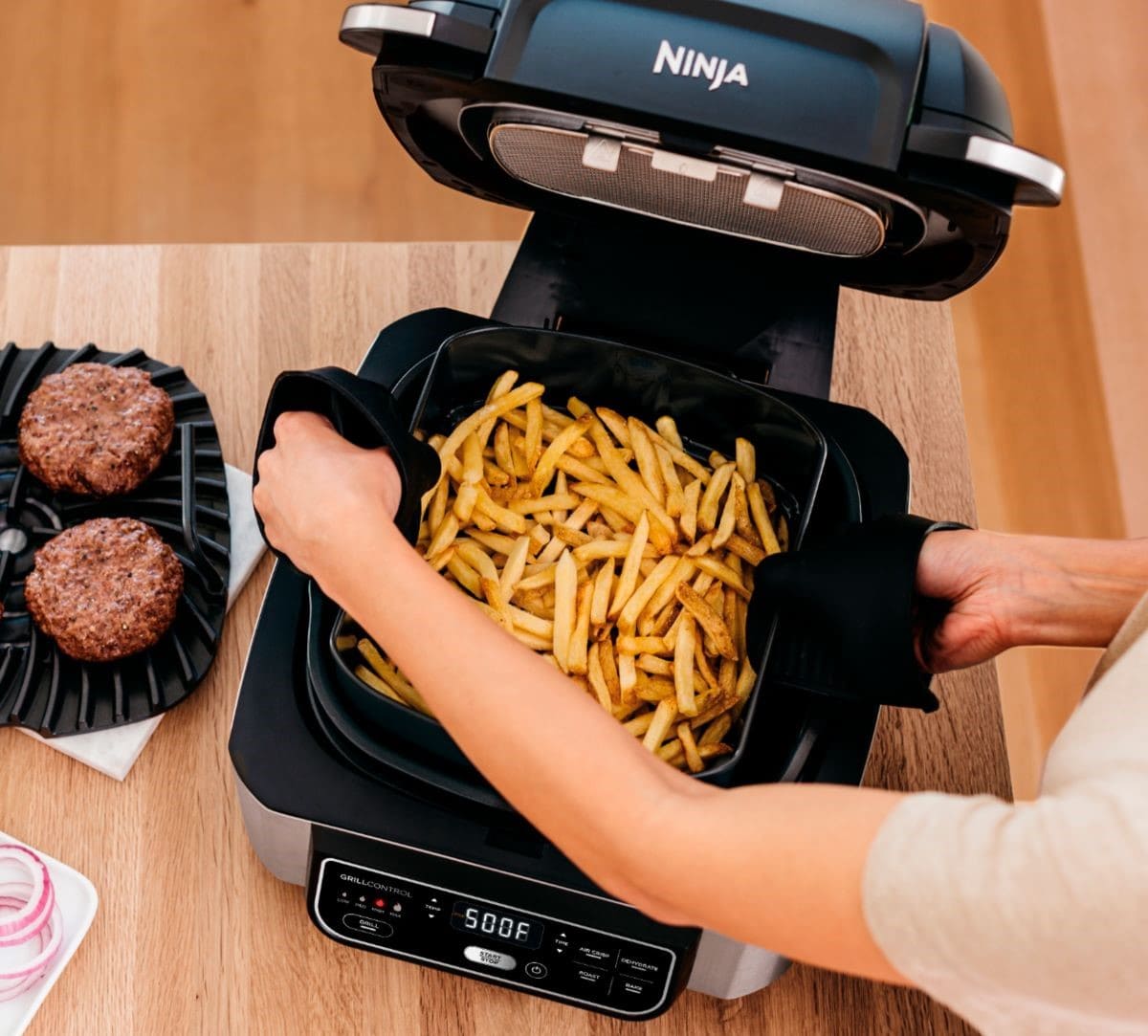 It is also easy to clean, as the removable grill rack, ceramic cover, vegetable basket and pot are all dishwasher safe and PTFE/PFOA free.
Due to its superheated airflow, which surrounds the food, there will be no need to turn the food. This way, you can forget about the worries of food sticking to the surface.
As for the purchase kit, it includes: 4 qi. vegetable basket, 6 qt. pot, a book of 15 recipes created by a chef, a cleaning brush, a grill rack, 5-in-1 Ninja Foodi indoor electric grill, and the instruction manual.
Technical data
Brand: Ninja
Color: black/silver
Dimensions: 14.9" x 14.9" x 11.02"
Weight: 14.5 pounds
Capacity: 6 quarts
Material: stainless steel
Special feature: programmable
Recommended uses: roast, bake
Output wattager: 1760 watts
Voltage: 110 volts
Max temperature setting: 500ºF
Product sku: 6357404
Price and availability
If you want to equip your kitchen with the latest technology and also take better care of your health and eating habits, then you can purchase this item from Best Buy's website, or by visiting any of their physical stores.
The price of this Ninja Foodi 5-in-1 Indoor Grill, with discount included, is $209.99, and it comes with a two-year warranty from the time of purchase.
Benefits of using an air fryer
The benefits of air fryers are many and varied, which is why it is a great ally in the kitchen of our homes.
Physical advantages
In the first place, on a physical level, its size stands out, which are usually small, although there are also XL options and its design, which, as a general rule, are usually modern in style because this technology has not been on the market for a long time.
Advantages at the usability level
At the level of usability, most air fryers have a touch screen or at least a screen where you can see the function you are working with, the temperature, the timer, etc. You will hardly need to follow the instruction guide because they are usually very intuitive. In terms of cleaning, it is also a point in favor since they are easy to clean and the accessories are usually compatible for washing in a dishwasher. Finally, in this section, we can talk about the fact that they are usually efficient in terms of electricity consumption.
Health benefits
Finally, on a health level, and for the Look At The Square (LATSQ) team, one of the most important qualities is that by cooking with these appliances we will be considerably reducing fat consumption. This type of fryer promises to fry with 97% less oil, leaving the food equally crisp and taking care of the product's flavour. Best of all is:
The reduced time it takes to prepare food.
Multiple functions: roast, fry, cook, defrost, dehydrate, etc.
Less odors and fumes than those that can be caused by a conventional fryer or an electric oven.