Dare to make your meals much healthier, and forget about the fear you have of oil. We at Look At The Square (LATSQ) go crazy about fried food, especially when it's low in fat. And believe it or not, it is possible with an air fryer like the one Walmart has for you.  Fewer calories, less oil, and much healthier.
You don't have to add one more number to the United States obesity list, nor do you have to feel guilty. Go and prepare your favorite chicken or chips, and above all, save a few dollars with this option that undoubtedly competes with those of Amazon and Best Buy.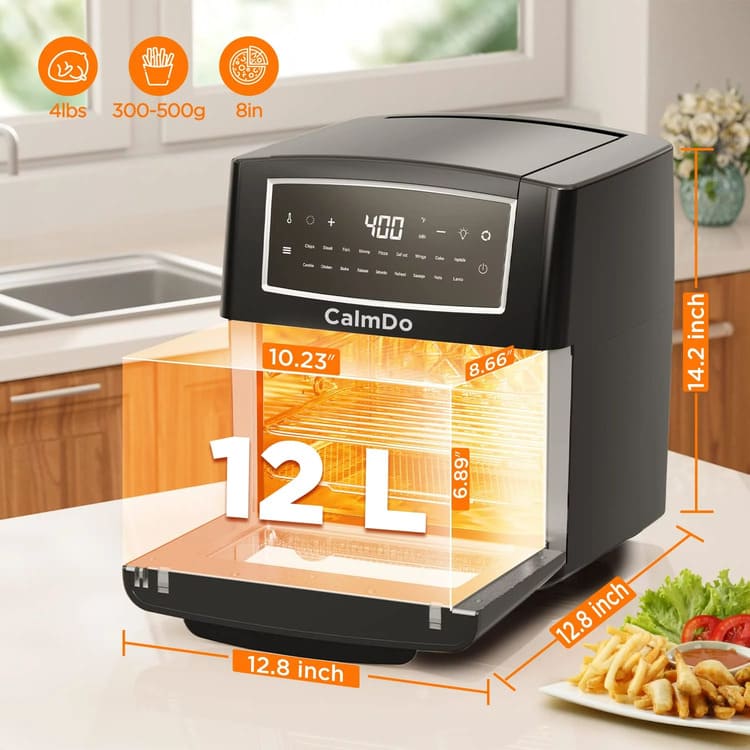 Walmart CalmDo Air Fryer Oven
It is a multifunctional air fryer from CalmDo, which has a compact size, black housing, and a modern design. It's kitchen equipment that includes multiple accessories and has a wide range of baking, frying, and dehydrating functions. Thus, CalmDo Air Fryer Oven adapts to your personal preferences.
With this product, you can considerably reduce the time you spend cooking. So, you can prepare everything you want in a fast, healthy, and delicious way for your whole family. So, it is an ideal device for those who do not have much time at home. Not only for its versatility but for all its high-performance functions.
CalmDo Air Fryer Oven is a fairly popular product in Walmart's catalog. However, you should know the reasons why it stands out from other air fryers. Next, we will tell you about its key features.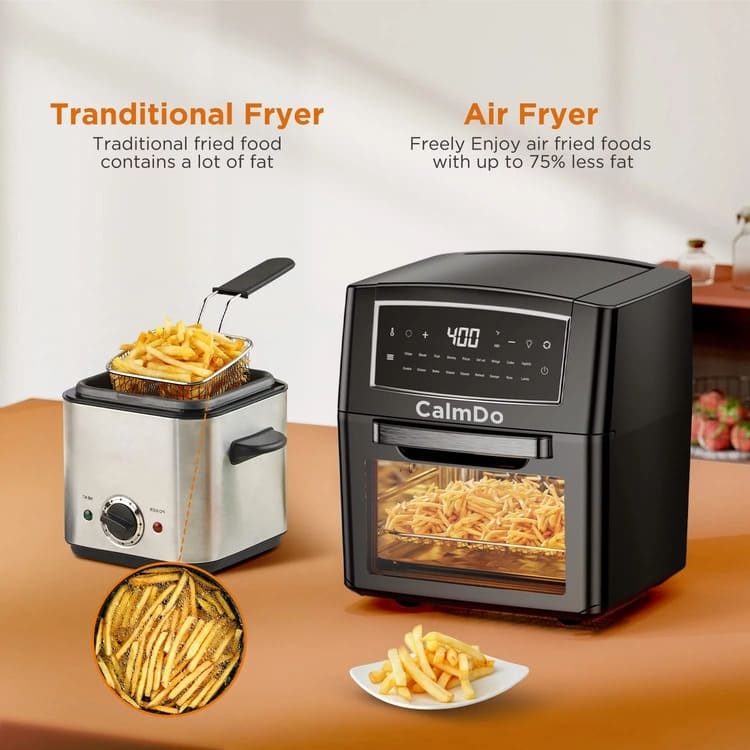 Cooking functions
The main quality of Walmart's CalmDo Air Fryer Oven model is that it has 18 cooking functions. Therefore, it is much more than just an air fryer. This equipment can function as a grill, dehydrator, toaster oven, and pizza grill. And best of all, it has a wide temperature range for cooking.
Internal capacity
Despite being a compact size device, this model of air fryer from Walmart serves to cook more than one person. It has a capacity of 12.7 QT that allows the preparation of food for 2 or 3 people. This is perfectly complemented by 360° super-hot air circulation for efficient cooking.
Healthy preparation
Like other air fryers, this kitchen equipment reduces the fat of conventional frying by 85%.  Despite this, it still maintains the texture and crunchy taste of food. Then, you can continue to enjoy your favorite food, but, in a much healthier way. In the long run, it's a good thing for your health and physical well-being.
Removable door
This model of air fryer also stands out for having a removable door, which helps in different ways. First of all, it helps prevent food from overcooking.  In addition, it allows an internal cleaning of the fryer more efficiently. So, you can keep it in good condition for many years.
This Air friyer from Walmart Includes
Apart from the air fryer as such, the purchase of this product includes other accessories. Among them are the following.
User manual.
Drip tray.
Four baskets.
Stick for roasting.
Rolling cage.
Support for steaks.
Grill support.
Search tool.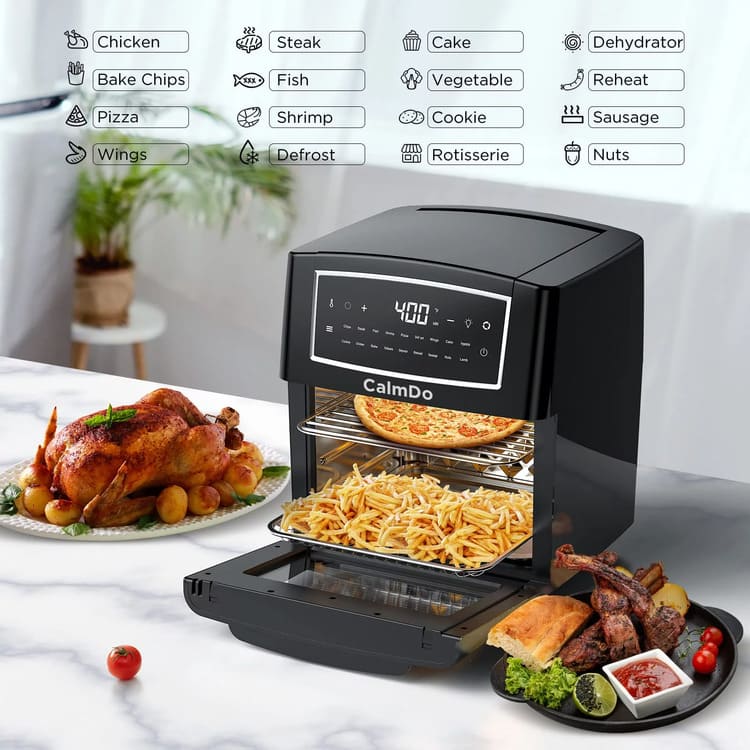 Measurement
Length: 16.38 inches.
Width: 14.00 inches.
Height: 14.00 inches.
Walmart CalmDo Air Fryer Oven Price
You can buy this air fryer from the Walmart website for an economical price of only $115.99.