You always hear that life as a vegan is very expensive because food is usually more expensive than normal food, but with Trader Joe's that reality changes. At Look At The Square (LATSQ) we come to tell you that you do not need to have much money to enjoy your favorite foods. Because with less than $50, you'll bring home a repertoire of healthy, gluten-free, 100% vegan food.
Your recipes will now be more varied, and you will no longer have to limit yourself to eating vegetables that at the same time abhor. Dare to prepare exquisite dishes, enjoying a healthy touch if you prepare them in air fryers or electric ovens. Let the world know that vegan food is within everyone's reach.
Gluten-Free Pizza Crusts
The first option you can buy to improve your diet at Trader Joe's is the Gluten Free Pizza Crusts. This is a pizza dough that you can store in your freezer to prepare in a matter of minutes. It only requires you to cover it with your favorite ingredients, and then bake it. This product weighs 13.18 ounces, so you can eat it several times.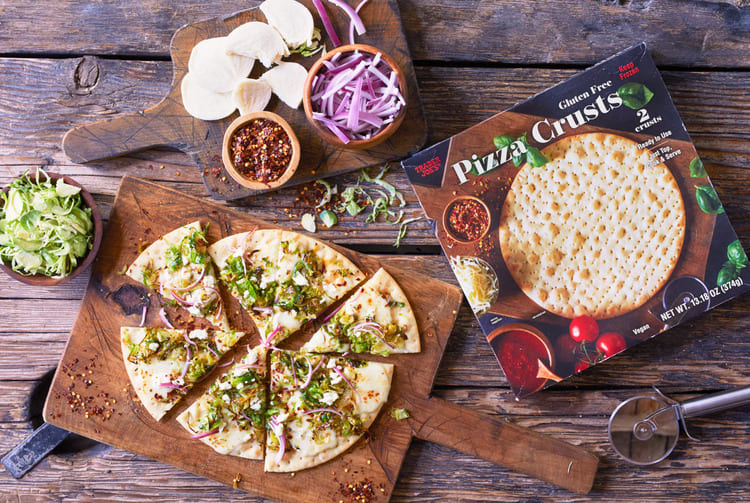 Gluten-Free Pizza Crusts are made with rice flour, chickpea flour, cauliflower, and cornstarch. It has a crunchy texture that can be baked at a temperature of 425°F, for periods of 10 to 13 minutes. In this way, you can prepare a delicious meal in the shortest possible time. You can buy it for an economical price of $5.99.
Trader Joe's Vegan Salmonesque Spread
We continue now with Vegan Salmonesque Spread, a Trader Joe's product that you can consume in different ways. It is made with a base of cream cheese but does not contain dairy. Instead, use pieces of plant-based smoked salmon and other vegan components to take care of your health.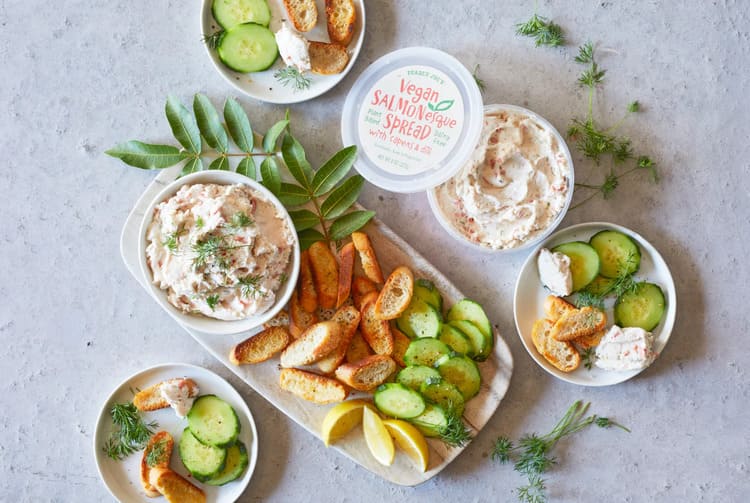 You can eat the Vegan Salmonesque Spread the way you prefer; at the time you want. It is an excellent complement to spread on all kinds of foods. It gives them a delicious taste that does not cause harm to your health. Then, it is the perfect appetizer to maintain good physical condition. It's 8 ounces and affordably priced at just $4.29.
Korean Beefless Bulgogi
Another healthy option to experience within your diet is  Korean Beefless Bulgogi from Trader Joe's. Unlike traditional food, this one does not contain meat. Instead, it uses 100% textured soy protein, which is paired with a wide range of ingredients. All of them are vegan and healthy for you.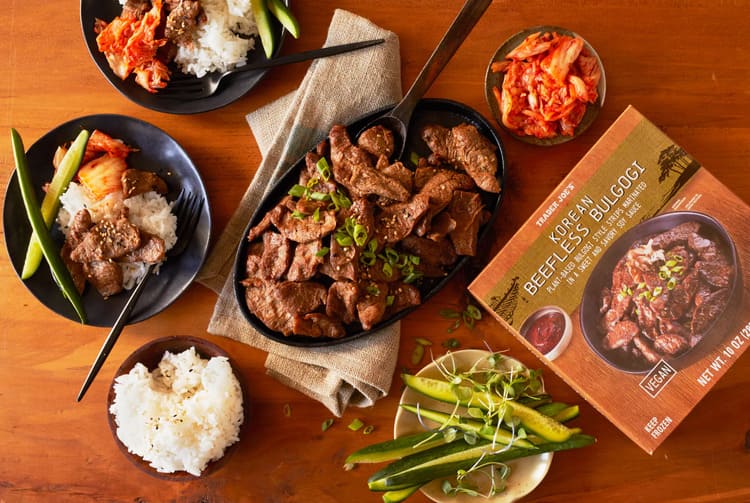 Korean Beefless Bulgogi tastes similar to traditional meat, so you can enjoy it with your family without any problems. And best of all, you have the option to cook it in the shortest possible time, since it only requires 3 to 7 minutes. You can even mix it with other healthy foods. It is a 10-ounce product and priced at $4.49.
Trader Joe's Organic Creamy Mushroom Soup
Finally, we have to mention the Organic Creamy Mushroom Soup from Trader Joe's. It is the perfect food for those people who have a plant-based diet. In particular, because it is made with mushroom broth and soft coconut milk. In addition, it also uses pieces of mushrooms, carrots, and kale to improve its flavor.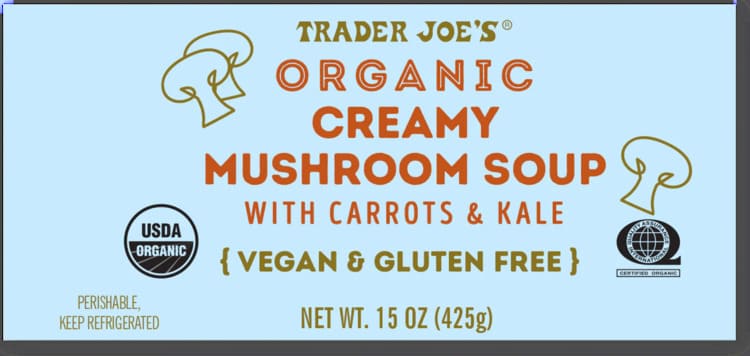 Organic Creamy Mushroom Soup is an easy-to-prepare food that you can consume several times since it is 15 ounces. You can eat it the way it comes or supplement it with other foods in your home. In any case, it is an excellent option to add to your diet, because of how nutritious and delicious it is. The best thing about creamy mushroom soup is that it is budget-priced. You can buy it at Trader Joe's for only $3.99.