This microwave in the catalog of Best Buy will not only leave your food at the perfect temperature, but it will give your kitchen a retro look that will never go out of style. The microwave Insignia heats food in a short time, without having to worry about the interior being cold as happens with other models. But its cooking function allows you to create dishes with just this appliance, serving a lot to save time and money, as well as space in the kitchen.
It has enough space for 10-inch plates, opening the door to many more options without having to separate the food into several parts, saving a lot of time to eat before. In addition, the LED display is quite intuitive, allowing you to easily use the 10 different power levels that this product offers. The discount that the American store has on this microwave helps save $30, making it incredibly accessible to more people.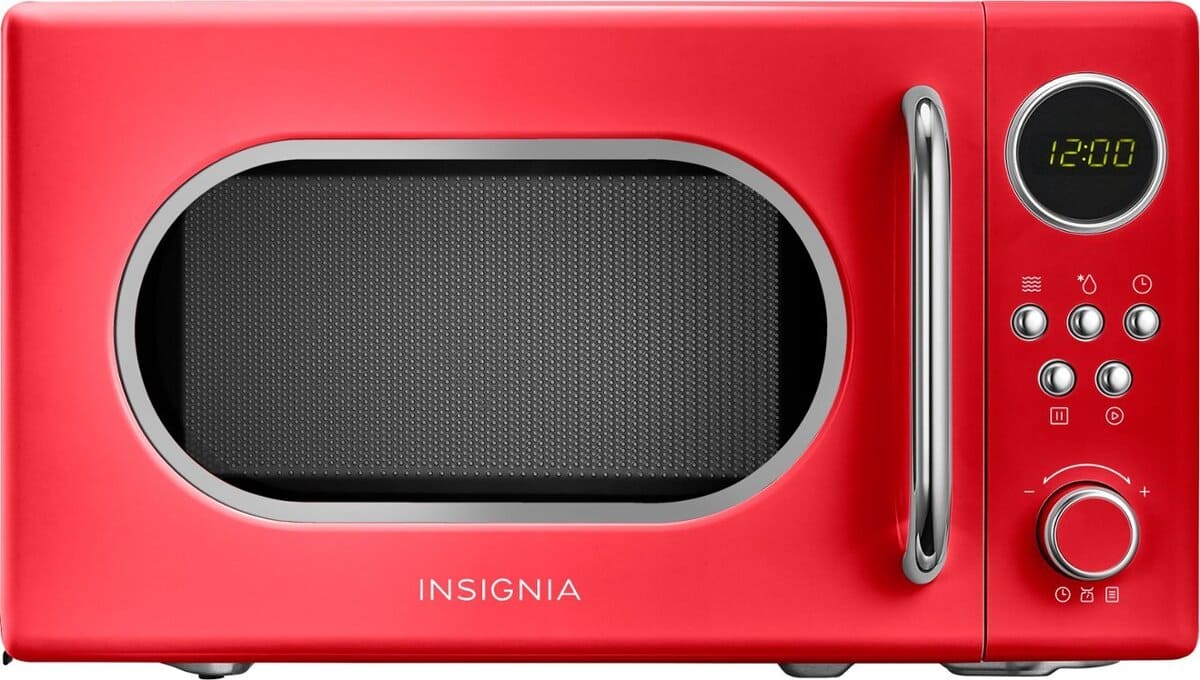 Best Buy Retro Compact Microwave
Best Buy offers a charming option to bring a touch of retro style to your kitchen, with the Insignia Retro Compact Microwave model. This appliance combines modern functionality with a classic design from the 1970s. Thanks to this, it adds visual appeal to the kitchen, regardless of its decoration.
With its elegant and striking design, this microwave is perfect for creating a nostalgic culinary space full of personality. In addition, the Insignia – Retro Compact Microwave model has multiple integrated functions and is easy to use. Therefore, it is an appliance that will always have some use and high performance.
Compact microwave to say goodbye to cold food
This Best Buy product is an effective solution to say goodbye to cold food and enjoy hot dishes in a matter of minutes. Particularly because it offers efficient and reliable performance for heating and cooking a variety of foods. You can heat everything from frozen dishes to leftovers, without any problem.
The capacity of this compact microwave makes it an essential addition to any home or office. It will allow you to enjoy your food at the temperature of your preference, without having to make a great effort.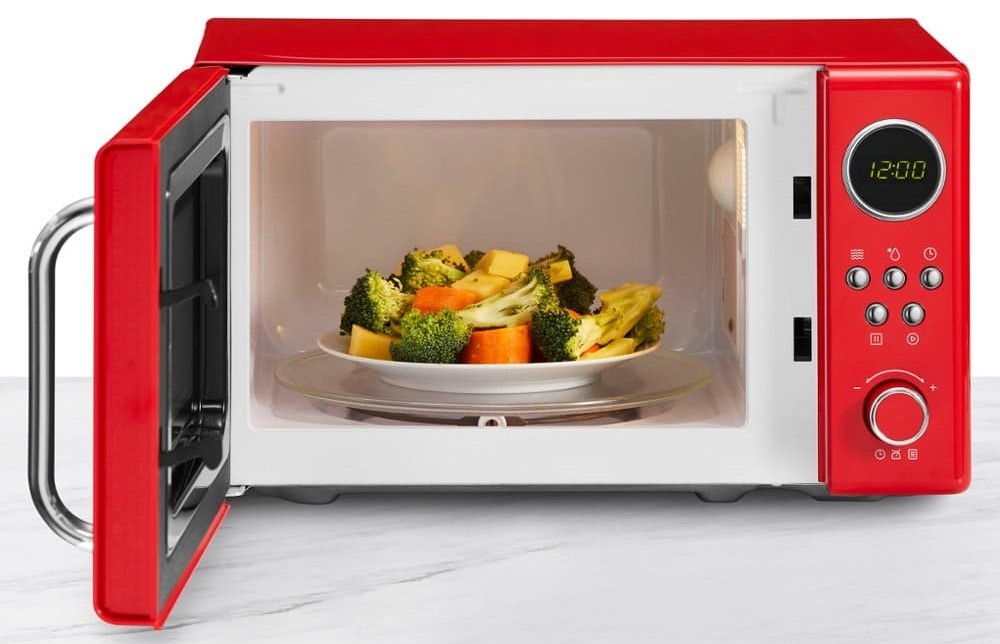 High power compact microwave
This Best Buy appliance has 700 watts of power. Thanks to this, it can cook or reheat a variety of foods efficiently and quickly. With the touch of a button, you can prepare meat dishes, vegetables, pasta, and much more.
The 700-watt power ensures that food is cooked evenly and quickly. This is essential for those who have a busy lifestyle and want to enjoy fresh meals in a short time. This way, you can maintain a good diet without harming other areas of your life.
Compact microwave with LED display
Equipped with a digital LED display and control knob, this appliance offers an intuitive way to operate and control functions. The LED screen clearly shows the cooking time and power at which it is operating. This way you can make precise adjustments according to your needs at the moment.
The control knob allows you to easily select the desired settings. This way, you will have no problems navigating the different cooking options. This combination of LED display and control knob makes the microwave easy to operate, no matter your level of experience.
Specifications of the Insignia – Retro Compact Microwave
It does not take up much space, thanks to the fact that it has the following measurements: 10 ¼ x 17 5/16 x 14 1/8 inches.
You can move it easily from one place to another since it only weighs 21.2 pounds.
It has 9 integrated preheating programs to optimize its use.
It has 10 power levels for more powerful and efficient performance.
Its design will allow you to place it on a countertop in your kitchen.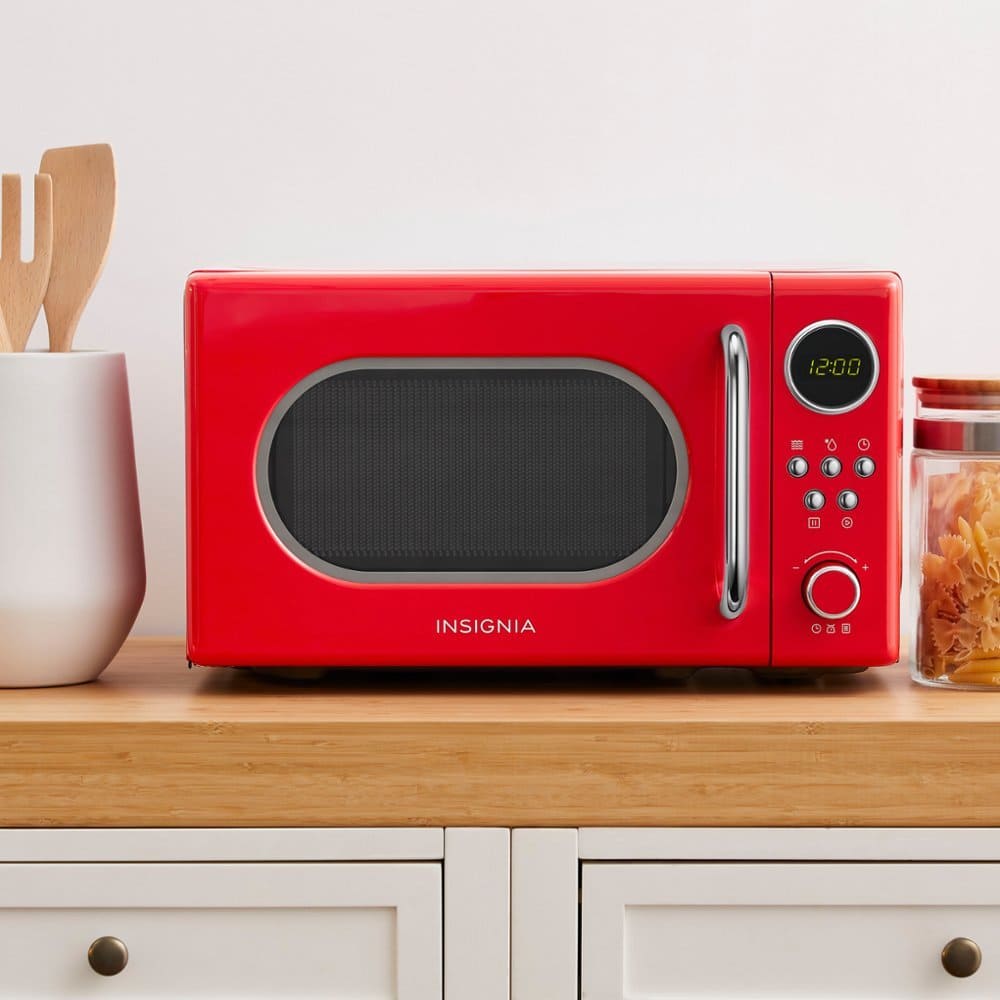 Best Buy Retro Compact Microwave price
Best Buy has the product available now for $20.00 off. Therefore, you will now only have to pay $69.99 instead of $89.99. This way you can save money and enjoy a splendid appliance.