Many people are affected by a change of scenery due to the dates, and IKEA brings a piece of furniture that serves to give a new style to the home. The sofa from the FINNALA line serves to keep a large family comfortable, but in addition to this, it comes with a chaise lounge where you can have a place to relax after a long day at work. Best of all, it adapts easily to any site, as you can change its dimensions to your liking, at any time.
It brings storage underneath the cushions where you can put anything, helping to easily tidy up the room by making even more use of the space. It is easy to assemble and disassemble, and its cover can be removed, allowing it to be washed in case of accidents or dust accumulation. In addition, it comes with a warranty of up to 10 years that saves you from any damage with time. Talking about a 10/10 sofa, this one from the Swedish store has it all.
FINNALA Sofa with chaise by IKEA
To enjoy comfort and versatility in your home, FINNALA Chaise Sofa from IKEA is a good choice. In particular, because this is a piece of furniture that allows you to stretch your legs and completely relax. So, you can read books, watch TV or simply rest after a long day at work.
The FINNALA model Sofa with chaise also stands out for its traditional style that can be fitted with different decorations. Plus, it's a plus-sized piece of furniture that will become a focal piece of your living room. Therefore, you can complement it with all kinds of accessories to decorate your home in the way you prefer.
Sofa with chaise to set the mood at home
The way it combines style and comfort, this chaise sofa from IKEA is perfect for any home. Especially since it is a piece of furniture that allows you to create a cozy atmosphere in your living room. It can be combined with both contemporary and classic decorations, without any problem.
There are many possibilities that this sofa with chaise can offer you to decorate your home. And best of all, it is an XL piece of furniture that also stands out for its functionality for storage and much more.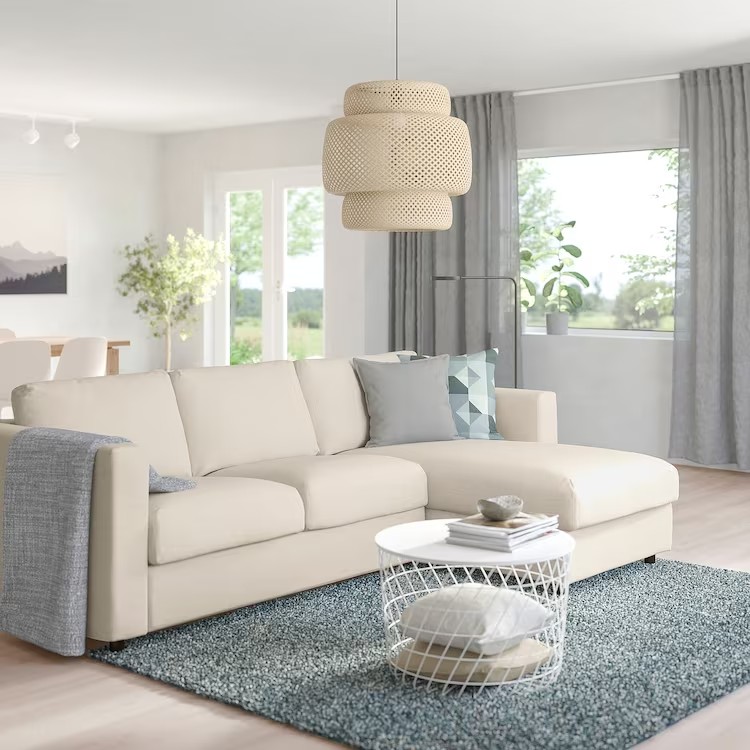 Sofa with chaise with versatile sections
To suit your needs and preferences, this chaise sofa from IKEA features versatile sections. In other words, you can combine it in different ways to the left or right of the sofa. You can even complement the furniture with other additional sections that you already have at home or from the IKEA web catalog.
This means that you can configure the sofa to fit your living room layout perfectly. This way you can make the most of the space inside your home, to achieve a more efficient decoration.
Sofa with chaise with integrated storage
Another of the most outstanding functions of this sofa with chaise is the integrated storage it has. It is a quality that allows you to continue taking advantage of the internal space of your home, thus improving organization. This way, you can have pillows, sheets, and blankets stored in one place.
The internal space of the sofa with chaise is easy to use and has fairly easy access. Therefore, you will have no problem using the accessories you decide to store when you need them.
Features of the FINNALA Sofa with chaise
The cushions are made of high-resilience foam to provide the maximum possible comfort.
It's designed to adapt to the body build and provide support at all times.
It has a dyed Gunnared fabric cover that stands out for its softness and durability.
The cover of the furniture is removable and you can keep it clean by washing it in the machine, without using bleach.
The sofa with chaise is large, with dimensions of 28 x 99 1/4 x 38 5/8 inches.
It is available in beige and 5 other neutral tones to suit your home.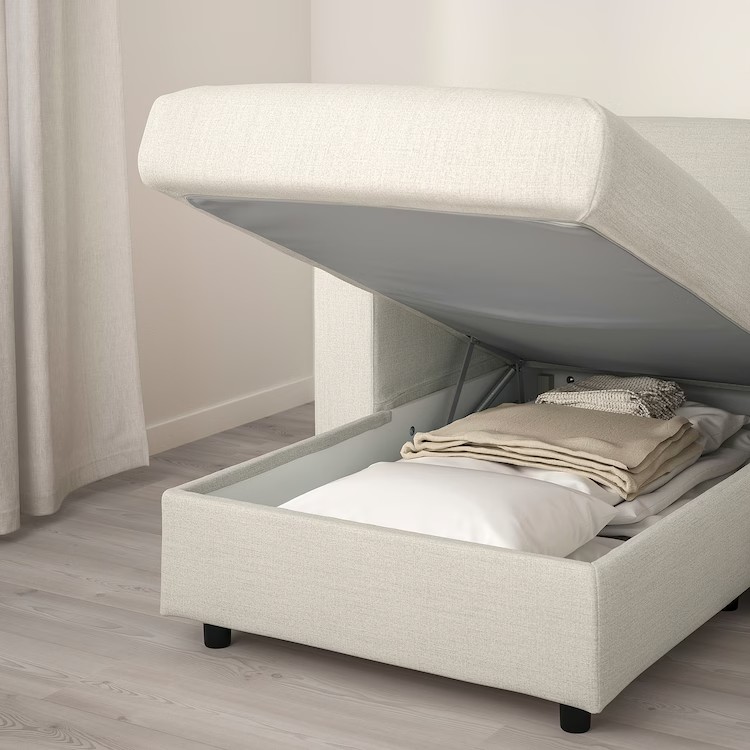 Current price of FINNALA Chaise Sofa by IKEA
The quickest way to purchase the FINNALA Chaise Sofa is directly from the IKEA website. You just have to enter the website and pay $1,599.00 to receive this piece of furniture with a 10-year warranty. In addition, IKEA offers you the option to pay it in installments of $134.00 per month for a period of 1 year.