Times change and with that, the worldwide trends evolve, and to suit anyone, Zara offers 3 options of Jeans that adapt to any era. This collection offers very different but versatile styles, which give an original vibe to the entire outfit, each available in a wide variety of colors to suit everyone's wardrobe. Plus, they're at an incredible price, making it unnecessary to choose just 1, making them accessible options for a makeover.
They are made with both comfortable and resistant materials, which makes them an investment in the future by not going out of style and looking like new for a long time. In addition, thanks to their spacious pockets they become very functional so you don't have to carry a bag everywhere. They are available in a wide variety of sizes, so that no one is left out, adapting to anybody.
Jeans straight fit de Zara
The traditional option that Zara has in its catalog are men's straight-fit jeans. This is a garment that stands out for its timeless and versatile design that you can wear on all kinds of occasions. In addition, these pants are comfortable and cool, so you can wear them for long periods of time, without feeling discomfort in your legs.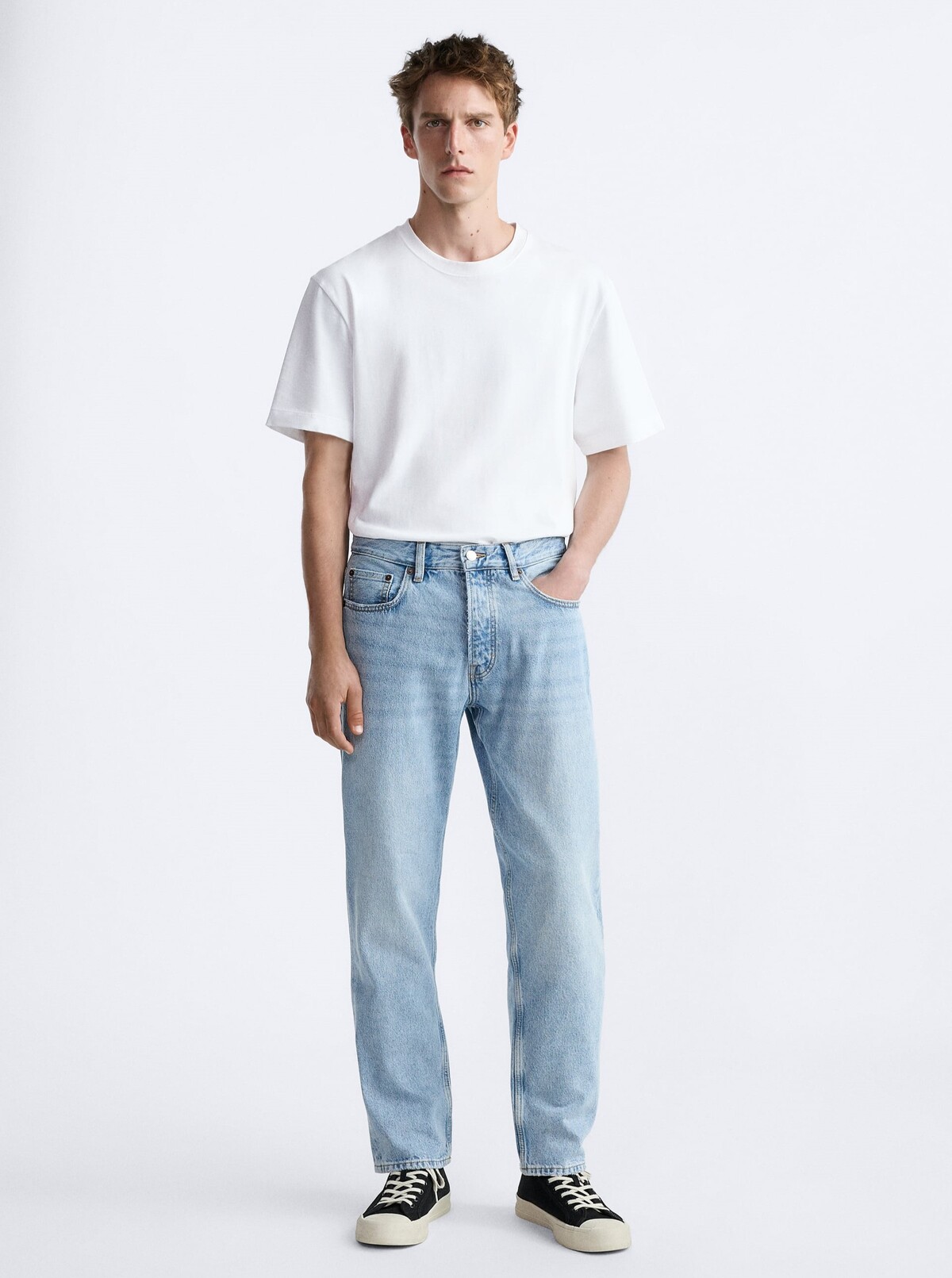 Due to their utility and flexible design, these blue jeans represent an essential piece of clothing in any wardrobe. You can use them with any of the garments in your closet, to wear in a casual or formal way. There are many possibilities that these pants can offer. On the other hand, this Zara garment has the following design details:
Made with 5 pockets to carry accessories for personal use.
Designed with a washed effect to create a worn, aged look.
It has a front button closure that makes the process of dressing and undressing easier.
It has a cotton elaboration to provide more comfort.
On Zara's official website, straight-fit jeans are available for an affordable price of $49.90. You can buy it in the color of your preference and the size of your measurement.
Baggy fit jeans by Zara
Another of the outstanding models within Zara's men's collection are the baggy-fit jeans. These are designed with a loose, relaxed fit to keep your legs cool and comfortable. The wide fit offered by these pants will allow you to enjoy greater freedom of movement.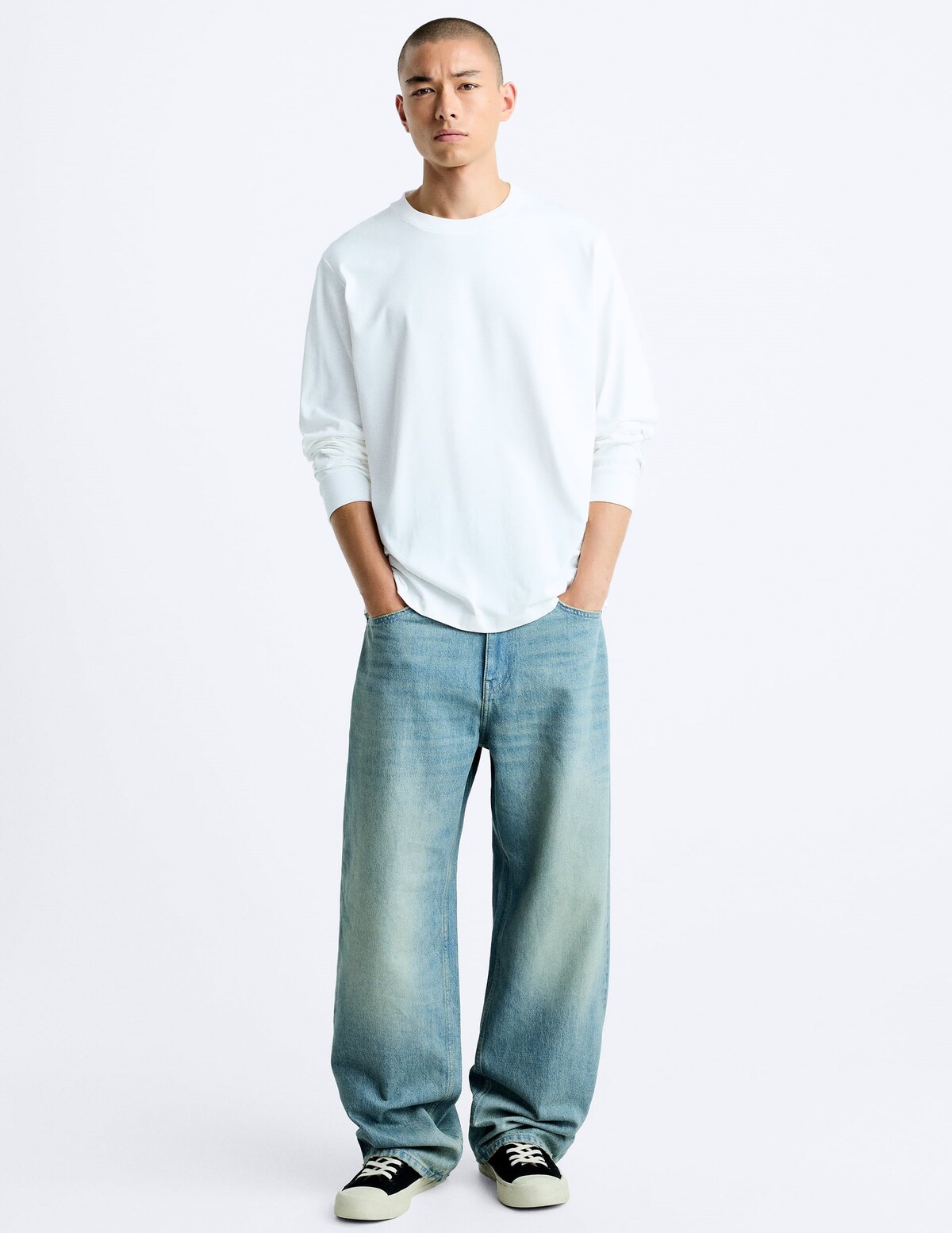 However, you should keep in mind that this is a garment that fits better in casual settings. You can wear them in your day-to-day with a more relaxed outfit, depending on the type of activities you do. In any case, you will be able to dress fashionably with these pants. In addition, baggy-fit pants have the following qualities:
Available in blue and 4 other neutral style shades.
They use recycled cotton fabric as the main manufacturing material.
They have 5 integrated pockets for greater functionality.
They look worn and aged, to create a timeless look.
If you want to buy baggy-fit jeans, you just have to go to Zara's official website. You will have to pay $49.90 to purchase this garment with the payment method of your choice.
Slim-fit jeans by Zara
Finally, we must highlight the slim-fit jeans from the Zara catalog. This is a garment made with a slim fit, to offer a more modern and fashionable look. The design of these pants will allow you to look tighter, in order to highlight your figure. This way you can attract attention and be the center of attention anywhere.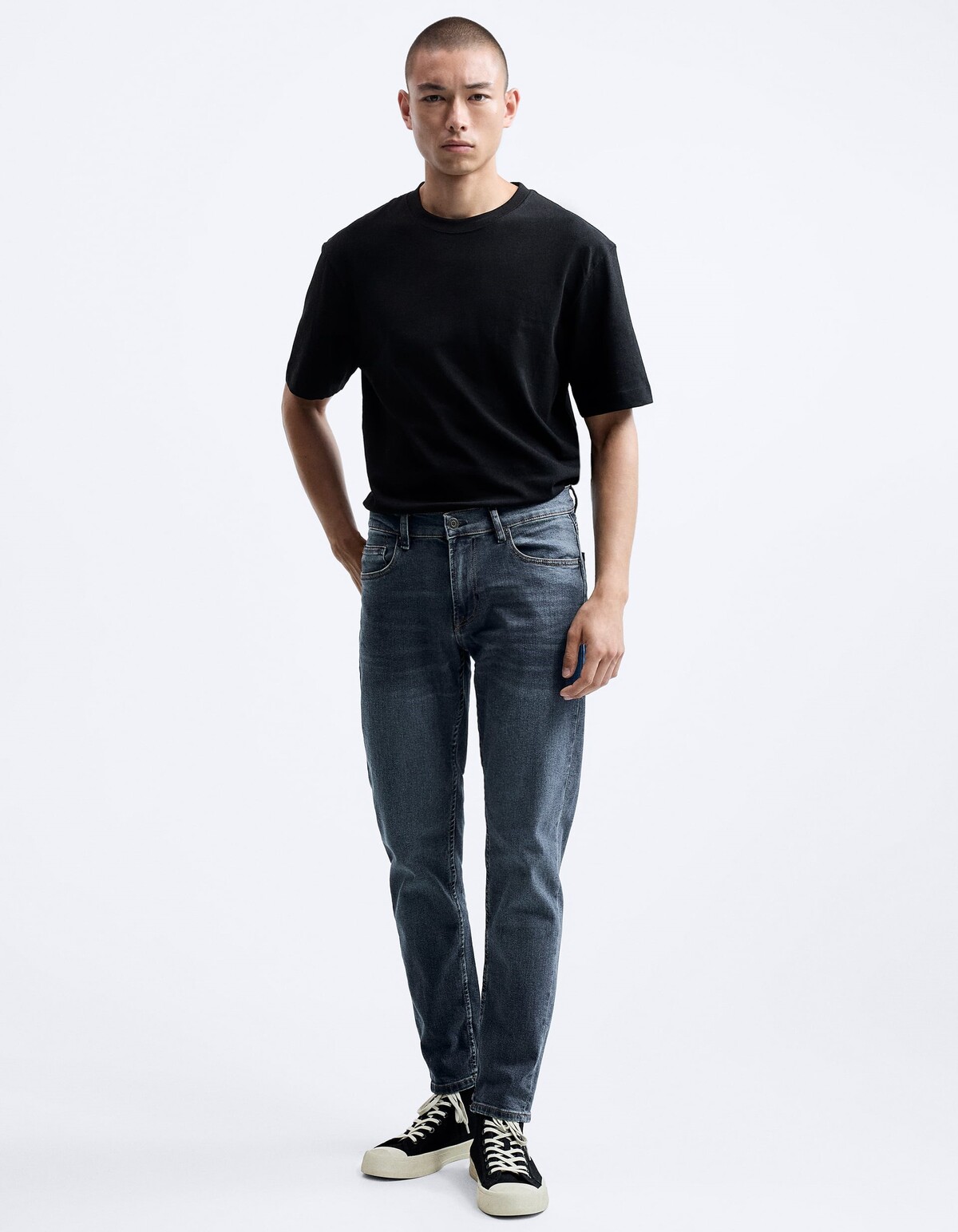 On the other hand, it should be noted that these pants are quite comfortable and flexible. You'll be able to wear them on a variety of occasions, from casual gatherings to more elegant settings. It all depends on the rest of the clothes you wear with the pants. As for its main qualities, these are as follows:
You can get them in blue and 6 other shades.
They have a washed effect to adapt to the trends of the moment.
They have a front button and zipper closure.
Designed with cotton and elastane fabric.
Zara's slim-fit jeans are available in multiple sizes and cost $49.90, which you can pay for from the digital portal.