We know that air fryers and smart appliances are taking over the kitchen these days, but at Look At The Square (LATSQ) we understand that classic never goes out of style. For this reason, at ALDI you continue to find traditional pots and pans to prepare your favorite recipes.
This type of kitchen utensil is valuable, practical and easy to use. They are one of the fastest selling products in the United States, and they are also very popular in stores like Walmart and Costco. Next, know the most important characteristics of each one.
Crofton 9 Quart Stainless Steel Stock Pot
A large pot never hurts at home, for this reason, the Crofton 9 Quart Stainless Steel Stock Pot from ALDI will be an excellent ally in the kitchen. It is made of stainless steel and consists of a container plus a glass lid.
In turn, the base of the pot is capsulated so that the heat from the burner is distributed evenly over the entire surface of the base. The result will be that all food will cook quickly. As for the price, it has a cost of $26.99. Other characteristics of the pot are.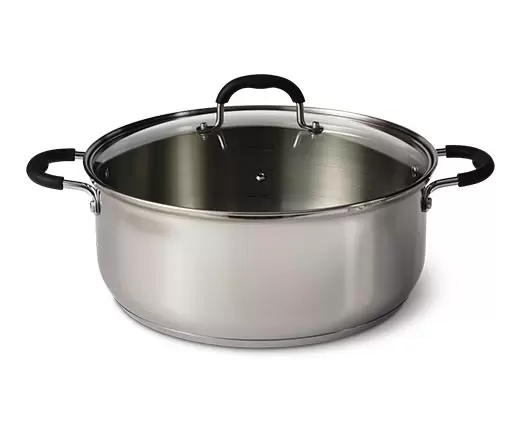 Dimensions: 16.3 x 12.4 x 8"
On the sides of the pot, you have silicone-coated steel handles to prevent you from burning yourself. This silicone is heat resistant, and it will be more comfortable for you to hold the pot.
The glass lid has a small hole for steam to escape
This pot supports up to a temperature of 356º F in the oven
It is compatible with induction cookers
Crofton Lightweight 6 Quart Cast Iron Dutch Oven
It's the turn of the Crofton Lightweight 6 Quart Cast Iron Dutch Oven. This is a Dutch oven type pot. Basically, it is a large pot that is used to prepare stews, stews, and soups. Another characteristic is that it is cooked over low heat.
In addition, they are particularly made of iron or ceramic, and they can be covered with or without enamel. In this case, the ALDI Crofton pot is made of iron, which allows all the heat to be distributed throughout the pot. For its part, the price of the utensil is $29.99. Next, other relevant aspects are.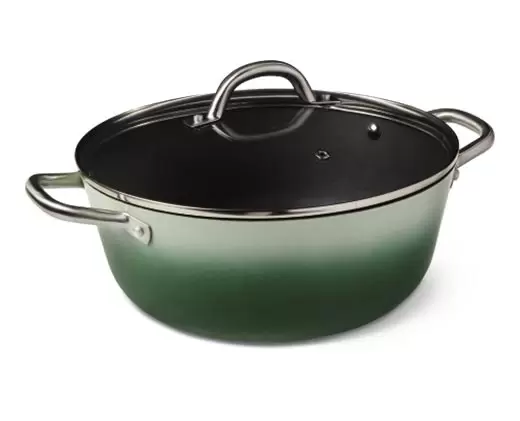 Available in green, white or lavender
Supports in the oven a temperature of up to 450º F
Includes a glass lid with a hole to let the steam out
It has two stainless steel handles. Remember to hold it with some protection for your hands, since it does not have a means to insulate the heat
The pot is compatible with electric, gas and ceramic hobs
The interior is pre-seasoned
Crofton Lightweight Cast Iron Fry Pans
Finally, the Crofton Lightweight Cast Iron Fry Pans is one of those utensils that you cannot miss in the kitchen. The pans are so practical and convenient to use. Besides, they are useful for making countless recipes.
On this occasion, you can order a set of 8″, 10″ or 12″ frying pans, which are suitable for cooking food in the oven, because they withstand temperatures of up to 500º F. Regarding the price , has a cost of $18.99. Additionally, other features are.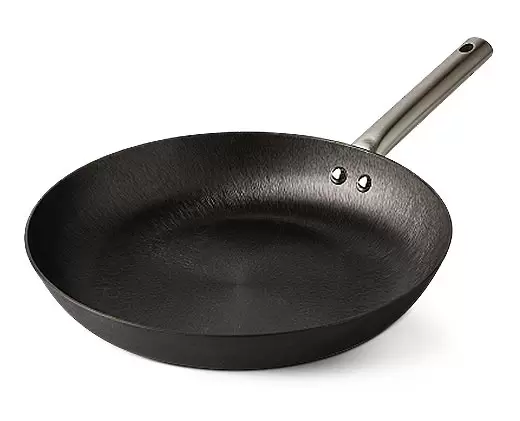 The product is guaranteed for approximately two years.
It has a resistant stainless steel handle.
The pan retains heat very well
You can use it on gas, electric, induction, ceramic hobs and grills.