The new fountain illuminated with natural stones that is driving Amazon users crazy has already caught the attention of the experts at Look At The Square (LATSQ). More than an amazing design, the sound of falling water is proven to promote relaxation and sleep. So, in this case, the company of Jeff Bezos has earned several points above Target and Costco, for thinking of a fun and striking method to relieve stress.
You can quickly purchase it from its web portal anywhere in the United States if you want to start testing its benefits. And also, highlight your furniture, shelves, and bookcases with a decoration accessory that you are sure everyone who visits your home will love it.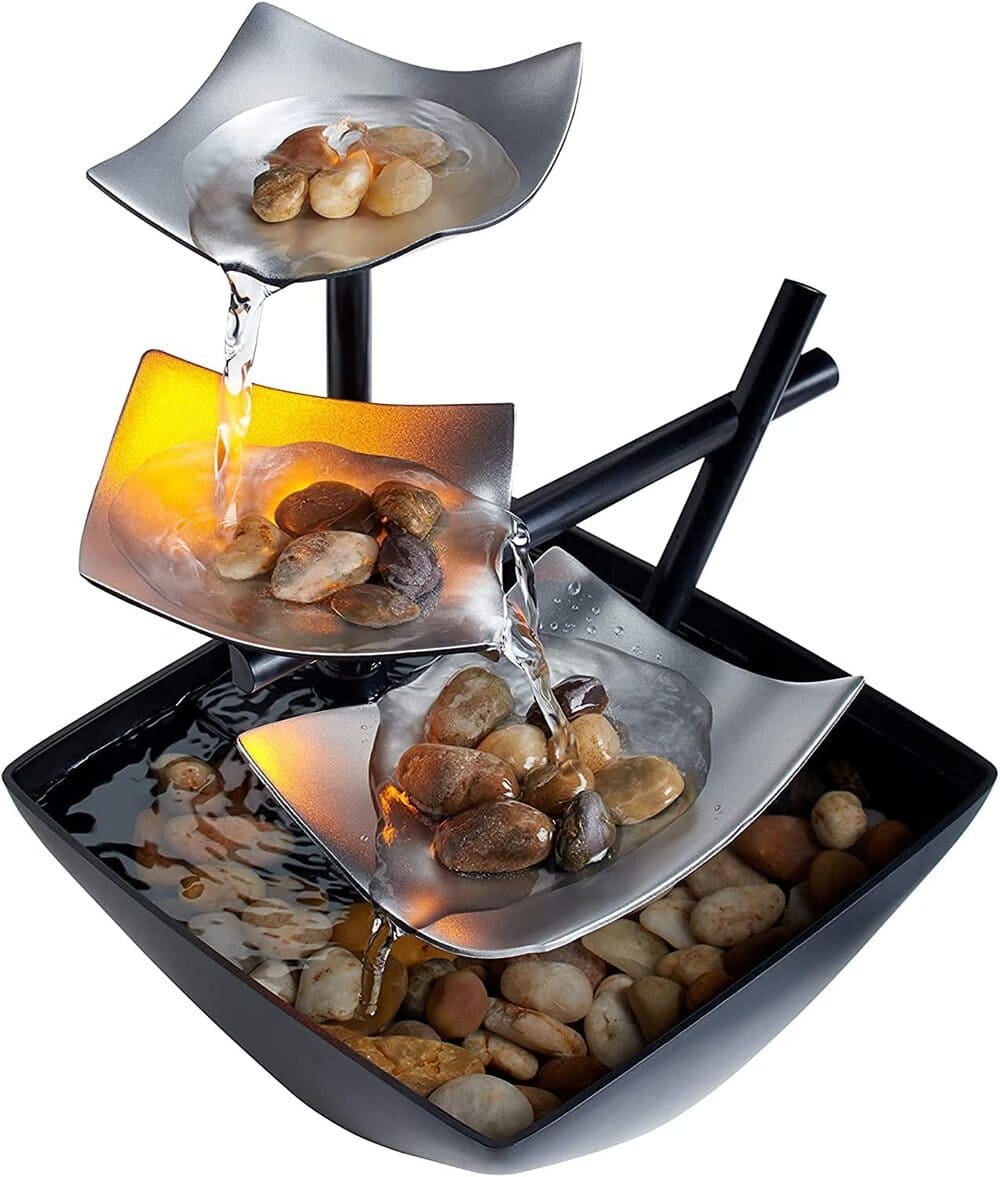 Amazon silver fountain illuminated relaxation with natural stones
The first thing that catches your eye about this illuminated silver fountain of relaxation with natural stones is its beautiful design. That surprises me because it seems to be suspended from nowhere, and that maintains a constant flow of water that generates a very relaxing and soft sound.
In addition, it is not like any other source because it has 3 levels that make the water flow in a much more extensive way, to create that relaxing sound that helps sleep and lower stress.
It is very easy to use and install
The integrated silent submersible pump circulates the water keeping it clean. This is of great importance because it prevents the accumulation of gases or that it stagnates, favoring the reproduction of mosquitoes. To make the water run you just have to connect the power supply to an outlet and click on the on and off switch.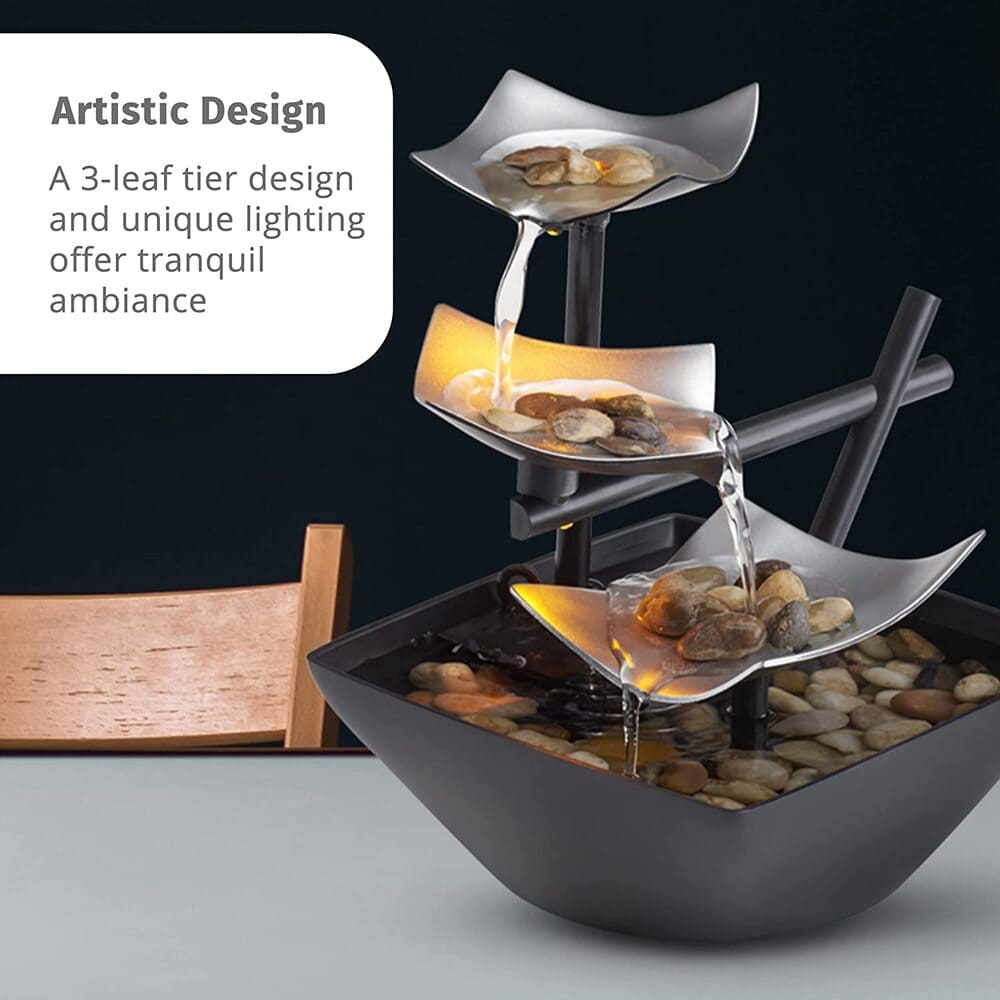 Artistic design that is not overlooked
Another advantage of this design is that it is inspired by Asia. At the same time, it has a unique lighting function that creates a smooth reflection. And best of all, you can customize it since the stones can be located in any of the levels, If one day you want that in the lower level there are more stones than in the upper or vice versa it will be enough that you take them with your hands and locate them where you want.
What's in the box
1 fountain of relaxation EnviraScape Silver Springs.
1 set of river rocks.
3 leaf levels.
1 power cord and adapter.
1 pump cover, water pump and fountain base.
1 quick start guide.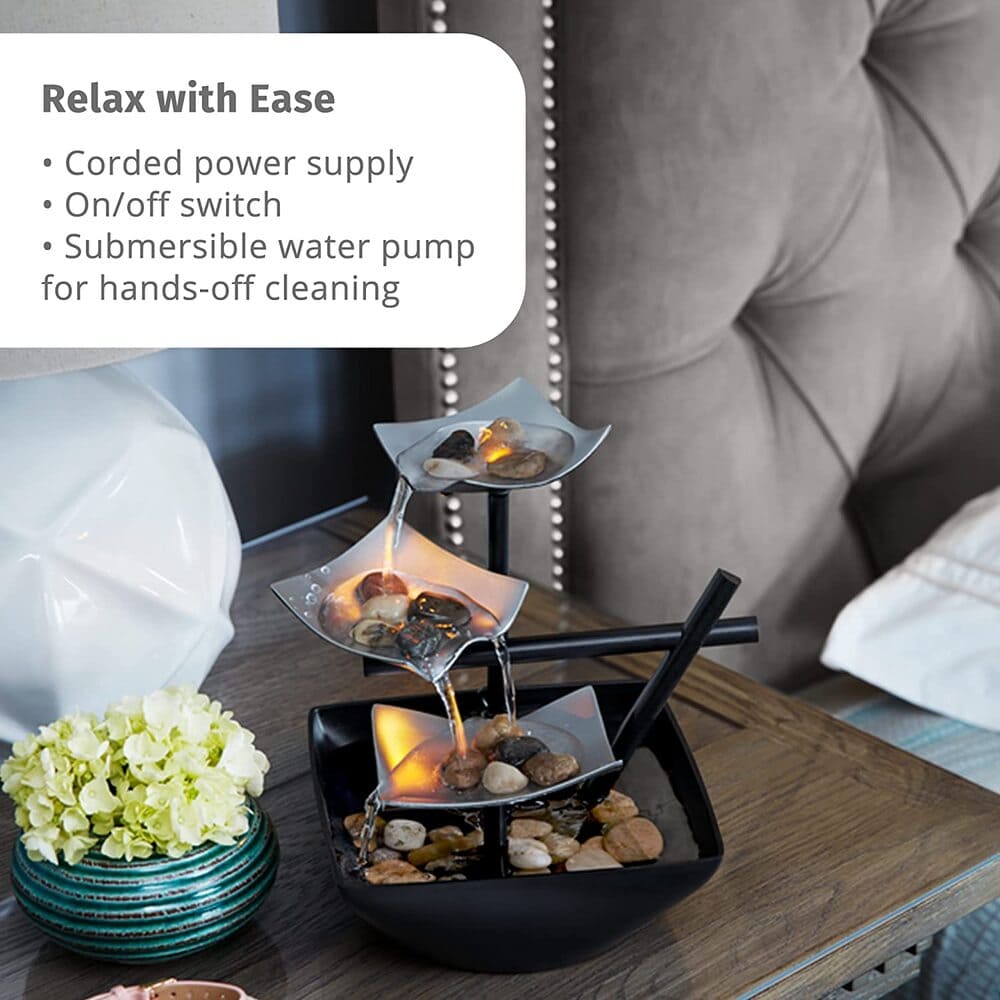 Tips for proper use of this Amazon product at home
Place it in a place where it can be firm without risk of falling as it could be damaged.
To keep the water clean, change it periodically to prevent the formation of microorganisms. Preferably use distilled water to avoid the accumulation of minerals.
To clean the rocks, we recommend immersing them in a mixture of vinegar and water to remove minerals.
Measurements: 8.10 inches long x 7.25 inches wide x 8.25 inches high.
Avoid any type of voltage other than that indicated on the pump.
If you already want to start relaxing with this fantastic product, you can get it on the Amazon web portal for a comfortable price of $29.99.