Pans, skillets, pots, pressure cookers … There is a lot to think about when it comes to equipping a kitchen. But for you to prepare your meals like a pro, Costco has the best pot and pan sets available this season in the United States.
We are approaching one of the dates when the table must be overflowing with multiple dishes. And why not make this task much easier? With a kitchen equipped with top-quality instruments, you will cook and prepare dishes from another world. In Look At The Square (LATSQ) believes that the kitchen is the sanctuary of a home, which is why you deserve to have the best kitchen accessories this year.
Costco GreenPan Paris Pro 14-Piece Non-Stick Cookware Set
This new set of 14 pieces that GreenPan Paris Pro has for you, is everything that you have needed in your kitchen until now. Each piece is balanced, providing great durability, sophistication, and class.
Plus, it features a ceramic nonstick coating that stands up to all the daily demands. It is also dishwasher, oven, and metal utensil safe. And thanks to the hard anodized aluminum material, it allows uniform heating that increases resistance to scratches and bumps.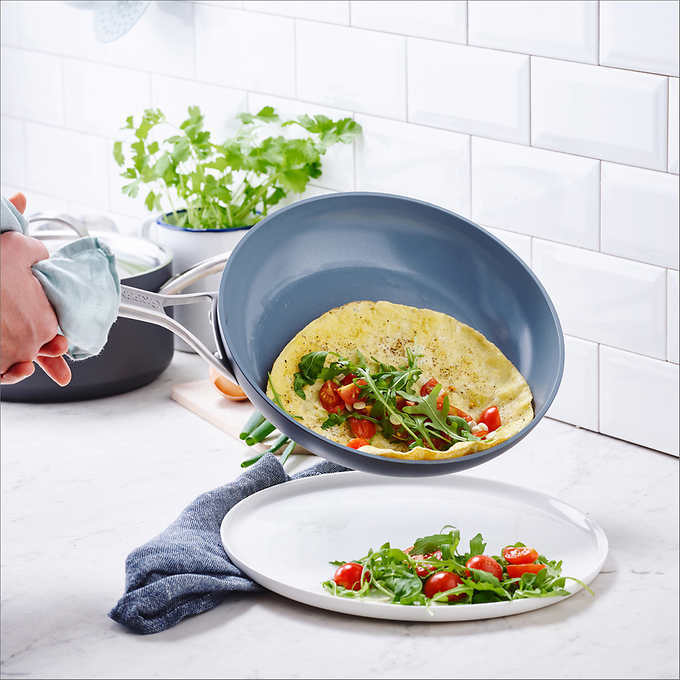 Parts included
8" Fry Pan.
5" Fry Pan.
11" Fry Pan.
2 Qt Saucepan with Lid.
3 Qt Saucepan with Lid.
3 Qt Sauté Pan with Lid.
11" Griddle.
11" Grill Pan.
5 Qt Casserole with Lid.
Stainless Steel Steamer.
One of the biggest advantages is that the Thermolon non-stick coating does not contain PFAS, PFOA, lead, or cadmium. So you will be free and safe against toxic vapors. And to top it off, each piece and lids are ovens and broiler-safe up to 600°F. And for a price of $239.99 it can be yours, to start enjoying all the advantages it offers.
KitchenAid 11-Piece Non-Stick Hard Anodized Cookware Set
KitchenAid is one of the brands par excellence in kitchen products of all kinds. And today, thanks to Costco, you have at your fingertips an 11- piece nonstick set for your kitchen.
Each piece is able to direct heat evenly to give you great results while you cook. All 11 pieces are induction compatible and ensure nonstick technology no matter how many you use them.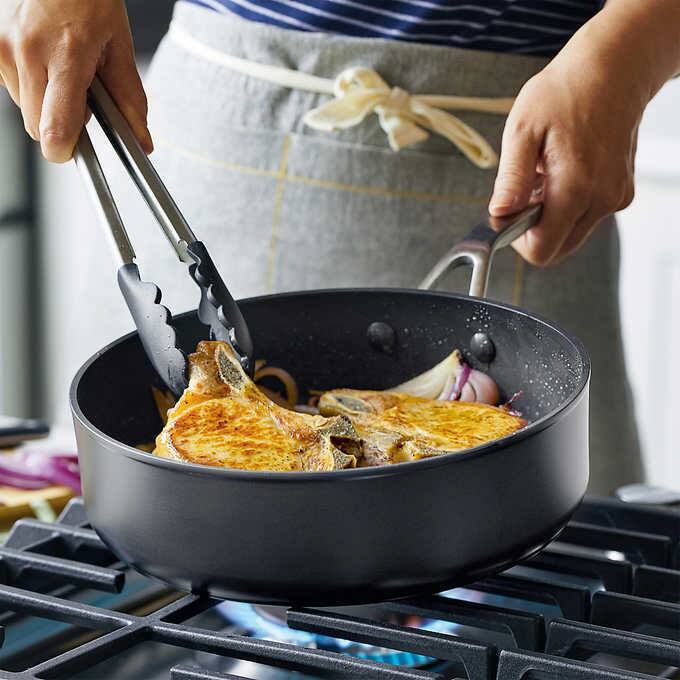 KitchenAid focused on making this set from heavy gauge hard anodized aluminum. So these pots and pans are upgraded with thick bases capable of even heating with induction included.
Pieces included
5qt Saucepan with Lid.
3qt Saucepan with Lid.
6qt Stockpot with Lid.
3qt Sauté pan with Lid.
25″ Skillet.
25″ Skillet.
75qt Steamer Insert (Fits 6qt Stockpot).
Finally, you can use this Set in its entirety because the glass lids are also suitable for withstanding high temperatures. In addition, they are easy to wash, ergonomic, and very accessible. You can have it all at home for only $179.99.
Costco KitchenAid 11-Piece 5-Ply Clad Stainless Steel Cookware Set
KitchenAid brings you an 11-piece stainless steel cooktop set for bottom-to-rim heat conduction cooktops. These pots and pans are of such a high caliber, that they will ensure the correct distribution of heat at all times. They retain heat and keep food at the correct temperature even after cooking is complete.
In addition, Costco puts at your disposal a set of pots and pans that ensure maintenance of the flavor and heat of your meals. The steel lids fit perfectly, letting nothing in or out that you don't want.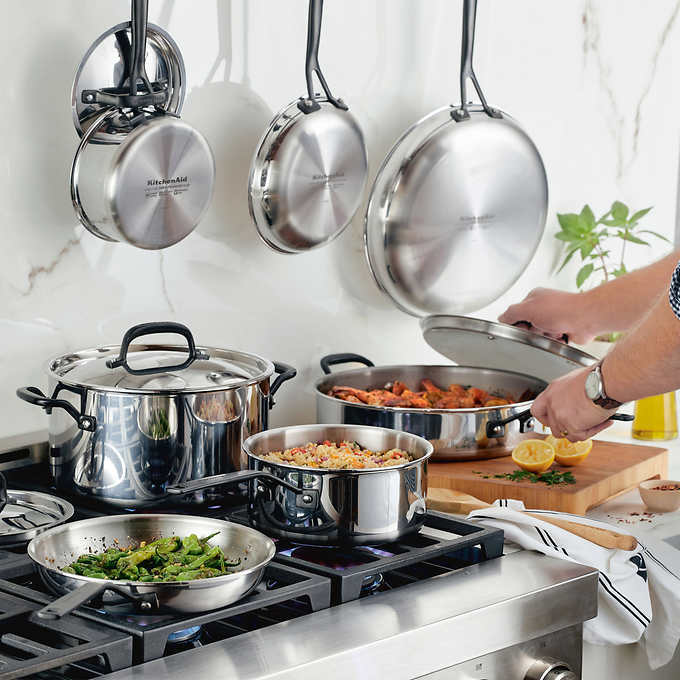 Parts included
5qt Saucepan with Lid.
3qt Saucepan with Lid.
8qt Stockpot with Lid.
5qt Sauté pan with Helper Handle and Lid.
25″ Skillet.
10″ Skillet.
25″ Skillet.
Finally, this set of pots and pans is so useful, they're oven and grill safe up to 500°F. You can enjoy a free, creative, and fun kitchen for only $399.99.