Costco has in its catalog a product that will bring elegance and space to any bathroom, thanks to the sale it currently has. The OVE Decors Lakeview offers a luxurious style to homes, having a versatile and easy-to-combine design, helped by its neutral tones to go well with everything. It has enough space to meet the needs of one person, having a large number of cabinets to increase the storage capacity.
Its countertop is made of cultured stone, supporting a high amount of weight thanks to its incredible resistance, in addition to preventing scratches and stains very easily. Each of the drawers includes a variety of adjustable dividers to optimize the way everything is stored and have more organization. In addition, you can save up to 100 dollars due to the discount you have at the moment, being an accessible option for a greater number of people.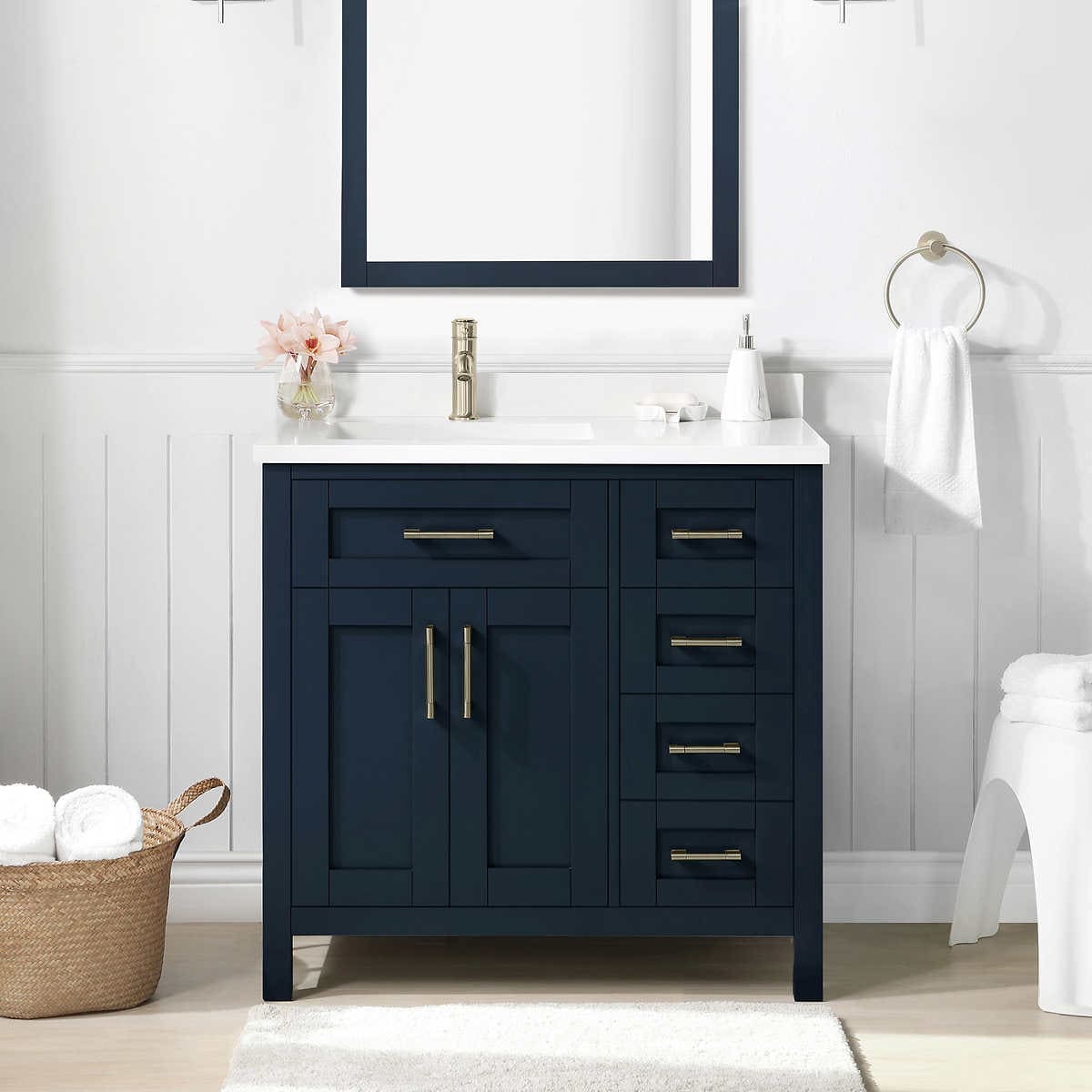 OVE Decors Lakeview Bathroom from Costco
To spice up your bathroom and create a serene atmosphere, Costco has the perfect product for you. This is the OVE Decors Lakeview bathroom vanity model in blue, an item that stands out for its aesthetics and functionality. Especially, because it brings a sense of tranquility to your space and covers multiple needs.
On the other hand, the OVE Decors Lakeview bathroom vanity model in blue features a high-quality structure. It is a product that does not need constant care to stay in good condition. Therefore, it is a piece that will be able to provide you with an aesthetically attractive and functional bathroom.
Bathroom vanity for all your needs
Among the most outstanding qualities of this Costco product, it is necessary to talk about the versatility it offers. It is a bathroom vanity that is designed to meet all the needs that arise in your everyday life. You'll be able to use it to organize your personal care products and get ready before starting your workday.
In addition, the cultured stone countertop is not only stylish, but also durable and wear-resistant. Therefore, it is an ideal piece for everyday use in a busy bathroom.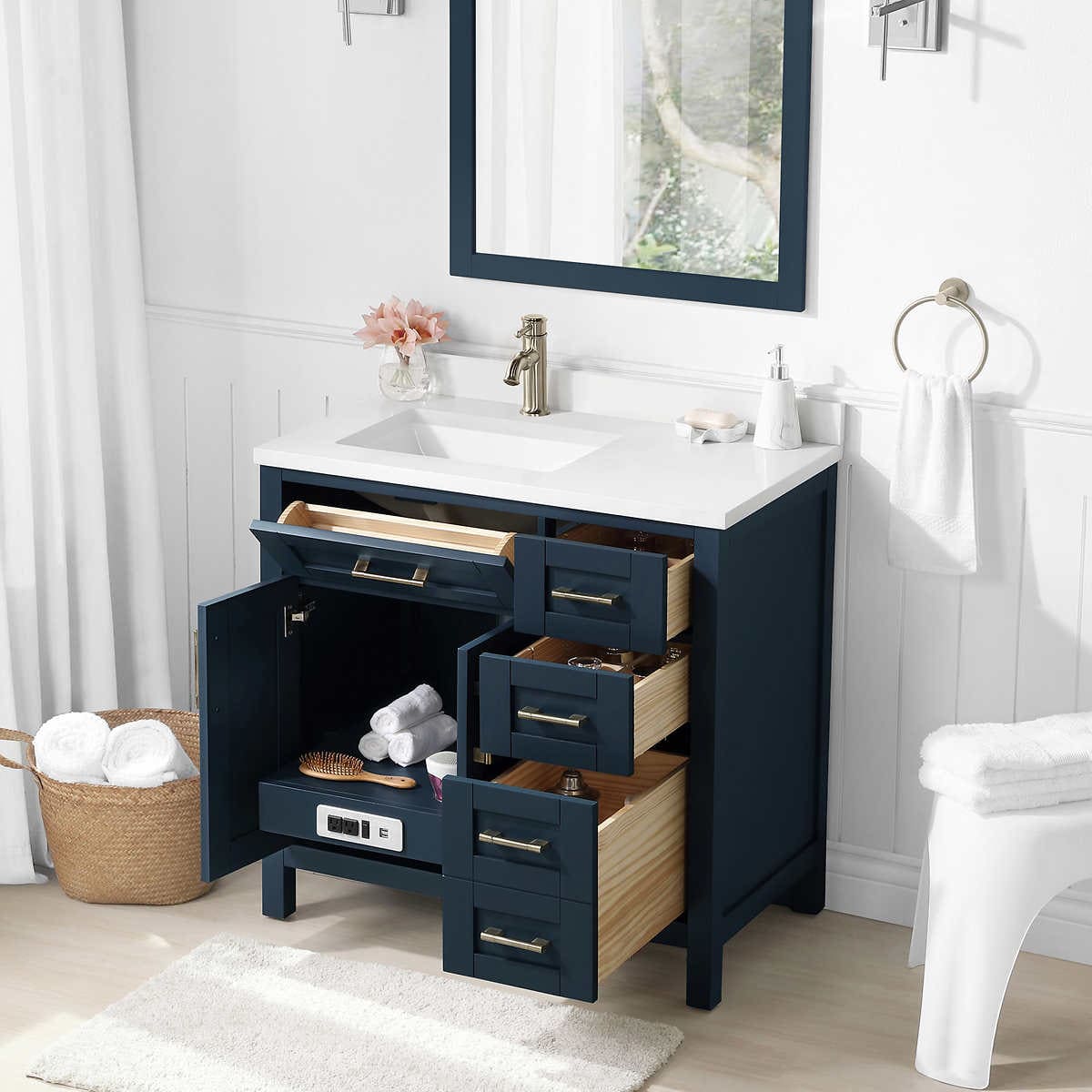 Bathroom vanity with power bar
The design of this bathroom vanity is out of the ordinary to extend its versatility in every way. Especially since it has an energy bar built into its structure. This powerhouse features a power bar that allows you to plug your devices directly into the vanity.
It has USB ports, making it easy to charge phones, tablets, and other mobile devices while you're getting ready in the bathroom. This will allow you to keep your devices charged and ready to use. Plus, it ensures you don't have to fumble for awkward outlets or use adapters in the bathroom.
Bathroom vanity with divider drawers
The structure of the bathroom vanity also stands out for its ability to keep your personal care items organized and accessible. This is due to the divider drawers it has, which allow you to customize the storage according to your needs.
As a result, you'll have the flexibility to keep your beauty products, toiletries, and bathroom accessories tidy. This proves beneficial for finding your stuff easily and saving time in the mornings or evenings.
OVE Decors Lakeview bathroom vanity in blue details
Designed with a blue painted finish that can fit with different decorative styles.
It has built-in leveling feet to adapt to different surfaces with ease.
It has a solid wood frame that optimizes its durability and resistance, to reduce wear and tear.
It has concealed, soft-close hinges that have an adjustable opening capacity.
The vanity surface is 36 inches wide for you to place essential accessories.
The built-in sinks are CUPC certified to validate their quality.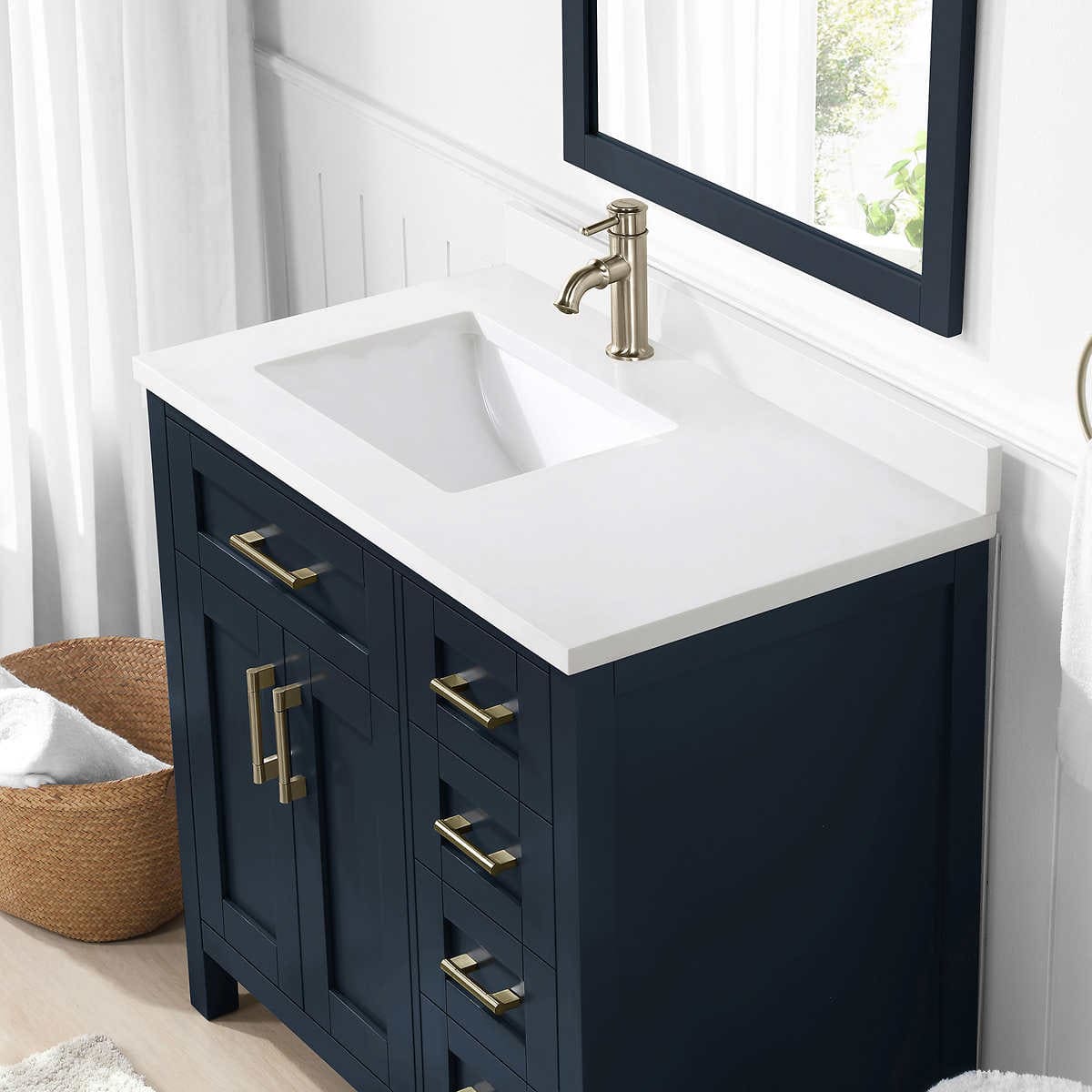 Costco OVE Decors Lakeview Bathroom Vanity price
Costco has the OVE Decors Lakeview bathroom vanity in blue with a $100.00 discount. Thanks to this, you will now only have to pay $899.99, instead of $999.99. However, you should keep in mind that this only includes the shipping of the product. The installation will have to be done by yourself or with the help of a professional.