Fall is a fairly pleasant time, but the sun takes a vacation at this time, so it is necessary to look for good lighting on your own. These 3 lamp options from the IKEA catalog, apart from offering a warm atmosphere, play with the shadows to give an incredible decoration to the whole room. In addition, by not having to turn on the main light, consumption will go down a lot and the electricity bill will thank you.
Moreover, each of these lamp options have anamazing and unique design, which adapts to any style and go well as a great decoration. In addition, they are made with quality materials with the purpose that they are durable, and that look unbelievable in a room or in the room, being functional in cases of emergency. IKEA does not disappoint and neither does itsprices, since all these lamps are very accessible to anyone and are only a click away.
IKEA SOLKLINT Table lamp
To add warmth and aesthetics to any space in your home, the SOLKLINT Table lamp model from IKEA is an ideal product. This accessory combines style and functionality uniquely, to deliver good results. You can place it anywhere in your home so that it illuminates pleasantly and creates a cozy space.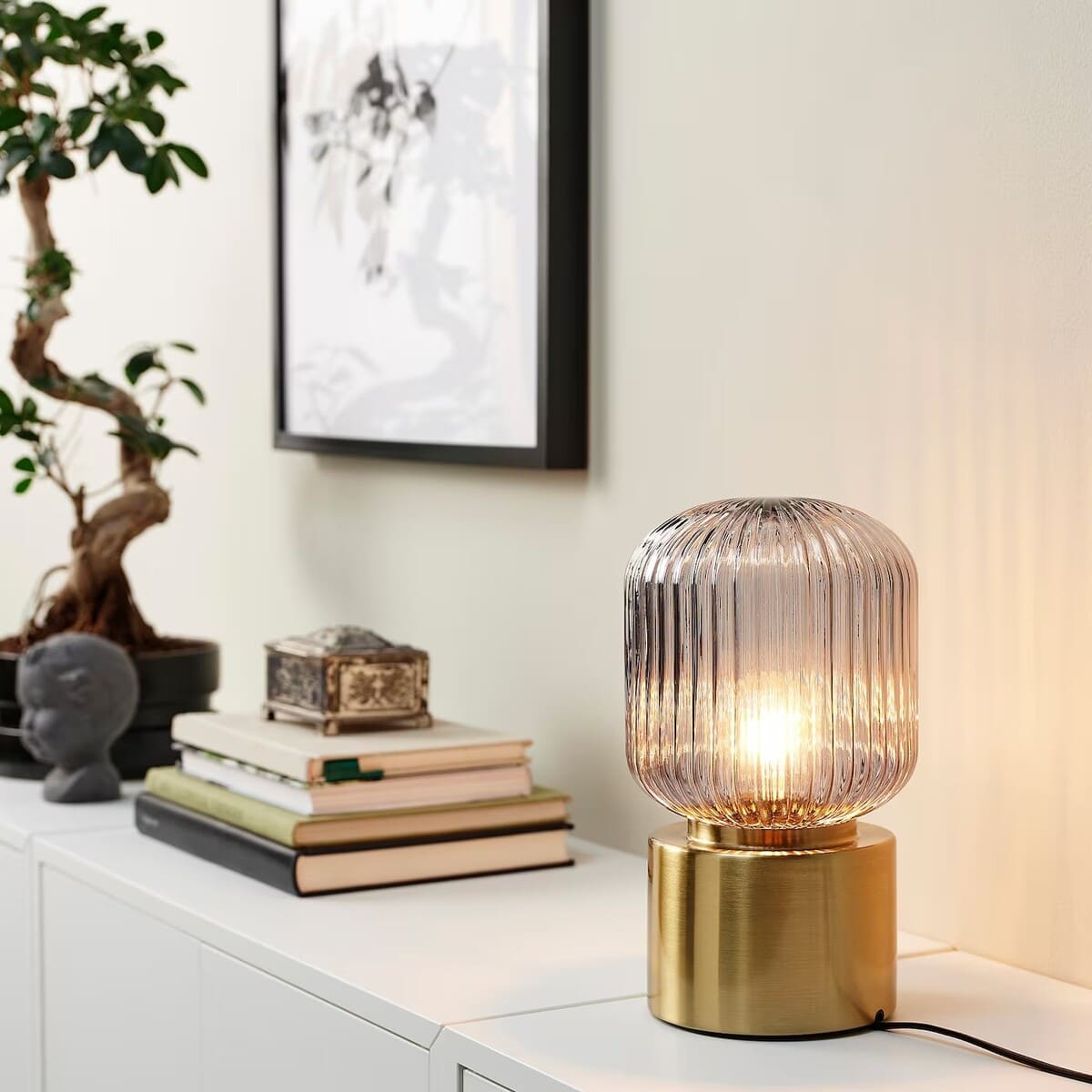 This IKEA product is designed in a sophisticated gold color that allows it to fit anywhere. In addition, it has a gray transparent glass screen to give it a sophisticated touch and create a pleasant atmosphere. Other outstanding features of this product are the following:
Designed with steel, polycarbonate plastic, glass and acrylic paint.
Requires cleaning with moistened towels and dry towels.
It works with an E26 LED bulb.
It has dimensions of 6 x 6 x 6'7 x 11 inches.
You can buy the SOLKLINT Table lamp model from IKEA for only $24.99, within the official website. However, you should keep in mind that this is a product that does not include the bulb it requires to turn on.
SAXHYTTAN Table lamp
Another of the outstanding options that IKEA has in its catalog, is the SAXHYTTAN Table lamp model. This is a product with a different style than the lamp mentioned above, but with a similar functionality. That is, you can install it in different spaces of your home to decorate and illuminate pleasantly.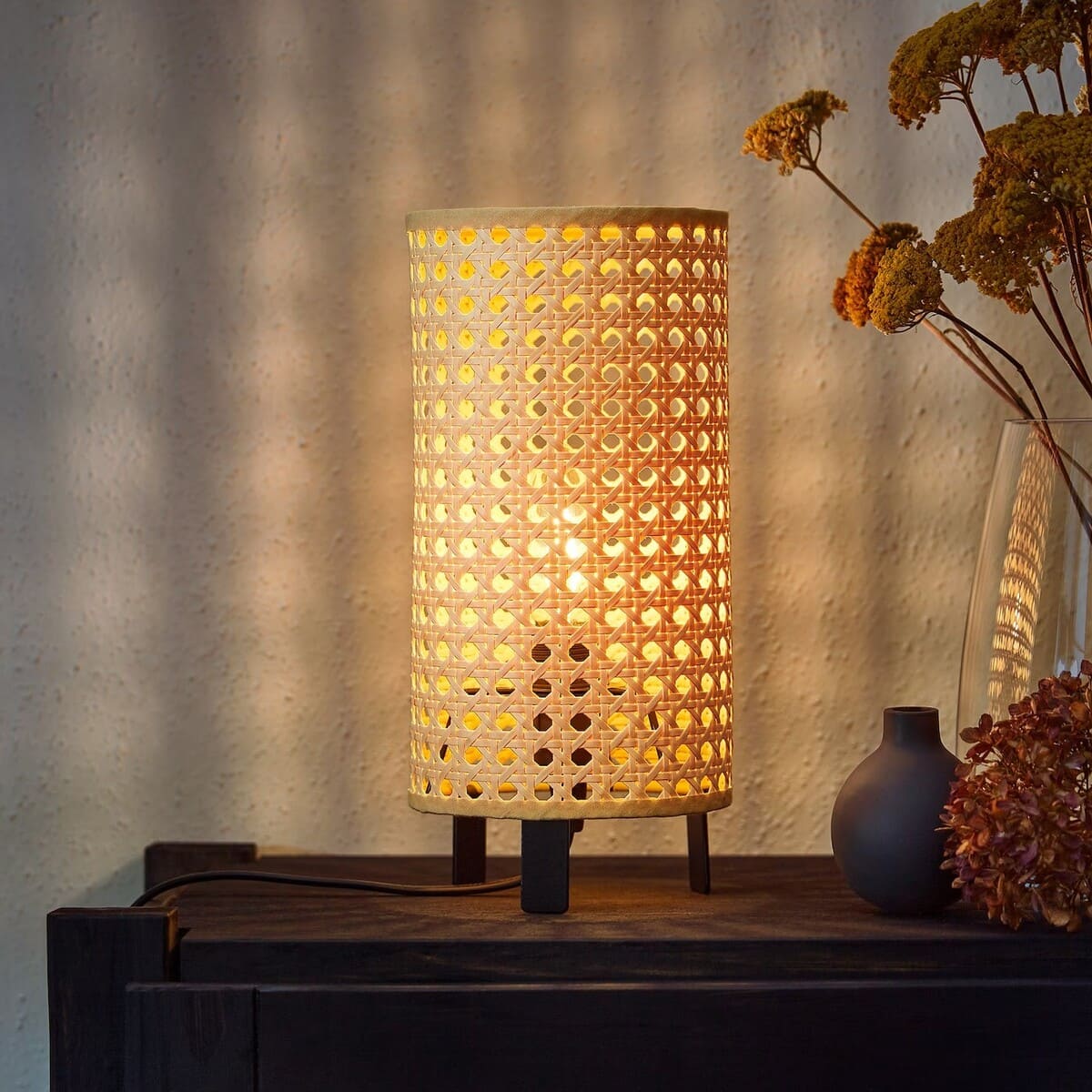 Having a beige shade, this table lamp is ideal for creating a cozy atmosphere. Therefore, you can complement it with different styles of decoration and all kinds of accessories. Thanks to this, this product will always have some function or utility. The outstanding qualities it possesses are as follows:
It has a steel structure, powder coating and paper.
You can keep it dust-free with wet and dry towels.
It requires an E12 LED bulb to illuminate internal spaces.
It is designed with compact measures of 7'3 x 5 x 10 inches.
Like the previous model, you have the option to buy the SAXHYTTAN Table lamp model online. On the official website of IKEA, you can buy this product for only $21.99.
IKEA ÅSKMULLER Table lamp
To conclude, we must talk about the ÅSKMULLER Table lamp model from the IKEA collection. This is a product with a timeless design that you can place in your bedroom, office, living room or wherever you prefer. Its simple composition can bring a sense of serenity and freshness to your space, creating an attractive aesthetic in the process.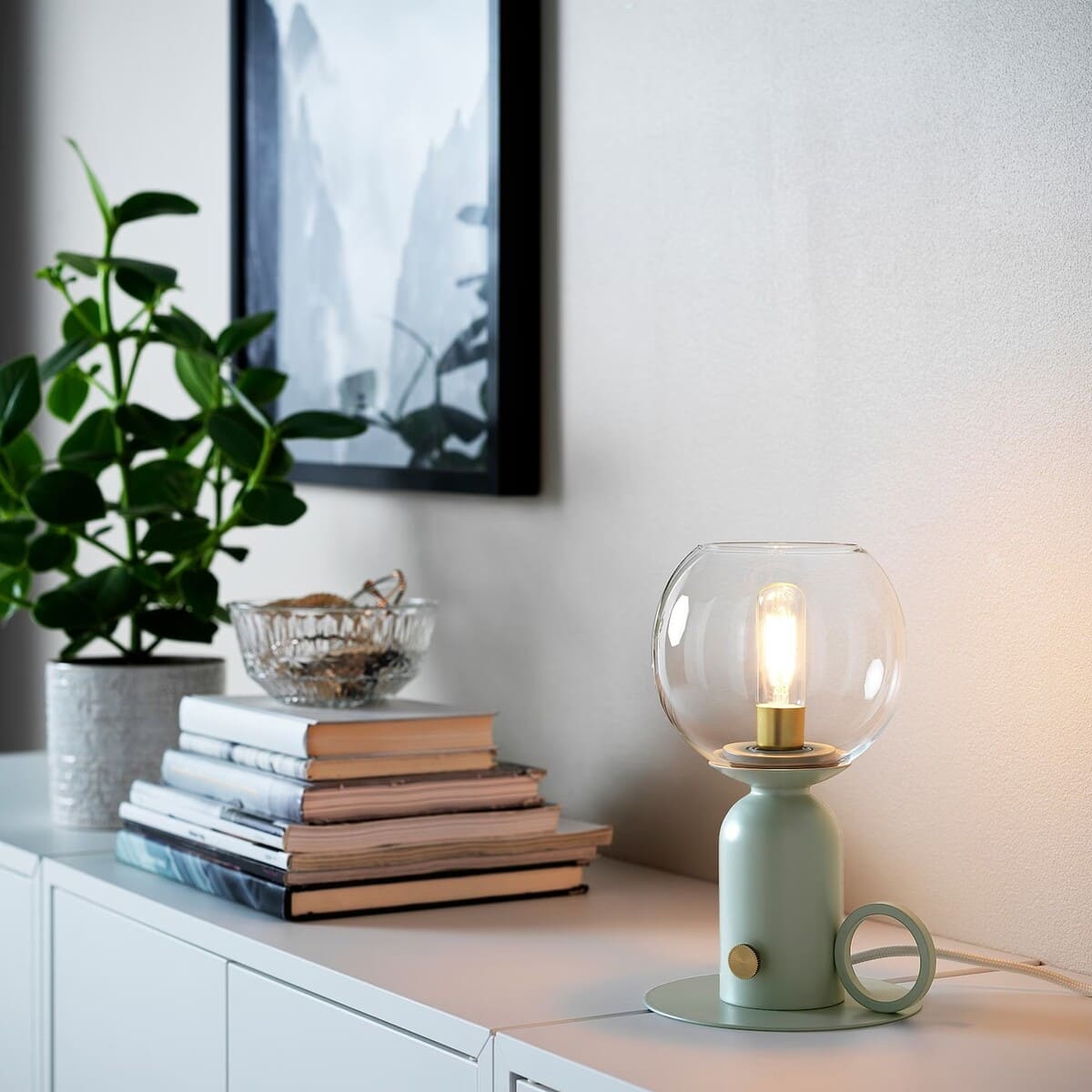 Being designed in a pleasant greenish-gray tone, this table lamp gives an impression of elegance and modernity. In this way, you can easily stand out within any environment or complement the decoration of your home. Among the main qualities of this IKEA product are the following:
It has a function to dim the light and adjust it to your personal preferences.
It is designed with a steel structure, glass and powder coating.
You can keep it in good condition and free of dust with a dry towel.
It is designed with dimensions of 6'7 x 6 x 9 inches.
If you want to purchase the IKEA ÅSKMULLER Table lamp model, you only have to enter the digital portal. You will have to pay $29.99 with the payment method of your preference and the shipping option that is most convenient for you.