With the month of December almost reaching its best dates, chains like IKEA, Zara Home, ALDI and on this occasion, Dollar Tree are preparing to make themselves available to you for everything you need. Customers in the United States can enter to their web portal and find Christmas stars, garlands full of color, and beautiful designs that will look amazing with your Christmas tree.
And at Look At The Square (LATSQ) we know it's discouraging to think that you don't have the budget to revamp your accessories, but Dollar Tree solves that problem. Their products seem to be on offer, but in fact, they are super cheap and accessible to everyone.
Dollar Tree Christmas House Tinsel Candy Cane Decorations
The Christmas cane-shaped decorations are iconic, what's more, you can't stop placing them, for this reason, the Christmas House Tinsel Candy Cane Decorations are the alternative you have for this closing of the year 2022. It consists of two pairs of candy canes, each with very colorful patterns, either red with white, and green with red, the traditional colors of Christmas.
Each pair of canes has a ribbon at the top, which is ideal for you to hang on the tree, on the fireplace, on a doorknob or on the walls of the office. In addition, in the center of each pair it has a beautiful red bow. The price of the ornament is $1.25.
Main specifications
Number of units per box: 40
Models of the box: Assorted
Colors: Green, white and red
Material: Tinsel
Dollar Tree Christmas House Metallic Plastic Star Tree Toppers
The Christmas star represents union, hope and faith. It is like the light that guides the way, under this meaning it is special that you can include it in the decoration of your house. The fastest and most practical option is the Christmas House Metallic Plastic Star Tree Toppers.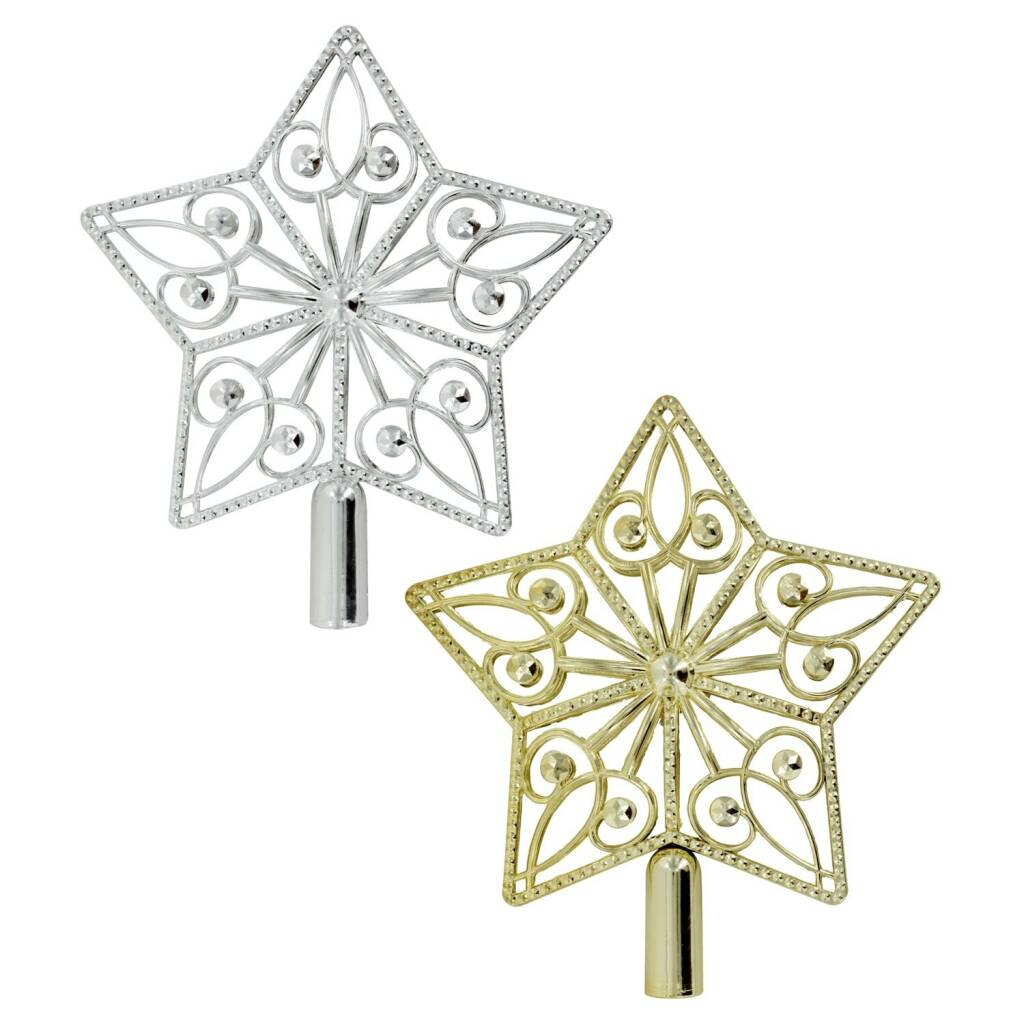 It consists of a plastic star with a striking design in its center, with some inlays. The base is wide so that you can place it in the treetop, without problems. Besides, it helps you so that you can reuse it in the following years. Customer references certify the quality of the product. The value of this beautiful ornament per unit is $1.25.
Main specifications
Number of units per box: 24
Models of the box: Assorted
Colors: Gold and silver
Plastic material
How to implement the Dollar Tree decorations in the Christmas decoration?
It turns out that you already have the decorations in your hand, but you don't know how to place them within the decoration. For that we teach you subtle ways to decorate your house with these Christmas ornaments.
In the case of candy canes, we already mentioned some ideas, what you don't know is that you can use them to decorate a gift box, or as part of a good wishes card for Christmas. Also, they are useful for children to collaborate with Christmas decorations for school.
On the other hand, if you think about the star, surely, you already visualize it on the tree, and that's fine, but there are other ways to use it. You can easily place it as a centerpiece for Christmas Eve dinner. Additionally, if you have a garden at home, you can place them on the ground with some lights, and make a Christmas star path.