If you're like us at Look At The Square (LATSQ), you're sure to be very fond of Christmas decorations. However, when we find offers as juicy as those of Dollar Tree, we cannot resist the desire to buy new accessories. In addition to incredible colors, have beautiful designs that renew each space.
Then begins the cycle where you give or sell your old accessories so that each year your house has a different look. When the streets fill with white snow, the United States becomes a magical country at night, when the lights in homes come on. Be part of the Christmas magic with these beautiful accessories that we show you today.
Hanging Metal Christmas Sign Décor
With this Dollar Tree product, you can decorate even the doors of your home. In this way, people feel the spirit of Christmas as soon as they arrive at your home. Hanging Metal Christmas Sign Décor has a design of a snowman and Santa Claus. The box comes with 6 of these 23-inch Christmas signs. The rest of its measures are as follows.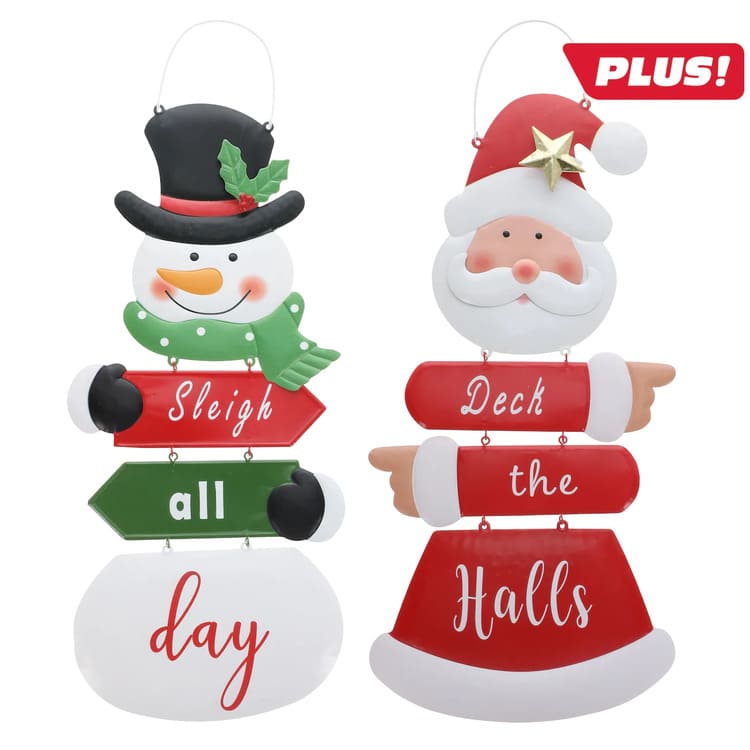 Length: 0.74 inches.
Width: 11.5 inches.
Height: 26.5 inches.
Weight: 0 ounces.
It is important to mention that the Hanging Metal Christmas Sign Décor model from Dollar Tree is made of iron. The assortment of colors and figures in the package is uneven, so it may have a different style than the photos. Each of them is worth $5 separately and the full package is priced at $30.00.
Dollar Tree African Christmas Standing Figurine
Dollar Tree also has African Christmas Standing Figurine accessories available in its catalog. They are products with a different design than mentioned before in the list. However, these also possess the Christmas spirit and serve to decorate any space in a house. There are 6 pieces that have the following dimensions.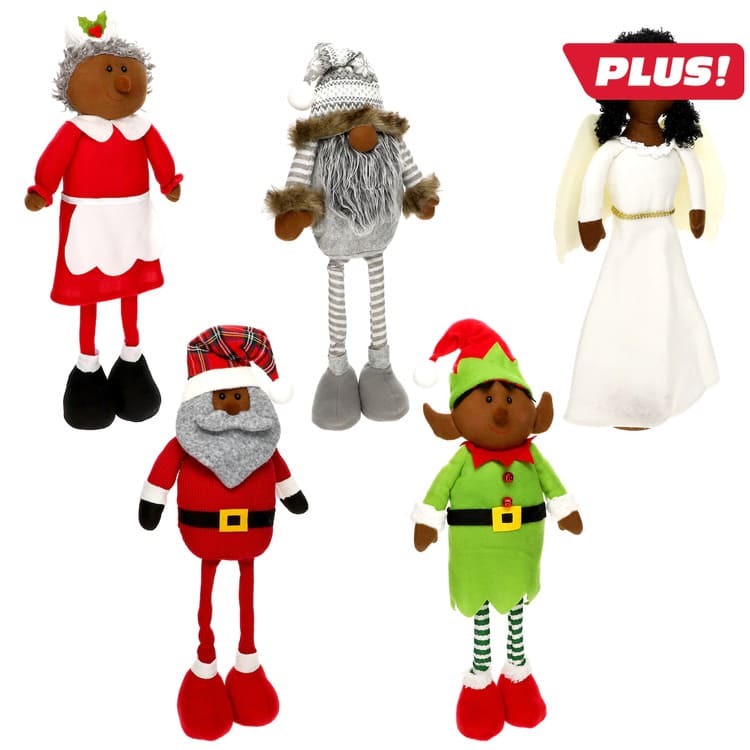 Length: 7.00 inch.
Width: 3.50 inches.
Height: 24.00 inches.
Weight: 0 ounces.
The African-American Christmas Standing Figurine package consists of Santa Claus, Mrs. Claus, gnome, angel and goblin. Like the previous model, they come in an assortment of uneven style and color. You can buy this decorative set for Christmas for an affordable price of $5 or $30.00. Shipping usually takes about 4 to 7 days.
Pine Berry Wreath
Another option that Dollar Tree offers you to decorate your home this Christmas, is the Pine Berry Wreath. You can choose this decorative crown in the form of vegetation, berries, and eucalyptus. They all have the same composition and measurements, so you should not worry much when choosing. Do you want to know its exact dimensions? They are as follows.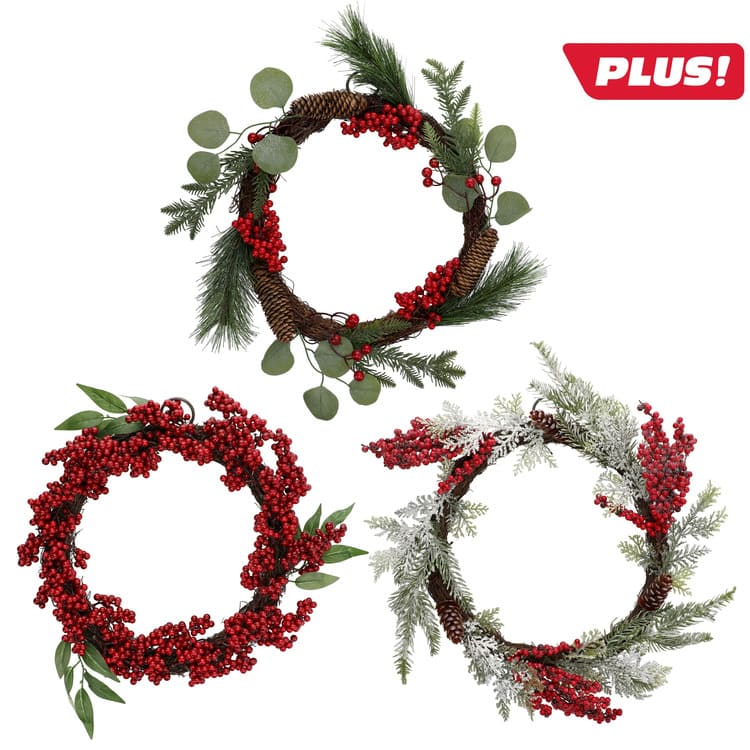 Length: 18.00 inch.
Width: 18.00 inch.
Height: 4.00 inch.
Weight: 0 ounces.
This product is durable and resistant, with the ability to adapt to indoor and outdoor spaces. This is because it uses polyethylene foam in its overall composition. Like the others on the list, Pine Berry Wreath comes in a 6-piece pack and is priced at $5 or $30.00.
Dollar Tree Christmas Santa Figure Decor
Finally, Dollar Tree brings you the 6-piece package of Christmas Santa Figurine Décor.  They are decorative accessories for the home of compact size and come assorted in red and gray. Due to the composition of these accessories, they will serve to decorate multiple spaces within the house. They do not take up much space and have the following measurements.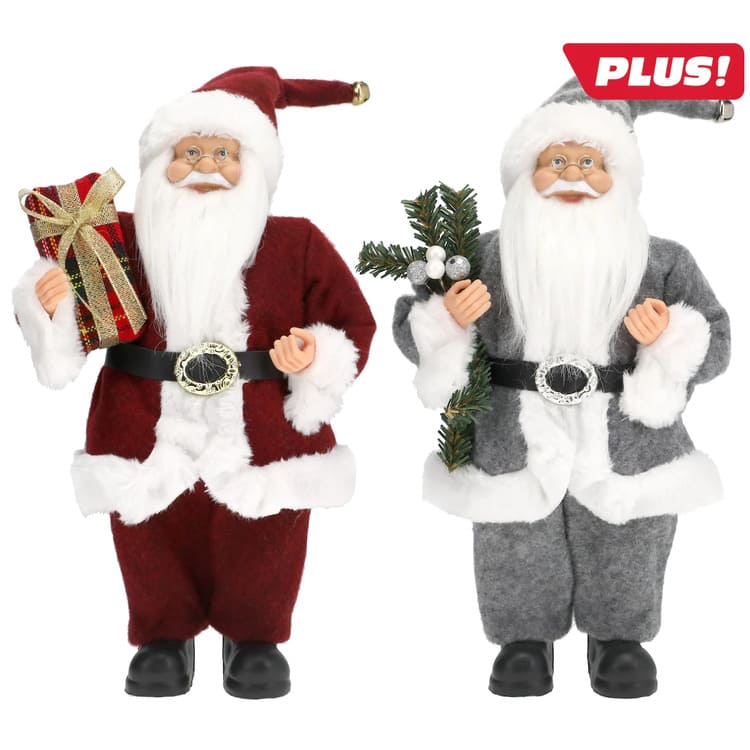 Length: 3.50 inches.
Width: 7.00 inch.
Height: 12.00 inches.
Weight: 1 ounce.
Christmas Santa Figurine Décor is a decorative product made with high quality plastic and polyester. Therefore, these accessories do not generate any type of pollution in the environment. You can purchase the set of pieces on the Dollar Tree website for $5 or $30.00 depending on the option you choose.