For all those who have many pairs of shoes at home or simply for those who love to take care of their favorite boots, it is necessary to have an annex to organize them. ALDI has a product that as simple as it is, has managed to sneak into the homes of millions of people throughout the United States. We are talking about the Huntington Home 10-Tier Shoe Tower, which with a fantastic price, turns out to be a fairly reliable option like those of IKEA or Amazon.
Here at Look At The Square (LATSQ) we trust in the quality and functionality of this shelf. Especially because it has a structure that can easily fit into different spaces. Therefore, it is an excellent choice for any room. In this article, we will tell you about all the amazing features it has.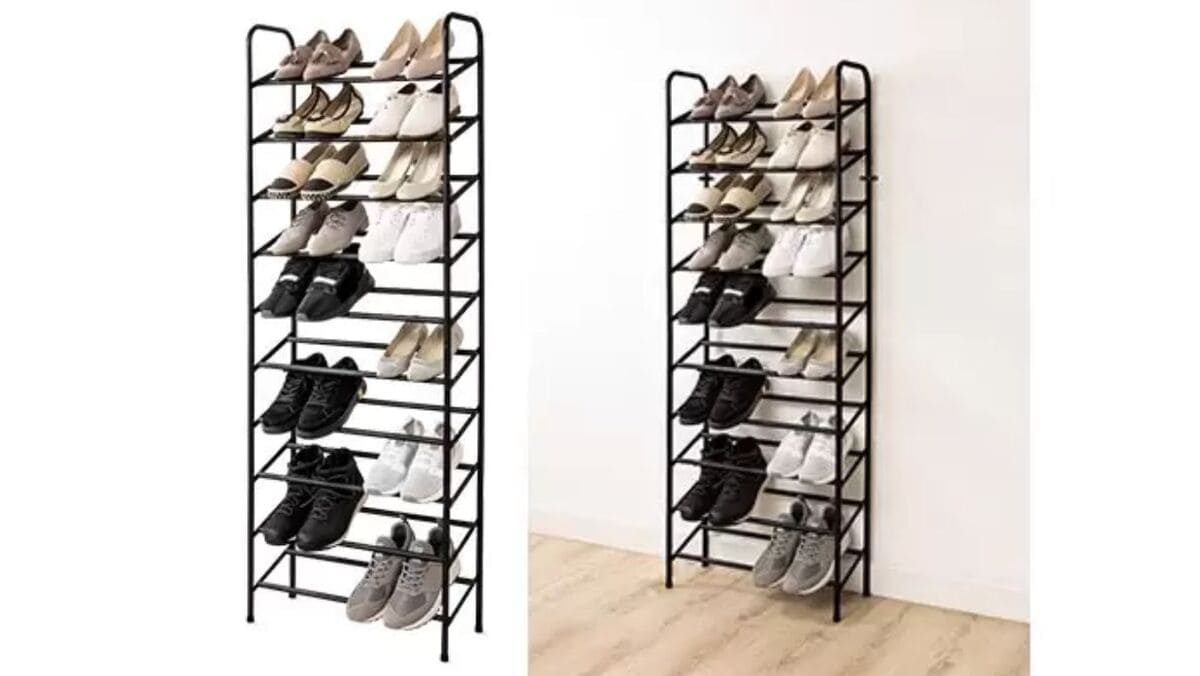 ALDI Huntington Home 10-Tier Shoe Tower
To organize all your boots by category, brand, or style, there is no better option than the Huntington Home 10-Tier Shoe Tower model. This ALDI product has a simple and timeless design. Thanks to this, it can be combined with other storage accessories. So, you can have all your shoes within the same space.
The ALDI Huntington Home 10-Tier Shoe Tower stands out for its simple functionality. You can place it wherever you want so that your boots stay clean and in good condition. In this way, you can extend the life cycle of any footwear you have at home. In the long run, it is something that will allow you to save a lot of money.
Optimize your storage space with the multi-tier tower
Among the main qualities of this ALDI footwear, it is necessary to mention that it has an intelligent structure. Especially since it has 10 levels of storage. In this way, you can have better control over your shoes. You can sort them by model, color, utility or any other category of your preference.
And best of all, the composition of the tower is quite spacious between levels. Therefore, the boots will not collide with each other when you have them stored. This will allow you to keep them clean at all times.
Keep all your shoes in order and style
Due to the composition, it has, this ALDI product has space for you to store all your shoes. In general, it can hold up to 30 pairs of boots around its 10 levels. In large part, this is due to the measures of the tower, which have been the following:
Length: 22 inches
Width: 8.66 inches
Height: 61.81 inches
Benefits it can offer you
It will help you optimize the storage inside your home, so you have more space at your disposal.
It is an essential product to maintain order in your closet or dressing room. So you won't miss any shoes.
You can save a lot of time by having all your boots stored within the same space.
You will be able to protect your boots from dust or other contaminants that are in your home.
It will allow you to facilitate access to your favorite shoes, so that you always have them at your fingertips.
You will not have to pile your shoes in one place, thus preventing them from being damaged or deformed.
The tower helps to prolong the life cycle of shoes.
ALDI Huntington Home 10-Tier Shoe Tower price
Today, ALDI's Huntington Home 10-Tier Shoe Tower can be purchased directly from the official website. This product is available within the Weekly Specials section, with an economic price of $19.99. In addition to this, it is recognized franchise has multiple payment methods to streamline online purchases.