ALDI has an amazing addition for baking lovers, a product that ensures to make the perfect mix in a matter of minutes. The Ambiano Classic Stand Mixer is a product with a retro appearance, which gives the kitchen a vintage look that also has several functions thanks to the large number of powers it comes with. It is at an incredible price, being accessible to people who want to start with the path of making desserts but without losing a bit of the quality of the final result.
It is available in 2 colors, allowing it to match any style, so you don't have to worry about decoration. In addition, it is designed with high-quality materials so that it can last for a long time without suffering from any damage or having to spend on spare parts constantly. It comes with a non-slip base that helps both comfort and safety when doing your work, making it an incredible addition for beginners.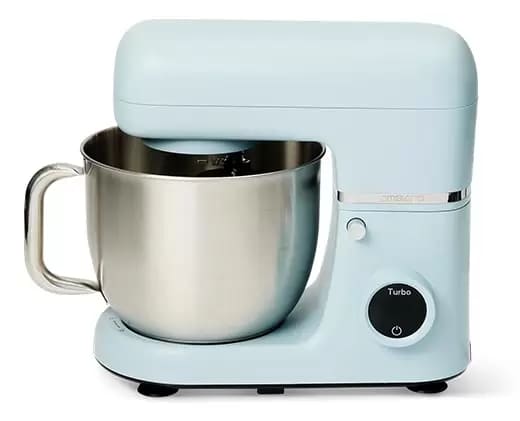 Classic ALDI Ambiano stand mixer
To compete with the famous Kitchen Aid, ALDI surprises us with the classic Ambiano stand mixer. This is an appliance that includes multiple accessories to fulfill different kitchen and baking tasks. This way, you'll have the option to prepare bread and pastry doughs or sauces and purees with ease.
The classic ALDI Ambiano stand mixer impresses with its ergonomic design and user-friendly functions. Thanks to this, you will be able to learn how to use it in a matter of minutes, with any of its accessories. And best of all, this is an easy-to-maintain product that you can keep in optimal condition without much trouble.
Stand mixer for easy cooking
Because of the way it works, this ALDI product is an excellent choice for efficient and easy cooking. This versatile appliance has a very convenient use, since it frees your hands to do other tasks. This way, you will be able to optimize the cooking process and get better results in the process.
The stand mixer basically takes care of the heavy lifting in the kitchen, so you put in less effort. In addition, it will also help you achieve consistent results with various recipes. This is essential for you to continue developing your skills as a cook or pastry chef.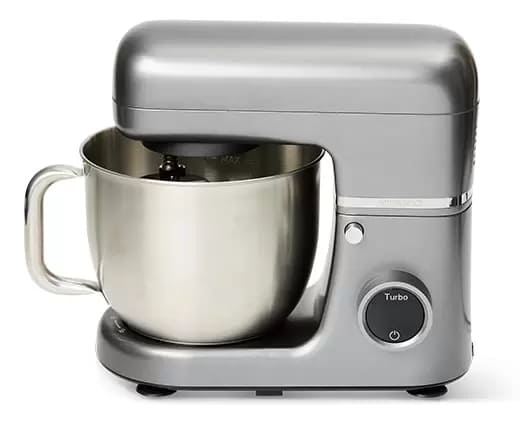 Stand mixer with 8-speed levels
Among the main qualities of this appliance, it is worth highlighting its 8 built-in speed levels. These will allow you to precisely control the mixing speed of your ingredients. Therefore, you will be able to adapt the power of the blender to the specific needs of your recipes.
Having 8-speed levels at your disposal allows you to adjust the power according to what you're cooking. This way, you can achieve consistent results in the kitchen and try new recipes. On the other hand, speed options help handle more demanding tasks like mixing dense dough or baking ingredients.
Stand mixer with multiple attachments
To give you more possibilities in the kitchen, this stand mixer from ALDI comes with several accessories. These offer exceptional versatility and the ability to tackle a wide variety of tasks. Including whisks, a wire whisk, and a dough hook, this stand mixer is ready for all kinds of recipes.
It also comes with a splash guard, which ensures your ingredients stay contained in the bowl while you mix. Plus, the dishwasher-safe mixing bowl makes it easy to clean up after you're done cooking. All of these accessories combine to give you a more comfortable and efficient dining experience.
Ambiano Classic Stand Mixer details
It is a stand mixer that you can buy in blue or gray.
Features a pulse function to optimize its performance.
It has a digital display that makes it easy to control its functions.
Designed with non-slip feet to prevent accidents.
It is powered by 420 watts.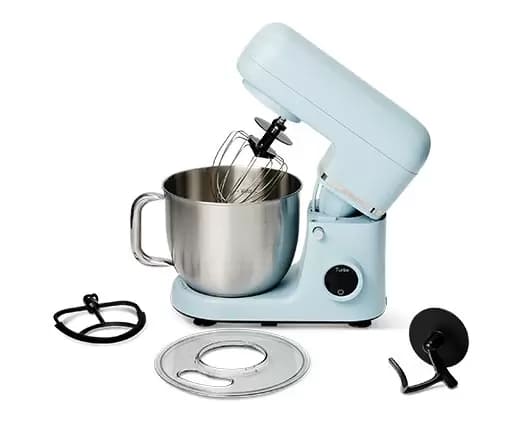 ALDI Ambiano Classic Stand Mixer price
To equip your kitchen with the classic Ambiano stand mixer, just go to the official website. You will have to pay $49.99 with any of the payment methods that ALDI makes available to you. This way, you can receive the appliance in a matter of days, so you can start experimenting with all its features.