At Look At The Square (LATSQ) we know that Walmart is one of the best and largest franchises in the United States. And it confirms it by bringing to your hundreds of options ranging from a giant TV for your living room, to a cabinet designed and manufactured for your wines. We're talking about the Atlantic Loft & Luv Coda Rattan Bar Cabinet, which is discreet, stylish and perfect for storing your favorite drinks.
Closely detailing the wood finish of Rattan, we realize that it competes against the best models of IKEA and Urban Outfitters and is even able to displace them. Especially having a price accessible to any pocket, and that you can have at home in a short time after ordering it from the website with a single click.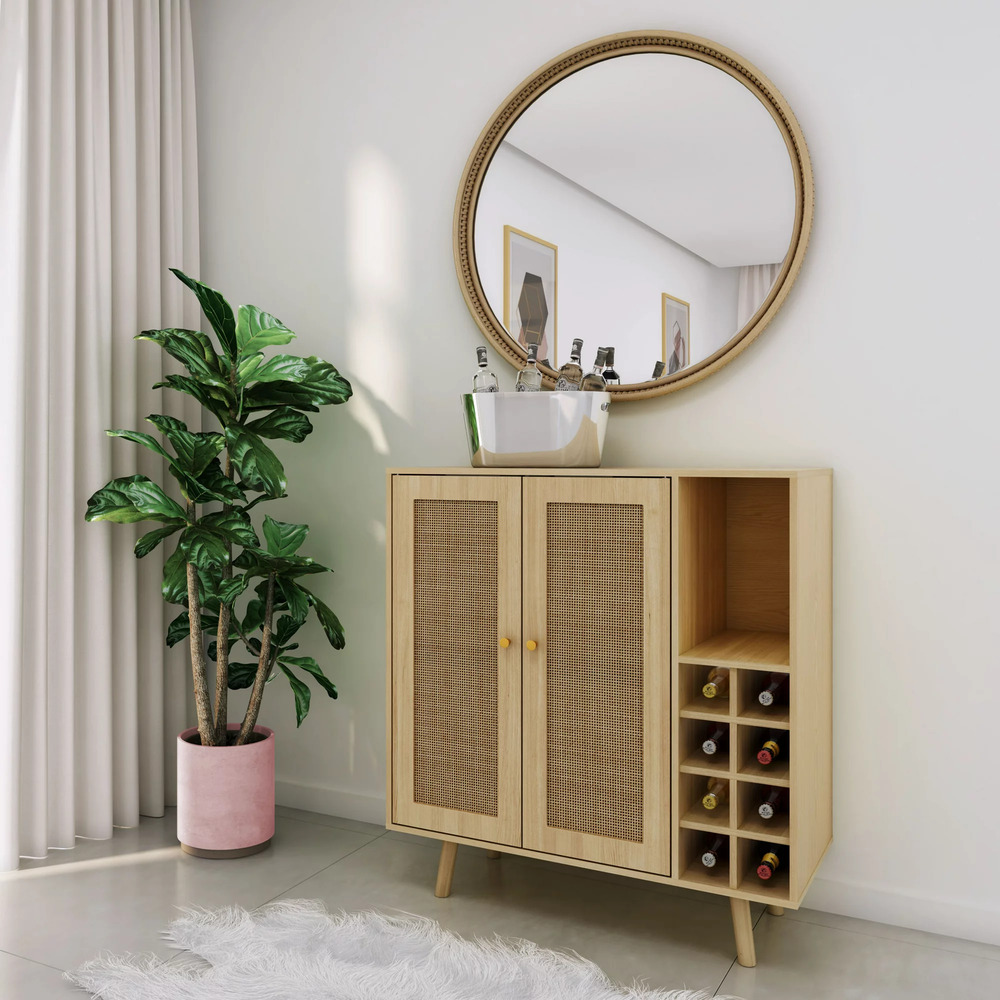 Walmart Atlantic Loft & Luv Coda Rattan Bar Cabinet
Maintaining order inside a home is essential to find everything you are looking for in the shortest possible time. For this reason, products such as Walmart's Atlantic Loft & Luv Coda Rattan Bar Cabinet are necessary for the home. Especially because this is a compact size accessory that fits naturally into different spaces.
The way it's designed, Walmart's Atlantic Loft & Luv Coda Rattan Bar Cabinet has an extended lifecycle. In addition, it is a lightweight product that you can move easily to adapt it to the decoration of your home. And best of all, it does not require constant maintenance and cleaning can be done in minutes.
Mix of classic and modern style
The first thing to note about this Walmart decorative product is the unique design it has. This is a classic structure accessory that features multiple modern details, in order to improve its functionality. In this way, it is a piece of furniture that you can use inside your living room or dining room without any problem, adapting easily.
In addition to this, the structure of this splendid cabinet combines well with other decorative accessories for the home. Above all, those that belong to the Atlantic Loft & Luv Coda collection are available in the Walmart catalog. At the same time, you can complement its functionality with other products you already have at home.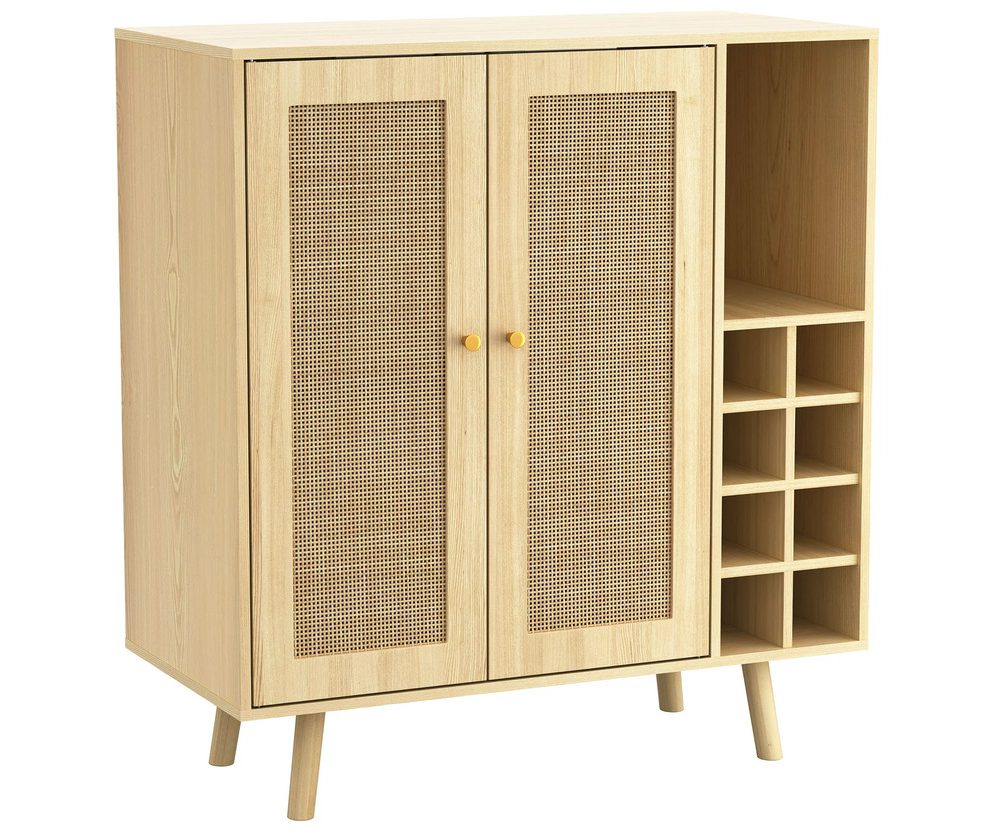 Multiple built-in cubicles
This Walmart product has 8 cubicles to store bottles of wine or any other drink of your choice. Apart from that, it has an open shelf for decoration items that improve the atmosphere of your home. It also has 2 doors inlaid with thin fabric rattan and a gold handle to open the cabinet shelves.
Thanks to this structure, you have many options available for the usefulness of this Walmart product. This way you can improve the organization, decoration and storage within your home.
Dimensions and capacity
Length: 32.75 inches.
Width: 15.75 inches.
Height: 35.88 inches.
Weight: 58.53 lbs.
Leg height: 5.25 inches.
Maximum table weight capacity: 55 pounds.
Maximum shelf weight capacity: 22 pounds.
Maximum weight capacity of wine cubicles: 6.5 pounds.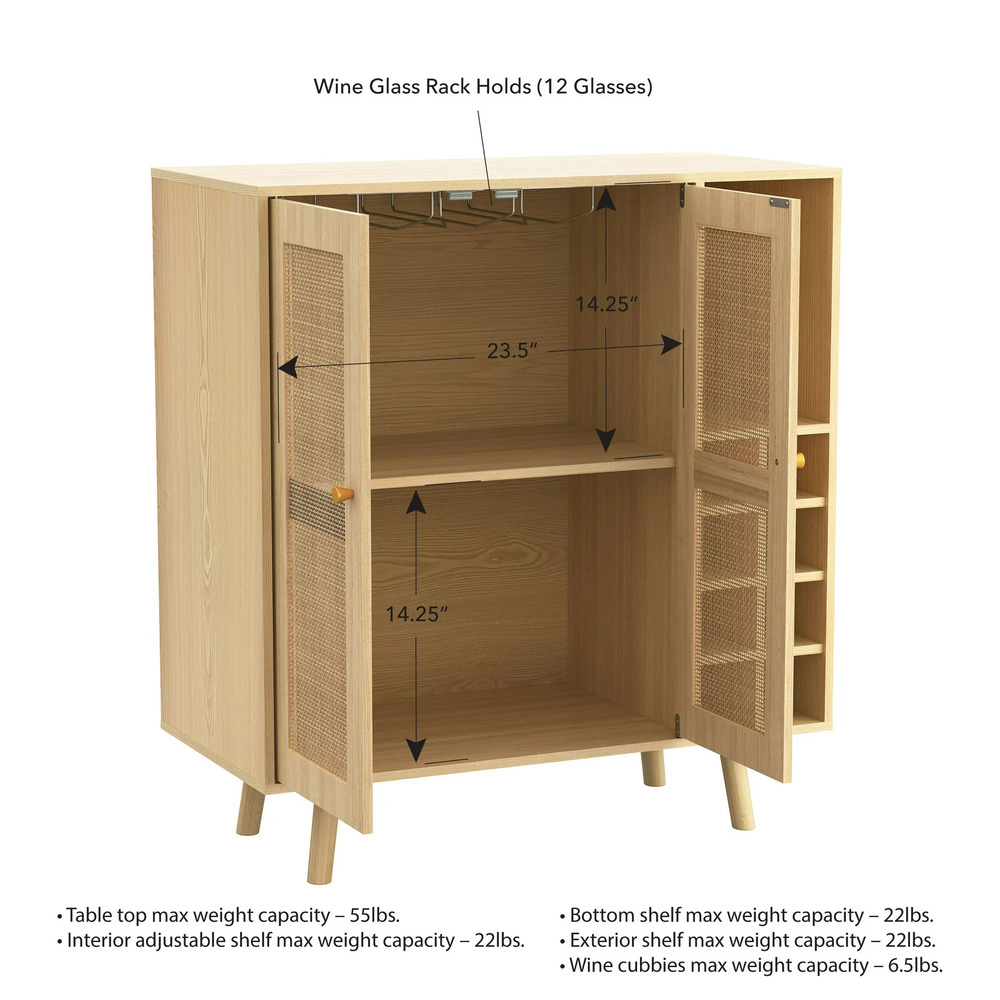 Walmart Atlantic Loft & Luv Coda Rattan Bar Cabinet Price
Within the official website of Walmart, you can get this product in the section of Kitchen and dining room furniture. The Atlantic Loft & Luv Coda Rattan Bar Cabinet is priced at just $263.49 or $18.00 per month with Affirm. With respect to warranty coverage, this is extended for a period of 2 years.