IKEA remains one of the pioneer stores in comfort, design, and interior style. Because when it comes to equipping our home, we must not only look for the best appearance, but the best functionality, ergonomics, and comfort. The Swedish store has a recliner that works for everything and has also earned excellent reviews in a short time.
That is why the experts of Look At The Square (LATSQ) have not been able to ignore it, and also assure that it will be a complete success in many parts of the United States. Neither Urban Outfitters nor Amazon has dared to create a model as classic, durable, and comfortable as this one that is guaranteed to be a sure success at any time. Let's see a little more details: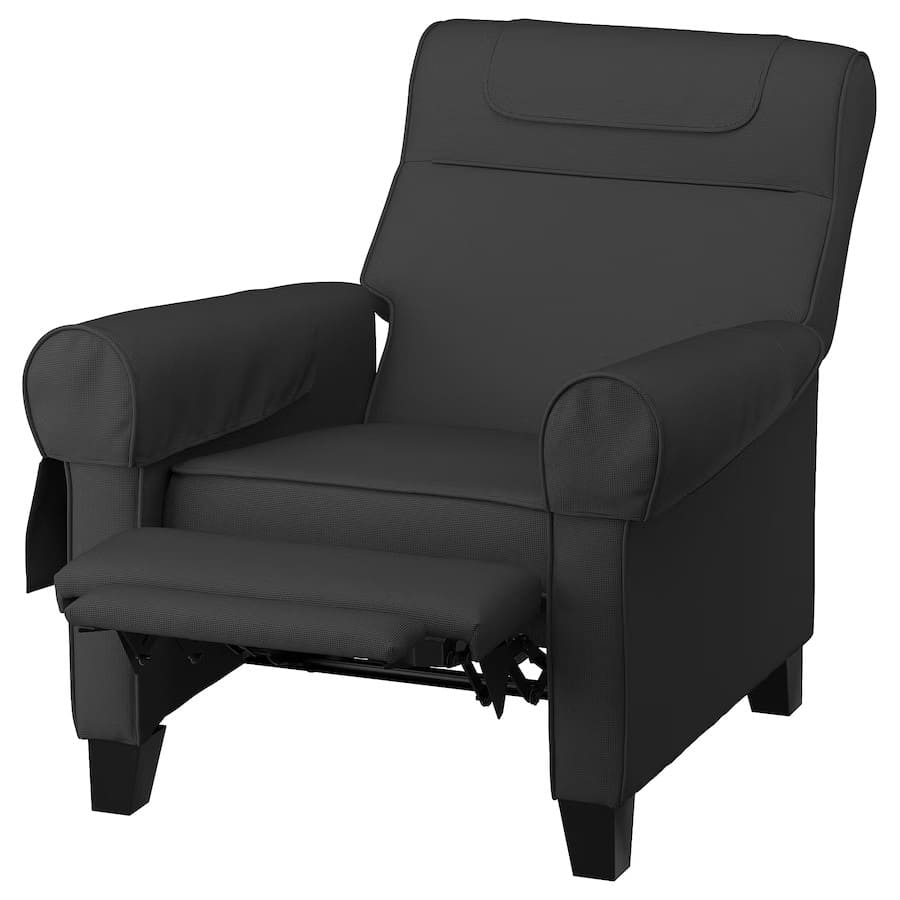 IKEA MUREN Recliner
IKEA invites you to take a seat, and spend hours and hours of relaxation in one of the most comfortable recliners they have for you this season. The MUREN recliner brings a pleasant surprise to those who need special positions when sitting down to watch television or take a short nap.
And in addition to having a design in dark material that adapts to any environment, it is ultra-comfortable. No matter what the demands or needs of your back are, you will have the possibility to find what to look for. Especially, thanks to its three-position adjustment and the built-in footrest that you can use whenever you want.
Designed to provide special back support
It does not matter if it is over the years, some injury, illness, or inadequate lifestyle… The back is one of the parts of the body that tends to be most affected with age. But, if this year you have decided to give a rest to the most important and vital part of your body, you can do it with the MUREN recliner from IKEA.
While you're sitting, your back is pressed against the backrest to fully extend it and lift the footrest. It's very easy to get in and out of the horizontal position, so you don't have to make any effort when you want to get up. We see related benefits such as: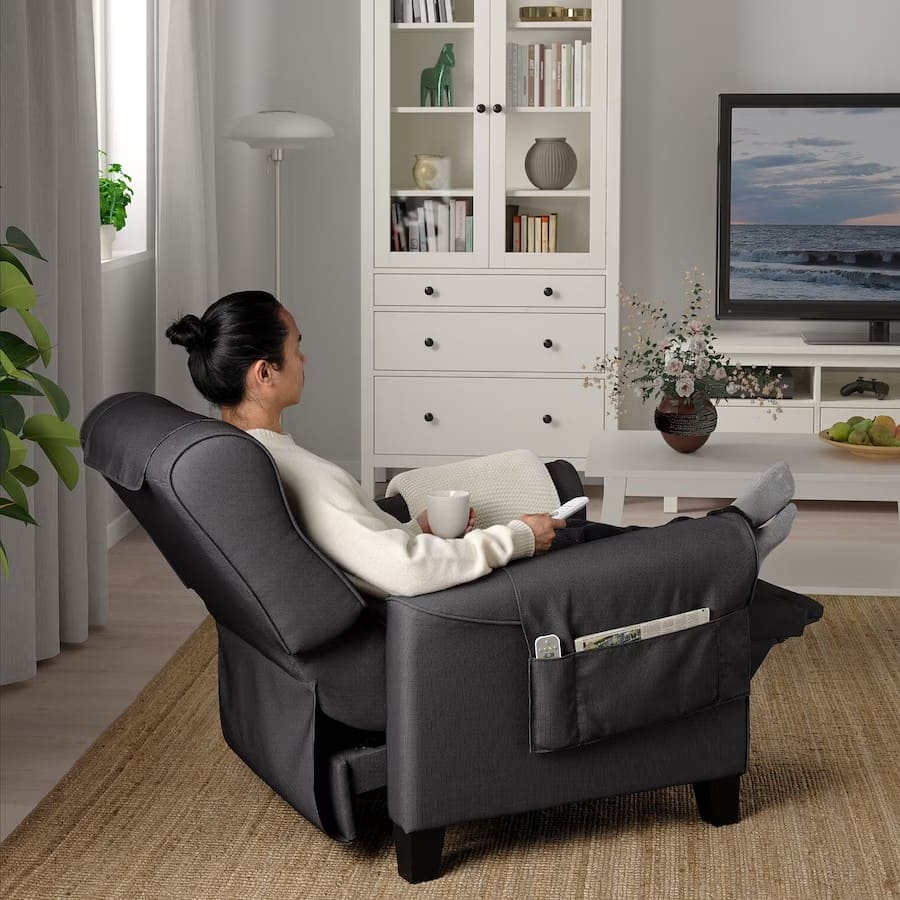 It provides support to the lumbar area.
Reduces the impact on the neck.
It totally relaxes the body, providing a deep and lasting rest.
You can choose between the three positions: Sitting, upright and reclining.
Easy to install and maintain
One of the advantages of the MUREN recliner is that it includes very easy plans that allow you to assemble it once you have it at home. And once you've enjoyed it for a long time, removable covers make washing easier to extend the life span of the armchair. But it is recommended:
Machine wash with warm water in a normal cycle.
Do not dry in a dryer.
Do not use bleach because it could damage the fabric.
Dry clean when you only need to remove dust, but avoid using a solvent or corrosive chemicals.
The frame and non-removable cover look like new when cleaned with an ordinary handheld vacuum.
Also, do not worry, because in case of any inconvenience, you enjoy 10 years warranty to cover any damage or inconvenience. However, we recommend reading about the terms that cover the warranty in the brochure that includes your purchase.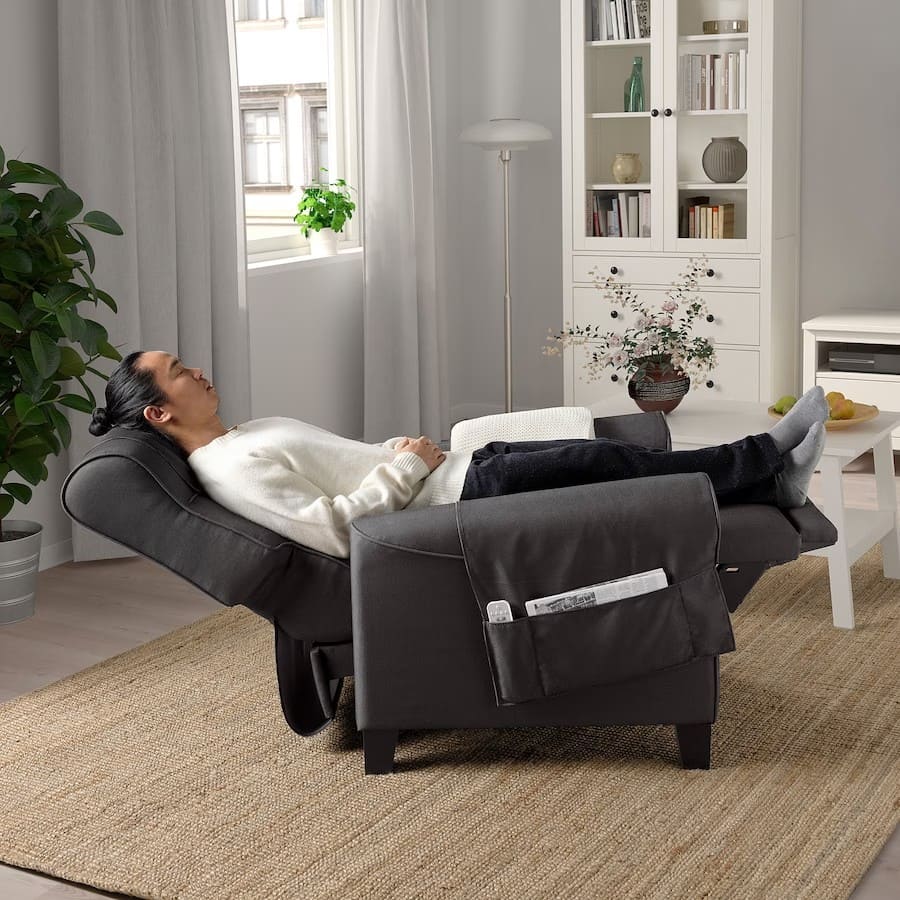 How much does the MUREN recliner cost at IKEA
To start enjoying all the advantages of the MUREN recliner, you can buy it for a comfortable price of $479.00. Reviews don't lie, they've gained public acceptance quickly and promise to do the same for you.