For you to organize the best family lunches and dinners, we detail the features of the novelty of Ikea that you will want on your table: the most summery and cheapest tableware on the market.
OMBONAD Series
At Ikea there is a complete range of very elegant that is designed with the decoration and functionality of the tables at the time of a meal in mind.
It includes plates, glasses, bowls, tray, the complete dinnerware! In addition to tablecloths and napkins, all minimalist cut, timeless, useful at any time of year, but especially in this summer of meetings and celebrations.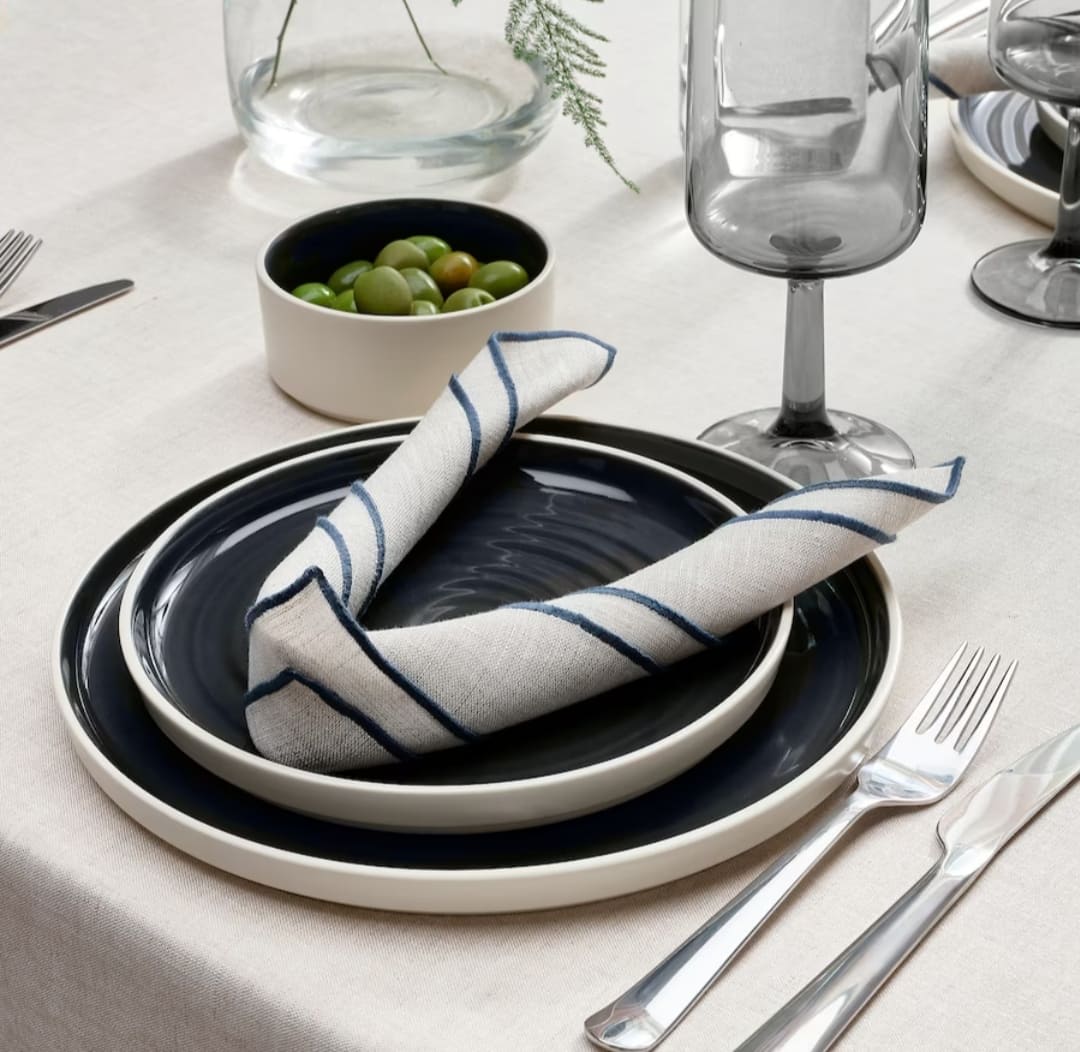 Stoneware Dish
This is a dish with a round design, made of stoneware, pigmented and transparent glaze with a rustic and textured finish. It follows the line of the range and, therefore, it is minimalist and elegant, but at the same time modern.
It has a white base with a dark gray background and raised edges. You can use it alone or in combination with the rest of the series. It is very resistant, you can wash it in the dishwasher and put it in the microwave.
It measures 26 cm in diameter and comes in packs of 2 units. Its price is 14,00 €.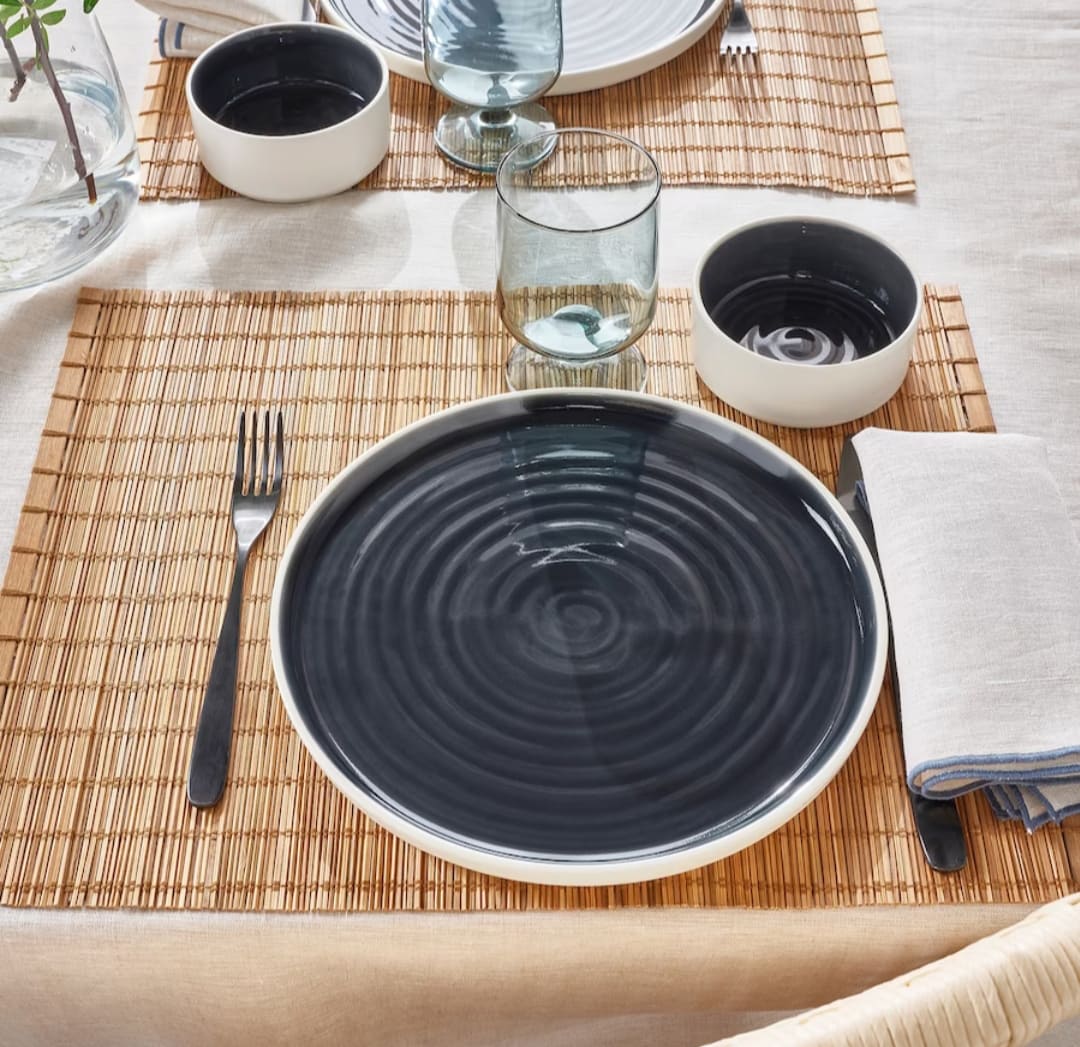 Grey bowl
These are small bowls of up to 15 cm in diameter, ideal for serving consommé, fruit, ice cream, desserts, appetizers or cereals. They can also be used as part of a decorative design, placing ferns or flower petals to give life to the table.
They have the same design as the plates, to form the complete set, that is, they are white on the outside and dark gray on the inside.
They come in a pack of 2 units that you can wash in the dishwasher. They are also suitable for heating in the microwave.
They cost 10,00 € per pack.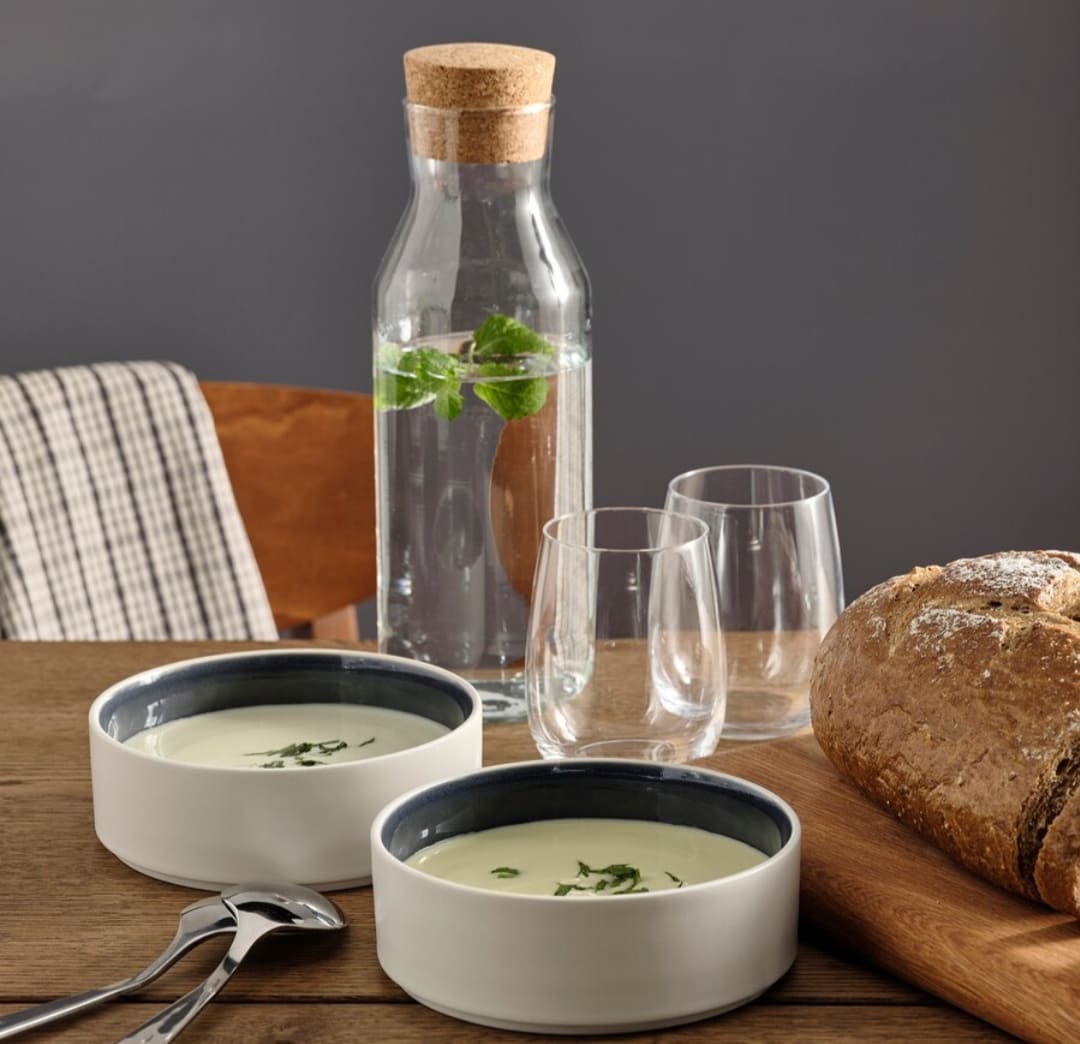 Walnut Tray
It is a round tray, with a structure veneered in beech and walnut wood, cured in oil and with a bottom veneered in birch and walnut wood, also cured in oil. For its maintenance it will only be necessary to clean it with a damp cloth and dry it with another one.
It is a product that ideally complements the tableware; it is used to carry breakfast to bed, to comfortably transport the rest of the dishes and set the table or to carry the components of the afternoon tea to the living room.
It has a diameter of 42 cm and costs 29,00 €.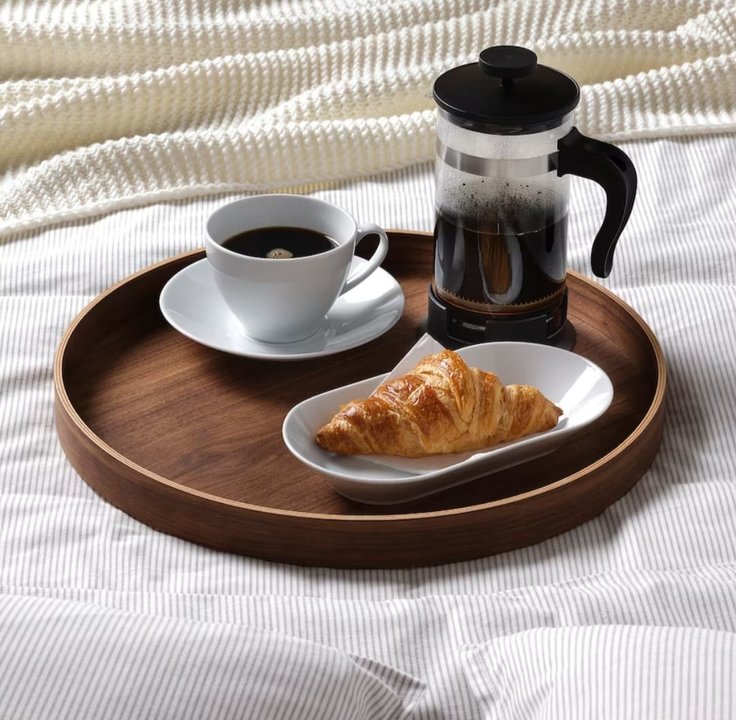 Low cups
This is a set of 4 units of glasses, made of glass in grayish tone and of good resistance, suitable to be cleaned in the dishwasher and that support a volume of 32 cl. They have a height of 12 cm and are perfect for serving juice at breakfast, water or any refreshing drink.
In fact, they are also a good choice for creating decorated cocktails and bringing something different to the table. They are elegant, minimalist and very versatile.
Their price is 12,00 €.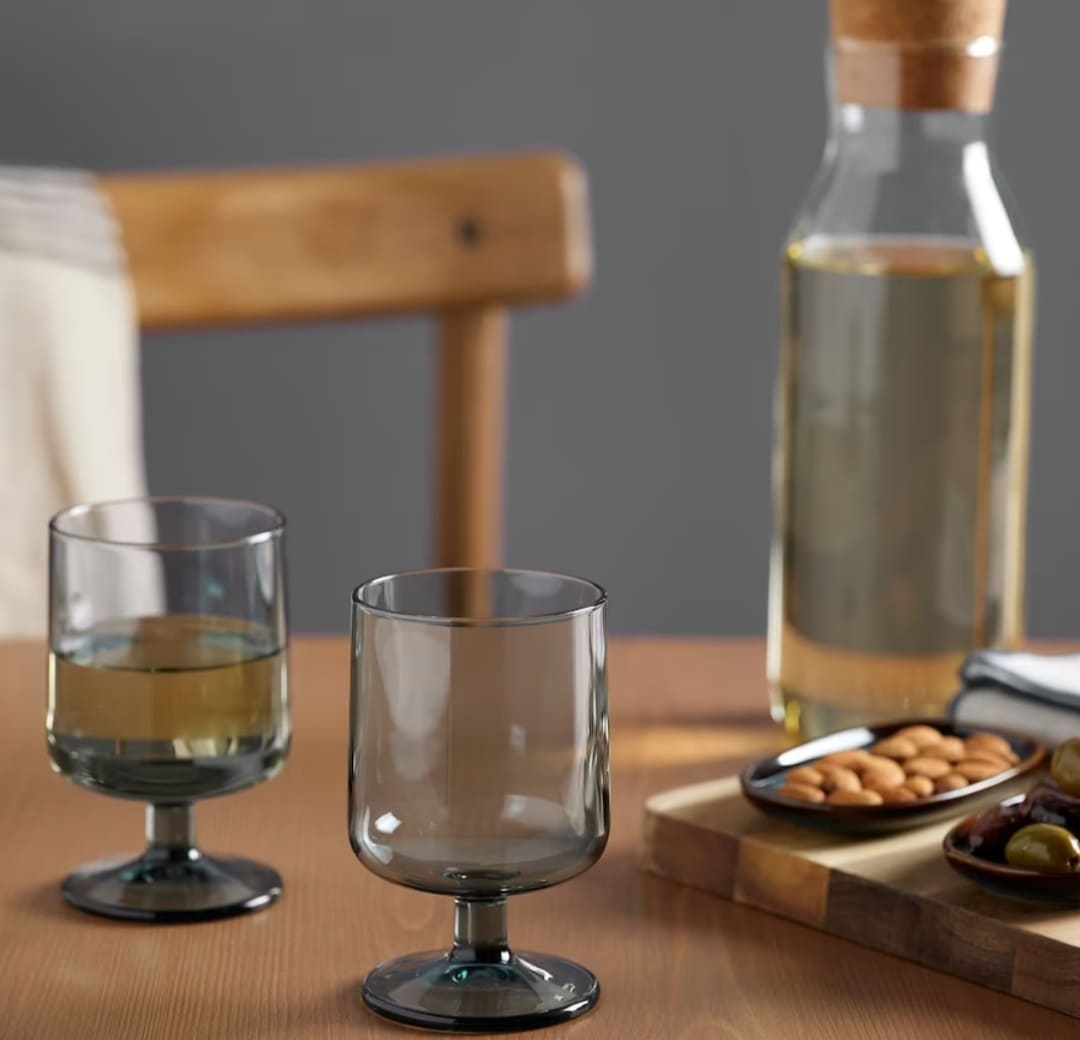 Wine glasses
They are refined glasses with a high neck, measure 21 cm high and hold a maximum of 41 cl. They perfectly combine the refined and minimalist design with the strong and rustic structure of the series.
They are also made of glass with a dark gray finish. Like the rest of the pieces, you can put them in the dishwasher, so they do not require special care.
They are designed to serve drinks with a strong tone, such as wine, accompany dishes at the table and enjoy an elegant lunch or dinner.
They come in a pack of 4 units and cost 15,00 €.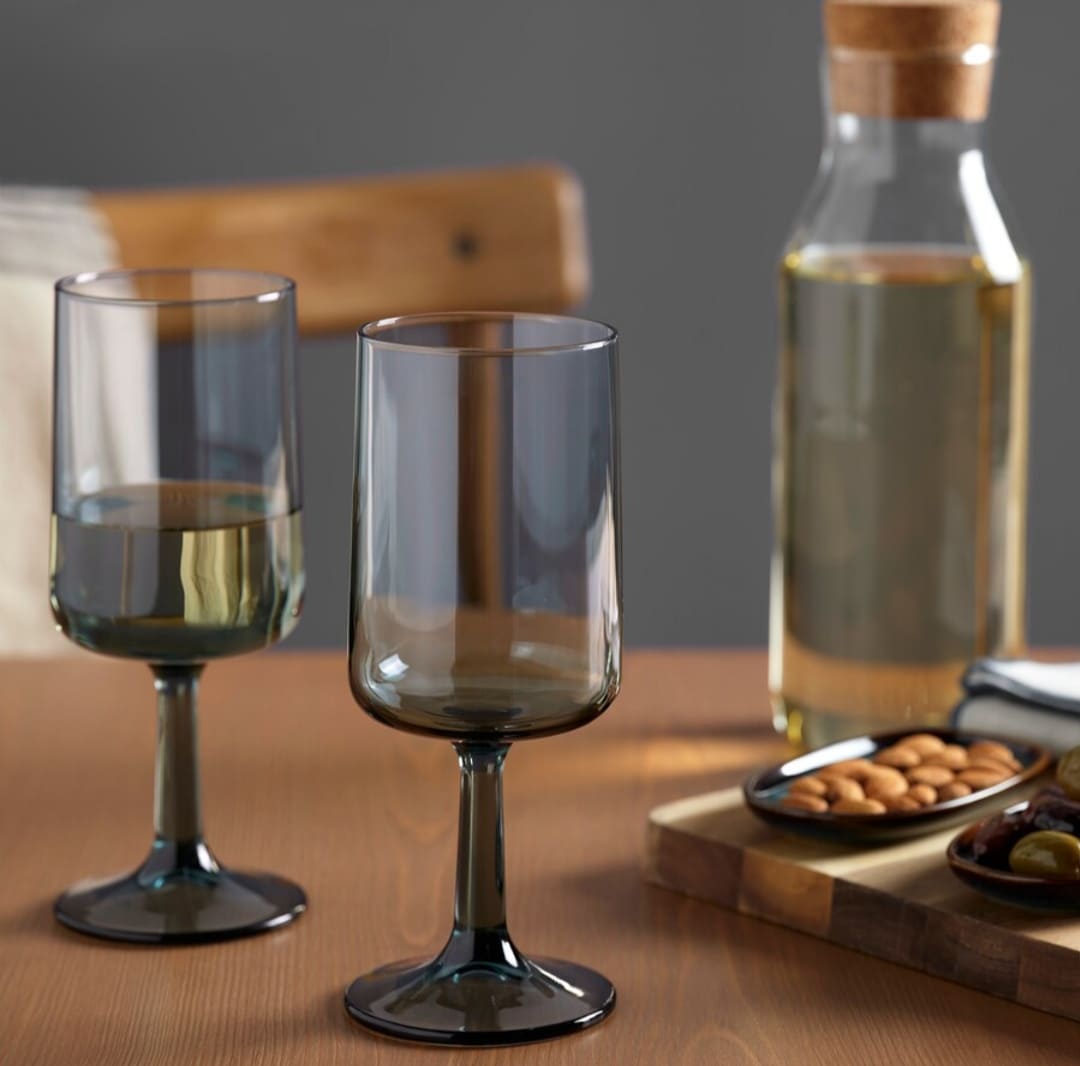 Linen tablecloth
Tableware is not complete without a tablecloth to set the table, and the OMBONAD series has included one that matches the objects in the line and any other. This is a tablecloth made of 100% linen in beige.
It measures 250 cm long and 150 cm wide. The woven finish is delicate and dark blue. It can be used indoors and outdoors. It is fresh, light, but at the same time resistant. It brings an additional touch of distinction to the table, dressing it with panache and elegance, but with simplicity.
You can purchase it for a price of 29,00 €.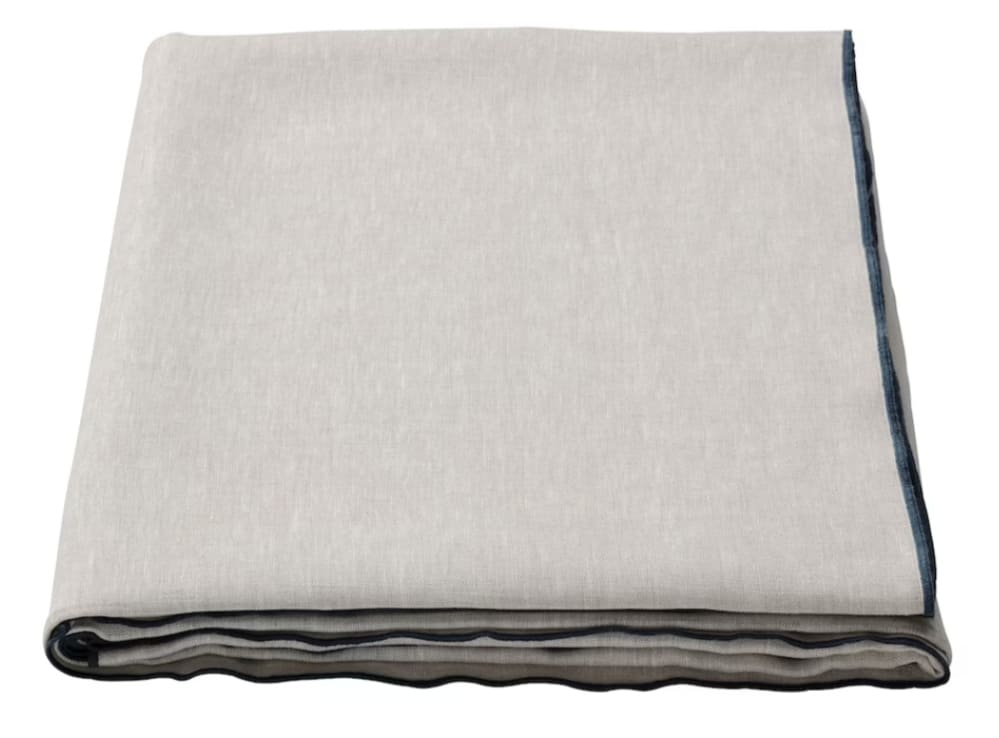 Natural napkins
Finally, a pack of 4 beige napkins with a natural design and blue woven finish, matching the tablecloth of the OMBONAD series of the brand. They are 100% linen, machine washable and absorb liquid very well.
They are square, measure 25 x 25 cm and are priced at € 8.00 per pack.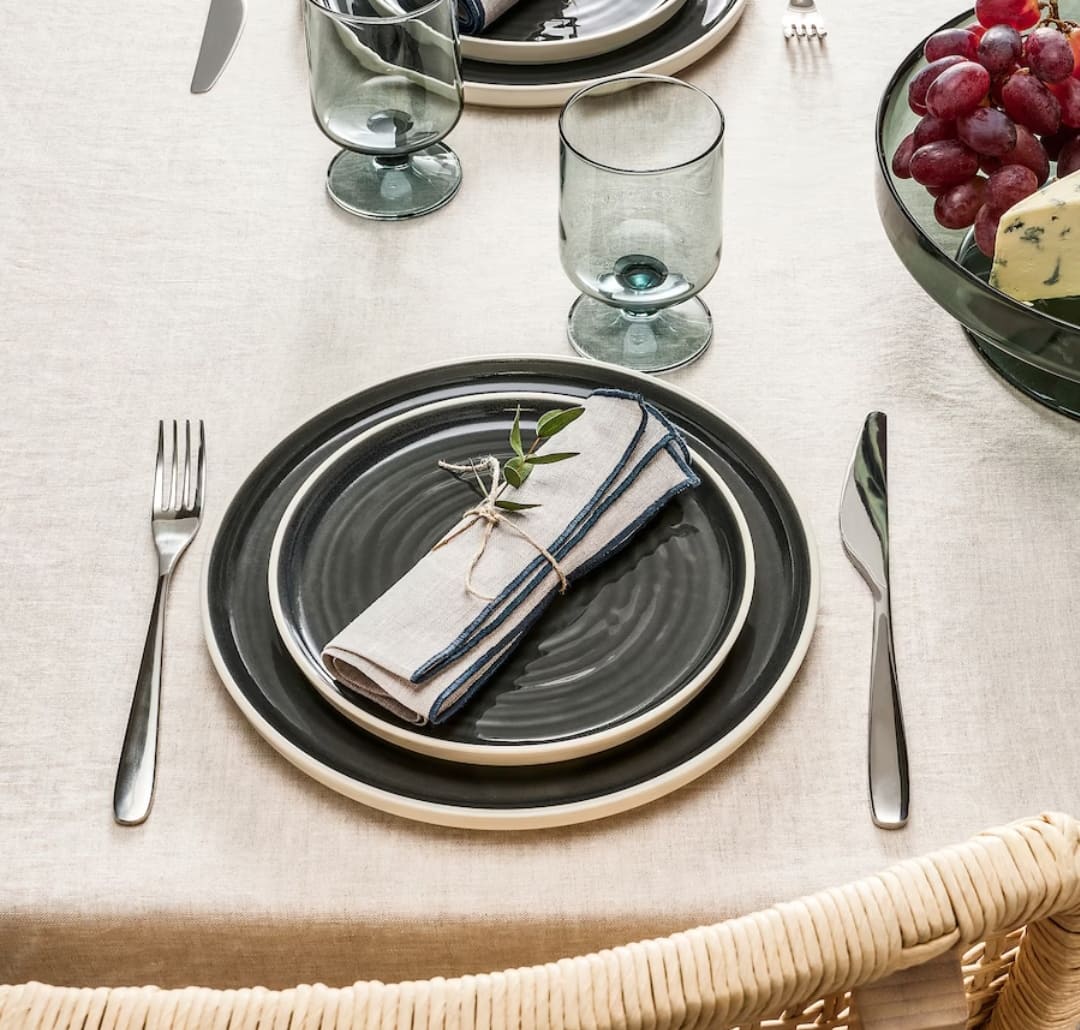 This is the Ikea novelty that you will want on your table: the most summery and cheapest tableware that is part of a complete series of objects designed to make the meal a magical and special moment.