ALDI has taught us, as on multiple occasions here at Look At The Square (LATSQ), that you shouldn't spend too much money to have everything you need to be comfortable at home. And since we are already in winter, temperatures will only begin to drop lower and lower. If you don't already have your Zara Home sheets or IKEA or Urban Outfitters heater cabinets, you'll need a heater for your rooms.
The German store goes with everything in front of other stores and brands because, next to their jackets, gloves, boots, and hats for the winter, also has all kinds of home accessories necessary to keep you warm, comfortable, and safe.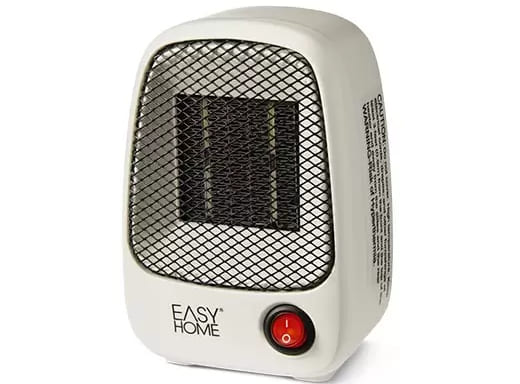 ALDI Easy Home Tabletop Ceramic Personal Heater
It is a heater for personal use from ALDI with a compact design to transport anywhere with ease. ALDI's Easy Home Tabletop Ceramic Personal Heater is easy to use and configure, with fairly high performance. It will help you during the coldest months of the year so that your body has helped to combat low temperatures.
Due to its compact structure, Easy Home Tabletop Ceramic Personal Heater can be installed on tables or desks. It works silently and will not bother you at any time. And best of all, it is a product that works in a safe way, without presenting many problems or generating discomfort to the user.
ALDI Heater Features
Here are the best features of the ALDI portable heater that is triumphant this winter:
It operates with a power of 500 watts at all times.
Safe ceramic heating element to prevent problems and accidents.
It offers ideal coverage for small offices and rooms in an efficient way. It covers an entire area of up to 43 square feet.
Protection against overheating so as not to endanger the user or other devices.
Power indicator light so you can always know when the device is turned on.
Heat setting so that the product works in a way that you can find pleasant to your preferences.
It is a heating device with integrated rollover protection. So you can extend its useful life cycle.
This ALDI product has the following sizes: 4.2″ long x 3.3″ wide x 6.7″ high and a cable with 60″ length.
It works without the need for external batteries. Therefore, its performance is much more stable than similar products.
It has a low energy consumption and its operation does not pollute the environment.
Advantages of the ALDI portable heater
It allows you to have a warm atmosphere in your room or office without much effort and without polluting the environment.
Its portable size helps you transport it to any space of your preference or the place where you are at the moment.
This device works without reducing humidity in the environment or presenting a risk of burns when turned on.
Spread the heating in a uniform and balanced way, so that you find it more pleasant.
It has a low noise level, so you can leave it on for long periods without being disturbed.
It helps you prevent diseases caused by cold and low temperatures.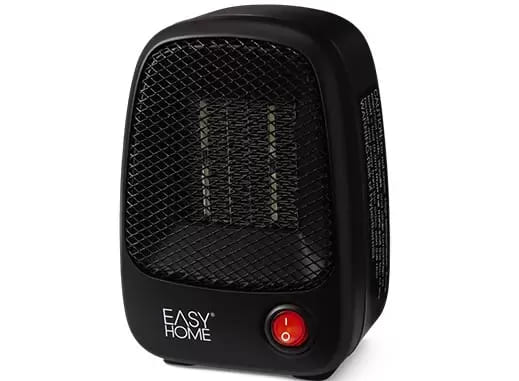 ALDI Easy Home Tabletop Ceramic Personal Heater Price
This product is available to buy online from the official ALDI website. Within the catalog, you can find the Easy Home Tabletop Ceramic Personal Heater model for an economical price of $16.99. You will have available the option to pay by credit card, debit, cash and many more options.