It is incredible the great change that a specific space can give when you change furniture, especially when they are like those of Urban Outfitters. You can give it a vintage, elegant, modern or urban look depending on the model you choose. And also keep in mind that the comfort and rest that a suitable sofa can give you is essential for day-to-day.
At Look At The Square (LATSQ) we believe that when you get home and want to sit down to watch TV or read a book in front of the fireplace, your armchair should be super comfortable. So that your back relaxes, and the fabric caresses your skin. Even then you can take a nap and wake up as good as new, just as you will have with these models that UO has for you.
Urban Outfitters Isobel Sofa
One of the best options to renew the atmosphere of your living room is the Isobel Sofa model from Urban Outfitters. It is an elegant ivory sofa that is upholstered with a textured fabric. This is complemented by 4 square back cushions and 3 round decorative cushions. In addition, its measures are as follows.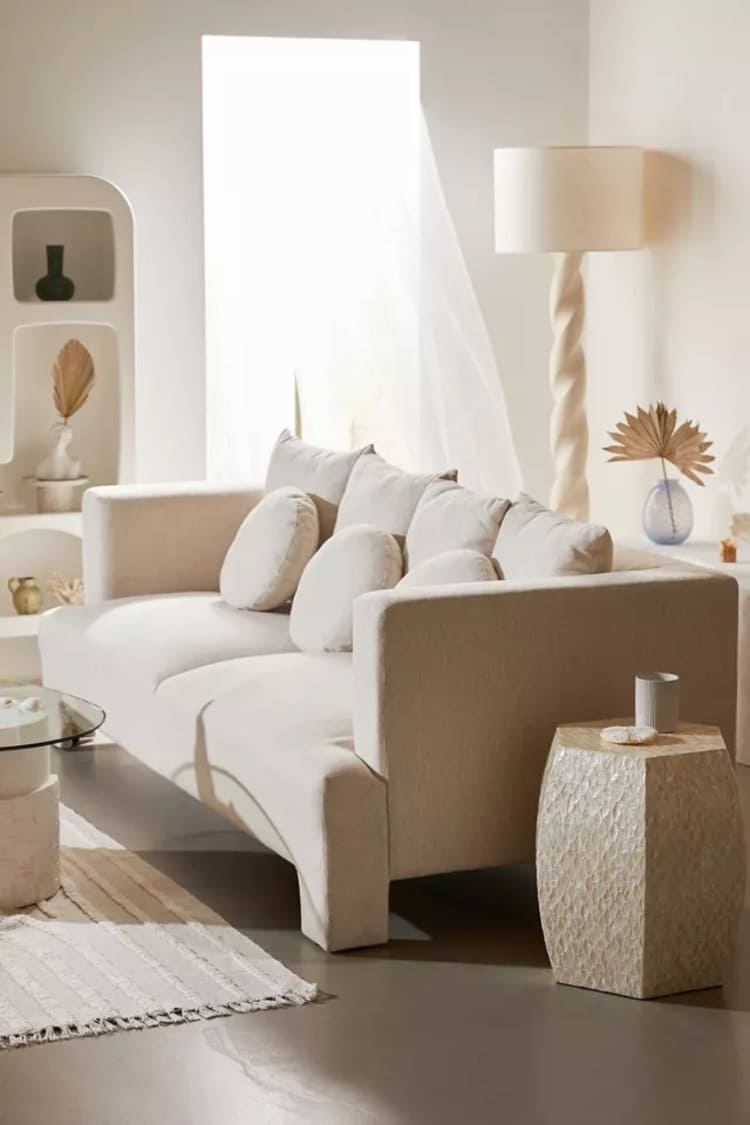 Length: 87 inches.
Width: 40.2 inches.
Height: 30.7 inches.
Seat height: 18.7 inches.
Seat depth: 25 inches.
Leg height: 5.9 inch.
Weight: 116.85 lbs.
The Isobel Sofa model is a piece of furniture that is only available in the Urban Outfitters catalog since it's made by them. Its composition is linen, pine wood, birch wood and plywood. It comes with instructions for its assembly and can only be cleaned with purified water, so as not to leave any stains.
You can buy this model of sofa for interiors from the official website of Urban Outfitters. It's priced at $1,799.00 with funded payment options, through Afterpay or Klarna. Shipping time depends on your location of residence.
UO Rory Sectional Sofa
Another of compact-size piece of furniture available in the Urban Outfitters catalog is the Rory Sectional Sofa model. It is an accessory for the interior of the home of modern style, available in gray and beige colors. It stands out for its curved shape and bouclé upholstery on the entire surface. It does not take up much space, since its dimensions are as follows.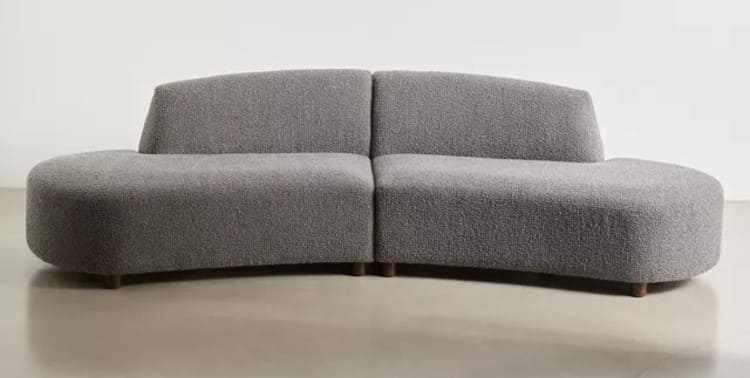 Length: 110.2 inches
Width: 43.3 inches
Height: 16.3 inches
Leg height: 2.4 inch
Weight: 106.6 lbs
This sectional furniture from Urban Outfitters uses Boucle and rubber wood in its elaboration. In addition, the Rory Sectional Sofa model has a padded silhouette with shallow backrest, where 2 people can sit quite comfortably. Due to the texture of this product, you can clean it without many problems.
As for its price, this sectional interior furniture cost $1,999.00. Like the previous model, it is available with Klarna and Afterpay installment payment methods.
Urban Outfitters Roma Sofa
Finally, we have to mention the Roma Sofa model from the Urban Outfitters furniture collection. It is ivory, but is also available in an elegant shade of gray. It has a simple design with modern details, covered in woven upholstery and padded construction. This exclusive piece of furniture from Urban Outfitters measures the following.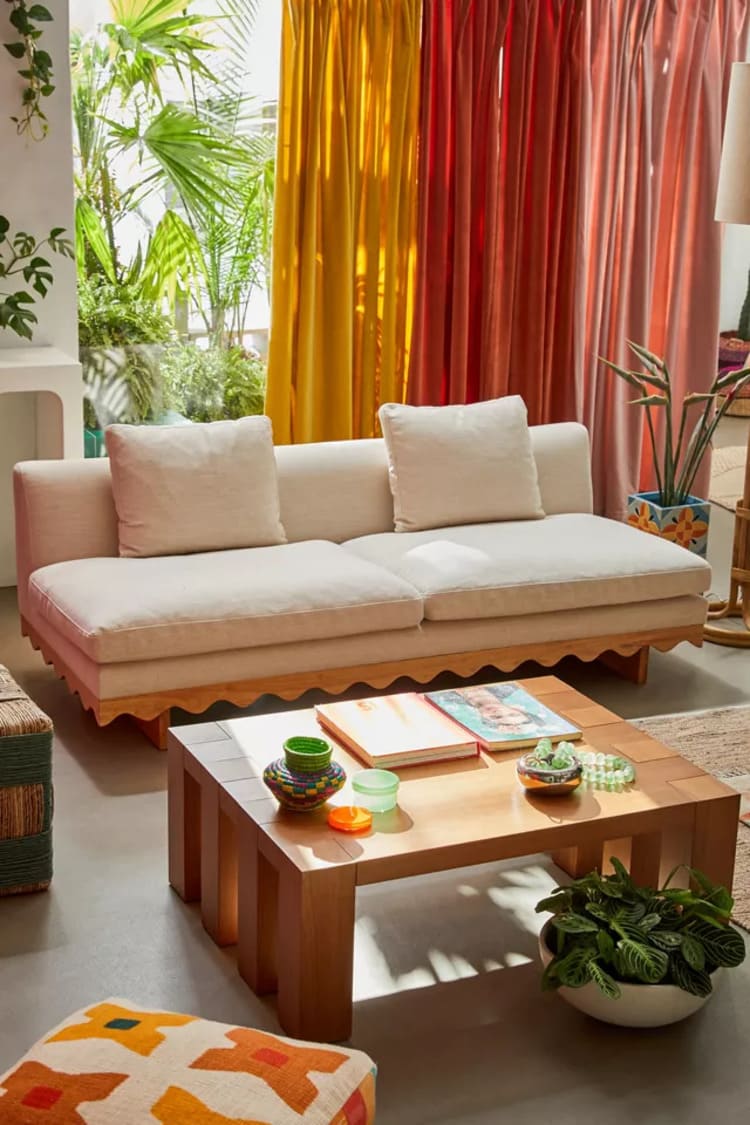 Length: 74.8 inches
Width: 33.46 inches
Height: 30 inches
Seat depth: 26 inches
Seat height: 16.93 inches
Leg height: 6.9 inches
Weight: 149.91 lbs
On the other hand, the Roma Sofa model has a rubber wood base, complemented by wavy cut edge and slab legs. It has 2 seats and 2 upholstered cushions on each side. Its composition also uses recycled polyester and foam to improve its texture and durability.
Without a doubt, this is an excellent piece of furniture to change the decoration of any space in the home. And best of all, it has an affordable price of only $1,299.00.